Selecting link building resources always takes a lot of time. It is one of the most meticulous and labor-intensive SEO tasks. It relates directly to evaluating websites according to a lot of different criteria. We've systemized this task and made a list of the most important link building metrics. Hope it'll make this task easier for you :)
1. Website's Rating and Domain Trust Rate
Most SEOs use services like Alexa, Ahrefs, MOZ, and Majestic to measure the website's value.
They analyze a lot of data that can be divided into two groups — rating and trust metrics. The first group of parameters shows website's position in independent ratings composed by each service. The second group reflects a level of search engines' trust to the website. Metrics' names can be different in each service, but their meanings usually are similar.
You can use the following metrics to check the trust rate of your website:
MozTrust.
This score indicates the trust of the URL according to Moz.
Majestic Trust Flow.
Metric calculated according to the number of clicks from the initial set of trusted sites to the target URL.
Majestic Citation Flow.
Majestic Flow Metric calculated according to the number of websites linking to the target URL.
Majestic Topical Trust Flow.
Category for which the Trust Flow of the target host is the highest according to Majestic.
And these are the metrics to measure your website authority and check its position in different ratings:
MozRank.
Metric that indicates the popularity of the target URL according to Moz.
Domain Authority.
Score that indicates how the website will be ranked by search engines according to Moz.
Ahrefs Rank.
Rank of the target host based on the size and quality of its backlink profile according to Ahrefs. The website with the strongest backlink profile is ranked #1.
Ahrefs Domain Rating.
Rank of the domain according to Ahrefs.
SEMrush Rank.
Domain position in domains ranking based on their organic search traffic value according to SEMrush.
Alexa Global Rank.
Global website rank according to Alexa.
Alexa Local Rank.
Website rank in a certain country according to Alexa.
Almost all of them can be gathered automatically with Netpeak Checker which is integrated via API with the services mentioned above.
2. Niche Relevance
Of course, there's nothing stopping you from placing a link on a website from another business niche. Which begs the question, what for? No matter how good is the link from an authoritative cooking blog, it will not bring significant traffic or leads to the website about professional soundproofing. If you work with the link networks you can choose a niche as a filter.
3. Top Keywords a Website Ranks For
Top keywords a website ranks for are especially interesting for outbound content marketing strategy. For example, you have some content for a specific part of your target audience and you're trying to decide where to publish it. Keyword analysis of potential link building spots will help you figure out which one meets the demands of the exact audience the best. The easiest way to perform keyword analysis is to use Serpstat's 'Website Analysis' tool ('Domain analysis' → 'SEO Research' → 'Positions').

4. Geographical Location
If you work with the international market and you're not interested in some specific geographical location you can move to the next step. But if you are focused on some local market, we highly recommend you to check the main language and host address for selected websites. You can perform a quick check for several websites with Netpeak Checker. Just select 'Language' ('On-Page' section) and Country ('DNS' section) and start analysis.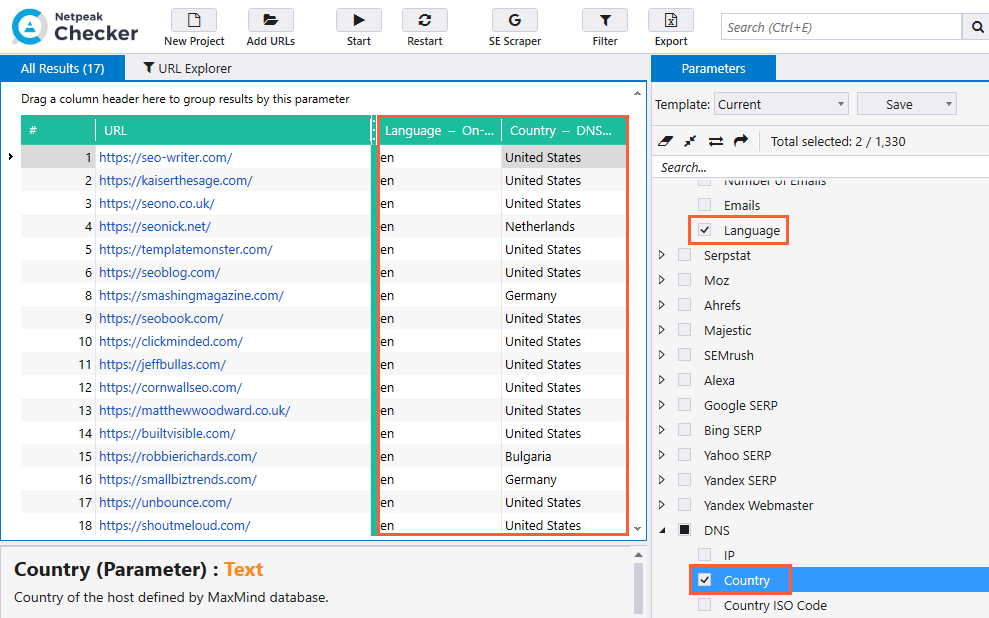 5. Content Structure
The structure of the text can show who it was written for — humans or crawlers. If web pages don't contain headings except H1, there is a risk that someone has created them especially for search engine robots. By the way, they also pay attention to H2-H6 headings ;)
If you want to check headings on only one website, you can use Netpeak Spider. Don't forget to turn on H1-H6 analysis on the sidebar before launching.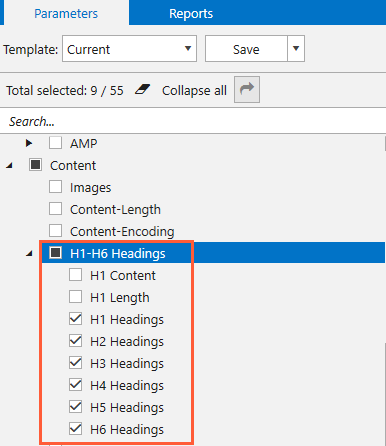 If you've already got a list of domains for bulk analysis, go back to Netpeak Checker. It will perform check in a similar way to what Netpeak Spider does: a tool allows you to check different headings on selected pages. To set it up for analysis, just turn on all the parameters you need in the sidebar.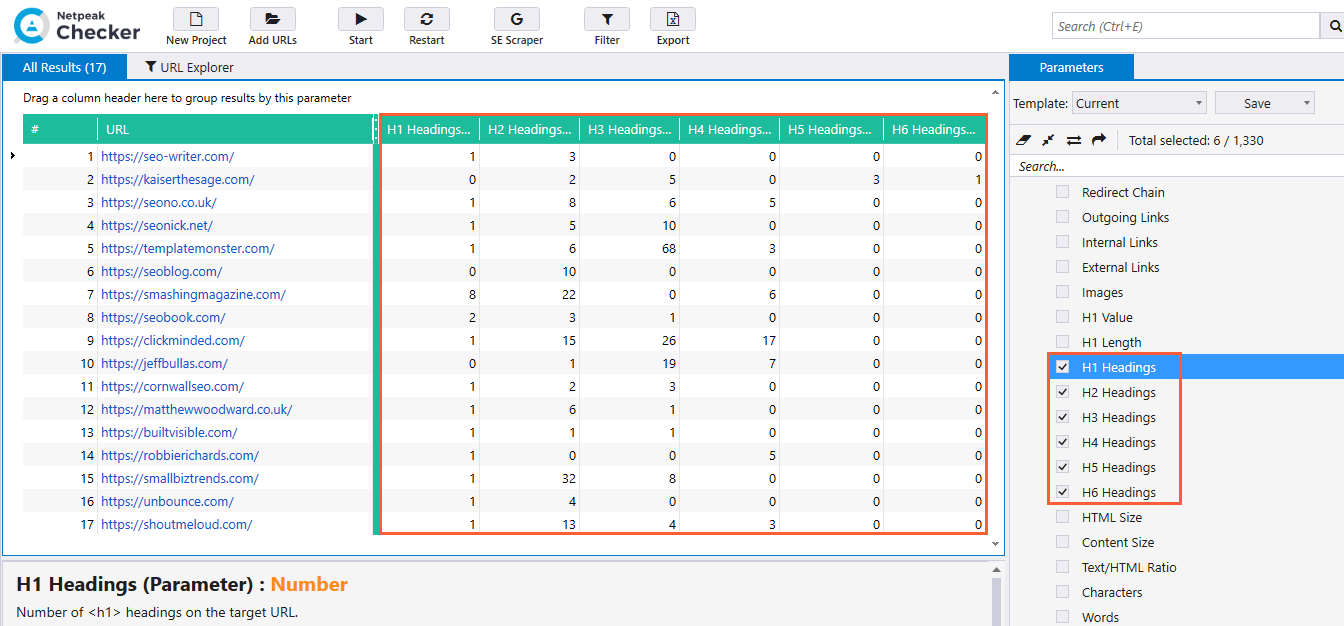 6. Backlink Profile Analysis
Backlink profile analysis means that you need to value quality of links that lead to a site. First of all, pay attention to the linking domains and anchor list. At this point, you need to make sure that there are no spammy anchors and suspicious websites in the backlink analysis report. You can use 'Backlink Analysis' ('Referring Domains' and 'Anchors') in Serpstat. It will help you understand if the website's backlinks are natural.

7. Backlink Profile Growth Dynamics
To build a full understanding of the backlink profile you also need to check its growth dynamics. If you are using Serpstat, launch 'Backlink Analysis' and select 'Backlink Dashboard.' In the opened window, you'll see a 'Referring Pages' graph. It shows backlink number growth dynamic during the whole domain history or the last 120 days. The normal graph usually has a steady growth and maybe some small wave-like peaks (in case of some special occasion or newsworthy event related to this website). In most cases, huge spikes indicate tricky backlink manipulations.

8. Spammy Content and Search Engine Penalties
Before placing a backlink on a new website you haven't worked with, you need to check if it has any problems with spam or search engine penalties.

Use Sucuri SiteCheck, Moz, and Netpeak Checker to find out if the website deserves your trust. Each of these tools helps to figure out if this site safe for link building:
Sucuri SiteCheck checks the website for malware and penalties from search engines.
Moz Spam Score indicates how likely a website is to be penalized by the search engines as a site that provides low value to users.
Netpeak Checker allows to perform a bulk analysis for many URLs and indicate whether the website has 'This site may be hacked' message in Google SERP snippet.
By the way, you can analyze Moz Spam Score in the Netpeak Checker as well. It can be easily connected through API.
9. The Overall Level of Ads and Pop-Ups
It is no secret that search engines don't mind placing their own ad units on the website. But they will not be so forgiving about annoying blinking ads and pop-ups. Such advertising negatively affects website's reputation, so you need to be careful and check how many ads the website has.
10. The Ratio of the Total Number of Pages to Traffic Volume
While making traffic volume analysis, many of us forget about one very important thing. We're talking about the total number of indexed pages that bring you the amount of traffic calculated before. Two websites can have the same number of monthly visits but one of them can have 10,000 indexed pages, another one — only 500 well-optimized pages. You can use average page attendance as an additional indicator of website quality. We highly recommend you to take it into account to opt for the website with a better optimization.
To get monthly visits number, use SimilarWeb or 'Domain Analysis' tool in Serpstat.

To understand how many website pages were indexed by certain search engine, use Netpeak Checker. All you need to do is to activate appropriate parameters (SERP parameters for each SE) in a sidebar and launch analysis.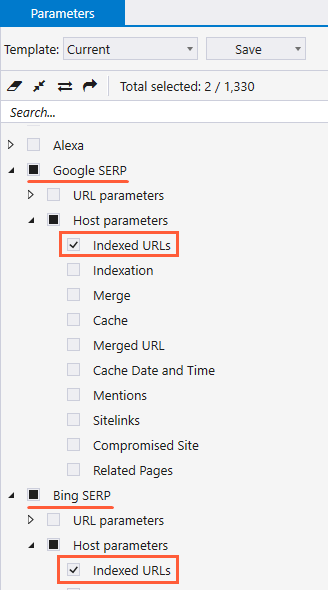 11. Date of the Latest Update
No matter how good the website according to all mentioned metrics, pay attention to the date of its latest update. Place your links only on websites that are updated constantly. Exclude from your link building domains list all sites that have not been updated for one or more years.
You can make bulk check only for websites with Last-Modified HTTP header. It tells the browser when the page was updated the last time.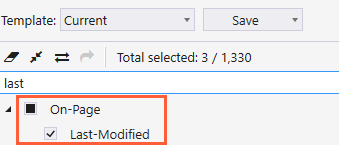 In other cases, you need to check dates of latest updates manually.
In a Nutshell
It is impossible to measure the quality and relevance of the website by one or two parameters. Choosing sites for link building can take a lot of time and energy. It includes check by the following parameters:
Website's rating and trust rate
Relevance of the niche
Top keywords a website ranks for
Geographical location and language
Content structure
Backlink profile and its growth dynamics
Spammy content and search engine penalties
The overall level of ads and pop-ups
The ratio of the total number of pages to traffic volume
Date of the last update
Unfortunately, a bulk analysis is available only for several parameters, and other ones need a manual check for each domain. However, you can use special online services and Netpeak Checker to collect most of the data automatically.