Into the new year with new functionality! New Analytics continues to develop and is making features previously available only to large corporations free and accessible to everyone. On January 7, Google released a revolutionary update to Google Analytics: now, the cross-channel data-driven attribution model (DDA) is available to all users.

Not surprisingly, this news caused great joy among analysts who work with or study how to use New Analytics. Let's take a closer look at why this update is so good, what data-driven attribution is in Google Analytics, and the benefits of using it.
Table of contents
What has changed in New Analytics

Users of Google Analytics 360 also had access to the data-driven attribution model. However, there were additional requirements for using it, such as having a Google Ads account with at least 15,000 clicks on Google Search and a conversion action with at least 600 conversions within 30 days.
Unlike in previous versions, in New Analytics, it's possible to change the preset attribution model for all reports. Now you can apply not only cross-channel rule-based models but also a data-driven alternative for free:
Data-driven attribution
Cross-channel rules-based attribution (last click, first click, linear, position based, time decay)
Ads-preferred last click attribution
Note: As conversions can happen days after an interaction with ads, the lookback window settings go hand in hand with attribution settings. In New Analytics, there are two options:
Acquisition conversion events (first_open and first_visit). The default lookback window is 30 days. It can be changed to 7 days if needed.
All other conversion events. The default lookback window is 90 days. It can be changed to 30 days or 60 days.
Changes to the lookback window apply to all reports within your Analytics property.
Do you want to start using New Analytics but want to avoid any errors as well as any time and monetary losses? Our specialists will help you with the transition, including helping you choose the attribution model suitable for your business. Schedule a consultation and see how OWOX BI can help you!
What is data-driven attribution
Data-driven attribution is an algorithmic model that allows you to analyze all relevant data and assign the right credit to every customer touchpoint. The data-driven attribution model is there to satisfy the evolving needs of marketers and provide more accurate results compared to previous-generation models. It's used to get a better understanding of what works and what was a bad idea, as well as to improve the general performance of the marketing team.
The New Analytics support page states that each data-driven model is specific to each advertiser and each conversion event and explains how data-driven attribution works:
"Data-driven attribution distributes credit for the conversion based on data for each conversion event. It's different from the other models because it uses your account's data to calculate the actual contribution of each click interaction."
As Krista Seiden (Analytics Evangelist, Founder & Principal Consultant at KS Digital) states, in New Analytics, the number of touchpoints used in modeling goes up to 50+, ensuring that none of your marketing efforts are missed while calculating and assigning credit.
00:05:54
Attribution Reports and Data-driven Attribution in Google Analytics 4 Properties
Views: 13684

12

January

2022
About attribution models
Depending on the way your business works, your customers may interact differently with your advertising campaigns. Consequently, you may need to apply various attribution models to get the best insights into your performance and how you can optimize your customer journey.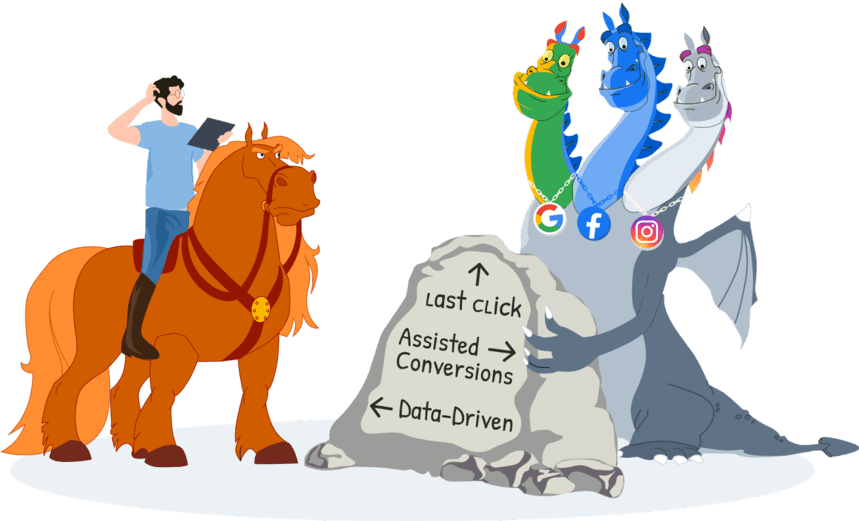 We've put together lots of information that will help you compare and apply modern attribution models to take your company's marketing to the next level:
What are the pros and cons of using data-driven attribution
The attribution model you use matters a lot, and there's no one correct choice for all businesses. You have to experiment and find what's best for your company. However, the ability to use data-driven attribution for free is a great opportunity you shouldn't miss.
Among the benefits of using data-driven attribution are:
The ability to more accurately assign credit across multiple channels
The ability to demonstrate the impact of each channel on the ultimate conversion
Flexibility, as you can keep changing the model and reports will be adjusted accordingly
There are also drawbacks of using data-driven attribution:
It's a black box. There's no explanation of how exactly the modeling is being done. All you have is your faith that Google Analytics knows better.
The algorithm must receive enough data to show the most accurate results.
Despite the uncertainty of how data-driven attribution works, Google recommends using it, since no other rules-based model can provide you with an understanding of the impact of multiple touchpoints on customer conversions. That's why, for now, it's the best model in New Analytics.
Where to change your attribution model
There are two ways to apply a new attribution model to your data.
If you have the Editor role on the account, you can make changes in the Attribution Settings panel under the Administrator / Property column. Here, you can select a data-driven attribution model or any other cross-channel rules-based model, or you can choose the Ads-preferred last click model from the drop-down menu.
Note: The Admin Attribution Settings do not impact attribution models selected in the Attribution reports.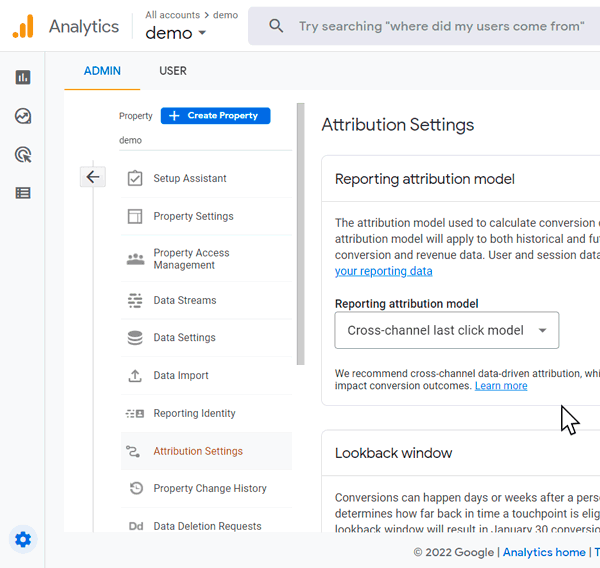 Any user with the Viewer role can select a data-driven attribution model in the Conversion Paths and Model Comparison attribution reports.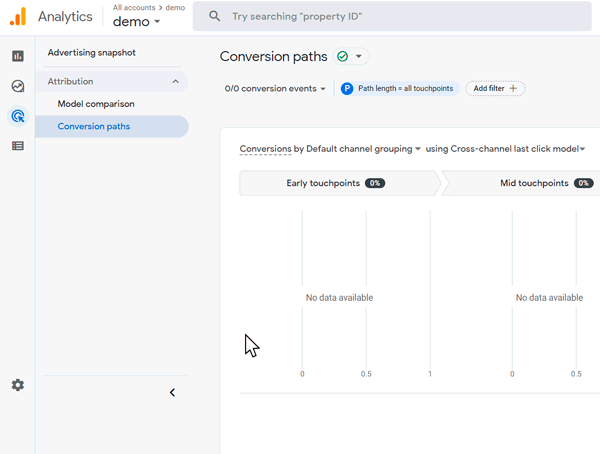 Note: Attribution models were introduced on different dates. This means if you select a date range that includes a timeframe before the start date for the model, you will see partial data.
Cross-channel rules-based models: June 14, 2021
Cross-channel data-driven attribution: November 1, 2021
Changes to the attribution model will apply to both historical and future data over all reports that use event-scoped traffic dimensions. For example, you'll notice changes to such metrics as Conversions, Total revenue, Purchase revenue, and Total ad revenue. Also, note that you can apply changes to this setting as many times as you want. In case you need more information about attribution settings in New Analytics, check the Analytics Help.

We hope you have already installed a new version of Google Analytics and have begun to collect data with its new approach. Don't miss out on new features; book a call and get answers to all your questions! If you're still unsure about moving to the latest version and saving your data, OWOX BI specialists will help you.
Key takeaways
As the industry continues to change fast, every marketing dollar counts, and arriving at a data-driven attribution model in New Analytics means better performance.
With a changing marketing landscape, data-driven attribution is a great tool for marketers to unlock new insights into consumer behavior and meet their goals. It's a huge development as it's free, available for all users, and provides more accurate attribution than the models available in Universal Analytics.