In June, I had the pleasure to speak at the Marketing Analytics Summit in Las Vegas. The summit was founded by Jim Sterne, the director of the Digital Analytics Association. Marketing Analytics Summit allows you to learn from the mistakes of others, meet and get advice from market leaders, see the latest and greatest tools and approaches for marketing analytics, discover a world of professional options, and steer your career.
The event took place at Caesars Palace Hotel and was co-located with several other conferences: Digital Growth Unleashed, Email Innovation Summit, and Predictive Analytics World. There were also two workshop days. Unfortunately, I wasn't able to participate in them, but I've heard they were great.
Heads up: There will be several Marketing Analytics Summits in Europe this fall – in London (October 16–17), Milan (November 5), and Berlin (November 18–19) – so go ahead and reserve your spot.
If you're already excited to visit this conference next year, here is a 15% discount code for MAS 2020: OWOX15. It can be used for all 2, 3, and 4-days passes.
Below, you'll find a recap of the first wonderful day I spent networking and learning from the best in the marketing analytics field. You can find my recap of day 2 in another article.
Day 1 agenda:
The conference started with a warm welcome from Jim Sterne, the founder of Marketing Analytics Summit, and Marilee Yorchak, the Executive Director of the Digital Analytics Association.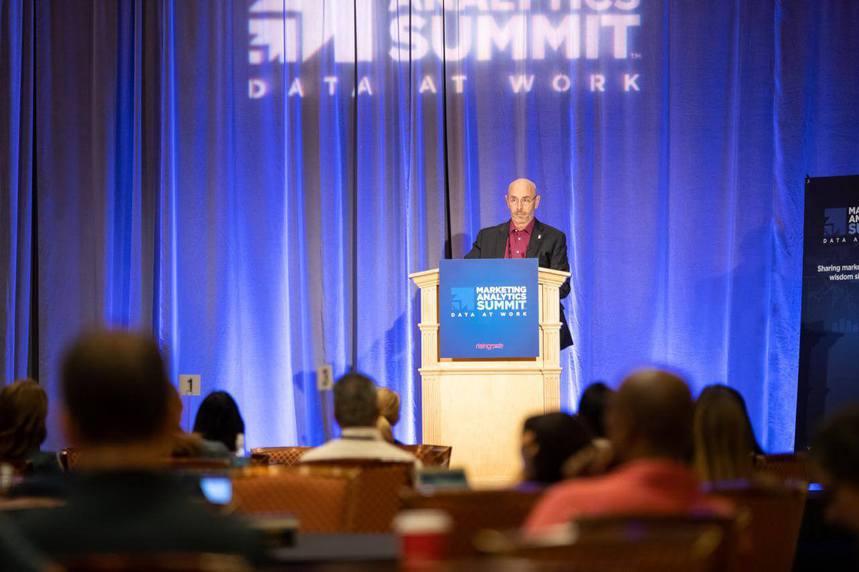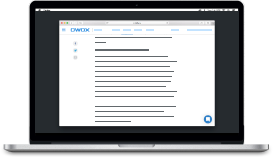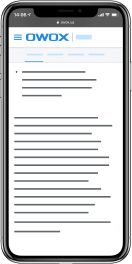 bonus for readers
30 handpicked Google Data Studio dashboards for marketers
Download
now
"Data Culture, Data People, Data Reality" keynote by June Dershewitz, Director of Analytics at Twitch
Twitch is a live streaming video platform with 3 million unique streamers every month. According to a 2018 article on CNN, the platform's top streamer, Ninja, has made $10 million playing video games.

Data culture
Twitch was born digital: they've built their own analytics platform that streams 60 billion records a day (describing customer engagement with the platform) to a data lake built on Amazon Redshift Spectrum. Everyone on their data team knows SQL and uses data to understand and optimize video engagement, content effectiveness, marketing decisions, and more.
That's really exciting because even though there are so many tools that make data available, some companies still stick to the HiPPO approach.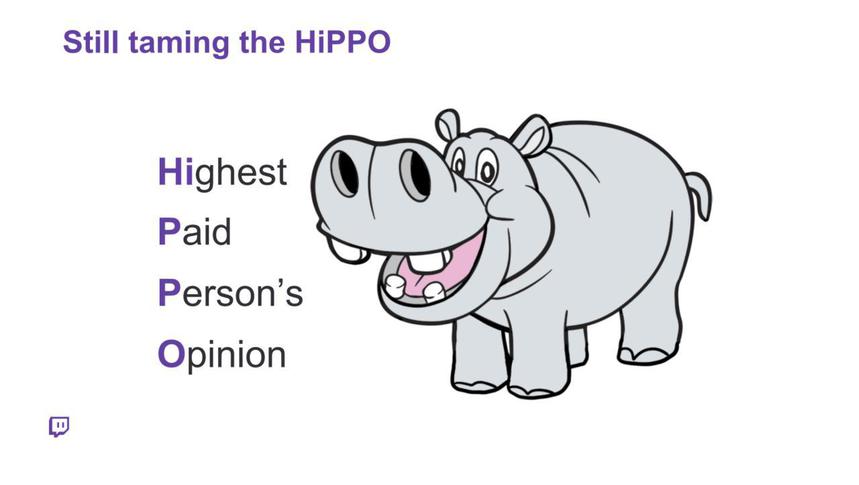 To highlight that, June referred to the famous saying of Jim Barksdale, the former Netscape CEO: "If we have data, let's look at data. If all we have are opinions, let's go with mine."

To understand if you have self-service analytics, try to assess your current data culture. Your data culture is an honest reflection of your company's values, and you can always improve it. To do so, you need people devoted to advocacy and tools that make self-service easy. Try asking yourself the following questions:
Are my employees as curious and motivated as they should be when it comes to using data? Why is that?
What can I do to correct the negative or amplify the positive?
Does the percentage of employees who use our self-service analytics tools match my expectations?
To answer this last question, start by listing the monthly active users of your company's self-service analytics tools and then calculate the percentage of employees who use them.
Most likely, you'll see that everyone uses different tools and some people don't use any tools at all, instead making decisions based on their gut feelings. So it should be no surprise that sometimes it's super difficult to get a consensus, since everyone is looking at different numbers.
At Twitch, they use the following tools to make self-service analytics happen:
Interfaces – data should be easy for everyone to work with
Aggregates – data should be clean, efficient, and organized
Data Catalog – data and metadata should be discoverable
To check if self-service analytics is working, run quarterly data satisfaction surveys and ask:
Do you have the data you need to do your job more effectively?
Are you able to get data in a timeframe that meets your business needs?
If most of your team answers no to one of these questions, that means your self-service analytics aren't working.
Data people
The rise in popularity of data science has made data-related job titles especially ambiguous.
It often happens that a job title doesn't match the expected skill set, so June recommends not taking a title at face value. Instead, she recommends cutting through the hype and focusing on the impact you deliver.
Below, you can find a basic classification of titles, but that doesn't mean all companies use these:
Data Analyst – The main duties of a data analyst are to implement, automate, and analyze data to support decision-making. It's crucial for an analyst to know SQL, either R or Python, how to visualize data, and how to apply basic statistical concepts.
Data Engineer – These are the specialists who focus on designing and building data infrastructure and pipelines.
Data Scientist – These people conduct long-term quantitative research and build data products.
To make sure everyone is on the same page, you might want to use a data roles matrix:

You can extend this matrix with expectations for the position. It's important not only to create this matrix but to get everyone in your department and company familiar with it to make sure everyone understands what can be expected from each position.
Data reality
According to Dun & Bradstreet, only 16% of companies characterize the data they're using as "very good."
The main problems people have when working with data are related to data quality and taking a reactive approach – i.e. only paying attention to data after discovering an issue with it. But managing data quality shouldn't just be about incident response.
To turn the approach from reactive to proactive, Twitch's Senior Data Quality Analyst asked people on the team about their expectations in terms of data and created a measure of data quality called the defect rate. Then, he developed a set of rules that describe well-formed data. Here are a couple of examples: time must be populated, a user ID must be a 12-digit number, a platform must be "web," "mobile web," "ios," "android," etc.
Once rules were in place, he made a monitoring dashboard and set up alerts. This helped to minimize the time between a problem occuring and getting fixed by the team.
The results they've achieved are amazing – the defect rate went down from 4.5% to 0.5%: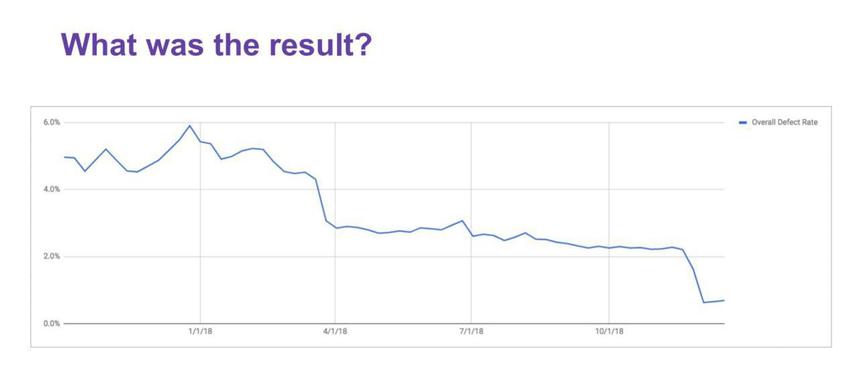 To be proactive about data quality:
Define the most critical data sets in your company.
Think about how much you know about the ways in which that data gets used.
Ask what some of the things are that people expect to be true about that data.
Start keeping a list of current and past data quality incidents so you can understand trends and make the case to invest in proactive control.
I enjoyed June's talk and feel like a lot of companies can learn from Twitch. Let's proceed to the next talk!

"The Marketing Analytics Maturity Curve​" by Rob Clarke, Co-founder and CXO of Strala
The Strala team recently conducted research on the state of marketing measurement, and the results were pretty disappointing: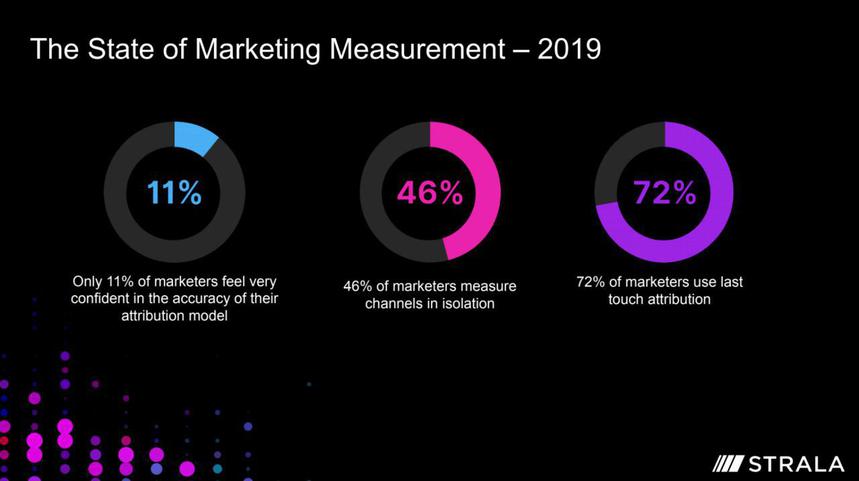 Rob says that when we want to take measurements, make attributions, calculate ROI, or find insights, we run into two main types of problems:
Data problems

Inconsistent tracking across channels 
Insufficient staff / talent to aggregate and manage data 
Siloed data across multiple channels 
Incomplete data across multiple channels 
Inconsistent data standards across multiple channels 

Insufficient attribution models 
Personally, I can't agree with the second point, since there are tons of models available and at least one of them is bound to fit your business objectives. To learn more about attribution models on the market, check out this webinar. Another resource you might find useful is an article on what we've learned from building attribution models for the top multichannel retailers.
According to Rob, there are three levels of marketing analytics maturity: novice, intermediate, and advanced. To assess your organization's maturity, you need to evaluate your data across three different categories: unified insight, unified data, and predefined data foundation: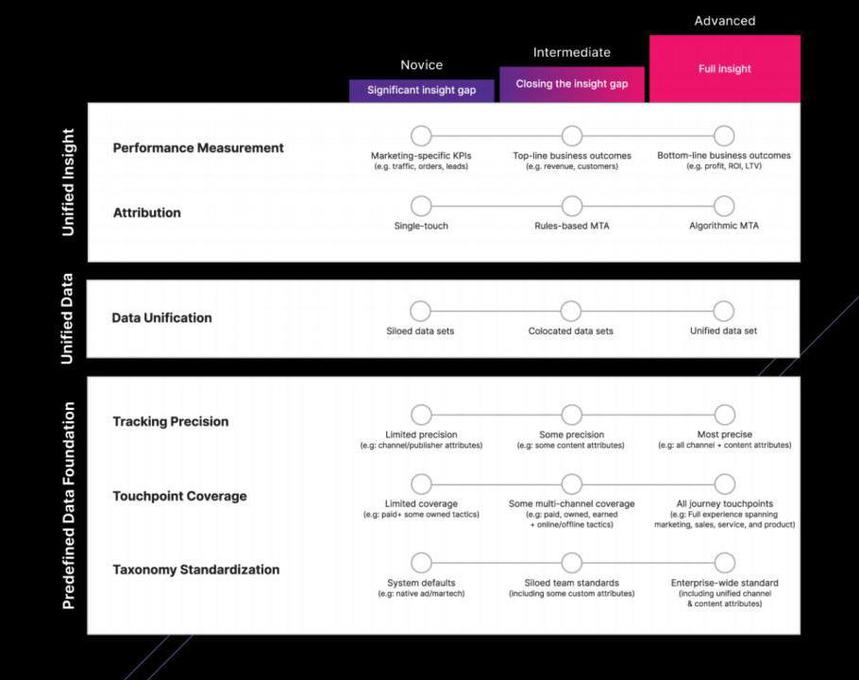 Unified insight
This consists of two subcategories:
Performance measurement
At the novice level, performance is measured with marketing-specific KPIs: leads, traffic, orders, etc. This evolves to bottom-line business outcomes at the advanced maturity level. 
Attribution
This starts with a single-touch approach and goes all the way to algorithmic multichannel attribution (MTA). In this article, you can find a detailed review and comparison of attribution models.

Unified data
There are three stages to data unification:
Siloed data sets at the novice level. This is what most companies have – their data is stored in different systems: ad platforms, call tracking, Google Analytics, CRM, ERP, etc. Every time they need to answer a question that involves more than one dataset, it's a nightmare.
Co-located datasets at the intermediate level. A data lake would be an example of this. It brings a bit more flexibility than siloed data but is still quite difficult to work with. 
Unified data sets at the advanced level. This is what all companies dream of – having a single source of facts that everyone trusts.

Predefined data foundation
Tracking precision. Companies at the novice maturity level have very limited precision (channel/publisher), while companies at the advanced level are using the most precise attributes (i.e. all channel and content attributes).
Touchpoint coverage. Novice companies use limited coverage such as paid channels, while advanced companies go with all journey touchpoints and a full funnel.
Taxonomy standardization. Novice companies use system defaults and don't invest in the taxonomy, while advanced companies use enterprise-wide standards, including unified channel and content attributes.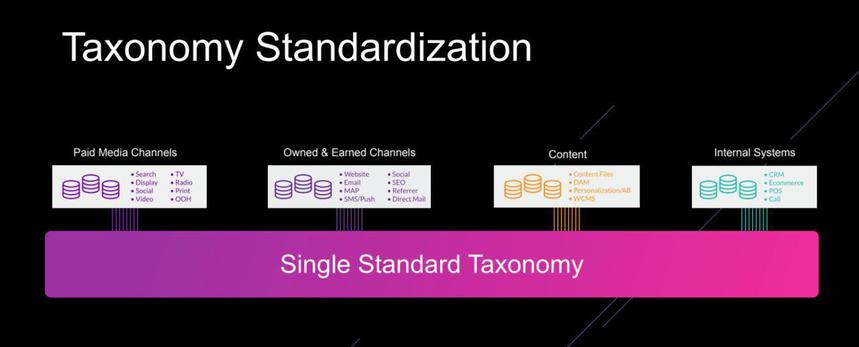 Keep in mind that you won't necessarily be at one level across all categories, so go ahead and assess your current level of marketing analytics maturity to define the steps you need to take to move toward the advanced level.
The next keynote speaker was Mary Owusu, Vice President of Digital Strategy & Analytics at Mower.

"Success Plans: One-Page Frameworks for Marketing Measurement" by Mary Owusu
I found Mary's talk not only engaging but also really hands-on. Mary created the Marketing Success Plan in response to one of the striking dysfunctions we marketers live with: even with a commitment to measurement and analytics, it can be hard for us to translate clicks and impressions into business impact — and this can lead to cuts to our marketing budgets.
According to a Forrester survey, businesses that link marketing metrics to desired business outcomes are twice as likely to exceed those desired outcomes. And businesses that link marketing metrics to revenue targets are three times more likely to significantly exceed those targets.
To confidently align the right corporate KPIs with marketing activities, you need to invest in analytics while fostering buy-in from cross-functional departments and leadership. According to a CMO survey from August 2018, spending on marketing analytics is forecasted to increase by more than 200% in the next three years.
There's no doubt analytics is important, but according to the same research, marketing analytics is used in decision-making only in 36% of cases. And this number hasn't changed much over the last five years.

There are several factors that prevent companies from using marketing analytics in decision-making more often. A lack of trained professionals and a lack of tools and processes to measure the impact of marketing analytics are the biggest obstacles: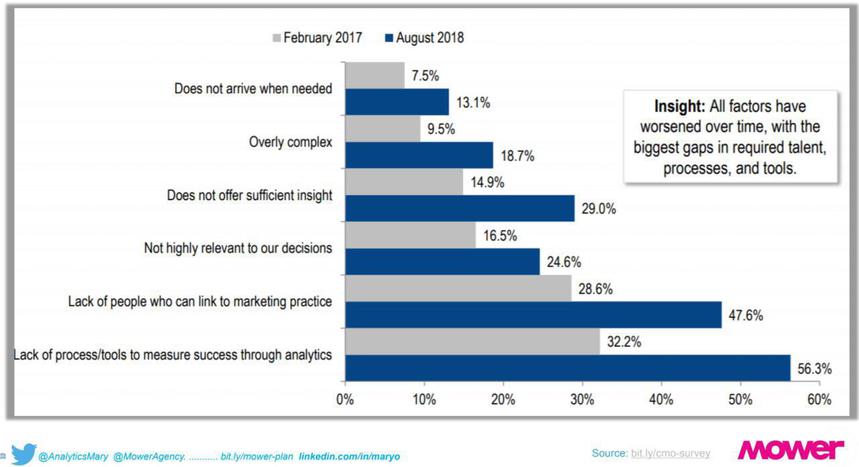 According to Mary, both marketing specialists and analysts want one thing: the right tools and processes to know what to start, stop, and continue doing in order to reach their marketing goals.
Mary shared an amazing measurement framework to align marketing activities with a company's business objectives. Her Success Plan demonstrates the value of marketing and analytics investments to senior leadership, measures the right things, defines who is responsible for what, establishes best-in-class KPIs upfront, fosters buy-in and collaboration across teams and departments for marketing projects, and exposes risk areas before any money is spent.
There are four stages to the Success Plan, and each is owned and managed by people in the roles listed below. Each of these roles should pay attention to several key objectives.
Marketing strategists should take care of
Business objectives – should come directly from documents or directives from senior management
Marketing goals – should be specific, measurable, attainable, realistic, and time-bound
Strategies – specific means by which your goals will be fulfilled
Tactics – short-term activities through which a strategy is fulfilled
Mary's Success Plan framework has accountability built into it throughout. For example, at the Tactics factor, responsible individuals/teams should be assigned.
Analysts, data scientists, and technologists are responsible for

Key Performance Indicators (KPIs), which should represent the best-in-class measure of the identified marketing goal and should be tool and resource agnostic. When working with KPIs, you need to:

Define your KPIs:

Primary KPIs: for example, industry standards
Secondary KPIs: only use if primary KPIs are not available
Supplementary KPIs: a soft KPI used to augment--but not substitute--the primary or secondary KPIs.
Segment your KPIs. To come up with meaningful segments, think: My team will make better budgetary decisions if this KPI is broken out by geography/marketing channel/target group/etc.
KPI target values are the actual numerical values you've predetermined as indicators of success or failure. If historical data isn't available to set up a target value, set up a baseline and move from there. Following the "KPI target value" section is the "Rationale" section which allows you to include the reasoning for your forecasts.
Reporting requirements

Tools – Define the tools needed to report on the abovementioned KPIs: a CRM, phone software, market research, etc.
Segments – Be sure to indicate which segments can be captured using each tool and which cannot. The "cannot" segments should be treated as constraints and highlighted under the constraints factor in item 4 below. Another good way to think about segments is to imagine what questions you might be asked about your initiative by stakeholders.
Frequency – Talk to your team and specify how frequently key stakeholders need this KPI for decision-making. The party responsible for pulling each report is identified in the Success Plan. Define all the above-mentioned roles and responsibilities in a RACI matrix.
UX specialists and analysts are in charge of
Tagging and tracking requirements – Once you have KPIs in place, define what needs to be tagged in order for the campaign to be successfully measured. Define who is responsible for each part.
Creative and UX requirements – Lay out the critical content elements (calls to action, messaging points, etc.) that have come out of the preceding steps and should, therefore, be clearly communicated to the UX and creative teams working on this campaign.
CXOs and strategists must manage
Internal and external constraints & prerequisites – Identify what internal and external forces will impede your ability to successfully complete the items outlined above. Anything that cannot be completed before the campaign launches should be labelled as unresolved. Conversely, resolved items should be labelled as resolved, and a brief summary of the resolution should be provided.
In my opinion, these roles are really important. Companies rarely manage their risks beforehand when it comes to marketing and analytics implementation.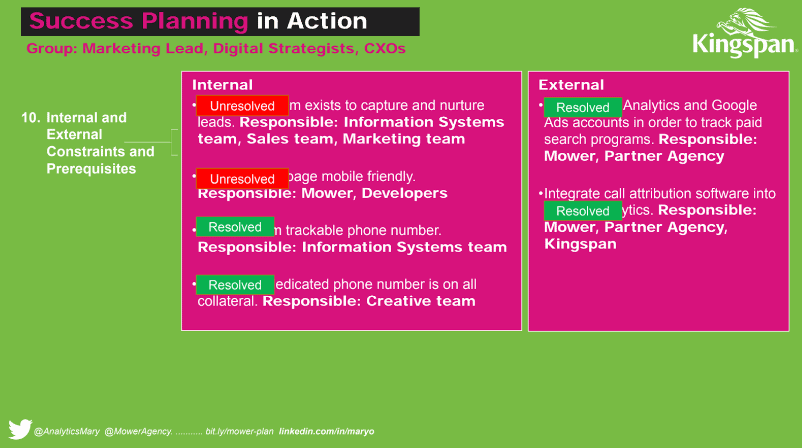 You can get a filled out example of a Success Plan here. I highly recommend taking a look at it and giving it a try next time you're working on your marketing strategy and tactics, as this plan really helps you align goals and understand how they should be measured.
After Mary's talk, there was a session called "The best advice ever" where product-side employees could connect with service providers and consultants and get advice from them on how to solve their problems. If I'm not mistaken, the advice from June Dershewitz was considered the best. She recommended bringing analysts to meetings where goals are being discussed and set so they can share their perspective and ask additional questions if needed.
During lunch, there were several talks by Digital Analytics Association (DAA) members. DAA's mission is to advance the use of data to understand and improve the digital world through professional development and community. This association has about 5,000 members and is rapidly growing.
By the way, they'll have their first conference this year from October 23 to 24 in Chicago. You can reserve your spot here. They have a mentoring program, short certificate courses, a women in analytics program, and many other great initiatives to help you steer your career in the right direction. If you're interested in learning more about DAA and becoming a part of it, contact Marilee Yorchak.
One of the lunch sessions was given by Maigari Jinkiri, the Chief Revenue Officer at Ebiquity. Maigari shared the results of research on the extent to which the US market is ready for GDPR. I can't share much from this talk, since it shouldn't be disclosed until their publication, but I can give you a tiny spoiler: the US market is not ready for GDPR.

"Importance of Process" by Laura Patterson, President at VisionEdge Marketing
Laura began her 25+ year career in sales and had the great fortune of working across functions spanning customer relationship management and Marketing with a capital "M." Today, she is at the helm of VisionEdge Marketing, founded in 1999, and is recognized as one of the pioneers and authorities in the Marketing Performance Management (MPM) discipline. So you can imagine how experienced she is.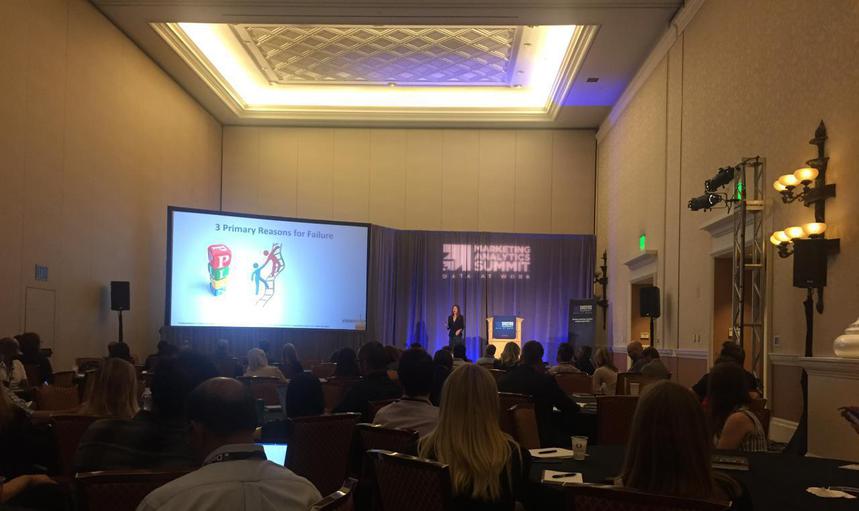 It often happens that C-level executives don't care how things are being done as long as they're done and bring certain results. But it's super important to understand the processes that bring those results, as they're the glue between people, tools, and results.
Understanding how things are done enables you to achieve a measurable return on investment and increase efficiency while maintaining quality and increasing the value of the business. And that's where processes come in.
According to Laura, the main reasons why marketing technology implementations fail is that there isn't proper planning and there aren't proper processes implemented in the company.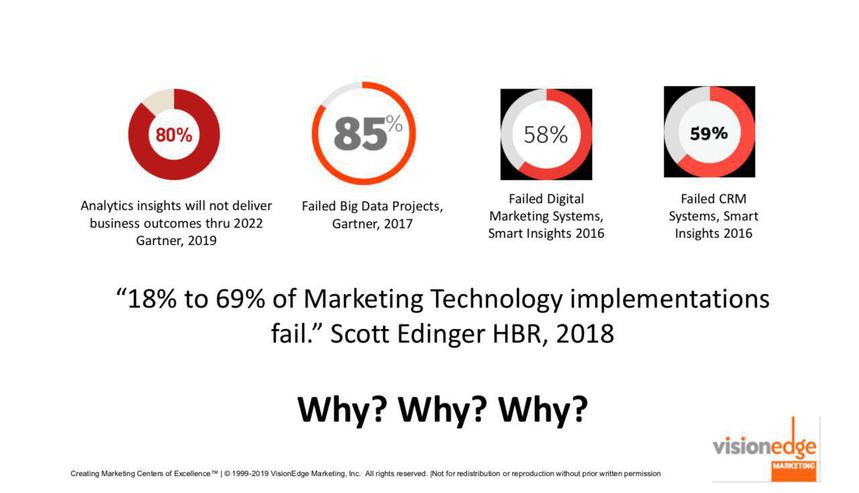 They fail because marketing, like all business functions, runs on processes. And if your current marketing processes aren't effective or efficient, then automation means following a bad process faster. Marketing processes include planning, reporting, model development, research, customer journey mapping, content creation, event management, campaigns, opportunity management, etc.
You can split all the processes in your company into two groups:
Revenue-driving processes that emphasize acquiring, keeping, and growing the value of customers (externally oriented) 
Cost-reducing processes that focus on increasing efficiencies (internally oriented) 
Laura recommends focusing on revenue-driving processes first because according to research conducted by Rust, Moorman, and Dickson, the impact of revenue-driving processes is statistically significant in improving the performance of both financial and customer relationships. On the other hand, addressing cost-reducing processes or trying to do both has an insignificant impact on financial and customer relationship performance.
But it's not enough to describe your processes. In order to make them work for you and iteratively improve them, you need to map them. Process maps visually represent the relationship between the steps and inputs to produce an end product or service. To map a process, you need to go through the following steps:
Run through the process as-is before you try to modify it:
Identify the process

Gather information
Develop a process map
Analyze the map
Develop new, better steps
Manage the process

Aim for good, not perfect – otherwise, you can get stuck
Be aware of your assumptions
Validate your map
Fix only after you've finished mapping
Don't forget about criteria in every process:

Responsibilities
Objectives
Activities
Inputs
Outputs
Customers
Risks and controls
KPIs
One of my personal takeaways is that implementing processes is about discipline. It's not enough to write down the process and share it with the team. You need to create rules that will foster change.
Here are the best practices Laura suggests for implementing process change:
Group your processes based on their effect on your customer. Prioritize revenue- and value-creating processes that are key to managing the business. Itemize the data and analytics you'll need for each of these and define the role analytics plays. 
Select and focus on the revenue processes most relevant to achieving your company's strategy. Start with processes associated with customer acquisition, customer satisfaction, customer retention, and loyalty.
Address processes where issues or gaps exist. Employ analytics to help you determine which gaps to address first. 
If you implement a new tool, try following the process manually first. Once you've validated the process, you can write it down and automate it.
If the process involves several departments and you can't communicate it to the team, gather them in one room and understand where the handshake occurs.
Find the backdoors used by your team and write them down as part of the existing process. If you want to get rid of this back door, you need to also write it down and reward people for embracing new processes. 
Make sure all of your processes are well-defined and documented before you implement, configure, or deploy any technology. 
Get a facilitator to run a process mapping session before you invest in a tool.
Don't do variable reinforcement when implementing a process or else the process you're trying to implement won't take root.
I got really inspired by this talk and now feel like digging deeper into process management. If you have any recommendations on where to start, please leave them in the comments.

"Brain Science Behind Great Customer Experiences" by True Impact's Founder & CEO Diana Lucaci and CTO Ferdinand Ephrem
I really like how the idea of using brain science and emotion measurement in marketing and UX has developed over the last few years. Customers say what they think, yet they often act on how they feel. By determining positive and negative emotions and attentional activation, companies can find new insights into engagement and the best ways to use every precious second of attention. Because on average, brands get 3 to 5 seconds of attention, sometimes even less.
People use two types of processing – nonconscious and conscious. Nonconscious processing is when you don't need to think: your body acts automatically. Conscious processing is when you need to apply effort: you're required to think and plan. 
The more effort an action requires, the more conscious processing is involved and the more irritated your customer becomes. By default, our brain is lazy and doesn't want to waste resources on figuring stuff out. The irritation with having to do so is extrapolated to the brand. That's why you want to decrease a customer's mental load and make their experience as smooth as possible.
I've heard about a "drunken master" approach when it comes to funnel design. It works as follows: You need to make sure that a drunk person can go through your sales funnel on the website and complete an order. Grab a couple of beers tonight and give it a try with your friend.
At True Impact, they use neural metrics, biometrics, and survey measurement to influence brand visibility, support acquisition and retention goals, promote emotional loyalty, and form emotional connections: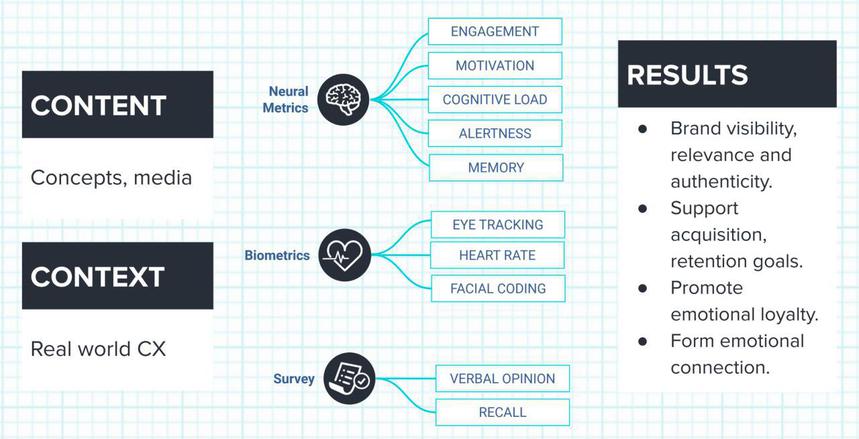 One of the examples Diana and Ferdinand gave was analyzing mobile ad experiences: full-screen interstitial video ads versus an embedded opt-in ad format. They proved that:
Embedded opt-in ads earned 8 times more cognitive engagement.
Embedded opt-in ads produced 4 times more motivation.
Embedded opt-in ads drive more attention: visual attention was mostly focused on the ad itself and not on its corners.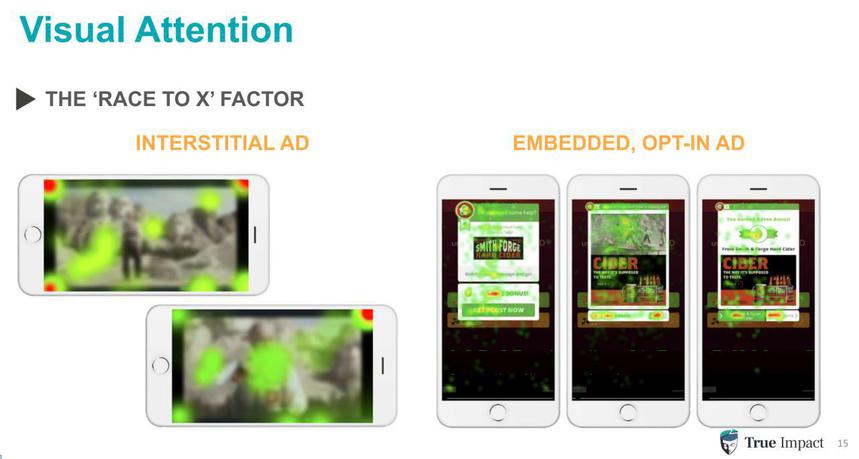 Another interesting point was about the effect that print media has on the brain: Depending on the effect you want to create, you need to use different types of paper, fonts, and visuals. For promo leaflets, think about how the piece feels in your hands: cheap or expensive. There's nothing wrong with the paper an ad is on feeling cheap if you're offering a $1 discount to a burger place. But if you give a $300 coupon for a cruise, you might want to make it feel expensive.
According to research by Diana and Ferdinand, digital promos attract 38% more attention than physical; on the other hand, physical ads lead to 70% higher brand recall. This happens because physical interactions are easier to understand and are more persuasive: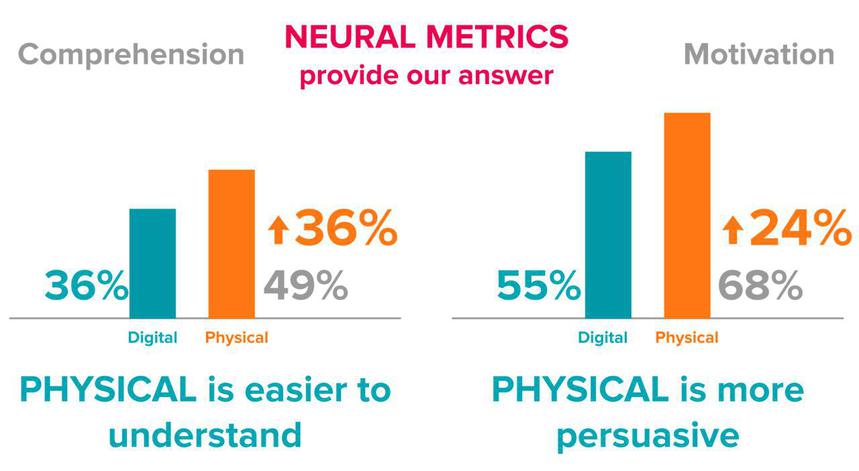 For your audience to recall your brand, you need to:
Engage more senses. When it comes to physical objects, scent can be a good option.
Reduce distractions. Focus customers' attention on the main object.
Encourage interaction.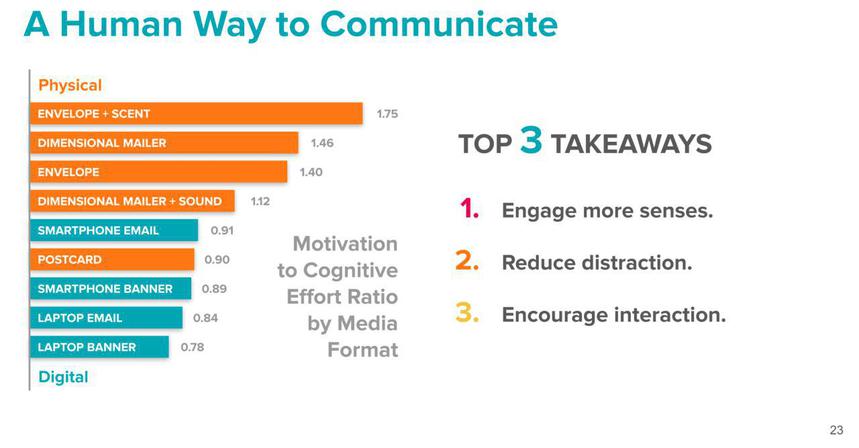 To increase your conversions, use these three tactics taught by neuroscience:
Get noticed. Understand what drives the attention of your perfect client and use that knowledge.
Trigger emotions.
Form a memory, and do your best to make it a positive one.

"The Four Horsemen of the Web Marketing Apocalypse" by Rand Fishkin, Founder of SparkToro
The first thing I have to say is that Rand's talk was super entertaining. But he also brought up a lot of pain points and marketing problems that most people don't pay attention to, so it was really thought-provoking.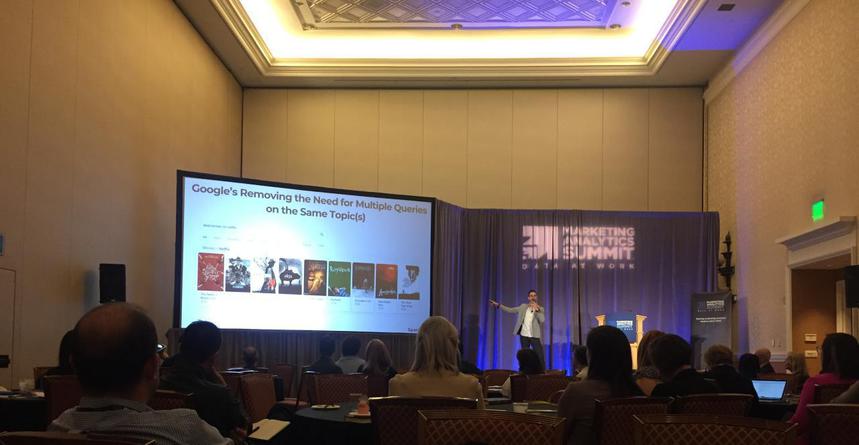 Rand spoke about how SEO, social, content, and paid search marketing should change to keep up with the times. He started his talk by highlighting how influencer marketing has changed: in 2002, it required more creativity, since you had to look for all the potential sources that could influence your audience and try all different kinds of marketing there. 
In 2019, it's easier – you just pay half-naked people on Instagram to post a photo with your product :) Fact check: Over the last few years, influencer marketing has been getting more and more attention: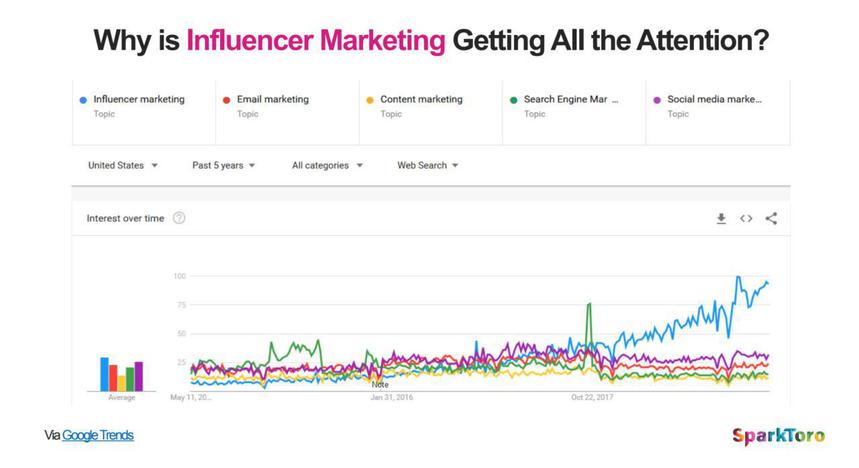 This is happening because marketing specialists don't really care about segmenting their audiences. Instead of Where are *our* customers? too many marketers ask Which platform's the biggest? Rand referred to a survey that was held in schools recently in which nearly half of the kids surveyed said they want to be influencers when they grow up.
Among all potential sources where influencer marketing can take place — podcasts, journals, whitepapers, guerilla marketing, blogs, Twitter, YouTube, web searches, Facebook, consumer reviews, Instagram, etc. — only YouTube and Instagram stand out. But if you do a reality check and look at the statistics on customers' online behavior, you'll see that attention and influence happen everywhere: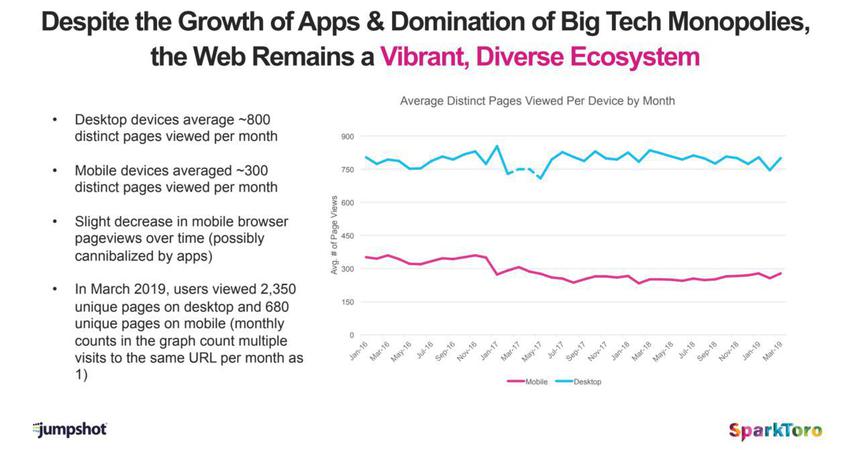 Then Rand turned to the major shifts impacting search, social, content, and advertising and how marketers can best respond.

Search
He proposed three theories of plateauing search demand:
Google's getting better at solving searches, basically removing the need for multiple queries on the same topic and showing answers right on the search results page. This precludes the need to click through to actual results. Google republishes content, sometimes with minimum credit, sometimes with no credit at all. Basically, now you don't need to click on a link to get key info from an article or to play a video. You can do it directly from the search results page: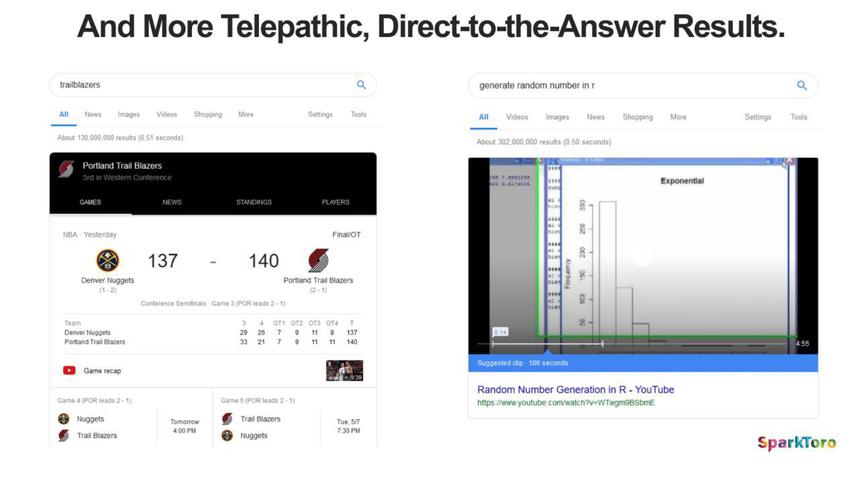 Voice search and mobile apps — e.g. Google Home, Google Assistant, and the Google Search App — are cannibalizing queries, as confirmed by Perficient Digital's research: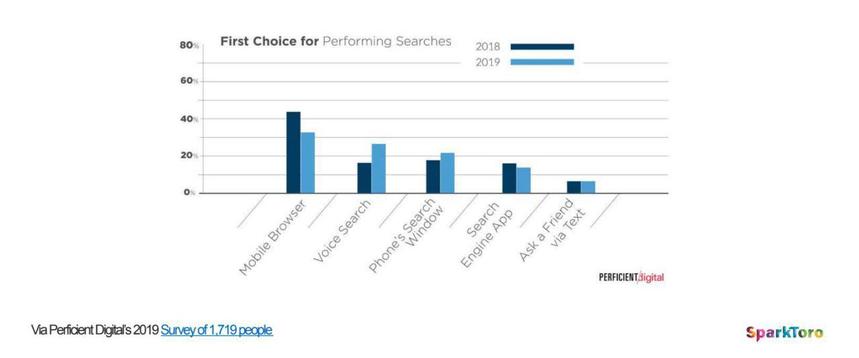 Alternatives to Google are taking market share, e.g. Facebook, Instagram, DuckDuckGo, YouTube, and Amazon. You can't really see that it's happening, since Google still has the biggest share of the market. For instance, Instagram hashtag search has grown ~2.5 times over the past year on desktop (at a time when desktop share of sessions overall has shrunk). But still, it's less than 0.1% of Google's desktop search volume.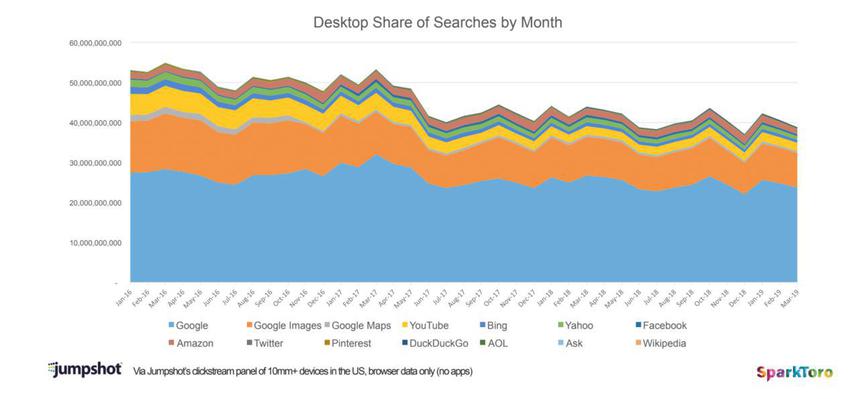 To grow ad revenue, Google implements larger numbers of more subtle ads and more kinds of ads. According to Jumpshot statistics, Google's desktop CTRs for Q1 2019 in the US have been distributed as follows (the total is greater than 100%, as some searchers click multiple results per query):
Paid: 3.88%
Organic: 61.4%
Zero-click searches: 34.7% (up 12% over the last 3 years)
For mobile, even more clicks go to paid search: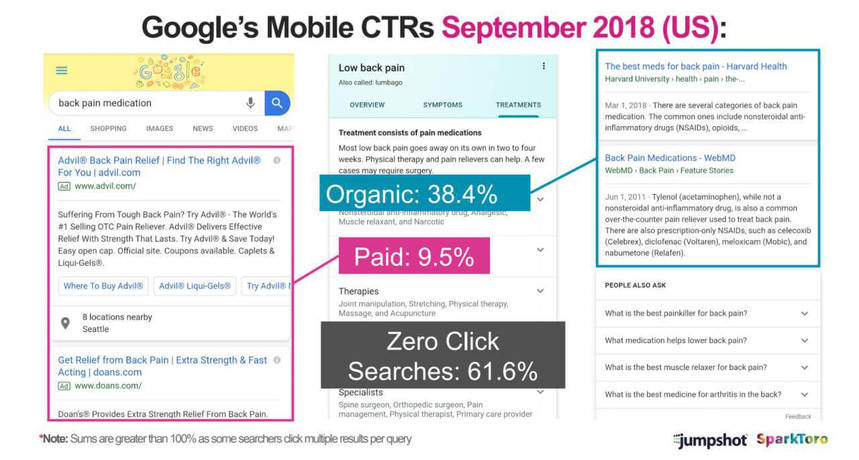 And the number of zero-click searches on mobile has grown by 20% over the last three years.
Google's 2019 ABCs:
Answering queries in SERPs and sending out less traffic
Bias toward paid results for visibility and clicks
Competing directly with publishers (and ranking their own properties ahead of anyone else's)
What should search marketers do to beat the competition?
Control the brand with on-SERP SEO, as the search results page is your new landing page. You need to leverage rich snippets and claim your panels. Below is an example of a search results page when you Google "Rand Fishkin":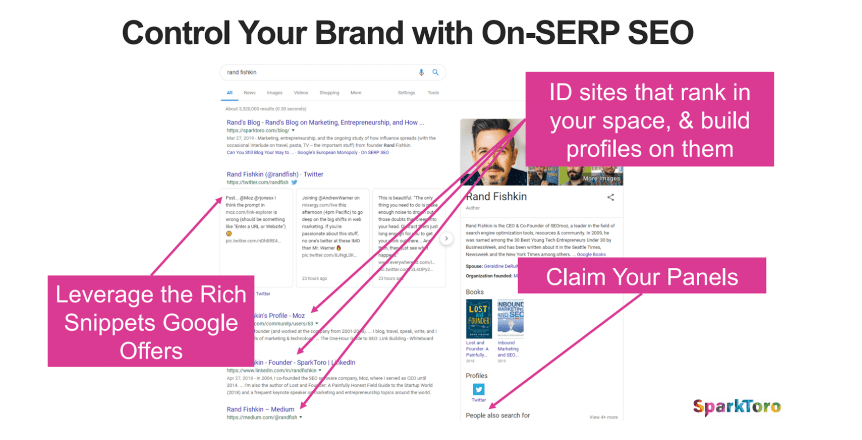 When keywords show aggregated answers, influence the publishers below to get listed there.
Double down on branded demand creation. During the presentation, Rand brought up an example with Elvie's #FreetheFeed campaign and how it got Londoners searching and sharing to create brand awareness: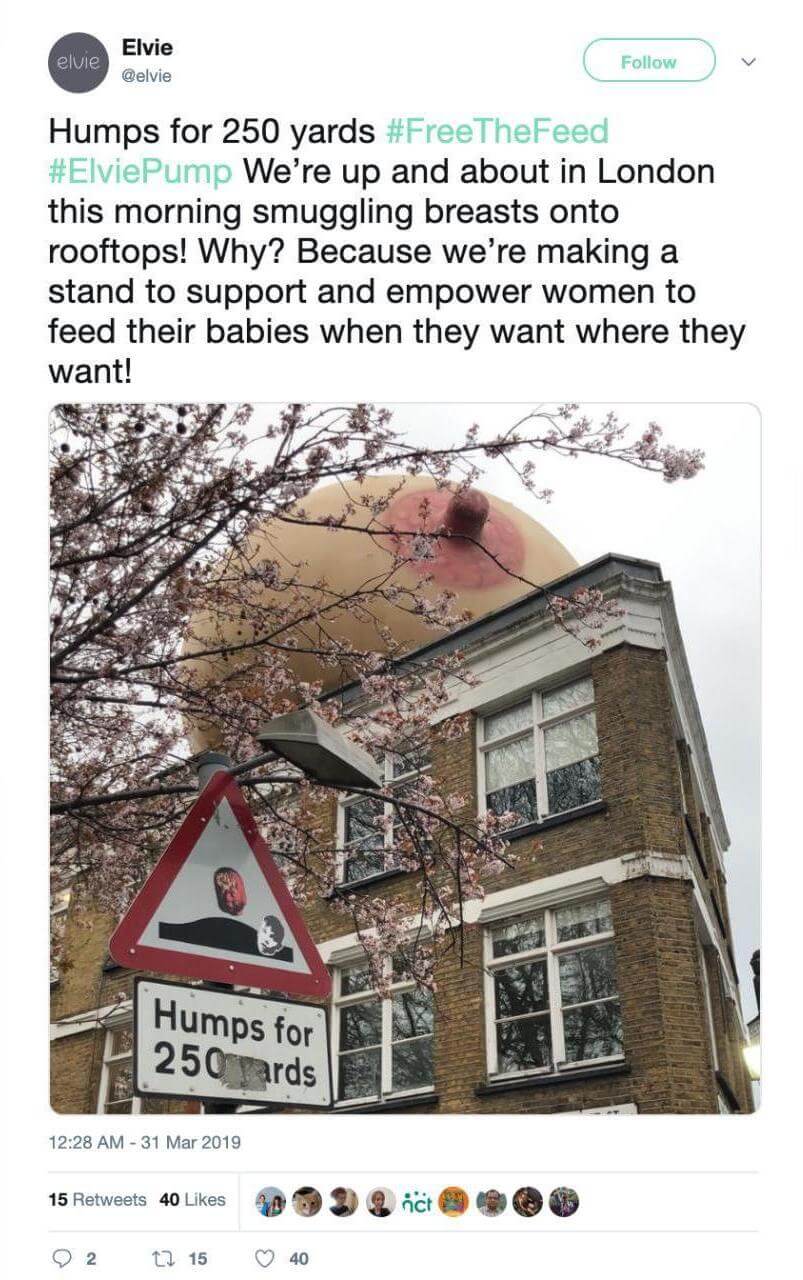 If other sites can rank but you can't, use barnacle SEO by submitting guest posts or guest editorials.
Shift SEO-focused content to keywords Google is less likely to cannibalize: 40%+ of all searches get less than 100 searches per month, so the long tail is still a gold mine for SEO.

Social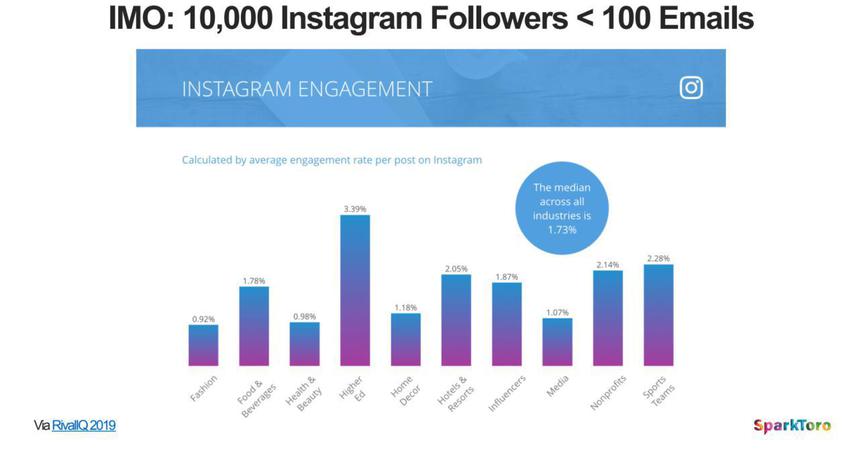 If you compare the efficiency of social followers with email subscribers, you might be really surprised: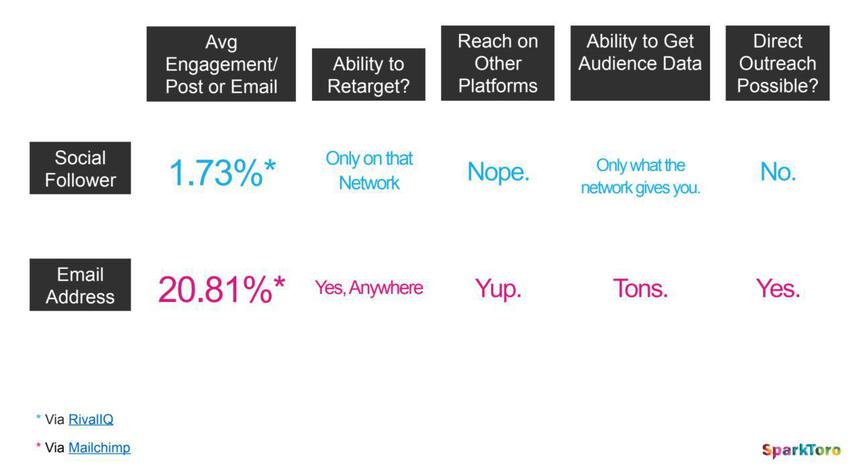 Social traffic still accounts for less than 10% of traffic (according to Jumpshot), even though it has been sending more traffic than before: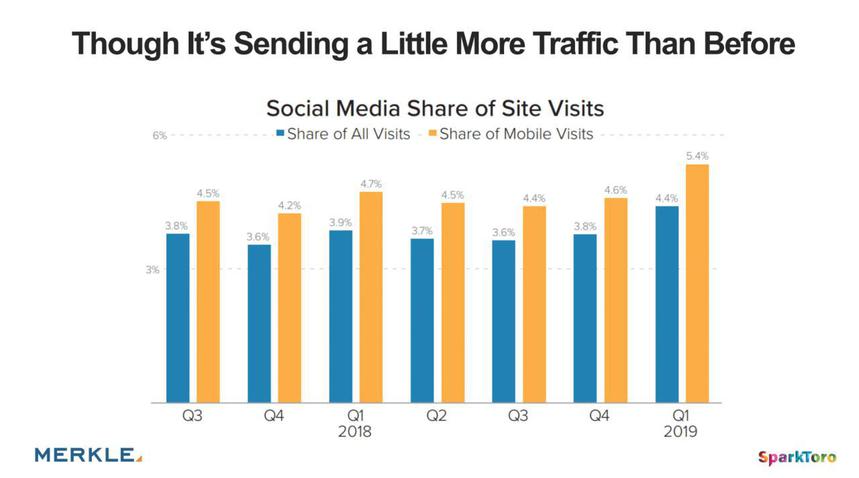 Over the past year, site visits generated by social media have decreased by 8% for Twitter, increased by 9% for Pinterest and Facebook, remained unchanged for YouTube, and showed 114% growth for Instagram in Q1 2019 compared to Q4 2018. 
One possible reason is that social networks prevent outlinking. They all push content that engages more than content that's just "shared." According to AgoraPulse's experiment, Instagram posts that contain the phrase "link in bio" or similar see a 34% decrease in average reach. YouTube has cut off descriptions to avoid making links visible in the default view, and on mobile they hide them entirely. On LinkedIn, long form articles posted directly in a post are getting more engagement, more reach, and having more impact. One way to work around this is using "the link is in the first comment."
Social algorithms are designed to:
Engage – Content should attract users, generate likes and shares, and hold the viewer's/reader's attention. If you have a low engagement post, your next post will have a harder time reaching a big audience. And if a post gets high engagement, Facebook will boost the reach of your next post. 
Addict – Users who've seen your content should stay on the platform and keep engaging.
Retain – Users who've consumed your content should return to the platform again and again.

What should social marketers do to beat the competition?
Use the 2-1-2 formula to take advantage of social algorithms. The first two posts should be high engagement and non-promotional to earn brand exposure and new followers. Then you can have one promotional post with a call to action (CTA) to capitalize on your algorithmic reputation for high engagement and earn direct traffic. Then, it should be followed by two non-promotional posts again.
Create content that 
earns high engagement and amplification 
is connected to your brand
creates emotional resonance (can be achieved through storytelling).
Content
Content marketing has changed; just accept it. The main changes are:
Search engine and social network algorithms have created winner take most platforms.
Demands for monetization and growth have pushed tech monopolies to compete with publishers.
Amplifiers are overwhelmed by requests and are more skeptical than ever.
Traffic quantity correlates less and less with conversions.
What should content marketers do to beat the competition?
Create content that

grabs attention fast and demands engagement
plays to the psychological desire for categorizing oneself and others
creates a viral loop through sharing and seeing friends' answers

Deliver

unique value
reference worthiness
view into your competitive advantage
Advertising
Ad bids in many sectors go far above what's profitable; thus, ad costs go up while ROI trends down: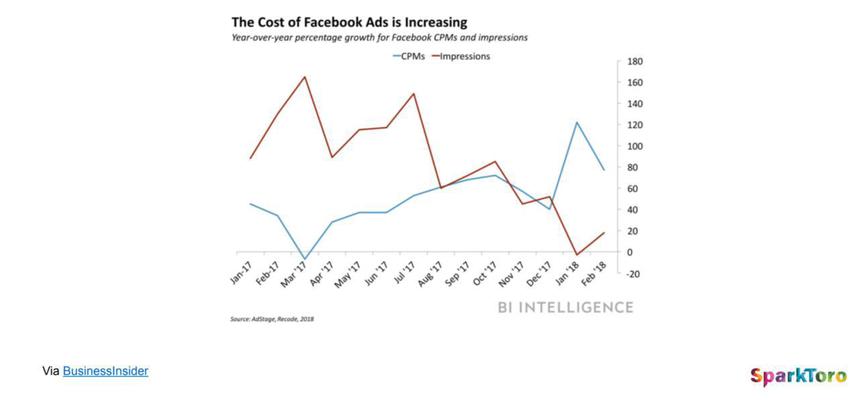 Measuring becomes even more difficult due to a variety of factors: scattered data, different speed of data updates, different data formats, walled gardens, etc. And if measuring paid search is somewhat clear, measuring influencer marketing is way more complicated: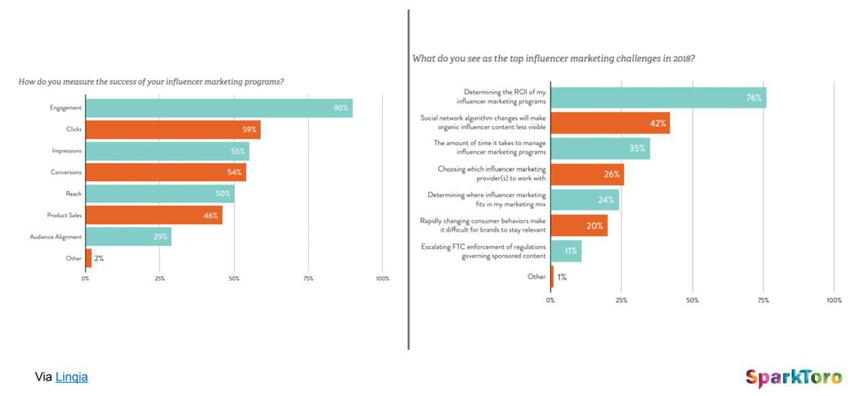 What should ad professionals do to beat the competition?
Interview, survey, or use profile data to discover where your audiences engage and with what. Traditional influencer marketing seeks out the most reachable account(s) that match a keyword search. But you don't need the biggest blogger on the internet: you need the one that your audience engages with the most.
Earn brand exposure through organic, social, content, SEO, events, and targeted brand marketing. Only after that should you invest in ads and CRO.
Work on getting organic visits and social engagements; measure your brand awareness campaigns.
Pay to advertise where your audience engages with those who already know and like you.
As you can see, there were a bunch of takeaways and recommendations about what to look for. To get a better perspective, you can find the complete presentation here.
The networking reception at the exhibition hall was followed by a Dinner with Strangers. It's a wonderful networking event that brings professionals to one table where they can get to know each other in a relaxed setting over good food and drinks. It's your chance to get out of your comfort zone and meet somebody who can solve that burning issue you've been working on or whom you can help with your experience.
And that's how the first day ended...
P.S. Thanks for all photos from the Marketing Analytics Summit Facebook official page. Subscribe! :)