We have collected valuable skills, knowledge and best practices based on our years of experience implementing Google Analytics 360 for E-commerce businesses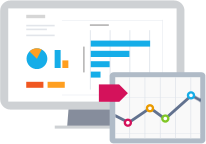 A larger number of custom dimensions and custom metrics

Allows deeper customer, content and product segmentation.

Custom Funnels

Custom Funnels provide an opportunity to build a funnel based on arbitrary rules. For example, events or on site interactions, not necessarily related to the Ecommerce-funnel. The report is built using historical data, so it is available immediately after its creation. As a result, it allows you to quickly and accurately determine the point of application to increase conversion rate.

Query Time data

Allows you to supplement reports with data that was collected earlier. For instance, you can upload additional product, content or campaign attributes and use them to create reports.

Data-Driven attribution

Sophisticated attribution model estimates the contribution of each traffic source based on its impact on the customer's behavior inside the sales funnel, not only on its position in the sales sequence. It makes it possible to assess the attribution of each channel fairly, especially in the early stages of the funnel.

Data is updated faster

Data is available to the web interface up to 12 times faster. This makes it easier to make decisions based on more up-to-date reports and calculated parameters.

Bigger sampling limit

When you create reports in real time, Google Analytics 360 uses 50 times more user sessions than the standard version. This allows you to generate better quality reports, based on more data.

Custom Tables for unsampled data

Collect unsampled data in the required structure without restrictions on the amount of data gathered.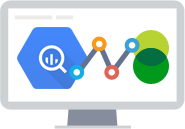 Google BigQuery

Google BigQuery integration enables in-depth analysis of all data collected in Google Analytics. Using SQL-queries, you can create reports of any structure for any period and they will always be based on full, unsampled data

Google DoubleClick Bid Manager

DoubleClick Bid Manager integration allows you to create remarketing lists in Google Analytics, available through DoubleClick Bid Manager and analyse customers behavior more flexibly.

Google DoubleClick Campaign Manager

DoubleClick Campaign Manager integration allows you to view and analyze DCM data in your Google Analytics account. Data is available in a separate set of reports «DoubleClick». In addition, traffic display ad data is available on the «Conversion» page> Multi-channel sequence.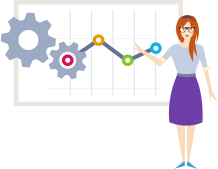 Corporate training

The Analytics 360 licence includes training of the in-depth functionality with examples of solutions from real-life situations to make sure that your team is able to take full advantage of Google Analytics 360. Specialized training for technicians or management can also be held.

Custom metrics system development

Development and implementation of your individual metrics system, including parameters that are important to your business. This allows you to get the most valuable information for your business from the data sent to Google Analytics.

Professional support

Professional support by email and phone makes it easier to solve any issues related to using Google Analytics 360.

SLA

With a Analytics 360 licence you receive enhanced data collection and processing:

data will be available to the web interface within 4 hours
99.9% SLA for data collection
99.0% SLA to build reports
Please note
This is not an exhaustive list. Google Analytics 360 is constantly developing and not all of the features are announced publicly. Feel free to contact us with any of your questions.
You've Got Questions? We've Got Answers!
Trusted by
Professional Team!
We are grateful for the efficient cooperation with OWOX. Particularly I would like to acknowledge their active involvement during the implementation process and while configuring the analytics platform for our needs: setting up Google Tag Manager, enabling the latest Google Analytics functions for our account, integration with Google BigQuery. Now we can better understand customers acquisition, behaviour and ways to improve ROI and revenue with OWOX Business Intelligence tools.