How OWOX BI works
Automatically collect marketing data, build reports, get valuable insights, and optimize your budget.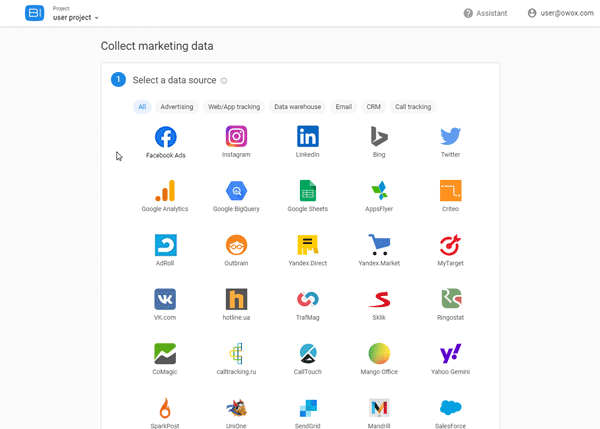 1. Collect data from advertising services
Automatically import cost data from advertising services into Google Analytics or Google BigQuery.
2. Collect raw data from your website and application
OWOX BI delivers every hit to Google BigQuery in near real-time without sampling or limitations.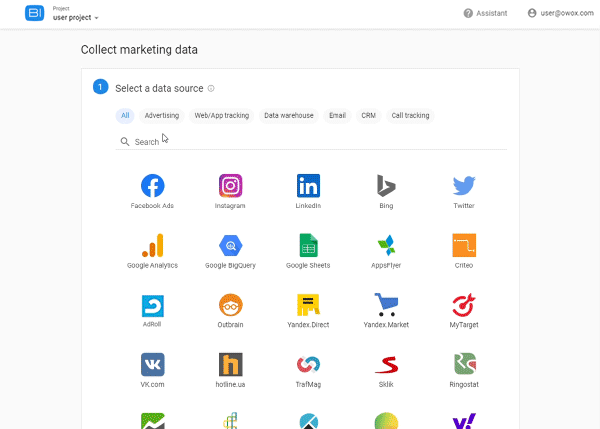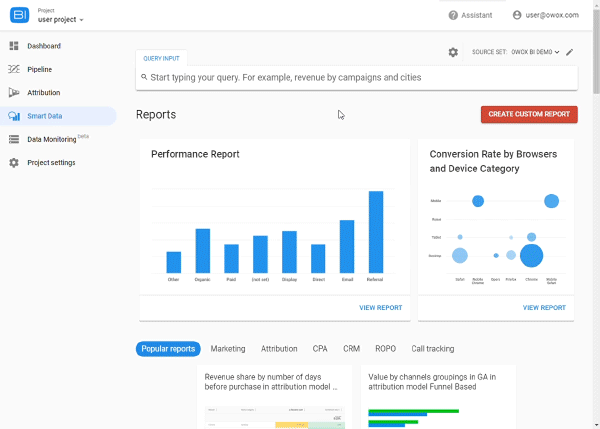 3. Blend data for advanced analytics
Get all the data you need for your marketing analysis. OWOX BI combines data from your website, mobile applications, offline store, advertising services, and CRM.
4. Monitor data quality and completeness
OWOX BI provides you with a visual report for monitoring data quality and makes SLA guarantees in all contracts. You can notice discrepancies in time if an advertising service API returns incomplete cost data.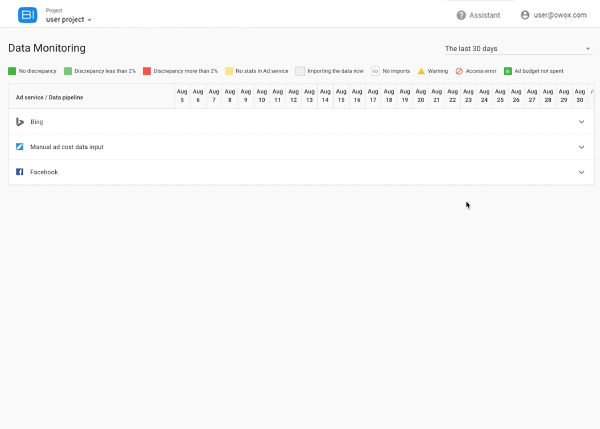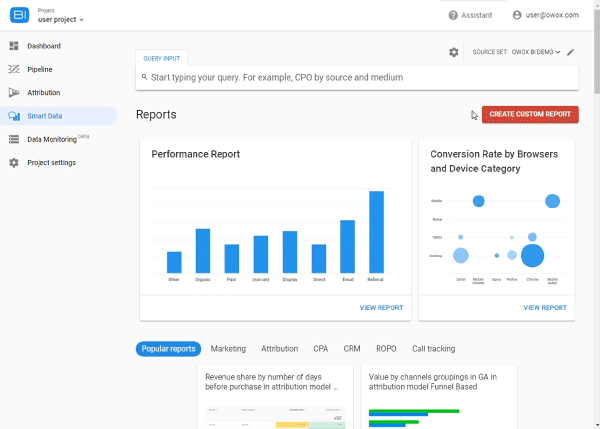 5. Build reports in the service of your choice
Build reports without knowing SQL in the OWOX BI Report Builder interface or use ready-made templates in OWOX BI Smart Data.
Build reports in Google BigQuery or import data into other popular services: Google Data Studio, Tableau, Power BI, Google Sheets.
6. Automatically deliver audiences to ad systems
OWOX BI calculates the purchase probability for each user. It also creates segments based on collected data or received reports and delivers them to advertising services.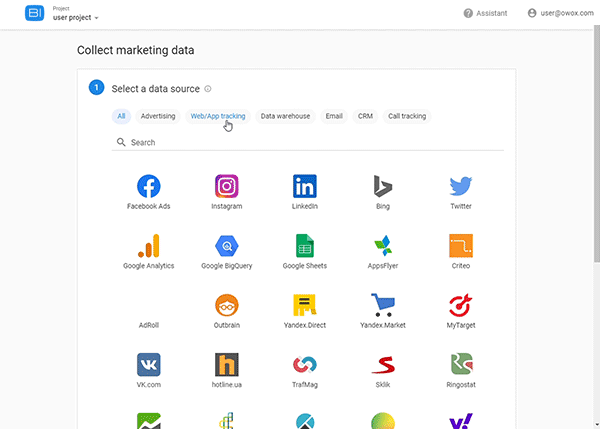 Try all OWOX BI features for free
Unique advantages of OWOX BI
Quick start
100% transparency
All data is stored and processed in your Google BigQuery project. You have complete control over access to your data and you decide who to share it with.
Market expertise
The OWOX BI model is trained on data from more than 20,000 projects and takes into account expert opinion.
Security
2,000 companies rely on us
Great Service!

Tawsif Hossain
We needed a solution that allowed us to keep a copy of all the analytics hits we were tracking. OWOX helped us do exactly that. We are able to stream millions of hits into BigQuery for analysis.
A leap forward to better analytics

Margarita Yevtukh
OWOX BI helped us take ANSWEAR's analytics strategy up a level. ANSWEAR is a fast developing online retailer and it needs high-quality analysis. Other analytics tools we previously used had limitations we really didn't want to deal with. It wasn't possible…
Great job, OWOX team!

Christophe Lemaire
We've been working with OWOX on ROPO analysis for the past 6 months. By reconciling data from our CRM systems and behavioral online raw data into Google BigQuery, we were able to better understand our customers' journeys. We can now manage our digital marketing investments by taking into account the offline sales and provide greater…
Trainings with OWOX

Risto Kukk
We asked their help to get more information about Google Analytics and Tag Manager. They came over and gave a good 2 full days of training plus a little extra with analysis. They were really open and knowledgeable. Would definitely recommend them for Google-products related trainings.
Great Team

Donatella Bochicchio
We have worked with OWOX on the implementation of the Google Analytics and Big Query products. They have done an huge work and we are totally satisfied for the result, now we are able to have non-standard report in line with our business needs.

Amazing product and team

Jon Schvili
We are using OWOX BI BigQuery Report for Google Spreadsheet — and love it! It's powerful as it give us Big Data in a easy manageable format. I can really recommend it, as well as OWOX's interesting and genuin webinars.
130+
countries
where our users work
27,000+
users
who trust us
9
petabyte
of data processed
every month