Grow faster
with comprehensive marketing
analytics from OWOX BI.
Analyze marketing performance, find growth areas, improve advertising, and increase retention, LTV, and ROI.
Combine marketing data from multiple sources, making it available for analysis in Google BigQuery.

Determine the value of each step using a funnel-based attribution model.

Automatically build reports to analyze marketing performance.

Predict sales plan performance, identify growth zones and weaknesses and see how your market share changes.
Any questions?
Talk to an expert at +1 (650) 235‑49‑12
Our customers
grow
22%
faster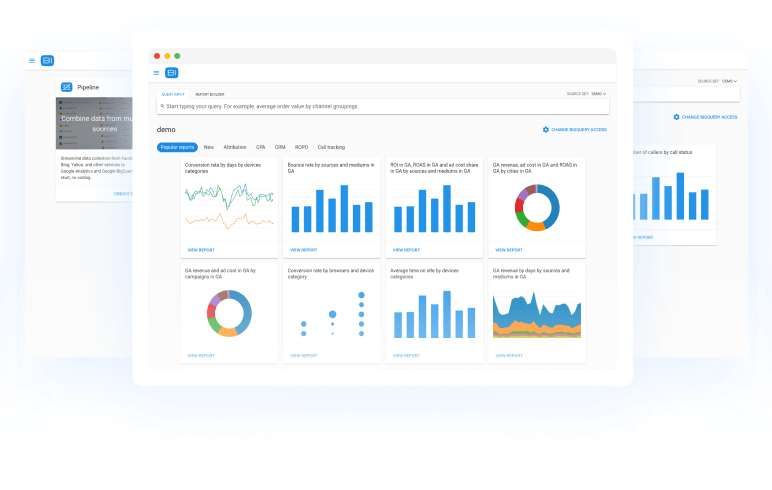 2,000 companies rely on us
A leap forward to better analytics

Margarita Yevtukh
OWOX BI helped us take ANSWEAR's analytics strategy up a level. ANSWEAR is a fast developing online retailer and it needs high-quality analysis. Other analytics tools we previously used had limitations we really didn't want to deal with. It wasn't possible…

Amazing product and team

Jon Schvili
We are using OWOX BI BigQuery Report for Google Spreadsheet — and love it! It's powerful as it give us Big Data in a easy manageable format. I can really recommend it, as well as OWOX's interesting and genuin webinars.
Great Service!

Tawsif Hossain
We needed a solution that allowed us to keep a copy of all the analytics hits we were tracking. OWOX helped us do exactly that. We are able to stream millions of hits into BigQuery for analysis.
Trainings with OWOX

Risto Kukk
We asked their help to get more information about Google Analytics and Tag Manager. They came over and gave a good 2 full days of training plus a little extra with analysis. They were really open and knowledgeable. Would definitely recommend them for Google-products related trainings.
Great Team

Donatella Bochicchio
We have worked with OWOX on the implementation of the Google Analytics and Big Query products. They have done an huge work and we are totally satisfied for the result, now we are able to have non-standard report in line with our business needs.
Great job, OWOX team!

Christophe Lemaire
We've been working with OWOX on ROPO analysis for the past 6 months. By reconciling data from our CRM systems and behavioral online raw data into Google BigQuery, we were able to better understand our customers' journeys. We can now manage our digital marketing investments by taking into account the offline sales and provide greater…
130+

countries

where our users work

27 000+

users

who trust us

9

petabyte

of data processed
every month