Why OWOX BI?
Simple answers to complex questions.
What is the impact of your advertising campaigns on the sales funnel?
What effect do competitor prices have on the elasticity of demand? How to identify website performance bottlenecks? You can find the answers to these and many other questions by bringing your data together with the help of OWOX BI.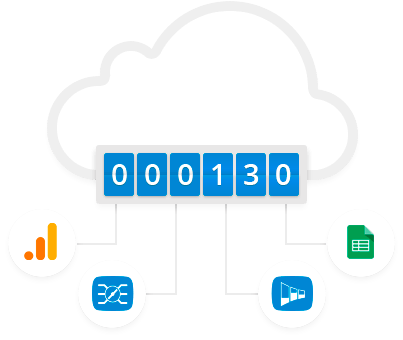 It is cost-effective
No need to purchase expensive software, hardware or a long-term license.
Using the world's largest cloud infrastructure Google, you only pay for the resources used. They transparently determined based on the number of unique users and the volume of data processed by you.
100% transparency
You do not need to trust another black box.
You have full access to all the data in Google BigQuery, in control of their processing using SQL queries, Google ready libraries for JAVA, PHP, .NET, and can even be directly connected third-party applications.
That's because your data is really under your control.
Quick Launch
You do not need to learn another service, hire and train new employees.
With OWOX BI, you get more benefits from the already familiar to you products Google, you can use your existing Google Analytics account and Google Spreadsheet
It is safe
OWOX is an authorized technology partner Google Cloud Platform.
All data is stored and processed in the Google Cloud Platform in accordance with industry safety standards ISO 27001 and PCI DSS. Thousands of projects around the world have trusted the management of its data services OWOX BI
Trusted by
Good Work!
On behalf of netPrint team we would like to thank the experts from OWOX Company for high professionalism response and a deep dive into our business during the analytical metrics integration. We were able to improve and enrich our Google Analytics reports with a large number of relevant data for us. New advertising systems connections via Google Tag Manager is now easier and faster. Furthemore, during the project, we learned a lot of new useful info and expanded our professional skills.