How to increase revenue through optimization of advertising costs for a booking service
Vlada Malysheva, Creative Writer at OWOX BI
Jun 15, 2015
With the rapid development of all spheres of digital businesses, any company or service is in need of continuously growing revenue and loyal customers. It can be said that the very essence of marketing is the focus on turning one-time customers into regular and loyal ones. Obviously, long-term growth in a digitalized reality is impossible without applying advanced analytics and using such analyses as LTV or RFM.

In this case, we describe the solution provided by the OWOX BI team for a booking service (flights and hotels) that had challenges with increasing revenue through optimization of advertising costs and getting more loyal customers.
Task
Every day thousands of customers use the booking service for reserving and buying flights and hotels. Some of them generate more revenue and make bookings more often, some seldom make purchases, others don't place orders at all.
The main business objective was to break the paying audience down by their buying characteristics, then identify the most valuable customers and develop different strategies to boost sales in each segment.
Solution
The OWOX BI team recommended for the booking service perform RFM and LTV analysis based on the CRM data collected in Google BigQuery. These types of analyses are perfect to predict customer value based on available data from online and offline sources.
The first step was the CRM data processed in Google BigQuery to determine R (recency), F (frequency), M (monetary) value, and LTV segment ID for each user.
During the RFM analysis users of each segment were divided into three different groups (1 — the most valuable users, 3 — the least valuable users), which resulted in 27 different groups.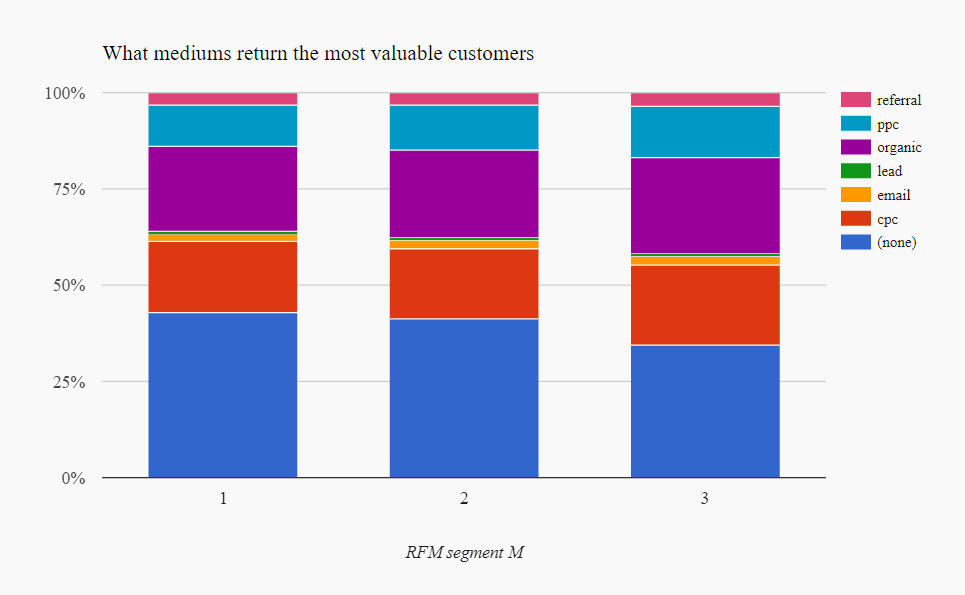 Whereas in LTV analysis users were divided into five segments (1 — being customers who bring in the most revenue, 5 — being customers who bring in the least revenue).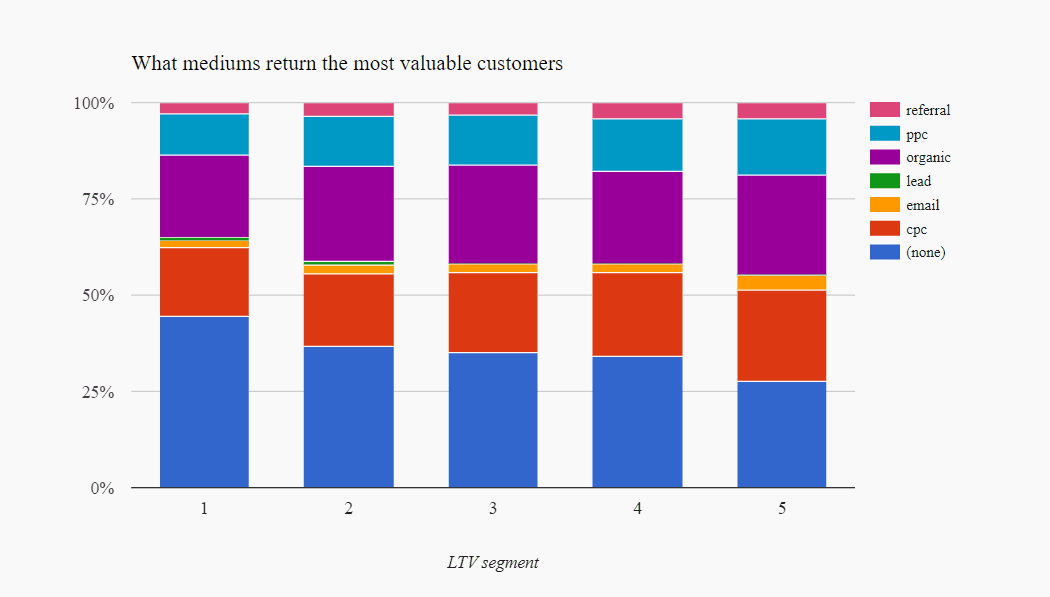 The second step was to upload the data from Google BigQuery to Google Analytics. The following algorithm was applied:
Using Google BigQuery Reports add-on to export data from Google BigQuery to Google Sheets.
Creating user scope dimensions in Google Analytics.
Creating datasets in the User Data Import section in Google Analytics.
Using Data Import and Google Sheets Data Upload add-on to import data into Google Analytics.
The third step was to create and visualize reports in Google Sheets, using the BigQuery Reports add-on. Finally, it was possible to analyze reports to determine which sources and mediums return the most valuable customers.
Results
Using the LTV and RFM metrics helps companies meaningfully personalize marketing: create solutions for personalized product recommendations and advertising campaigns. Moreover, with the growing competition for buyers between services, it's a great way to find and enrich the communication with the most eager customers.
By using the gathered data in full, the booking service could:
Determine which traffic sources bring in the most valuable customers.
Optimize advertising costs.
Increase the average order value and ROI.