In a continuous war of data, each marketing specialist wants to construct the invincible fortress in Helm's Deep (the system of dashboards) so that infinite hordes of orcs (megabytes of data) will be defeated and brought undoubted benefits to the business.
How to achieve coherence of the Rohirrim's actions and use them for successful work (evaluation of efficiency and display of risk and growth zones)? It's possible to use the help from the West — you can start with an application of report templates in a popular service of data visualization from Google, Data Studio.
Table of contents
Modern business data reporting
The online world doesn't stand still but advances in seven-mile steps. The pandemic played an undeniable role in the sharp jump in growth (Semrush & OWOX research: The impact of COVID-19 on e-commerce). For the eCommerce niche, people's transition to shopping on the Internet was a powerful development reason. As a result, marketers deal with a massive amount of data every day. Besides, the number of mobile gadgets from which marketers receive data increases every day, which can be seen in the 2020 Global Media Intelligence Report by GlobalWebIndex.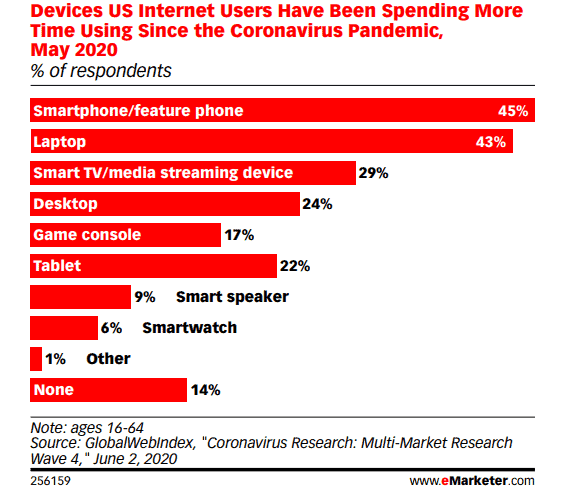 And the main challenge is not just to distribute this data into the right tables but also to benefit the business. Just collecting data and sitting on it like a dragon on gold coins under a mountain is absolutely useless. The data must work for you!
Of course, to quickly evaluate what is happening with your business, you need a clear and precise data visualization. You can collect columns with numbers in Excel, but how fast can you understand from this screensaver for the Matrix movie that you don't have sales in a specific region? It's much more convenient when the data is displayed in the form of charts and graphs, where you can see an increase or fall and immediately compare the records for last year or quarter.
Data Studio helps to implement the right data visualization quickly, and its capabilities are quite enough for small and medium-sized businesses. (If you need to build complicated graphs, it's better to use specialized BI services). Data Studio also has advantages such as native integration with the Google product line and many connectors for working with various popular marketing platforms.
In short, if you want the one data visualization service to rule them all, choose Google Data Studio. However, don't forget that this service is designed for data visualization only. So, to fully enjoy its capabilities, you must first set up automatic marketing data collection in the data storage. The perfect pair, in this case, is data collection into Google BigQuery. Use the widespread and convenient OWOX BI Pipeline connector - set up data streaming once and get full automation of the routine.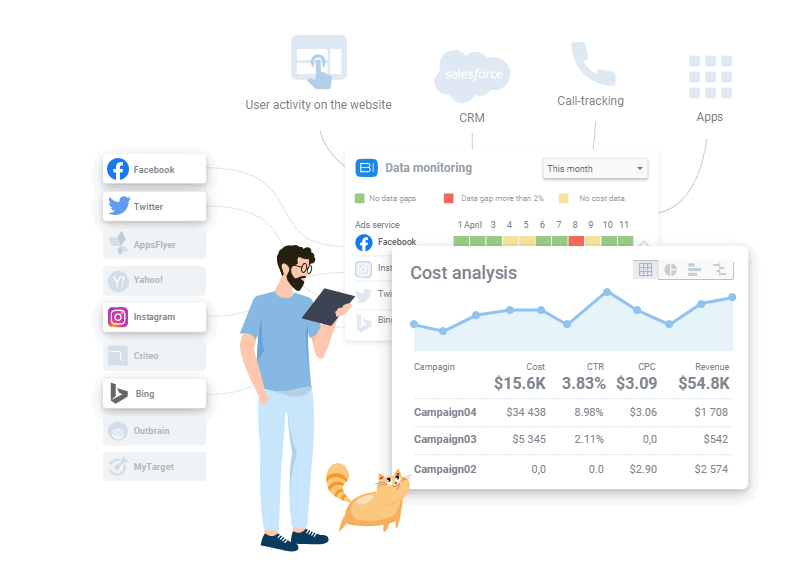 The Data Studio service allows you to use various dashboard templates that can be used for all kinds of tasks in marketing analytics. You can stop wasting time trying to reinvent the wheel but adapt the desired report template to your business needs. At the same time, the basic rules for building reports remain the same.
Data Studio report examples and templates
Note! If you've never worked with the service, try to look at the help center first.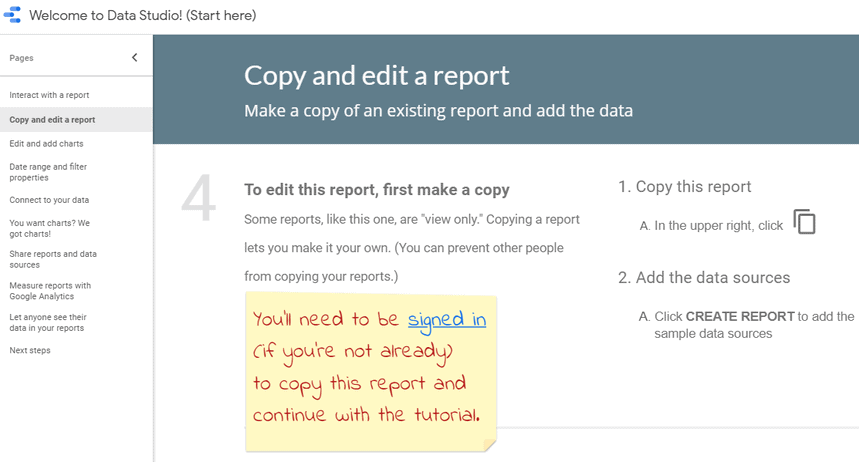 We've selected the most suitable reports for the eCommerce niche, and we hope they will be useful and inspire you to design an excellent dashboard for your business.
ROPO dashboard is a vital thing in assessing the performance success of the marketing department. With it, you can find answers to questions such as which online advertising campaigns help increase offline sales, which channels bring the most ROPO profits, and others.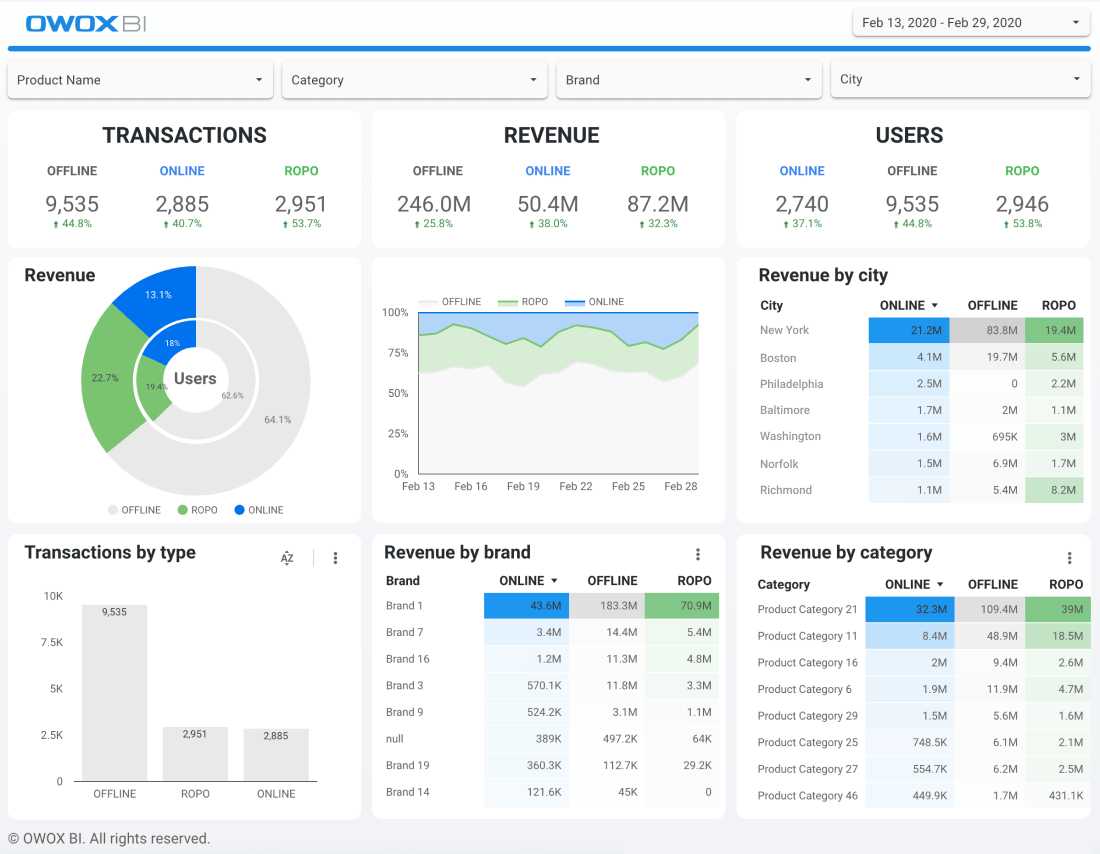 In case you are interested in a more in-depth evaluation of marketing channels, use the dashboard from OWOX BI. It's suitable for monthly reporting and annual reviews to track marketing and sales progress in terms of metrics that are of interest to your company (ROI, CRR, revenue, etc.).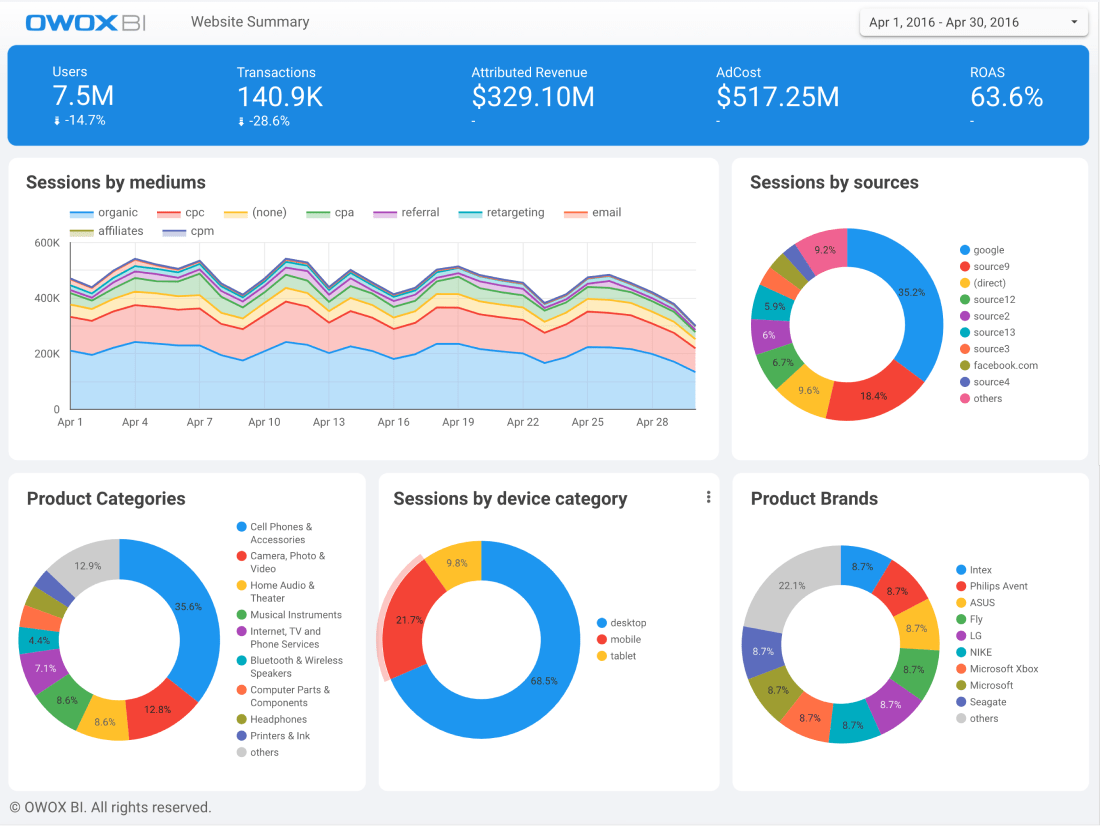 Google Merchandise Store Ecommerce Report

This dashboard is an excellent example of a simple report with no extra details on the screen. You can estimate the overall performance using essential dimensions and metrics: revenue, sessions, cart-to-detail rate or product add to carts, etc. You can use the filter to show information by category of device, country, source/medium, or user type.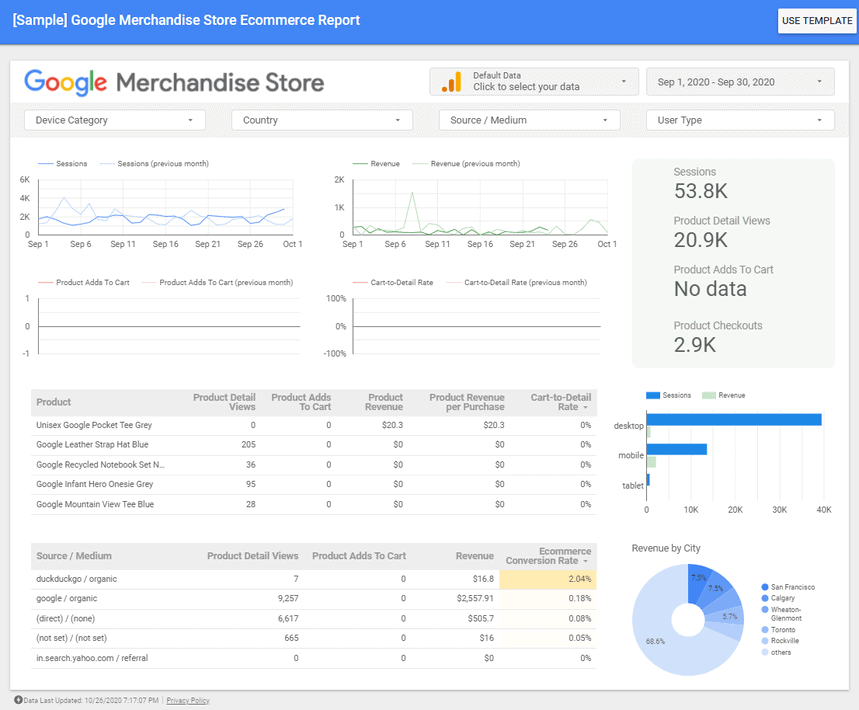 Website performance report for the merchandise store
Compared to the previous report, this dashboard is more detailed. It has five levels — Performance, Conversions, Audience, Acquisition & Behaviour. Because of this, the dashboard looks slightly over-packed.
Nevertheless, the dashboard helps to find answers to many questions in the eCommerce niche. For example, where visitors come from to the website, what level of user conversion is or what top selling products are.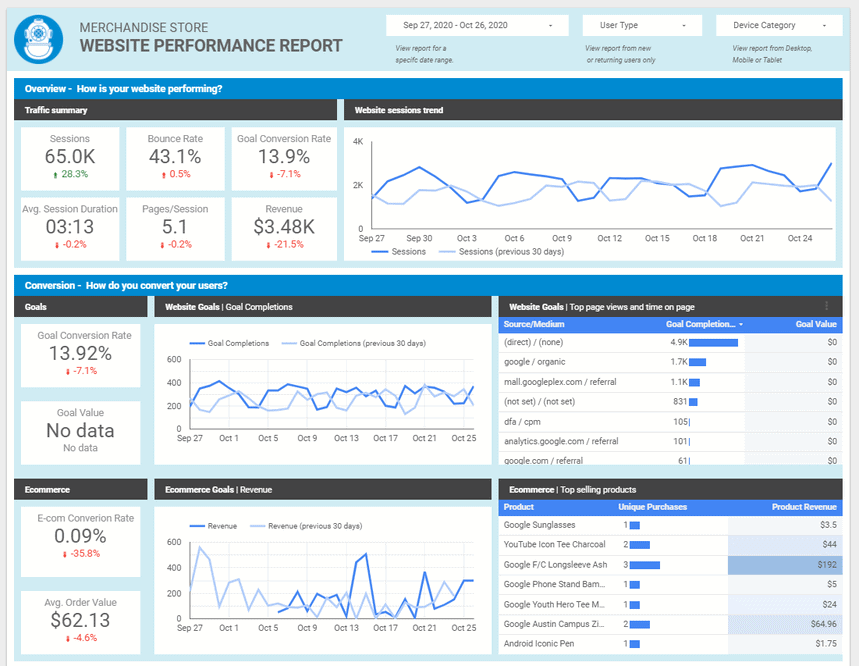 With a dashboard on attribution, you can quickly determine which traffic channels led to conversion and evaluate marketing campaigns and channels' success. Due to timely evaluation, you can promptly respond to poor performance and redistribute the advertising budget to more successful channels.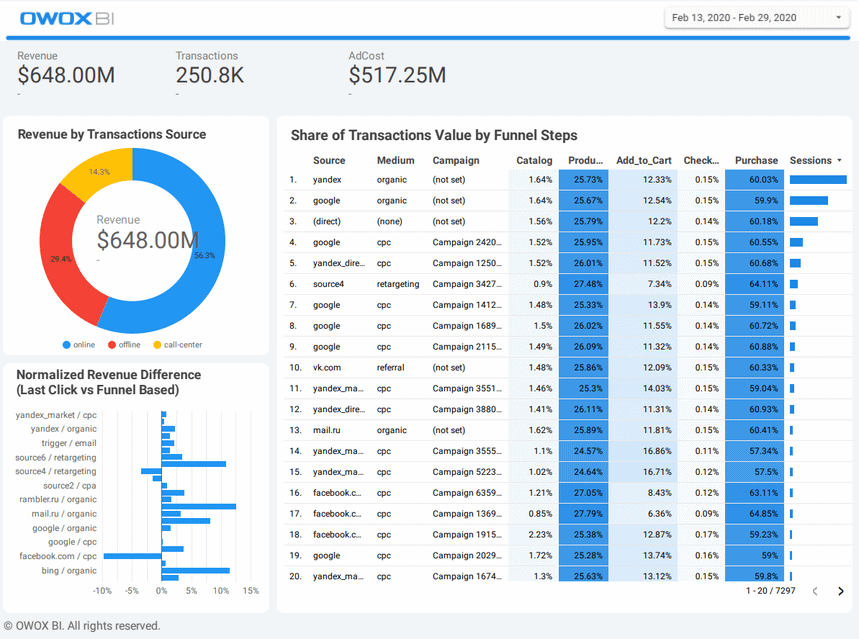 This dashboard is designed to track changes in sales and shopping behavior specifically for eCommerce companies. You can also use it to get useful insights into channels and devices. This report is suitable for creating a monthly dashboard for a general overview of business performance.
This dashboard also tries to provide all possible information on one page, and this amount of detail may be inconvenient to operate at least at first sight. However, if you need a good template with an overview of goals performance and sales execution, this is a good option.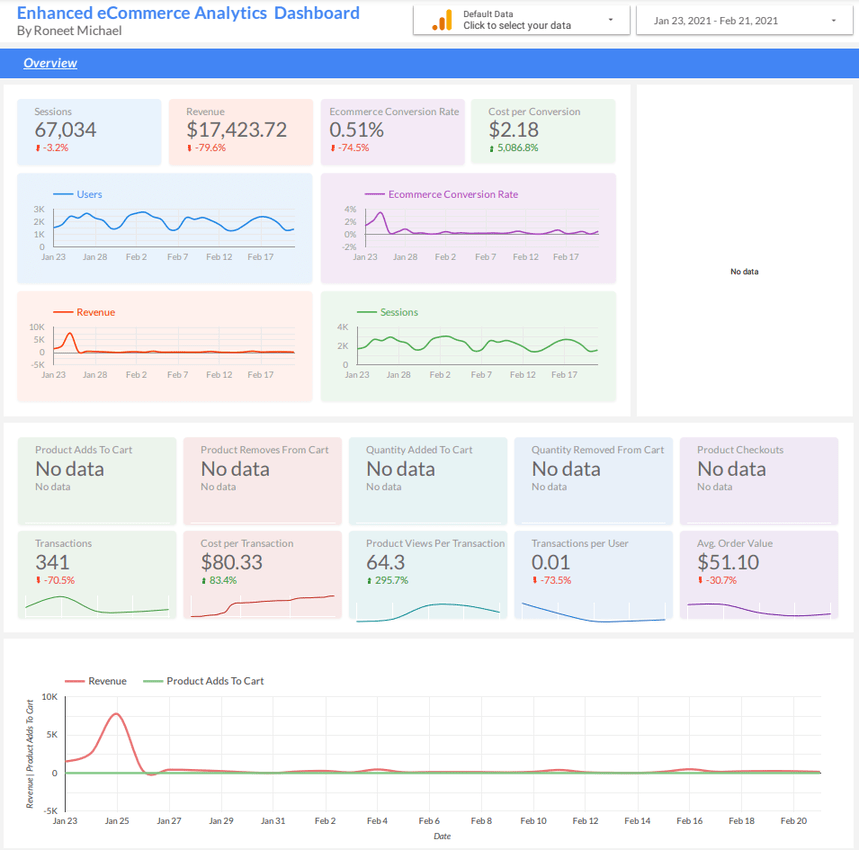 Way to improve your business reporting
High-quality data that you can trust and understandable presentation of data-based conclusions are the two pillars your reports' success leans on. The presentation of your data should be simple and, at the same time, show critical for business development metrics. Thus, the decision-makers will be able to make informed business decisions. In fact, you only have a few points that help improve your reports:
Automatically update dashboards instead of manually uploading data.
Monitor data quality and completeness.
Compare data for the same periods.
Identify risk, growth, and potential anomalies.
Useful video links
Key takeaways
With modern BI solutions, you don't need to use the Eye of Sauron to find business errors and risk areas. Automatically collect data, upload it into data visualization services, and adapt the company's strategies to market changes.