Success Stories
16 March 2020
How to automate ad campaign reports: A Webmart Group case study
About Webmart Group
Webmart Group is one of the leading digital agencies in Belarus that specializes in online marketing, web analytics, SEO, and mobile app promotion.
The agency has been providing services since 2010. In 2019, a major Belarusian rating project, ratingbynet.by, ranked Webmart Group the top online ad agency in Belarus. Webmart Group is also a Google Premier Partner and a Yandex.Direct Certified Agency.
The problem
At the beginning of each month, Webmart PPC specialists prepare detailed reports for our clients on the previous month's ad campaigns. As our agency grew and we had more clients to work with, we needed more and more time to prepare these reports.
Eventually we faced a difficulty: most of the first one and a half weeks of each month our specialists were preparing reports on the previous month and barely had time to set up new campaigns for our clients.
Since the report overload wasn't constant, extending the PPC department wasn't a viable option. To avoid sacrificing the quality of our specialists' work, we needed to optimize the whole reporting pipeline.
The solution
To prepare ad campaign reports faster, we decided to adopt Google Data Studio's automatically updated reports.
Data Studio can fetch the data we need from Google Analytics and update reports automatically when data is updated in Google Analytics. This means our specialists need to prepare a report only once; after that, they just need to keep it relevant and modify it if needed.
However, to get all the required data into Data Studio, we first needed to import all ad cost data to Google Analytics and make sure that all costs were in the same currency and that all taxes were considered.
Google Analytics can't automatically import ad cost data from non-Google ad platforms. So to get this done, we used OWOX BI.
OWOX BI can automatically import cost data to Google Analytics from all popular ad platforms, converting costs into the currency set in Google Analytics. It also lets you manage whether you want to exclude taxes from imported ad costs. The ability to include taxes is very convenient when a client wants to see all their spendings. This can be difficult in some other ad services, since they automatically exclude taxes from total ad costs.
All this — together with a friendly interface and a flexible subscription system — motivated us to use OWOX BI for exporting ad cost data.
Here's how we collect data for the reports we build for our clients:
With OWOX BI Pipeline, we upload click and ad cost data from ad services to Google Analytics. Ad campaign data from Google Ads and YouTube gets into Google Analytics via native integrations.
Once all the data we need is in Google Analytics, we connect it to Google Data Studio and assemble reports for each of our clients. The reports are then updated automatically as the source data is updated in Google Analytics.
Here's an example of what such a report looks like: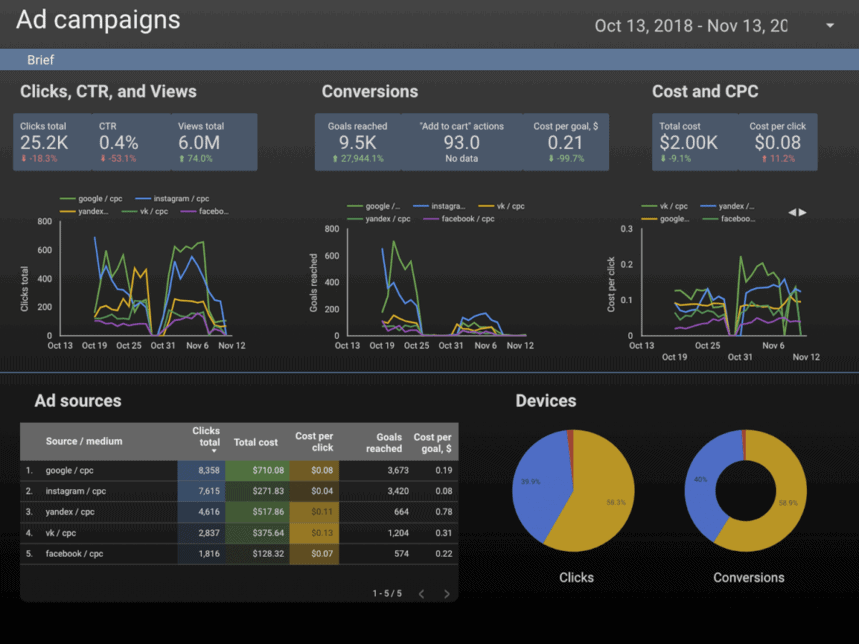 View this report in Data Studio
Using custom metrics in Google Data Studio, we can calculate the total conversion ratio and total cost of all advertising goals as well as the cost for each goal broken down by source, campaign, and targeting.
Thanks to Google Data Studio's report visualization capabilities, the reports we make are useful for more than web analytics professionals. Anyone familiar with online advertising can analyze a report for any date range and draw useful conclusions from it.
Results
OWOX BI's ad cost export features coupled with Google Data Studio's report visualization capabilities have allowed us not only to optimize our ad campaign reporting pipeline but to improve the quality of our reports.
Now, our clients can view statistics on all their ad sources and targets not just monthly, as they did before, but at any time and for any date range they choose.
So far, we've implemented the new reporting pipeline for half of our clients. This saves up to 90 hours of work by PPC specialists each month. Throughout the previous year, we saved 1080 hours in total, which is a full six months of one mid-level PPC specialist's work. We spent that time instead on developing, pitching, and implementing new ad campaigns for our clients.
In the future, we want to use OWOX BI more to gather data from Google Analytics, CRMs, and call tracking systems to Google BigQuery cloud storage, then use BigQuery as an extensive source for Google Data Studio reports.
This will let us build end-to-end analytics solutions for our clients considering all customer touchpoints and confirmed transactions in the CRM as well as how online ads lead to offline purchases.