How do you calculate ROI of non-Google campaigns?
You measure your online revenue in Google Analytics and you know how it is attributed between your traffic sources. But by default your ad costs are only available for your Google campaigns. So you do not know the efficiency of other campaigns and can not compare them.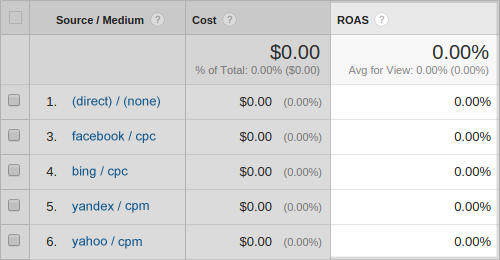 How to check
Take a look at the Acquisition / Campaigns / Cost Analysis Report in Google Analytics. If you don't see an ROAS for all of your traffic sources, then you can not analyze their efficiency in Google Analytics.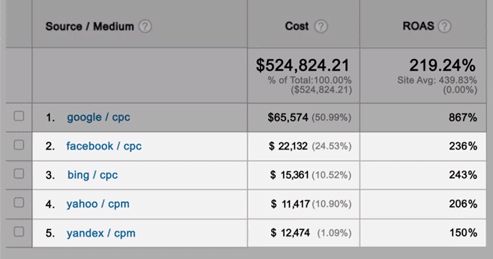 Calculate efficiency of any traffic source in Google Analytics
Cost data, clicks and impressions of Yahoo, Bing, Facebook and other traffic sources campaigns will appear in Google Analytics Reports. So, you will be able to analyze all campaigns in the single Google Analytics interface and easily see areas to increase their efficiency.
OWOX BI Pipeline automatically imports cost data for all ad campaigns into Google Analytics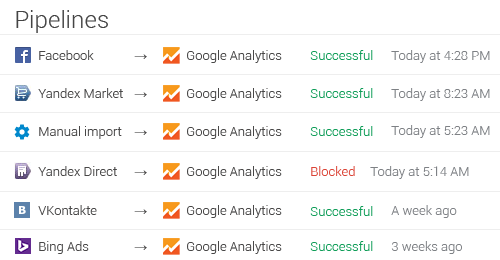 How to get started?
To get started, you need to connect your advertising services accounts to Google Analytics. OWOX BI ROI service will automatically transfer your data into Google Analytics using official API.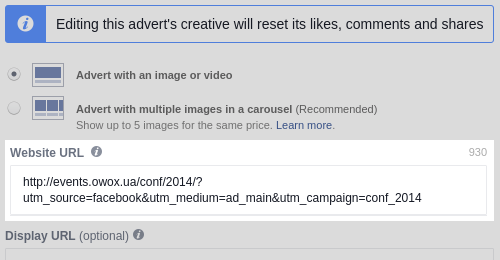 How we collect data?
To make sure that data about costs and revenue is bound in Google Analytics reports, OWOX BI ROI automatically converts imported data to the proper format. We automatically recognize UTM parameters in your ads for this purpose.
We took into account hundreds of nuances to make sure you obtain reliable data
OWOX BI ROI not only transfers your data but:
Checks your campaigns UTM parameters and provides you with actionable notifications

Updates data for previous periods, if it was updated in an advertising service

Considers VAT, to make sure that numbers you'll get are correct and comparable

Supports dynamic parameters in ad campaigns settings

Converts currency from ad services into the currency you use in Google Analytics

Helps you import data for any sources (SEO, for instance) and automatically distributes it according to the number of visits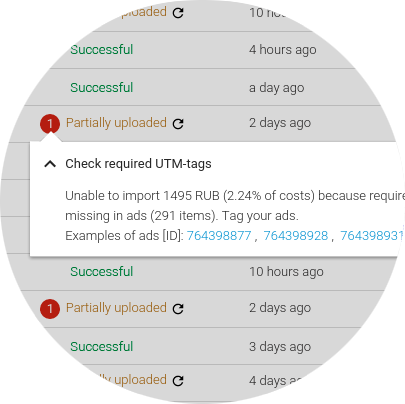 It is quick and safe

All imported data is stored only in Google Analytics: at any time you can adjust the list of people who can access it

We use only official API and safe OAuth authorization

We are not an advertising agency and do not sell advertising

OWOX BI ROI has been published in the official Google Analytics app gallery and is trusted by thousands of projects
Pricing
Data import from advertising services into Google Analytics


SLA

Processing latency is not more than 12 hours for 99% of imports

Export into Google BigQuery

Fixed price (paying month-to-month)