EVA.UA case study: How to execute a promotional sales plan with real-time data
Vlada Malysheva, Creative Writer at OWOX BI
Marina Nikolaenko, Customer Success Manager at OWOX BI
Anton Svita, Head of Digital Analytics at EVA.UA
Oct 16, 2021
Anton Svita, head of analytics at the EVA.UA online store, told us about how real-time metrics monitoring helps them increase sales during large events including Black Friday, March 8, Valentine's Day, and summer sales.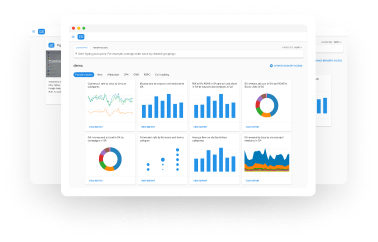 Our clients
grow 22% faster
Grow faster by measuring what works best in your marketing
Analyze your marketing efficiency, find the growth areas, increase ROI
Get demo
About the company
EVA is the largest Ukrainian chain of beauty and health stores that offers products of well-known global brands as well as their own brands. The chain carries a selection of more than 30,000 items in-store. Over 8 million customers participate in the EVA MOSAIC loyalty program. The company has more than 1,000 stores throughout Ukraine along with the EVA.UA online store, the active development of which began in 2019.
EVA occupies a leading position in its market segment and has repeatedly been recognized as the Best Beauty and Health Store in Ukraine according to the international Choice of the Year festival contest (2018–2020). EVA has also received the Consumer Choice award in the Ukrainian Retail Awards every year from 2015 to 2020 and was named Retailer of the Year in Drogerie in 2019 by the Ukrainian Retail Association.
EVA.UA is one of the most dynamically developing eCommerce projects in Ukraine. According to retailers.ua, in January 2019, EVA.UA ranked 27th among all online stores in Ukraine with 0.89 million monthly visits. In June 2021, EVA.UA took 10th place among all Ukrainian online stores with 2.5 million monthly visits.
The EVA website presents more than 70,000 products and more than 1,500 brands, including premium and luxury segments.
What we track
During promotions and sales, it's crucial for us to monitor all marketing activities, including email campaigns, in real time. It's necessary to plan the hourly number of orders, the amount of website traffic, the turnover, and the average check size. We monitor how sales go on the website from hour to hour because if we haven't made the sales plan for the current hour, we need to adjust our actions for the following hours.
Real-time data streaming with OWOX BI gives us all the data we need to meet these challenges. We can predict the number of sessions depending on the activity in real time, and knowing our conversion rate, we can know how much traffic is needed to reach the planned order volume.
On a dashboard, we set planned values and trace the performance plan progress hour by hour. The dashboard also shows the current percentage of planned sales for the day that have been completed so we can see how many more items need to be sold.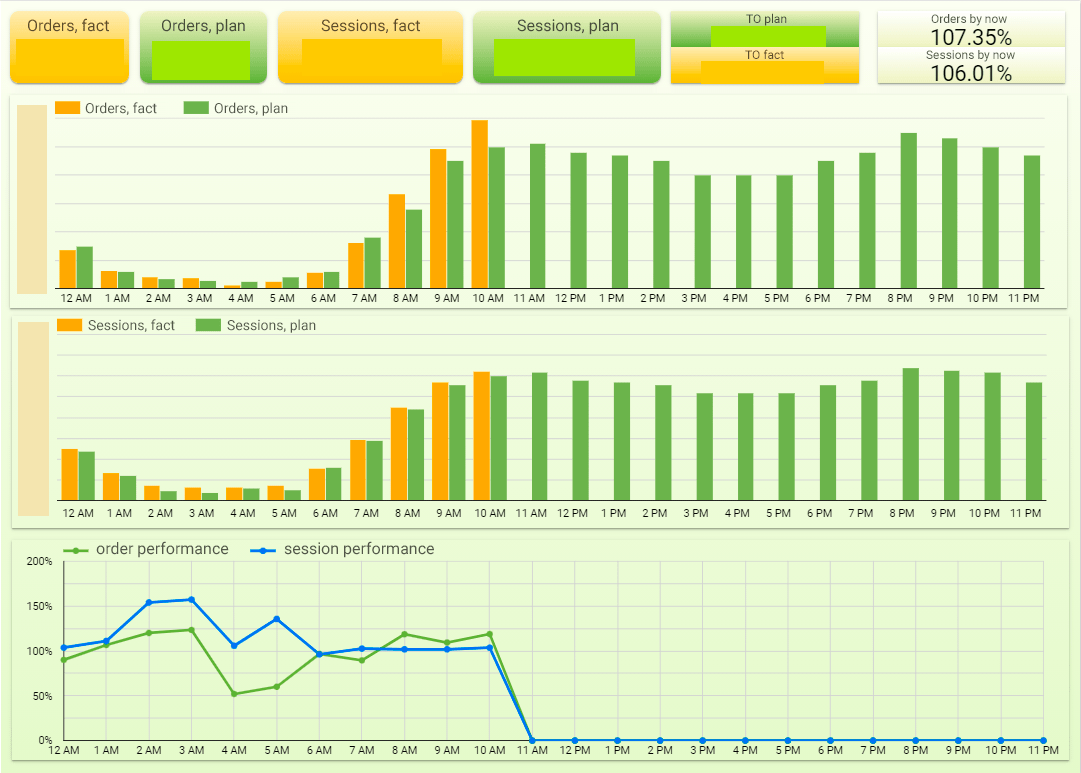 How we decided on this strategy
We had already set up data collection from the EVA.UA website using OWOX BI. Before the launch of the large event, there was a need for hourly tracking of metrics so the marketing team could see activity and manage communications, whereas the commercial department could monitor leftover stock. To do this, we collected the necessary report in Google Data Studio in just an hour, since we already had complete data in a convenient and understandable structure right before the event's launch.
In addition to helping us obtain data fast, OWOX BI is flexible and easy to use. The report is available at any time and even on smartphones, which allowed us to monitor the progress of the sales 24/7. We observed the metrics even at night, noting how we closed the day, how we completed the last hours, and how night discounts worked.
How to avoid sampling and collect complete data for advanced analytics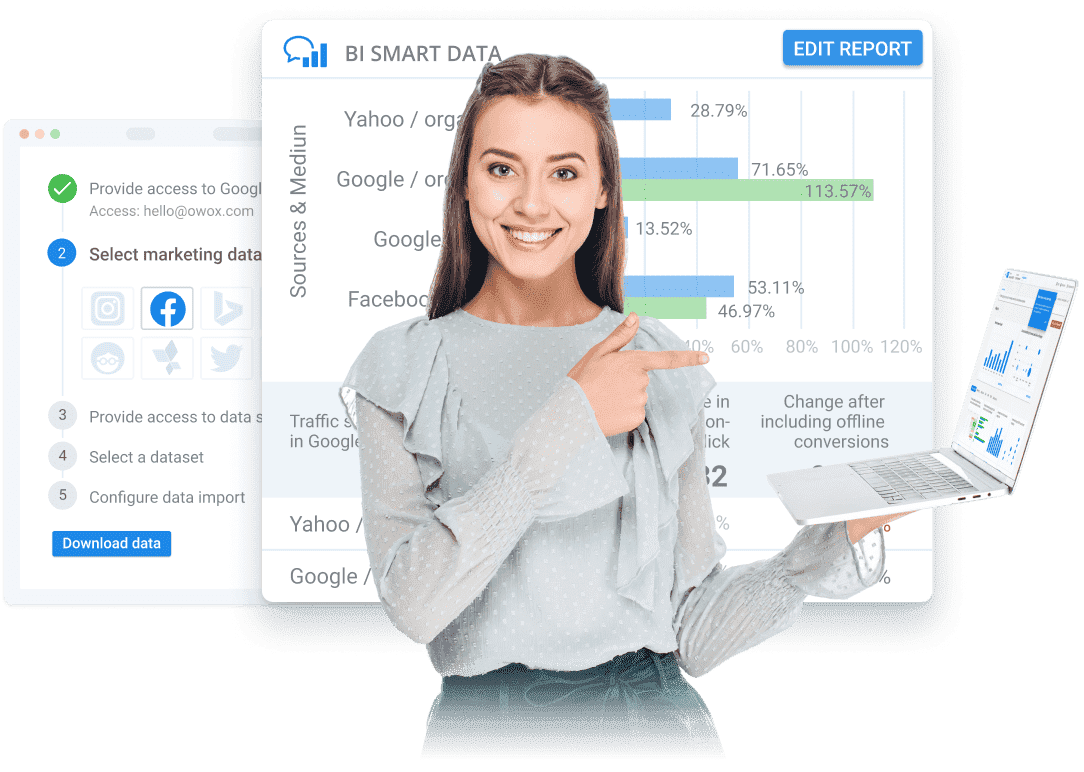 What else real-time data can help with
Streaming data with OWOX BI also helps us track and quickly eliminate anomalies in data. For example, let's suppose that according to historical data and planned activities, N orders are expected at certain times of the day. But for some reason, this doesn't happen or the numbers drop sharply by 30% to 50%. What causes this behavior? One option is that the data has stopped getting collected into the cloud — in this case, you need to contact the developers as soon as possible to correct the situation.
We recently had a case in which duplicate transactions suddenly began to appear in the hit streaming table. When we promptly checked, it turned out that the thank you page appeared on the website with a delay, which misled some customers. Having access to real-time data allowed us to react and fix the problem quickly.
In addition, real-time data helps us managing promotional sales and inventory. For example, say we are actively launching advertising campaigns for specific products. Sometimes the stock of these products runs out really fast, which acts as a trigger to cancel additional distribution, replace the banner, or quickly increase the supply in the warehouse.
FAQ
What is Darjeeling and how did it become successful in the eCommerce industry?

Darjeeling is a highly successful online retailer that specializes in lingerie. They became successful by providing quality products, excellent customer service, and utilizing data-driven marketing strategies.

How does Darjeeling use data to improve its marketing efforts?

Darjeeling utilizes tools like Google Analytics and OWOX BI to track customer behavior and conversion rates. They also conduct A/B testing and create personalized marketing campaigns based on customer data.

What is the benefit of Darjeeling's personalized marketing approach?

By tailoring marketing campaigns to individual customers, Darjeeling is able to provide a more personalized experience and increase customer loyalty. It also helps them to better target their marketing efforts and increase conversion rates.