How to build cross-platform analytics and automated reporting for a large marketplace
Vlada Malysheva, Creative Writer @ OWOX
Aug 18, 2021
The number of businesses performing online keeps growing every year, especially due to the pandemic and limitations for offline ways of functioning. This leads to overall changes in the digital landscape and emerging of new services, products, and platforms as companies want to be presented in all variations achievable to attract as many customers as possible.
Obviously, there appears a necessity in altering ways of analyzing performance as companies are adding to their offline shops websites, mobile applications, etc. Shortly put, any large enterprise is in need of cross-platform analytics along with an automated reporting system.
In this case, we describe the solution provided by the OWOX BI team for a large online tour marketplace that had challenges with evaluating marketing activities over different platforms.
Task
For a large marketplace, the main challenge was in gathering data from all sources (both online and offline), merging this data, processing it (with no questions about its quality and relevance), and creating automatically updated reports.
Moreover, there appeared to be other aspects in the marketplace workflow that make the task difficult, such as:
Google Analytics wasn't a suitable tool as the website had too many events, and data in reports was sampled. Additionally, due to limits and quotas in uploading data through the Google Analytics Reporting API, there periodically arose various data issues.
Transaction data in Google Analytics didn't match sales data from the CRM due to various payment methods, loans, and installments.
Data from a mobile application along with data from dozens of marketing channels must also be taken into account when evaluating marketing activities.
Among other goals that our client wanted to achieve was increasing the ROMI of all marketing channels which means:
Optimizing the cost of attracting users and reaching a positive economy
Understanding the contribution of each ad source at different stages of the sales funnel
Prioritizing development tasks in accordance with the expected return on profits through various customer acquisition channels
More efficiently allocating the budget and managing marketing channels
Solution
All necessary data was collected and processed in Google BigQuery (GBQ) cloud storage due to its high data processing speed and fault tolerance. Besides, it's easy enough to work with:
Ad costs from Google Ads, Facebook Ads, Criteo, and other advertising services were imported using OWOX BI.
Data about user actions on the website was collected by Google Analytics and simultaneously sent in raw form to BigQuery using OWOX BI, which avoids sampling and other Google Analytics restrictions.
Data about paid application installations was transferred from AppsFlyer to BigQuery using OWOX BI.
Data about the actions of mobile application users was monitored using Google Firebase.
Data from the Intercom chat service was uploaded using Google Cloud Functions and Python.
For downloading sales data from the CRM, the marketplace used its own Python-based software.
Then, the merged data was applied to create dashboards in Klipfolio and Power BI. Here is the data flow scheme: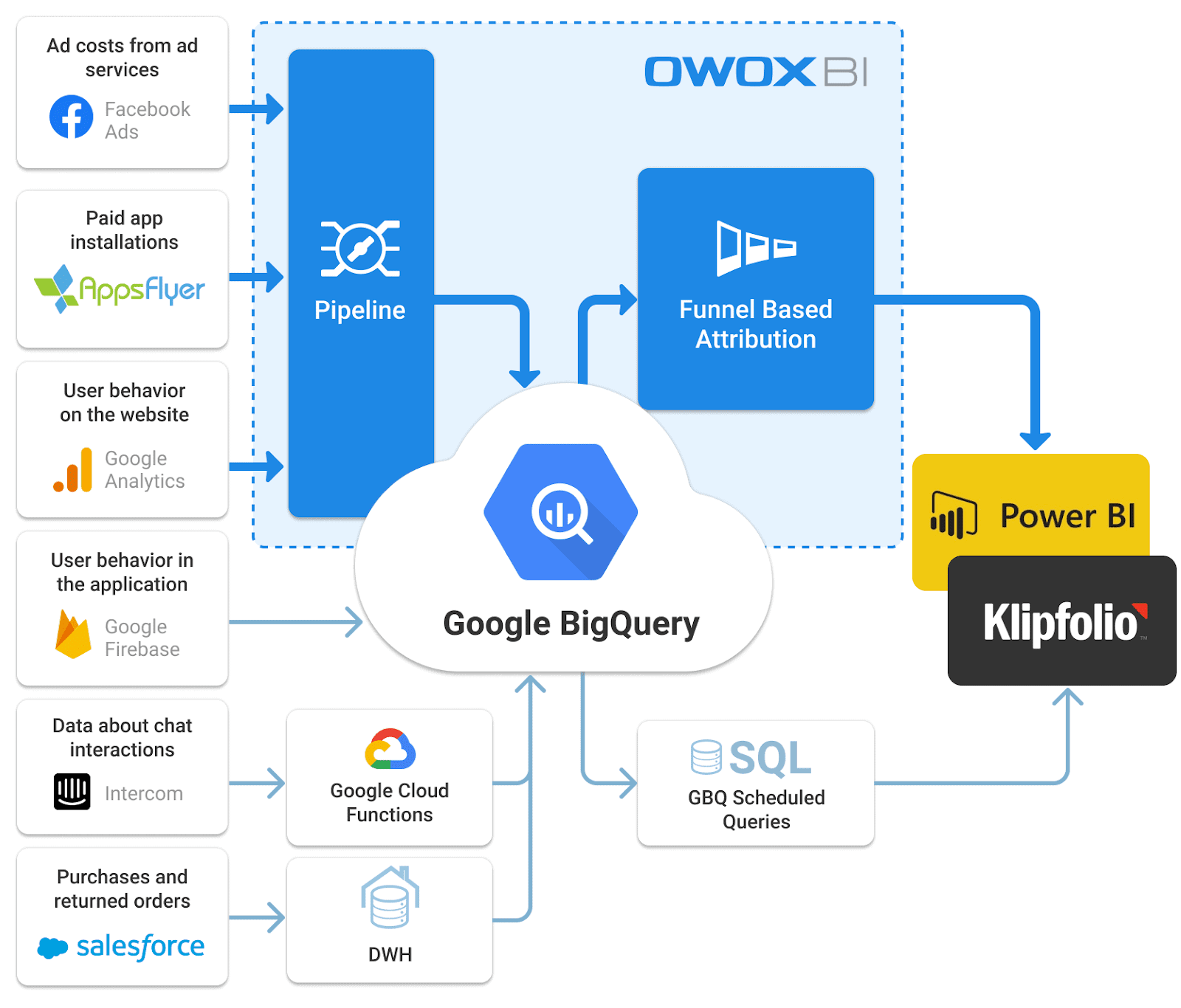 Result
After establishing all data integrations and creating stable and verified data flow, the marketplace could build the necessary reports and dashboards for various departments. Having complete, relevant data on all important metrics along with monitoring the critical KPIs automatically saves a significant amount of time when making decisions on marketing activity.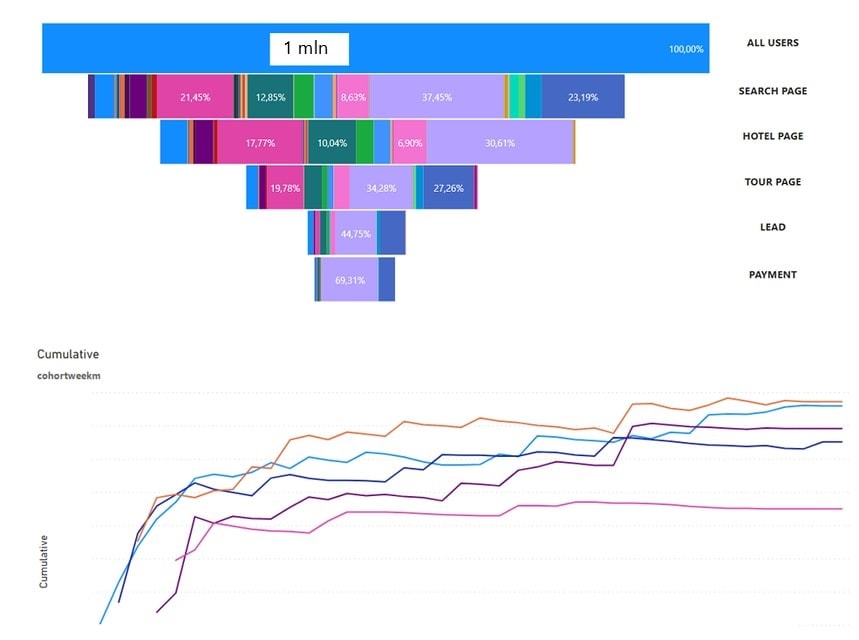 Comparing the pay-per-click attribution model with the First, Last Non-Direct Click, and OWOX BI Funnel Based attribution models helped the marketplace team to understand channel contributions at different stages of the funnel and optimize development efforts as well as marketing budgets and tasks.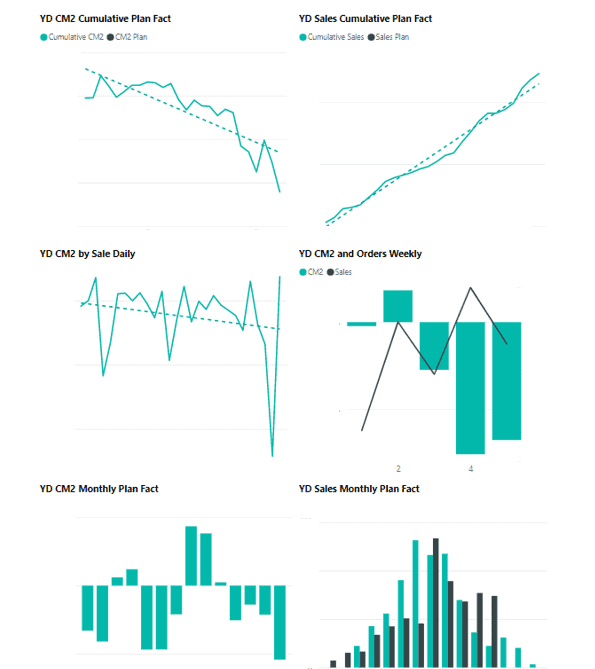 By comparing the attribution models, the contribution made by channels became clear in both:
upper stages of the funnel (e.g. SEO and SMM, which the internal model underestimated)
direct communication channels (push notifications and emails).
As a result, the business could invest more effectively in these channels. For example, the client's team plan to conduct further optimization of non-branded campaigns, which will be the subject of separate tests using funnel attribution data.
FAQ
What tools or platforms can I use to build cross-platform analytics for my marketplace?

There are several tools and platforms available to build cross-platform analytics for a marketplace, including Google Analytics, Mixpanel, Kissmetrics, Amplitude, and Heap. It is important to select a platform that aligns with the specific needs and goals of the business.

What are the most important metrics to track when building cross-platform analytics for a marketplace?

The most important metrics to track when building cross-platform analytics for a marketplace include conversion rates, customer acquisition costs, customer lifetime value, average order value, and repeat purchase rates.

How can I integrate cross-platform analytics into my marketplace?

Integrating cross-platform analytics into a marketplace involves identifying the key metrics and KPIs for each channel, consolidating data from all sources, and using analytics tools to analyze the data and generate actionable insights.