Aligning Marketing and Revenue Goals with Privacy-centric Analytics in PandaDoc
Alena Melnychenko, Customer Success Manager @ OWOX
Ievgen Krasovytskyi, Head of Marketing @ OWOX
Jun 30, 2023
How OWOX BI Empowered Pandadoc to Align Marketing Efforts with Revenue keeping Data Privacy in Mind
In this case study, you'll discovery how PandaDoc team has been using OWOX BI to enhance the understanding of customer behavior, achieve greater visibility into marketing performance, establish unwavering trust in their marketing data & save time on manual reporting 
The Company
PandaDoc is a leading document automation software, revolutionizing the way organizations create, track, and manage their documents. PandaDoc enables businesses to streamline their entire document workflow so they can improve productivity, close deals faster, and create better customer experiences.
PandaDoc was founded in 2013, and now is a a trusted solution provider for over 50,000 clients worldwide, from startups to enterprise-level organizations who want to create, manage, and e-Sign docs with ease.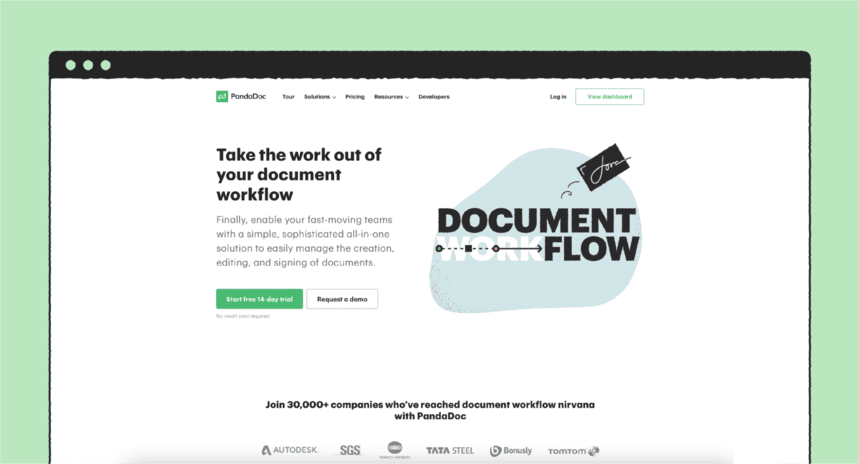 The Challenge
It's hard to properly track the website user behaviour with today's privacy restrictions... 
The same is true for Pandadoc — they were using Google Analytics Universal for tracking, and their analytics was on the verge of collapse due to a request from the legal team regarding privacy concerns. 
Another challenge was not having a 100% trust in Google Analytics data. The problem is, when you implement a consent banner for your website or app, GA4 will be missing data for users who decline consent. Behavioral modeling for consent mode uses ML to model the behavior of users who decline cookies, based on the behavior of similar users who accept analytics cookies. GA4 has a great potential, but for now its interface is not a self-service solution for marketers.
The wrong data may cause the wrong decisions
Today's customer journeys are long and complex: people rarely convert during their first visit to the website and often switch devices and browsers within the journey.
That's why our client also wanted to collect all of the raw data in the same place for more comprehensive data analysis, so they could gain valuable insights into user behavior in order to optimize marketing campaigns and website performance. The absence of a unified analytics solution resulted in fragmented data silos, making it difficult to measure the impact of marketing initiatives and attribute conversions accurately.
Struggle to connect spend and revenue
"We were struggling to connect the dots between our marketing efforts and actual business outcomes. Our analytics setup was fragmented, and it was challenging to gain actionable insights." 
Olga Asheychik, Web Analytics Manager at PandaDoc
The Goals
Pandadoc's primary goal was to establish a robust analytics infrastructure that would provide them with accurate, reliable, and comprehensive raw data, that is a 100% privacy compliant to get the only source of truth, and therefore, create reports and dashboard based on that.
After evaluating all of the options, they chose OWOX BI as their preferred analytics platform due to its match with the privacy legislations, advanced website tracker, flexibility, analytics expertise and ability to integrate seamlessly with existing infrastructure.
The OWOX BI Solution Overview
OWOX BI is an all-in-one analytics platform: from data collection and streaming to attribution modeling and reporting, providing companies with a holistic view of marketing effectiveness across multiple channels, enabling advertising professionals to optimize their ads spend and drive better ROI.
OWOX BI Pipelines provides a seamless data collection from various advertising platforms, CRMs, website builders, enabling organizations to consolidate their data in the same place. 
OWOX BI Streaming is a privacy-compliant server-side tracking solution that extends the lifespan of cookies, allowing marketers to see the whole conversion journey accurately.
OWOX BI Transformation allows businesses to get analysis-ready data faster with prebuilt data transformation templates. 
So you can:
Merge session events for sessionization
Blend cost data across advertising channels
Create single cross-device user profiles
Apply standard attribution models (First-click, LNDC, U-shape, Time decay), algorithmic Funnel-based attribution or create your own
And much more.
Then you can accelerate data-driven decision-making by connecting a data mart prepared by OWOX BI, with the customizable template in Looker Studio or the visualization tool of your choice.
The Implementation Process
The first step was to take care of the data collection by setting up GDPR-compliant user behavior tracker:
The recommendations for changes in tracking on the website based on the expert analysis were implemented;
A webstream (using sub-domain as an access point) was created;
As a result, the accurate real-time website user behavior data is now collected using OWOX BI Streaming. Data is then consolidated in Google BigQuery and processes within the EU location.
For reporting purposes a light-weight table with user activity data aggregated by sessions is what suits the best. That's why the second step was to handle the data preparation for analysis with sessionization, which means organizing raw event data into meaningful groups based on user activity. 
"Working on this task was highly intriguing as we witnessed the transformation of fragmented data into insights. OWOX BI provided us with the tool and templates we needed to achieve our goals." 
Olga Asheychik, Web Analytics Manager at PandaDoc
The third and final step was to set up the reporting based on the trusted data to build dashboards.
Benefits and Advantages for Pandadoc
Once OWOX BI was implemented and fully set up, Pandadoc started experiencing several benefits, including:
Pandadoc gained a unified view of their analytics data, enabling them to trust the collected data and understand user behavior so they can optimize marketing efforts effectively.
OWOX BI Sessionization template made the raw data business-ready by grouping events into sessions; 
OWOX BI Attribution template allowed Pandadoc to attribute conversions to sessions accurately, providing insights into the effectiveness of various marketing channels and campaigns.
Customized dashboards and automated reports in Tableau providing marketing team and C-level executives with real-time data insights and KPI's.
"We didn't expect the data quality to be much better than what GA4 provides by default." 
Olga Asheychik, Web Analytics Manager at PandaDoc
Business Results for Pandadoc
After implementing OWOX BI and optimizing their analytics infrastructure, our client achieved the following business results:
Became 100% privacy compliant;
Is ready for Google Analytics Universal sunset;
Saved tens of hours on manual reporting every month;
Gained a 100% trust in collected data;
Improved understanding of customer behavior and preferences;
Increased visibility into marketing performance and campaign effectiveness;
With OWOX BI as their analytics partner, Pandadoc continues to enhance their marketing and analytics capabilities. They now have the ability to make data-driven decisions confidently, implement targeted marketing strategies, and gain a competitive edge in the e-sign document automation software market.
"We are extremely satisfied with the results achieved through our partnership with OWOX BI. I'm also impressed by quick and effective support we get from OWOX." 
Olga Asheychik, Web Analytics Manager at PandaDoc
Next Steps
Pandadoc plans to import historical data from Google Universal Analytics so that they can not only build records based on current data, but also compare them to what they had last year or the year before. This is quite important for the marketing team, especially for evaluating seasonal trends to improve performance.
If you want the get all-in-one marketing analytics solution, book a demo now!