How to monitor the quality of your data when you have dozens of websites: An FxPro case study
Rustam Tagiev, Content Writer @ OWOX
Apr 9, 2020
FxPro is one of the top online brokers worldwide and has been providing traders with access to financial, stock, metals, energy, and other markets for 15 years.
With four online trading platforms available for both web and mobile, FxPro has a user base of more than 870,000 traders.
The company has won more than 70 international accolades, including a number of annual awards such as "best forex provider," "best forex broker," "best tool/service," and "best platform."
FxPro has been working with OWOX BI for several years. They started with consolidating data into cloud storage from different sources and building reports based on that data. Now, OWOX BI analysts consult FxPro on testing hypotheses, building data-driven marketing strategies, and implementing OWOX BI and Google products.
In this article, FxPro's marketing specialists share the story of how OWOX BI helped them implement data monitoring and anomaly reporting across dozens of localized websites and services.
The task
At FxPro, we collect and analyze data about all our users' actions on our websites and iOS and Android mobile apps. Thanks to this data, we can:
control data quality by managing trading accounts and operations with funds, verifying uploaded documents, automatically updating data in the Calendar and monitoring trading actions in the markets.
analyze the quality of acquired traffic by key business indicators: registrations, deposits, conversion rates, etc.
analyze the short- and long-term efficiency of paid traffic channels.
analyze the efficiency of SEO traffic.
With 870,000 users, we need to consider a huge amount of data and a huge number of behavioral factors. Moreover, our website has versions in 28 languages, most of which are on dedicated domains and each domain must be monitored independently.
Having accurate and complete data is crucial for making marketing decisions. Combined with the speed of data retrieval, these factors directly affect the quality of service we provide.
Incomplete or inaccurate data can lead to the wrong conclusions when analyzing traffic acquisition channels. This, in turn, can lead to investing in ineffective channels and failing to acquire new users — or simply losing money.
Moreover, not getting data in time affects our ability to react to emerging issues in the work of our services and websites.
As a global forex broker, an inability to react could lead to both material and reputational damage.
To avoid this, we need to:
collect all user behavior data from all our websites and mobile apps and store this data in one place. The collected data must be complete, raw, and unsampled.
analyze the collected data using a single tool.
get timely updates and alerts on possible anomalies and data discrepancies broken down by website, app, and country.
Here's how we do this.
The solution
Collecting and storing data
We collect raw, unsampled user behavior data and store it in Google BigQuery. To collect this data, we use OWOX BI.
Website data is collected with OWOX BI's website data streaming pipeline. Mobile app data is collected via the AppsFlyer → Google BigQuery pipeline. All this data is sent to BigQuery in near real-time.
We also use OWOX BI to collect click and ad cost data in Google Analytics from traffic acquisition platforms such as Facebook and Twitter. Eventually, this data also gets from Google Analytics to BigQuery.
As a result, all our critical data is consolidated in one place where we can shape it as we need using SQL queries. Once the data is collected and shaped, we can pass it along to data visualization tools like Google Data Studio and PowerBI.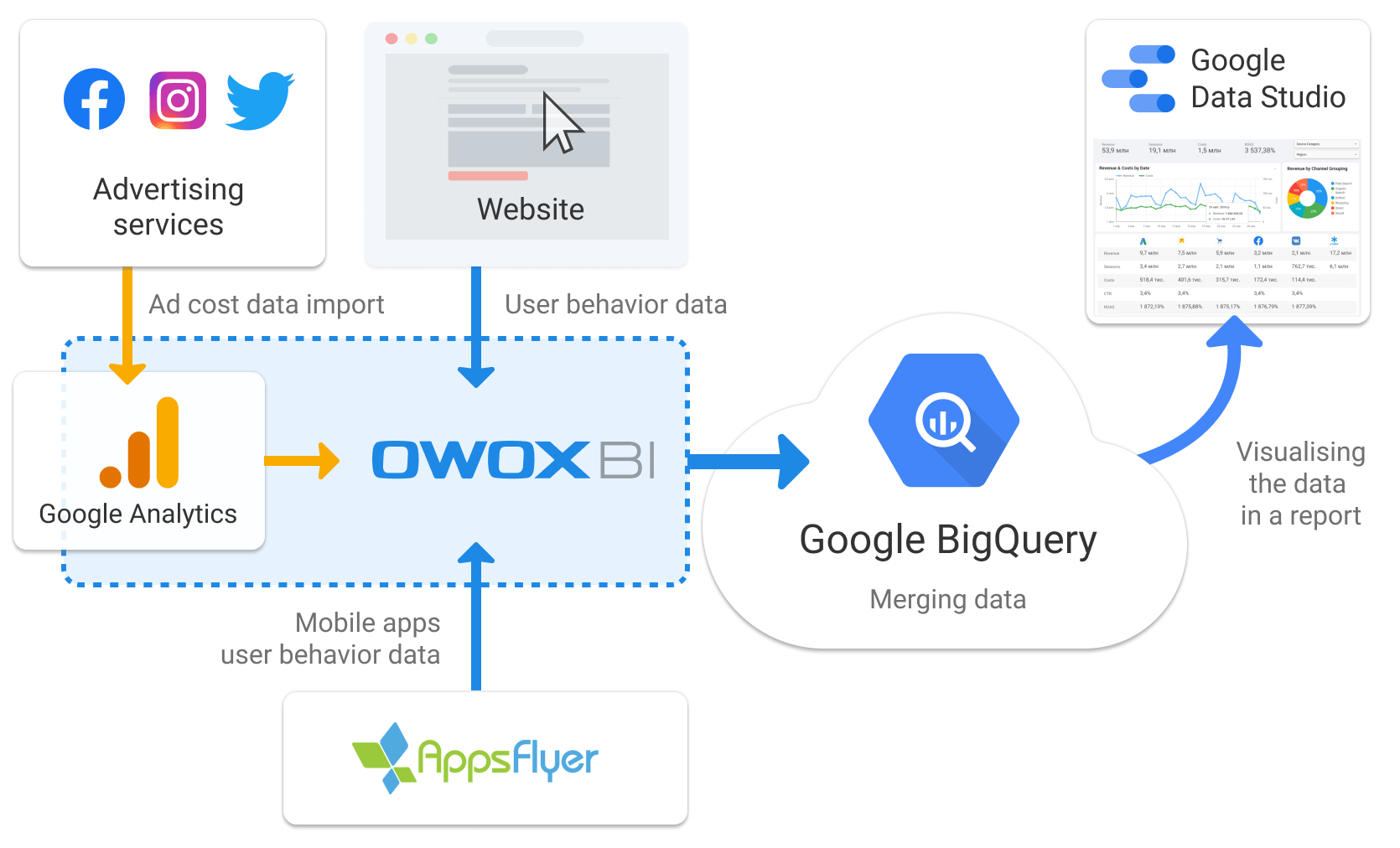 Data visualization
Collecting all the data we need in one place is only half the work.
No less important is:
1) getting readable and actionable reports based on this data
2) monitoring the quality, accuracy, and completeness of this data
OWOX BI analysts solved both of these tasks for us. The first was solved by implementing Google Data Studio reports, the second with Google Sheets.
With OWOX BI, we connected data stored in BigQuery to Google Data Studio and created a complex report that's automatically updated when there are changes to the source data.
The report features seven dashboards: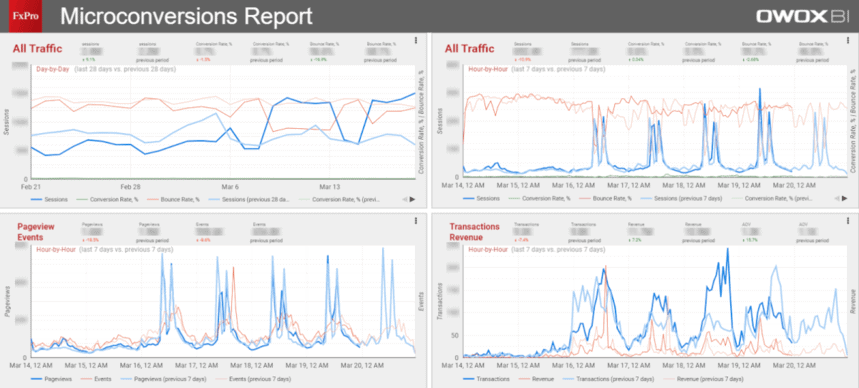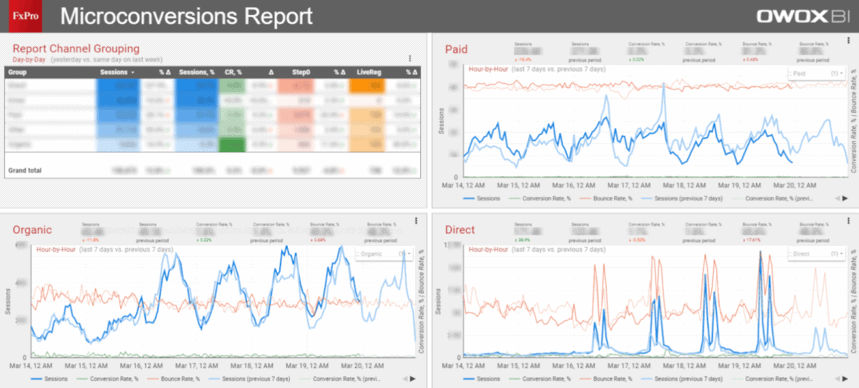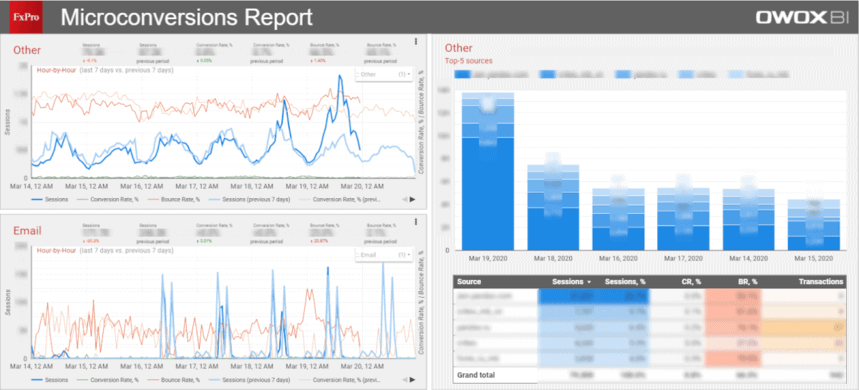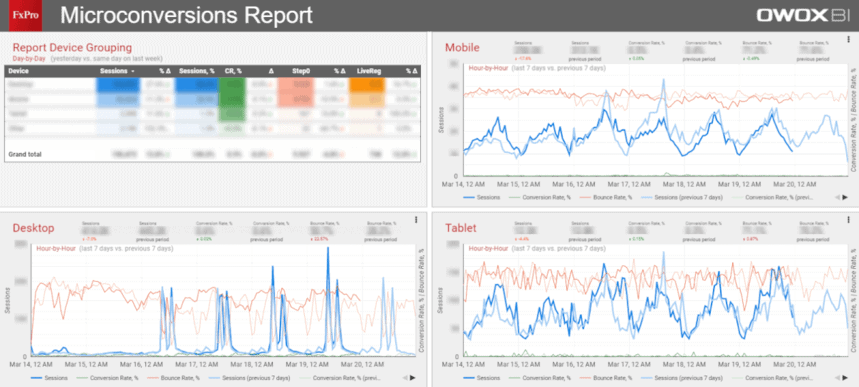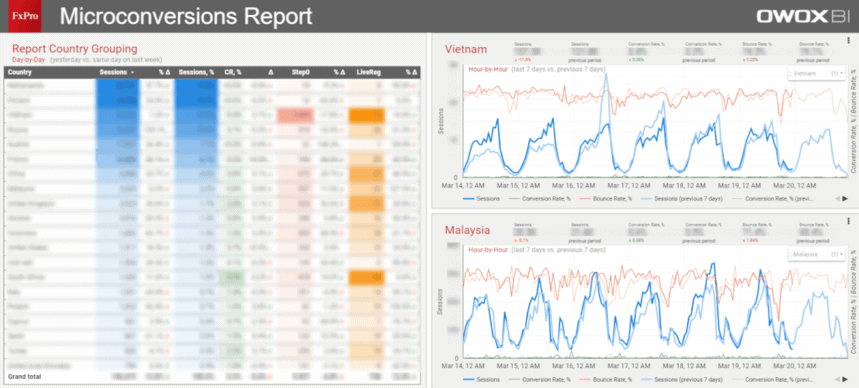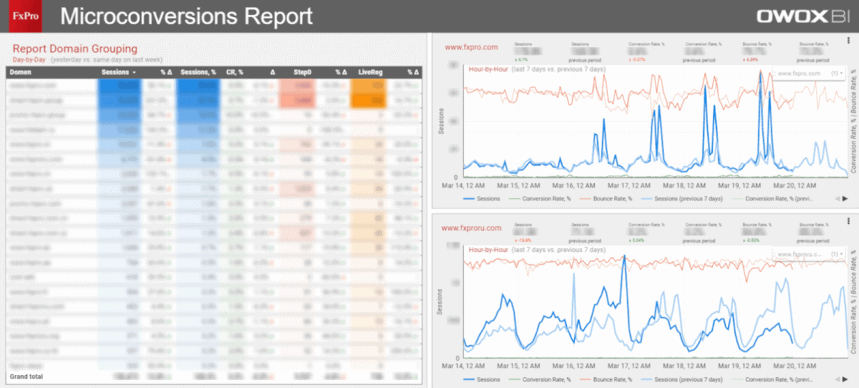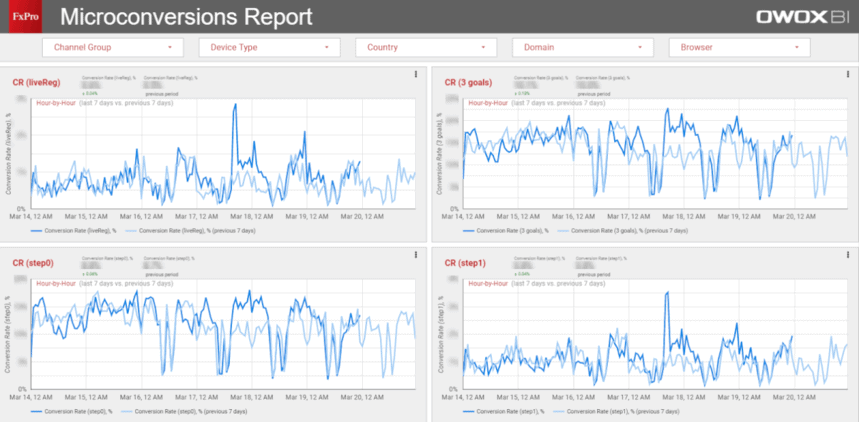 Data quality monitoring
OWOX BI analysts set up a data monitoring system using Google Sheets and Apps Script. This system automatically checks data and notifies us of possible anomalies and unexpected behavior.
Here's how it works.
The data used to build reports in Data Studio is also connected to Google Sheets, where a number of scheduled checks run automatically. Google Sheets checks the main website metrics, including number of sessions, conversion and churn rates, number of page views, events and transactions, as well as total and average revenue.
Once the data has been checked, we receive an automated email report outlining all these metrics accompanied by a short text overview of the data status and possible causes for anomalies in the data.
Here's an example of such a report: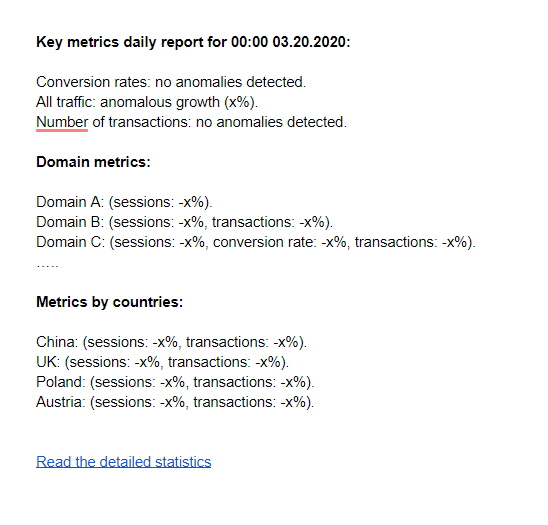 These same short data reviews also appear on the dashboards in Data Studio. However, thanks to email alerts, our analysts don't even need to open Data Studio regularly to learn about possible anomalies.
Once we get a notification, our FxPro team checks the data right away and decides whether there are issues with the data and, if so, how to resolve them.
Results
Thanks to OWOX BI's data collection features, Google Data Studio's visualization possibilities, and the flexible custom alert system set up by OWOX analysts, our SEO, PPC, and IT departments can easily get all the information they need on the key quality indicators for FxPro services.
We can now collect all the data we need on the behavior of our users in over 170 countries, monitor the efficiency of our online ads and SEO, and keep tabs on the overall stability of our services.
The automatically updated and easily customizable report in Data Studio can be read and used by any FxPro specialist, regardless of their technical proficiency. The automated alert system lets us react to any data anomalies in a timely manner.
This article was written in collaboration with FxPro specialists.
Trade responsibly. CFDs are complex instruments and come with a high risk of losing money rapidly due to leverage. 70.25% of retail investor accounts lose money when trading CFDs with this provider. You should consider whether you understand how CFDs work and whether you can afford to take the high risk of losing your money.
FxPro Group Limited is the holding company of FxPro Financial Services Ltd, FxPro UK Limited and FxPro Global Markets Ltd. FxPro UK Limited is authorised and regulated by the Financial Conduct Authority (registration no. 509956 FxPro Financial Services Ltd is authorised and regulated by the Cyprus Securities and Exchange Commission (licence no. 078/07) and authorised by the Financial Sector Conduct Authority ('FSCA') (authorisation no. 45052). FxPro Global Markets Ltd is authorised and regulated by the SCB (license no. SIA-F184).