Other integrations
Import Data from AppsFlyer to Google BigQuery
Collect complete statistics on your AppsFlyer in Google BigQuery
From where
Service provider
Where to
Destination service
We collect and process all the data you need to easily build any reports
Gain Full Insight Into Each Step of the Funnel By Bringing Together Data From Multiple Devices
Get comprehensive information about user behavior at every step of your sales funnel. Find the links between the traffic sources that bring customers to the website or mobile apps.
Start Free
New Google BigQuery users get a $300 credit from Google
Collect data from AppsFlyer in Google BigQuery
You know that your customers use more than one device and multiple traffic sources before placing an order.
Can you combine the data about user actions both on the website and in the mobile app to see which traffic sources attract new users and which sources return them?
With AppsFlyer you collect data about user performance on iOS, Android and other platforms. You use Google Analytics to collect data about user actions on the website. Combine all the data in Google BigQuery to find the connection between the marketing channels and user behavior across multiple devices.
OWOX BI Pipeline
OWOX BI Pipeline imports data from Appsflyer, the mobile analytics service, automatically and in real time.
By combining the data about mobile users' actions and the data from Google Analytics, you can track the customer journey from the first visit to the purchase.
With OWOX BI Pipeline you can:

Empower your analytics with cross-device tracking through linking events in mobile apps with user actions on the website.

Identify the sources that bring new users on the basis of the complete data from multiple devices.

Access the «raw,» non-aggregated data, in real time, and react to changes quickly.

Segment your users more effectively, no matter the device, to optimize the advertising.

Save your time and resources by processing the data in the single system.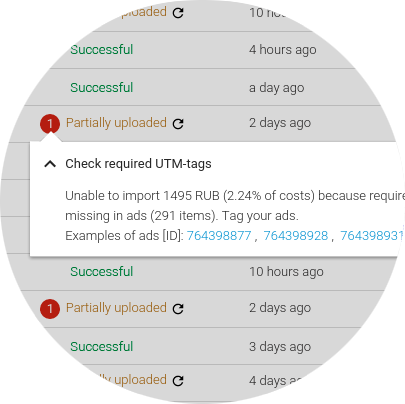 Simple Setup
Link your AppsFlyer account to Google BigQuery using OWOX BI Pipeline and we will automatically transfer the data in real time.
Select AppsFlyer as the data source

Sign in to your OWOX BI account. If you don't have a project yet—please create one. Click on the «New Pipeline» button and select AppsFlyer as the data source.

Allow access to Google BigQuery

Specify the Google BigQuery account that will be used for data collection.

Select the project

Select the project and the data set in Google BigQuery where the data will be stored. Press «Create».

Place the Postback URL in AppsFlyer

After creating the pipeline, go to the «List of pipelines» tab in the OWOX BI account. Find the pipeline you have just created and select «Copy Postback URL to clipboard» in the drop-down list on its right. Paste this URL in the API access settings in your AppsFlyer account.


All the collected data is stored only in Google BigQuery. Only you can manage access to your data and change the settings whenever you want.
The security of your data is ensured by using the official API and OAuth authorization.

We are not an advertising agency, and we do not sell ads.

Thousands of projects rely on OWOX BI. We are recognized as a Google Cloud Platform Authorized Technology Partner.
Pricing
Email


Priority
Phone

Fixed price (paying month-to-month)