Rozetka receives 23% ROI and 18% increase in direct marketing revenue
Marina Prihodko, People Development Lead at OWOX BI
Mar 18, 2016
Challenge
Rozetka, as a Ukrainian market leader in online retail, has a huge potential in repeated sales due to the size of its client database. But a high competition with other market participants forces to make decisions faster. So, Rozetka was looking for a solution to convert visitors, who showed interest in some products into buyers in real-time.
''
Earlier, it has taken at least one day before a user received a letter with recommendations or reminder letter about abandoned shopping cart, We needed something much more powerful and flexible to get the real-time direct marketing. OWOX BI Mailing gives us a significant business advantage — high speed reaction on the user interactions. The result was not long in coming: we've received high revenue from returning visitors.
Solution
The first step was to implement Google Analytics 360 (earlier Google Analytics Premium) to gather structured data about user interactions with products from all touchpoints in real time, including:
The desktop site (via Google Tag Manager 360).
The mobile-optimized site (via Google Tag Manager 360).
Apps (via Google Tag Manager mobile apps SDK).
The call centre (via operator extension and Google Tag Manager).
Using BI Google Analytics to Google BigQuery that collects data on the same principle as Google Analytics but with real-time access to raw data in Google BigQuery, Rozetka gained the ability to make decisions based on user activity on the website immediately.
Efficient direct marketing required scheduled import of personal data from ERP on the second step. And it wasn't a problem, due to a high security level of Google BigQuery that allows you to store all kinds of sensitive information.
The third step was to combine user interaction data from BI Google Analytics to Google BigQuery and user data from the ERP via OWOX BI Mailing. OWOX BI Mailing, in its turn, provides integration with Mandrill mailing service. It has flexible template options for creating marketing emails.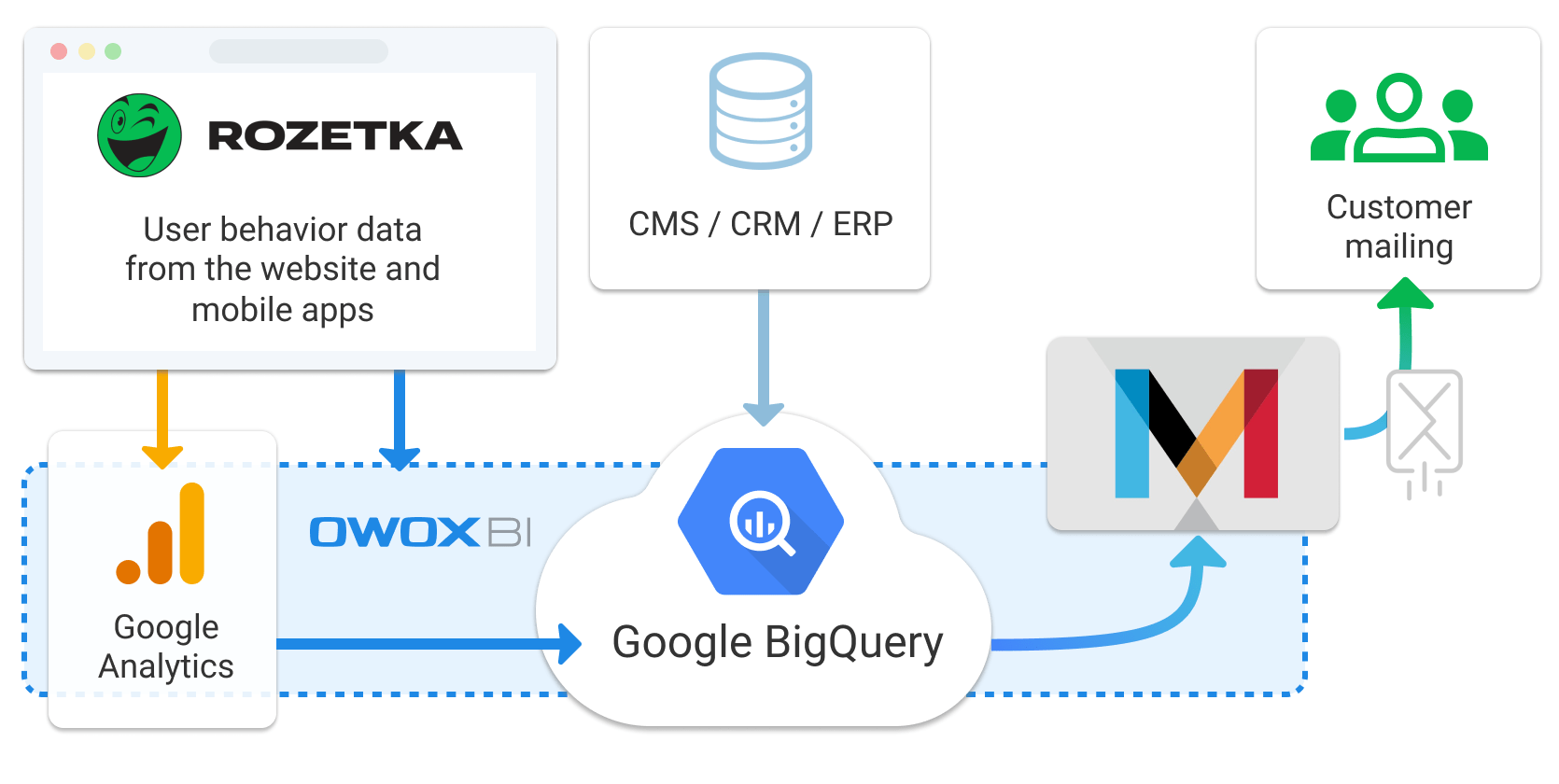 From there, generated mailing lists showed excellent results in the cases when user required help to choose products based on his interests or a reminder about the goods, forgotten in the shopping cart.
The next scenarios were covered:
Abandoned shopping cart: user added products to the shopping cart, but didn't complete a purchase;
Product recommendations for viewed items: special lists of products similar to those a user was looking for (using Google Related Products);
Special promotions for users: if a user was interested in some goods with active promotion, etc.
This integration accelerated direct marketing to nearly real-time mode.
''
In today's world marketeers have to embrace their targeting and measuring skills, to react faster on user behavior. Google BigQuery helps us understand our clients and channel our efforts in direct-marketing in right direction. Google BigQuery was the best choice for our company.
Results
Rozetka using OWOX BI services gained the ability to handle billions of rows of data in 30 seconds and manages to send 25, 000 personal letters per hour.
Beyond that:
Direct marketing revenue increased by 18%;
Direct marketing conversion rate increased by 18%;
The opening ratio increased more than 3 times;
ROI composes 23% considering costs for that period.