Success Stories
25 October 2021
Tanuki case study: How to automate marketing reporting in the restaurant business
With the help of the Realweb marketing agency and OWOX BI products, marketers at the Tanuki restaurant chain have entirely updated their analytics system. Slava Nosenko, Head of Digital at Tanuki, tells about the chain's experience in a case study for ppc.world.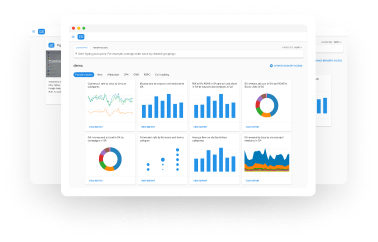 Our clients
grow 22% faster
Grow faster by measuring what works best in your marketing
Analyze your marketing efficiency, find the growth areas, increase ROI
Get demo
Today, there are 57 Tanuki restaurants and delivery service locations in Moscow, serving both Japanese and Italian cuisine. In connection with the business's scaling and diversification, the marketing department faced new tasks:

Understand what advertising activities bring new users to the website and mobile application and how much it costs to attract a client. We had to combine data from the website, mobile application, and CRM system to figure this out.
Receive fast performance reports and compare actual performance with the forecast. For this, we needed to automate marketing reporting.
Evaluate the incremental impact of media impressions on performance channels and targeted website and mobile application activities. To do this, we merged raw data at the client ID level with impressions from Campaign Manager.
Next, let's talk about how we accomplished each of these tasks and give some advice to those just starting down the marketing automation path.
Table of contents
Note: All reports presented in the article are based on a test dataset.
Merge website, mobile application, and CRM data
We built advanced analytics based on OWOX BI, Google BigQuery, and Power BI. Schematically, our system looks like this: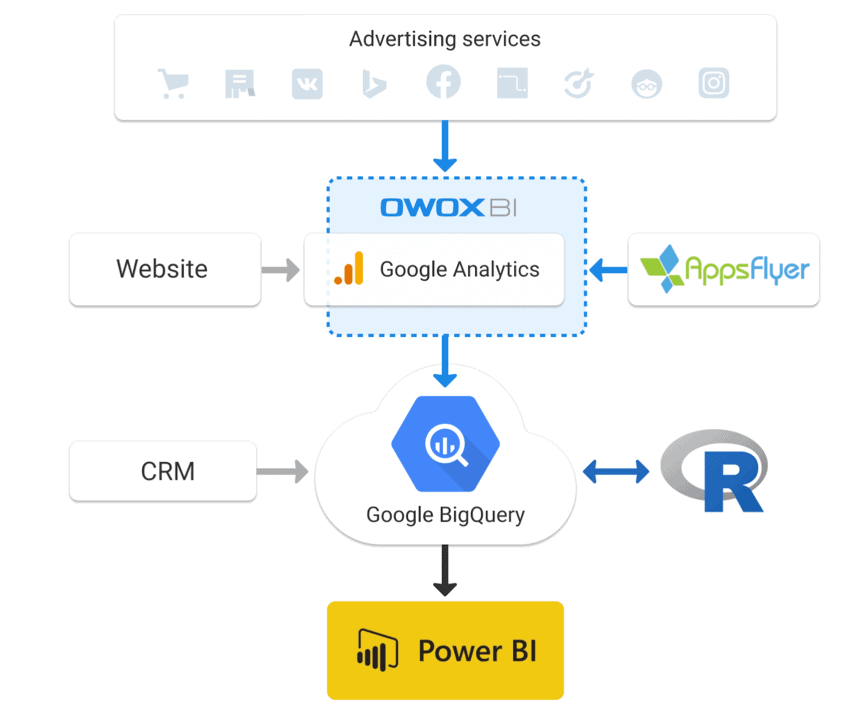 OWOX BI imports cost data from all advertising systems as well as raw website data from Google Analytics and application data from AppsFlyer. Then it transmits all this data to Google BigQuery.
Google BigQuery also receives forecast metrics that agency experts calculate in the interface using the R language.
Inside Google BigQuery, data is processed and merged using views and scheduled queries.
Finally, the data is visualized in Power BI.
Create automated reports
We focused on three reports by which we can track the necessary metrics:
Basic management report for the balanced scorecard system
Report on attracting users to the website
Report on attracting users to the application
Basic management report for the balanced scorecard system
We developed an Impact Matrix — a hierarchy of metrics — to determine which metrics to focus on and in which cases. We also used the balanced scorecard methodology to monitor prediction data. As a result, we received a report that allows us to:
understand which metrics are ahead and which are behind the plan
track major KPIs that have different weights for the business (CPO, CR, Revenue, CTR)
predict KPIs
In the report architecture, we can distinguish three levels: the business level, KPI level, and detailed level.
Business level
At this level, we see the plan vs fact for crucial business metrics.


From the data above, we can conclude that the CR KPI was exceeded by 43%. At the same time, the traffic volume and conversions didn't reach the planned values. A high CR can indicate a good website and application UX — there are few dips, and users convert well. However, it's necessary to increase the volume of traffic to ensure the required sales volume.
KPI level
Based on the KPI-level report, we analyze efficient and inefficient placements from the point of view of CR and cost indicators — this allows us to quickly split the budget between channels to fulfill the general plan.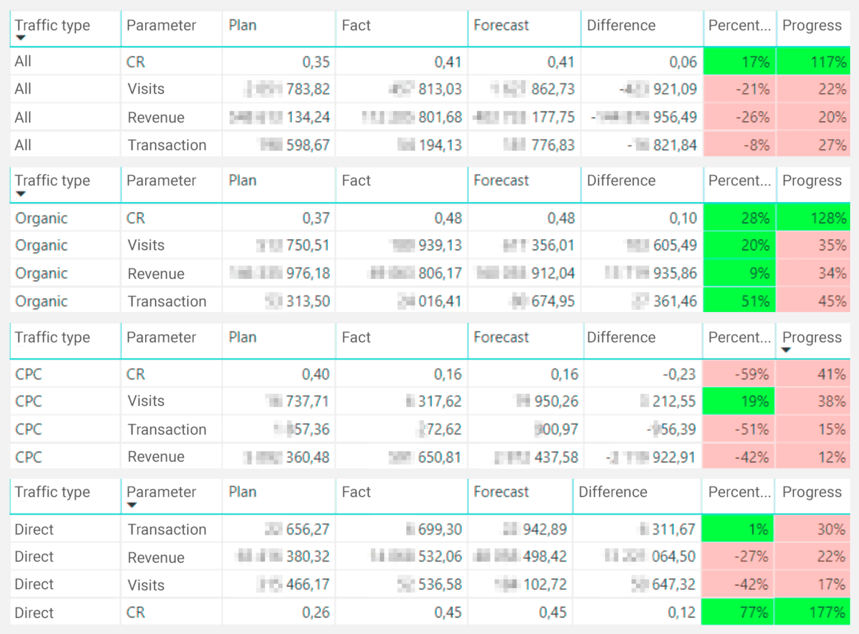 The report illustrates the upper-level correspondence of planned and actual KPIs (CR, Visits, Revenue, Transactions) to the forecast values. For example, we can see that the plan for overall website traffic volume wasn't met, but this is offset by higher CR in organic and direct traffic. Accordingly, it's necessary to increase the CR of paid traffic (CPC type) with more dynamic optimization or an increased purchase price. We may also need to increase the purchase of paid traffic in principle to fulfill the general traffic plan.
Detailed level
At this level, we look at the dynamics of metrics by region and device type — this also helps us redirect the budget to what works better.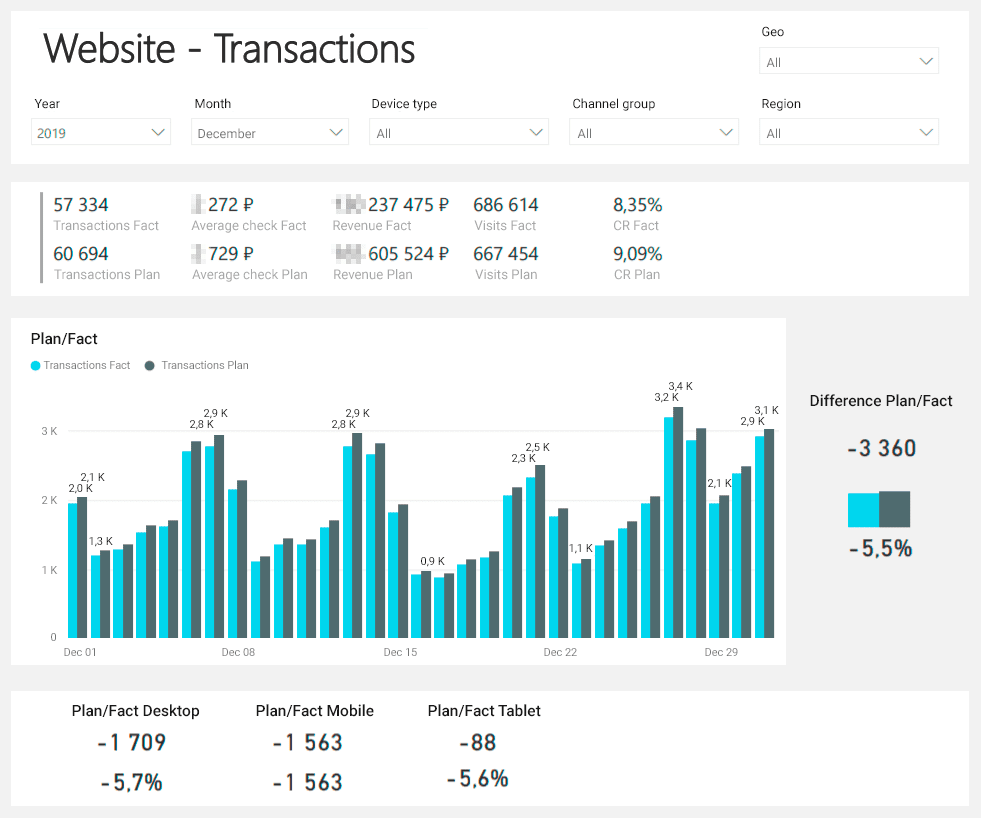 From the data above, we can conclude that we missed the plan in terms of the total number of transactions and CR for the given period of analysis by 5.5%. At the same time, both desktop and mobile traffic show approximately the same tendency to fall behind the volume of conversions (desktop fell by 5.7%, mobile by 5.6%). Accordingly, both device types bring about an equal number of conversions. But to optimize, traffic in the CR section must be analyzed.
Here, we see that mobile traffic (1.8%) and tablet traffic (2.8%) showed the lowest CRs in December. Since mobile traffic brings about the same number of conversions as desktop traffic and is probably cheaper, we can try to optimize mobile traffic by purchasing better quality traffic to increase its CR.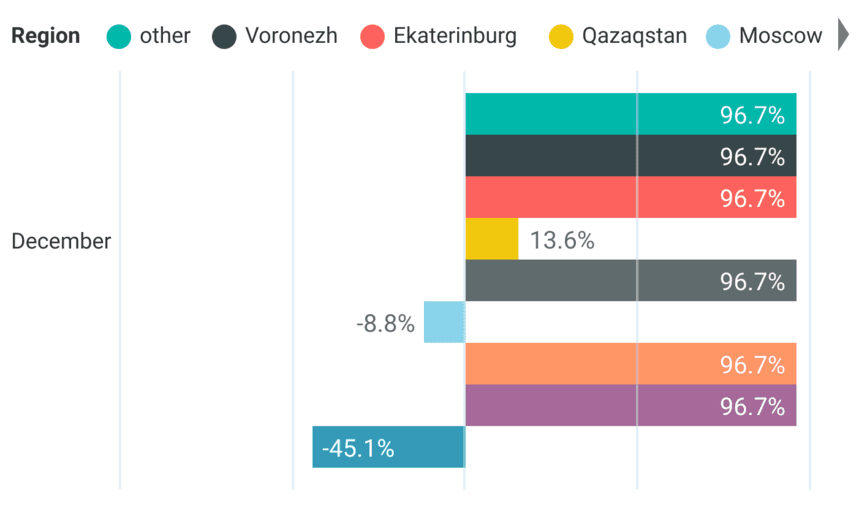 This graph illustrates the performance plan for traffic across cities. With information on bought volumes, it's possible to conclude where underperformance is critical and impacts the effectiveness of all campaigns.
Automated reports on attracting new users to the website and mobile application
Thanks to these reports, we could divide all purchases into new and returning customers. This made it possible to exclude returning customers from advertising campaigns for new customers, thereby, reducing CPO across all channels. By seeing statistics in the channels section for returning and new users simultaneously, we were able to understand which sources drive more new orders and tilt the budget in their favor. In sources where repeated purchases prevail, we reduced the budget, thereby reducing the total planned CPO.
By the way, the main KPIs in these reports are calculated based on CRM data.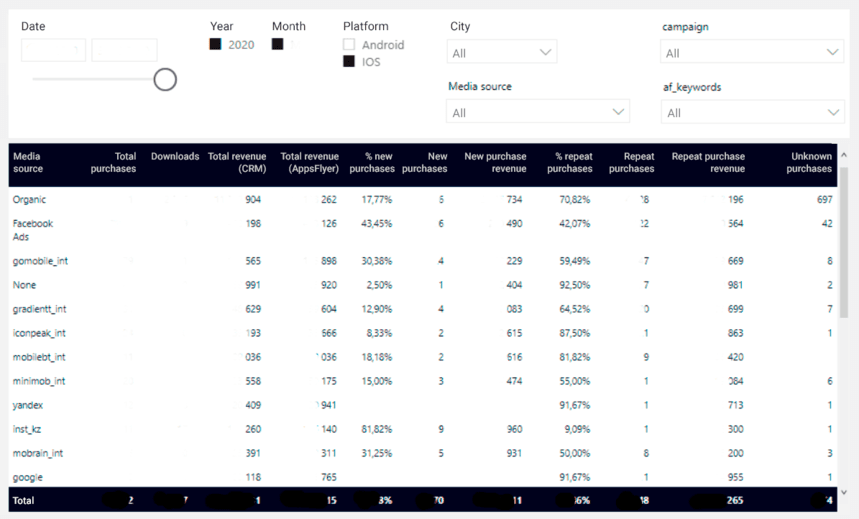 The report above demonstrates that the largest number of new purchases for all traffic from the website is led by inst_kz (81.82%), Facebook Ads (43.45%), mobrain_int (31.25%), and gomobile_int (30.38%). Since, in general, the company has an active and loyal audience and a high percentage of market coverage, it's clear why some websites lead customers who have already made an order at least once in the application. For greater efficiency and execution of the Customer Acquisition KPI, we can try to exclude our active CRM audience in the ad campaign settings and launch promotions for new customers.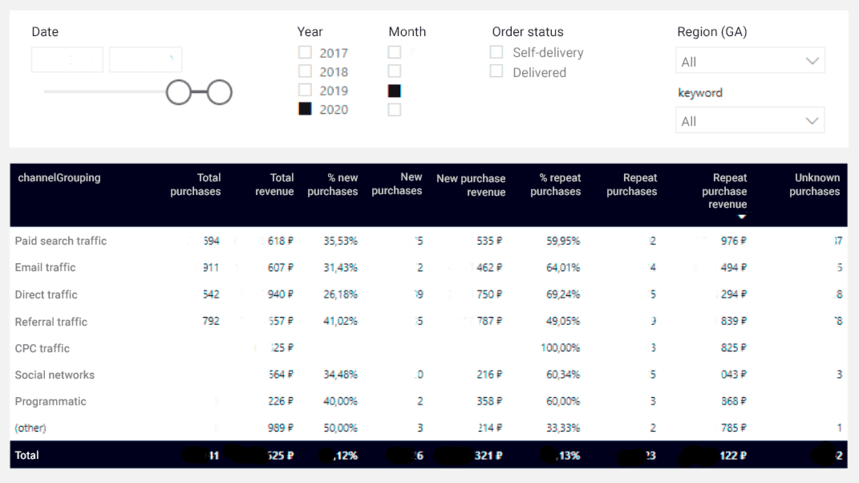 Here, we see that more than half of desktop traffic across all channel groups is returning customers. This indicates the importance of working with a loyal base and increasing retention.
Set up post-view analytics
With post-view analytics, you can evaluate the influence of media activity on the number of orders.
Impression statistics are uploaded to BigQuery from Google Campaign Manager and are detailed down to the individual user (client ID). The report compares segments of those who saw and those who didn't see media ads. As a result, we can evaluate the incremental effect of media impressions on performance channels and targeted actions on the website and in the mobile application.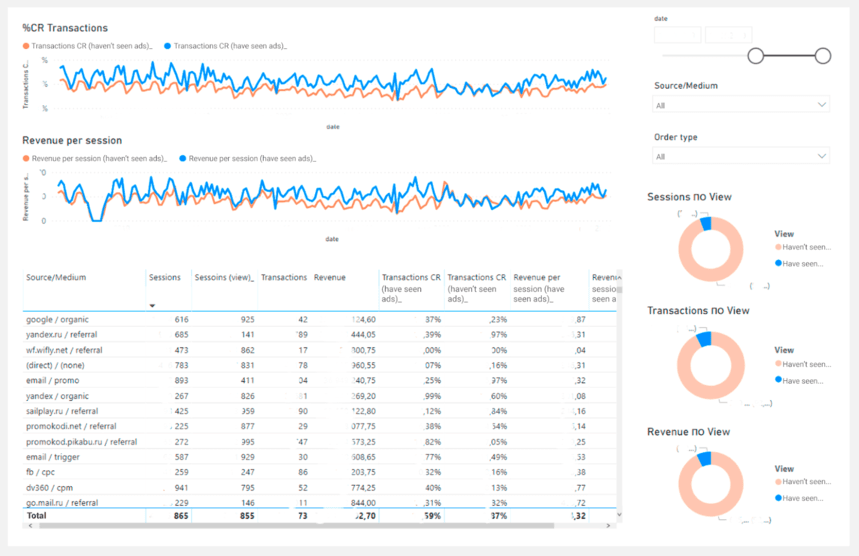 For example, we learned that conversions to orders from those who saw videos and banners were 42% higher than for those who didn't see them. Due to post-view analytics, we also determined that the audience of those who saw media advertising brought in double the income.
In the future, we plan to develop cross-platform reporting. The first step is to evaluate the impact of web traffic on application conversions by linking mobile application and website data. Such reporting will create a complete understanding of the value of advertising channels and assess their impact on each other. It will also help us make management decisions about the development of customer interaction channels and adjust our marketing communication strategy.