Success Stories
18 August 2021
How Travelata built cross-platform analytics and automated reporting
About the company
Travelata is an online tour marketplace with more than $10 million of international investments. It's part of a group of companies operating in five European countries and is a member of the Alliance of Travel Agencies.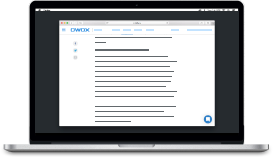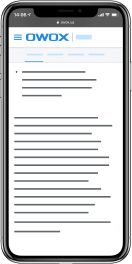 bonus for readers
5 handpicked Google Data Studio dashboards
Download
now
The task
At Travelata, we use dozens of channels to attract customers. To increase the ROMI of these channels, we needed to:
Optimize the cost of attracting users and reach a positive economy
Understand the contribution of each source at different stages of the funnel
Prioritize development tasks in accordance with the expected return on profits through various customer acquisition channels
More efficiently allocate the budget and manage marketing channels
The problem
Google Analytics wasn't suitable for solving our problems. The Travelata website has too many events, and data in reports is sampled. Additionally, when uploading data through the Google Analytics Reporting API, problems periodically arose due to limits and quotas.
Transaction data in Google Analytics didn't match sales data from the CRM due to various payment methods, loans, and installments. In addition, we have a Travelata mobile application, the data from which must also be taken into account when evaluating marketing activities.
Therefore, we decided to build a cross-platform analytics system based on Google BigQuery.
The solution
We chose BigQuery cloud storage due to its high data processing speed and fault tolerance. Besides, it's easy enough to work with.
We collect and process all necessary data for reports in Google BigQuery:
Ad costs from Google Ads, Facebook Ads, Criteo, and other advertising services are imported using OWOX BI.
Data on user actions on the website is collected by Google Analytics and simultaneously sent in raw form to BigQuery using OWOX BI, which avoids sampling and other Google Analytics restrictions.
Data on paid application installations is transmitted from AppsFlyer to BigQuery using OWOX BI.
Data on the actions of mobile application users is monitored using Google Firebase.
Data from the Intercom chat service is uploaded using Google Cloud Functions and Python.
For downloading sales data from the CRM, we use our own Python-based software.
We use the data collected and processed in Google BigQuery to create a dashboard in Klipfolio and Power BI.
Here is the data blending scheme: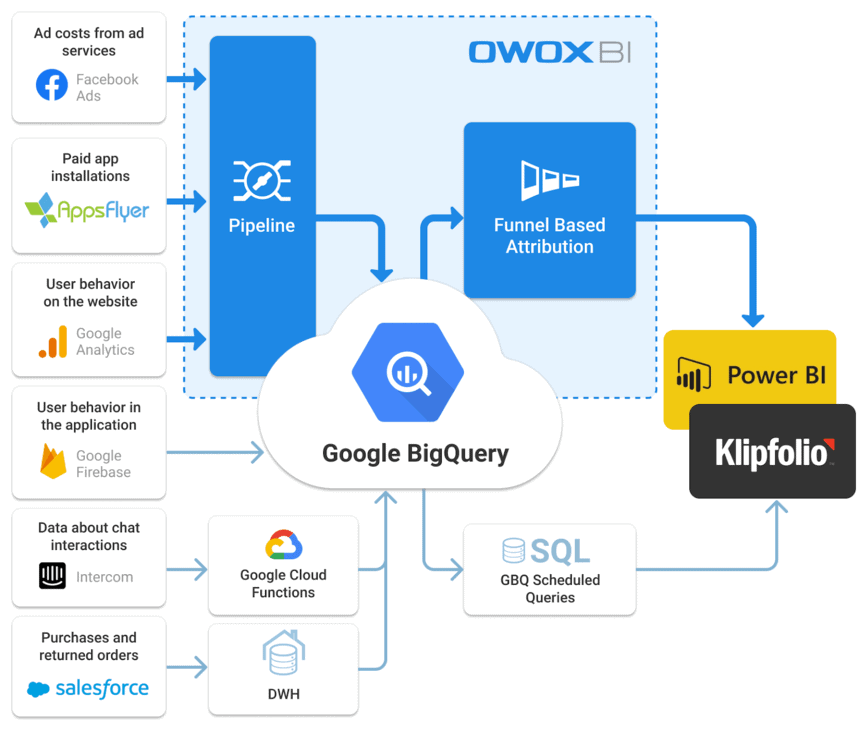 The result
Now we have complete and up to date data available at any time. This enables us to manage our advertising budgets more efficiently, both manually and automatically.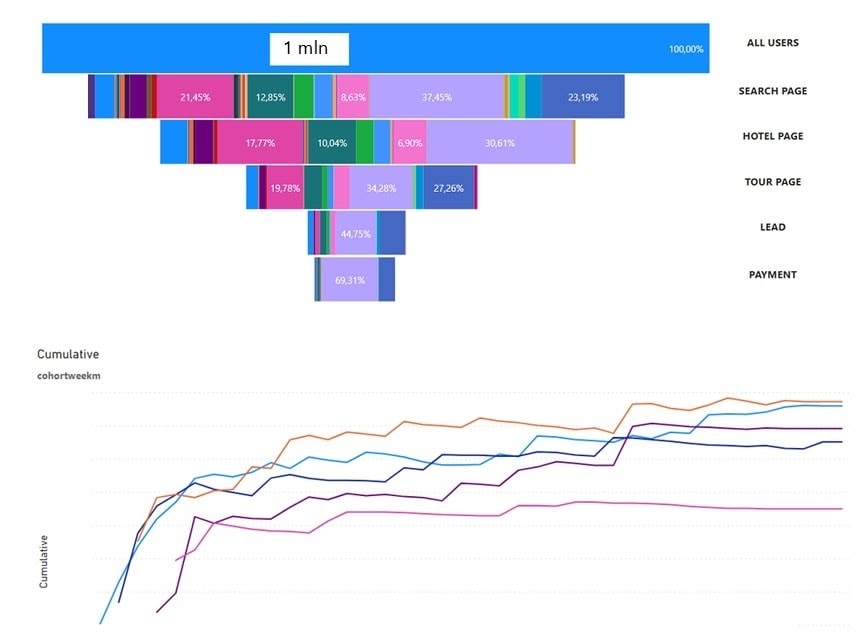 Comparing the pay-per-click attribution model with the First Click, Last Non-Direct Click, and OWOX BI Funnel Based attribution models helps us understand channel contributions at different stages of the funnel and optimize development efforts as well as our marketing budgets and tasks.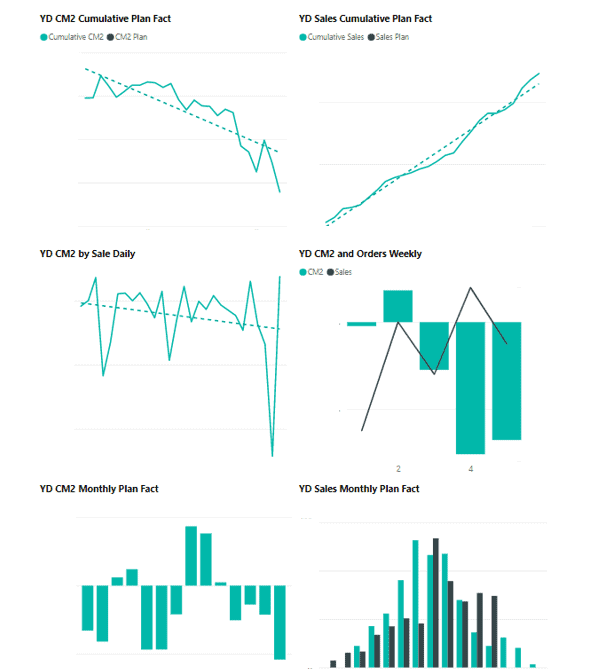 By comparing these models, we began to see the contribution made by channels in the upper stages of the funnel (e.g. SEO and SMM, which our internal model underestimated) and the contribution made by direct communication channels (push notifications and emails). As a result, we were able to invest more effectively in these channels.
We also had hypothesized that unbranded paid campaigns were underestimated according to the Google Analytics model and our internal model, but this hypothesis wasn't confirmed. We plan to conduct further optimization of non-branded campaigns, which will be the subject of separate tests using funnel attribution data.
Thanks to these integrations and OWOX BI products, we were able to build the necessary reports and dashboards for various departments. Because even though our company works entirely online, not all important indicators were monitored automatically. Doing so saves significant time when making decisions about marketing activity.
''
OWOX has established itself as a professional technology partner with ready-made solutions, always finding a way to accommodate rapid changes in the external environment, especially during and after the pandemic.