Faster, better, more proficient! Each marketing campaign must generate revenue for you to stay at the top of the rapidly growing market! So what can you do to transform your business, accelerate routine digital work, and increase your marketers' productivity?

Let's look at the basic concepts and functions of marketing automation along with an example of marketing automation for marketing performance analysis.
Table of contents
What is marketing automation
Marketing automation is a way to minimize the time and effort spent on routine marketing processes using martech software. To illustrate how automation works, we can compare washing the dishes to collecting data.
When you cook infrequently and have just a few dirty plates, you can wash them by hand. This process is even reassuring for some people. The same goes for successfully analyzing marketing data: If you have two advertising channels, collecting data manually is easy and doesn't take much time.
However, when you have a large family and mountains of dishes accumulate in the sink three times a day, you can hardly do without a dishwasher to automate things. Similarly, if you have an extensive e-commerce project with a lot of data (from your website, CRM system, emails, call service, advertising services, etc.), you can still collect that data manually. But why would you? It's boring, routine work that can be completely automated. And instead of collecting that data, marketers can do exciting things such as find creative ideas and analyze the effectiveness of advertising campaigns.
The main advantages of marketing automation are less time spent on routine work, fewer chances of making a mistake, and more attention available for customers.
There are three pillars at the heart of marketing automation:
Advanced analytics
Completeness of data
Consolidation of data from different systems in a single place
Modern marketing experts are well aware of the importance and necessity of data-driven strategies. Meeting high demands and expectations, and, of course, providing instant results for customers require informed decisions and actions based on specific data.
Which areas of marketing can benefit from automation?
To simplify marketers' lives, automation can be applied to measure workflows, boost operational efficiency, and, of course, grow revenue faster.
Content marketing
Quality content is the key to success. You can automate the whole content lifecycle (creation, management, publishing) to advance the client journey with personalized content. For example, you can:
Automate the scheduling of posts on social media and other channels
Implement a content management system (CMS). Instead of learning how to code, you can use special tools to create, modify, and manage content on your website. Moreover, you can use grammar checking and organize the entire editorial process from staging of tasks to distribution on one shared board with automatic updates.
Paid traffic management
Paid traffic is often one of the most costly parts of marketing, so obviously, it's important to extract the maximum value from it. There's a lot of room for automation, from analyzing data to setting up and managing ad campaigns across platforms. For example, you can use automation for:
Bid management. Automated bid management systems based on analytical data can select the optimal bid value, retain a position in contextual advertising, and save money.
Optimizing campaigns. Using collected data, a system can help to make ads more competitive (e. g. by changing text, pictures, keywords, or placement), reduce the cost of target actions, improve campaign quality, etc.
Creating and analyzing reports. Instead of spending tons of hours manually preparing a report every week, you can build an automatically updated dashboard that blends data from different services and visualizes all key metrics on one screen so you can target customers and potential buyers accurately and effectively.
Smart segmentation. Based on the data, the system determines a user's segment according to the user's funnel stage, predicted LTV, conversion probability, and needs. Then the system automatically sends the segment to the advertising service, which creates segment-specific ads and bids.
Lead generation
Lead generation is the essential yet complicated process of filling your marketing funnel with quality leads. Successful lead generation requires lots of strategies. As with all the processes mentioned here, you need to ensure that everything's working correctly and evaluate its effectiveness. Examples of automated lead generation functions include:
Automated email campaigns based on user data and its segmentation
A personalized website experience. Automatically identify who's visiting your website (new or returning visitors, companies) to change website content based on who's seeing it.
Automated conversations to speed up responses and save on resources
Lead management
The main goal of lead management is to manage the behavior of users and turn them into customers based on data available to your company. No wonder efficient lead management is important for online businesses. To ensure successful work in a multi-channel environment, you have to use all the automation you can:
Automate a lead scoring system to segment, rate, and prioritize your leads, and spend resources on them accordingly.
Trigger real-time marketing messages for different user types based on user actions, needs, predicted conversions, and funnel stage.
Campaign analytics
It's essential to take a comprehensive view of marketing performance so you can see at what stages there are problems in order to solve them as quickly as possible and so you can identify opportunities to improve your ROI. That means tracking performance, using all marketing data to create the best campaigns possible, testing various approaches to learn what works best for your business, etc. In short, all marketing automation is based on campaign analytics.
Example of marketing automation for marketing performance analysis
Obviously, any business wants to know clearly where it's spent money and what profit it has made. However, marketers usually build cost analysis reports manually. Compiling one such report can take from two to five hours a week. Why does it take so long? Usually, data is kept in different services, formats, and currencies. All information must be imported into one place, merged, and structured in a single format. No wonder manual reports often contain lots of errors. However, all these processes can be completely automated and configured once, after which all the necessary information can be received on time and will be up to date.
And let's not forget that if a marketer spends most of their time collecting data, merging data, connecting services, and creating reports, they won't have the energy and time to analyze the results, think about a new strategy, or develop creative ideas to promote the company's products.
Let's look at an example of what steps are available to automate a marketer's task to increase the effectiveness of advertising campaigns on an e-commerce website by reducing the cost of inefficient campaigns.
Step 1. Automate data collection in Google Analytics:
Data about users' behavior on the website
Campaign cost data from GoogleAds
Note: For more accurate analysis, you should add data from non-Google campaigns and add data about orders and their statuses from your CRM system. In Google Analytics (Universal), there's no possibility to import such data automatically — you have to use connectors or upload CSV files manually.
Step 2. Collect all marketing data in Google BigQuery for advanced analysis and database segmentation for other automation areas (sending emails, managing bids, distributing content, etc.).
For example, the following data can be used for analysis:
Google Analytics — Sessions, behavioral factors, transactions completed during the sessions
Advertising services — Advertising costs by source/medium
CRM systems — Transactions, transaction revenues, transaction statuses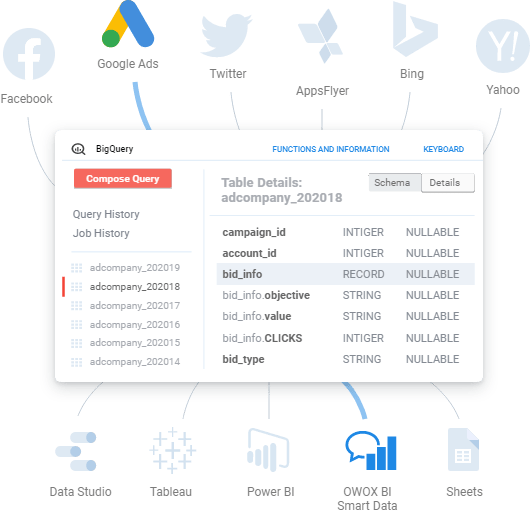 OWOX BI is the perfect solution for all this. With its help, you can:
Collect user behavior data from your website and Google Analytics
Add data from advertising services
Enrich data with information from CRM systems
Merge all your data and create various reports
By implementing automation at this level, you can:

Reduce the time to identify unprofitable campaigns
Automate the alert process
Use processed data further (sending segments to bid services, sending segments/triggers to email services, predicting conversions, etc.)
Step 3. If you need to constantly monitor data, it's helpful to create a dashboard suited for your needs. You can do this in Google Data Studio or any other tool that's convenient for you. You can use data from your Google BigQuery project, where you've already collected all the needed data in the previous step.
For example, a dashboard that analyzes advertising campaigns depending on item availability can help you:
Find out how much profit you lose by attracting users to pages of items that are not available
See why this is happening and how to fix it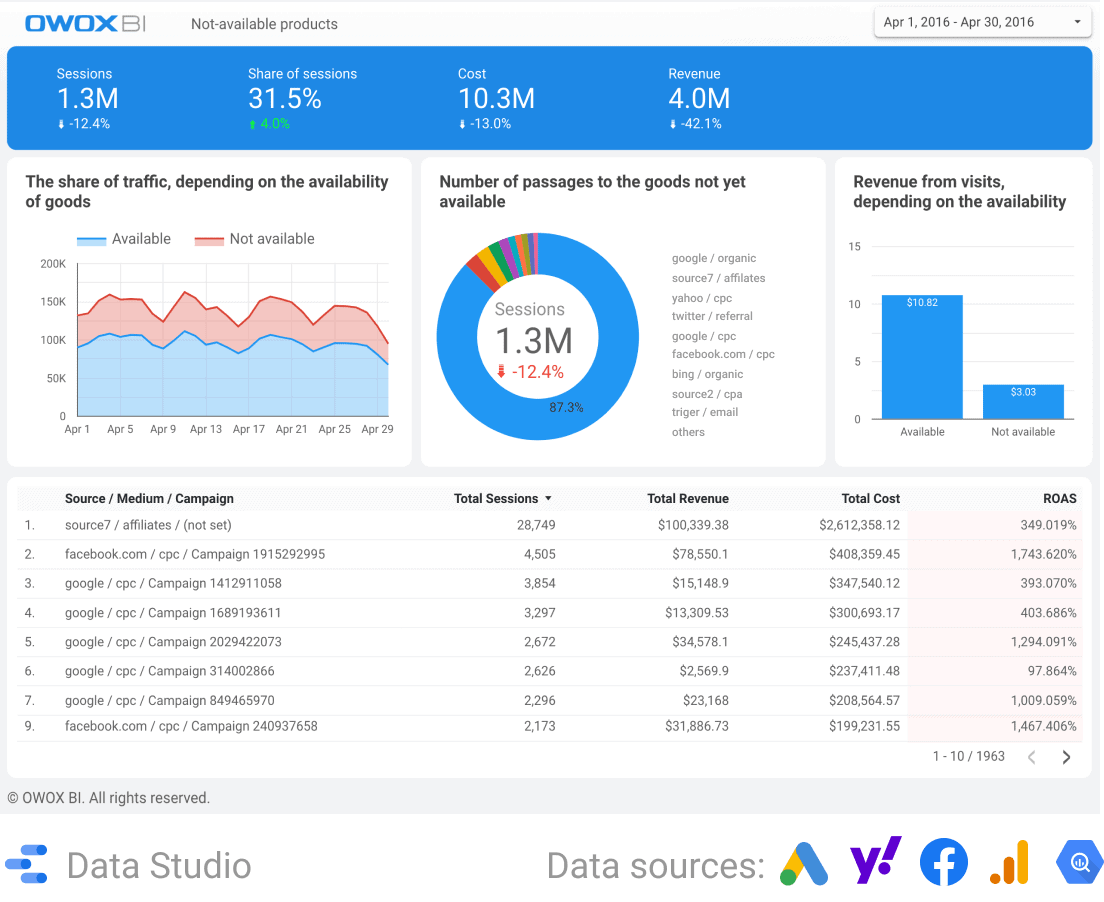 Key takeaways
When done right, automation has the power to help you engage more users and convert prospects to increase ROI. Marketing automation helps you not only speed up marketers' work and facilitate data collection. If you spend too much time on routine processes, then you need to implement automation. This will free up time for you to make decisions and find valuable insights.
Moreover, automating marketing reduces the time to identify problems, improves lead quality, and business efficiency.