How OWOX BI empowered ON Clinic to accurately connect marketing expenses with revenue
Masha Efy, Creative Writer at OWOX BI
Ievgen Krasovytskyi, Head of Marketing at OWOX BI
Jul 14, 2023
Learn how OWOX BI enabled ON Clinic to accurately connect marketing expenses with revenue.

In this case study you'll discover how OWOX BI enabled ON Clinic to accurately connect marketing expenses with revenue so they were able to compare customer LTV with CAC, reallocate the budget for better ROAS, improve team efficiency and optimize advertising performace. 
The Company
ON Clinic is a leading healthcare provider specializing in providing accessible medical services for patients from 13 cities across 3 different countries (Ukraine, Poland and Slovakia). They have highly-qualified medical staff, individual approach to treatment, 24/7 support, up-to-date diagnostics equipment.
They also have a mobile app, where patients can get consulted online, schedule appointments, access their medical reports, and view test results online.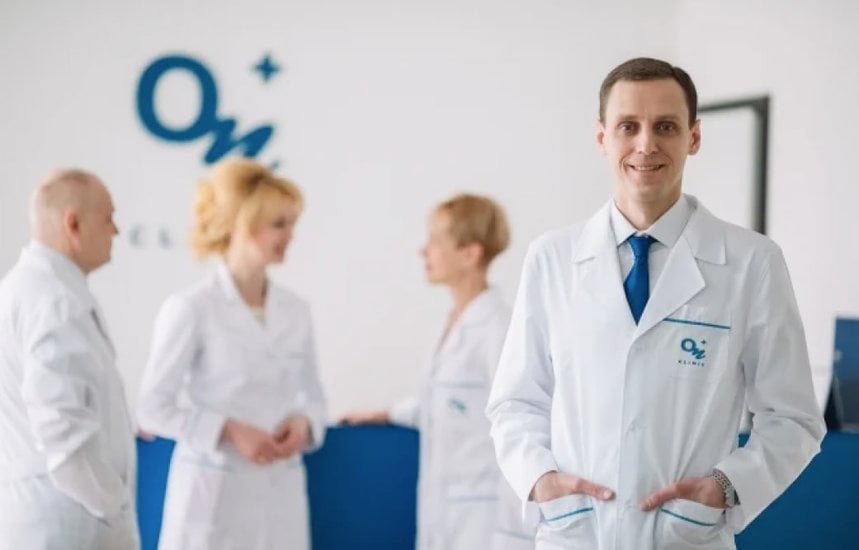 One of the main advantages of ON Clinic is to promptly accommodate patients. They can schedule an appointment within a few days, not within three weeks or two months as typically for this market. Sometimes, there is a possibility to take care of patients asap by expanding the doctor's appointment schedule.
The Challenge
OnСlinic was running display and search ads since 2011. Using Google Ads & Google Analytics they always were able to analyze all of the main advertising metrics such as Impressions, CTR, CPM, # of Clicks, # of Conversions (meaning effective actions - inquiries and form submissions on the website). 
But they were not able to match the marketing expenses, the ads spent with the revenue, with the real customers. 
They were also able to see the expenses and the auction statistics compared to competitors. But here is the problem:
They were not able to connect the dots between expenses and revenue
They did not understand the connection between the traffic sources and the revenue. They only saw conversions, which were identifiable in the CRM.
"We could see the expenditure of funds and the auction statistics compared to our competitors. We heavily relied on these metrics. We were able to track the expences, but we were not able see the revenue. We were not aware of the traffic source that generated that revenue." 
Vladimir Panasenko, Head of Digital Marketing - ON Clinic
The Goals
ON Clinic's primary goal was to establish a robust analytics infrastructure that would provide them with accurate, reliable, and comprehensive raw data. They was looking for a solution that could match their marketing expenses with revenue, help optimize their ROI, and attribute conversions by their rules. 
After evaluating different options, ON Clinic selected OWOX BI as their preferred analytics partner due to its privacy compliance, advanced website tracking capabilities, flexibility, analysts expertise, and seamless integration with their existing infrastructure.
"We wanted to match the income with the expenses, understand the return on ad spent, and it was clear for us that we definitely needed some attribution model that we trust to calculate all of this." 
Vladimir Panasenko, Head of Digital Marketing - ON Clinic
The OWOX BI Solution Overview
OWOX BI is an all-in-one analytics platform: from data collection and streaming to attribution modeling and reporting, providing companies with a holistic view of marketing effectiveness across multiple channels, enabling advertising professionals to optimize their ads spend and drive better ROI.
OWOX BI Pipelines provides a seamless data collection from various advertising platforms, CRMs, website builders, enabling organizations to consolidate their data in the same place. 
OWOX BI Streaming is a privacy-compliant server-side tracking solution that extends the lifespan of cookies, allowing marketers to see the whole conversion journey accurately.
OWOX BI Transformation produce trusted datasets for reporting, modeling, and operational workflows for businesses faster with prebuilt transformation templates. So you can:
Merge session events for sessionization

Blend cost data across advertising channels

Create single cross-device user profiles

Apply standard attribution models (First-click, LNDC, U-shape, Time decay), algorithmic Funnel-based attribution or create your own

And much more.
Then you accelerate data-driven decision-making by connecting a data report prepared by OWOX BI, with the customizable template in Looker Studio or the visualization tool of your choice.
The Implementation Process
The implementation process for ON Clinic's analytics solution took approximately six months, with the russian invasion of Ukraine and just the data collection (so they were able to compare month-to-month, year-to-year) affecting the timeline, and involved several key steps to achieve their desired results:
The first step was to collect the website user behavior data ensuring GDPR compliance. This involved using recommendations to the website markup from OWOX data team and creating a webstream using a sub-domain as an access point. By doing so, ON Clinic successfully collected accurate real-time website user behavior data using OWOX BI Streaming, which was then consolidated in Google BigQuery.
The second step focused on data preparation for analysis using OWOX BI Sessionization template. This involved organizing raw event data into groups based on user activity, allowing ON Clinic to transform fragmented data into actionable insights.
The third step was to extract the advertising cost data from advertising platforms and sales data from the CRM and collect into Google BigQuery using OWOX BI Pipelines.
The forth step was was all about marketing attribution. Using OWOX BI Transformation templates ON Clinic implemented standard Last Non-Direct Click attribution model, as well as the custom algorithmic Machine-Learning Funnel-Based Attribution so now the marketing team knows the incremental value of each paid click (and being able to compare the impact of different traffic sources at each step of the marketing funnel)
The final step was setting up dashboards in Looker Studio (formerly Google Data Studio). This allowed ON Clinic to visualize and analyze the data effectively, enabling informed decision-making and advertising campaigns optimization.
Benefits and Advantages for ON Clinic
First of all, the implementation of OWOX Analytics changed the understanding of the connection between marketing efforts and revenue. Through data analytics, ON Clinic identified that display ad campaigns were not performing. Therefore, they reallocated their ad budget and shifted focus to Search campaigns, resulting in a more optimized marketing strategy.
Another big advantage was getting a clear calculation of AOV (average order value) by the service segment (by ad group segments). It means that they could understand not only which health issues resulted in a higher number of form filled, but also know the real $ value associated with the specific issue. 
"Previously, we only operated based on the number of leads, but we didn't know the AOV associated with the specific service, about much money patients bring in. Now we understand the segment quality, the AOV, and it's really cool." 
Vladimir Panasenko, Head of Digital Marketing - ON Clinic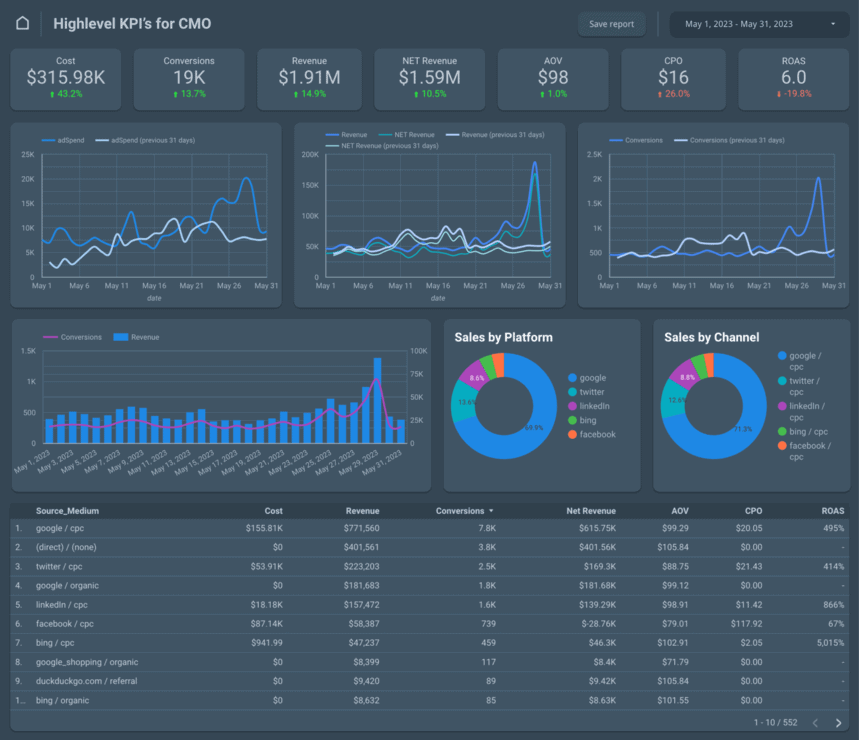 Automate Your Entire Marketing Reporting & Analysis
Also, OWOX BI impacted the team efficiency. ON Clinic developed specific KPIs for their SEO, search ads, and SMM teams, resulting in improved strategies and performance. This also affected regional marketers, who now rely on the trusted data to develop their own KPIs and align their local efforts with the company goals. 
"We have developed KPIs for Paid Ads and SEO departments, and even for the SMM team. It affected us in different ways. Building the analytics system also impacted our regional marketers. We use analytics data to develop regional KPIs." 
Vladimir Panasenko, Head of Digital Marketing - ON Clinic
Business Results for ON Clinic
After implementing OWOX BI, implementing new site markup and optimizing analytics infrastructure, here is what ON Clinic achieved:
1. Improved revenue tracking: With the implementation of OWOX BI, ON Clinic was able to match ad spent with revenue and understand the ROAS. They gained a clear understanding of the cost per lead, cost per acquisitions, so now they can optimize ad campaigns based on data.
2. Enhanced advertising strategy: By analyzing the connection between ad spent and revenue, ON Clinic identified the true performance of different advertising channels, so they were able to reallocate the budget for higher ROAS.
3. Adjusted resources allocation: By knowing which services helps to attract more customers and generate more revenue from advertising channels, ON Clinic was able to focus on the most profitable areas of business and make more informed decisions for resource allocation.
4. Improved team efficiency: KPIs for various departments were developed based on the insights derived from the analytics reports. This alignment improved coordination and performance across the teams.
5. Long-term patient value analysis: ON Clinic is also analytics the LTV (customer lifetime value), considering the revenue generated throughout the entire period the patient iteracts with the clinic. This analysis helps understand patients' behavior, preferences, and loyalty, enabling ON Clinic to further optimize their retention strategies.
"So now we understand the cost per lead, we understand the cost per acquisition... the cost of acquiring a customer for a specific service within our report. It's really cool. And we take advantage of it. It's great." 
Vladimir Panasenko, Head of Digital Marketing - ON Clinic
Next Steps
ON Clinic plans to continue leveraging OWOX BI to refine its advertising and retention strategies. By monitoring patients' behavior beyond the initial visit, ON Clinic aims to build stronger patient relationships and increase loyalty.