To enhance your marketing performance, you first need to collect data from all your sources, clean it, organize it and merge it into one platform to assess the current situation and decide what to do next. In this post, we help you to select the right tool for that purpose, review Supermetrics, consider its main pros and cons along with its three popular alternatives: OWOX BI, Domo, and Looker.
Table of contents
Find out the real value of campaigns
Automatically import cost data to Google Analytics from all your advertising services. Compare campaign costs, CPC, and ROAS in a single report.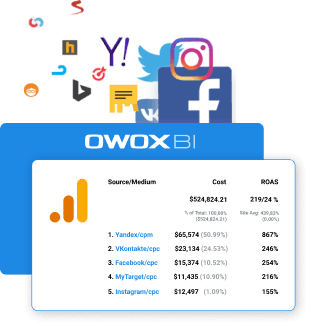 Supermetrics
What is Supermetrics?
Supermetrics is an ETL platform that uses APIs to collect and process your online marketing data and sends it to storage or to another tool of your choice (visualization, business intelligence, or reporting tools). With Supermetrics, you can make your marketing reporting automated and transfer data to another tool you select (for example, Google Data Studio).
Why should you use Supermetrics?
Supermetrics is suitable for small business, ecommerce, enterprise, and agencies.
With Supermetrics, you can:
Combine data
Visualize data
Integrate with Google Sheets
Integrate with Google BigQuery
Integrate with Excel
Still, keep in mind that Supermetrics doesn't provide attribution reporting and data quality monitoring.
Pricing
Pricing depends on the integrations and features you choose and starts at $39 a month. For example, these are the plans available for Supermetrics/Google Data Studio: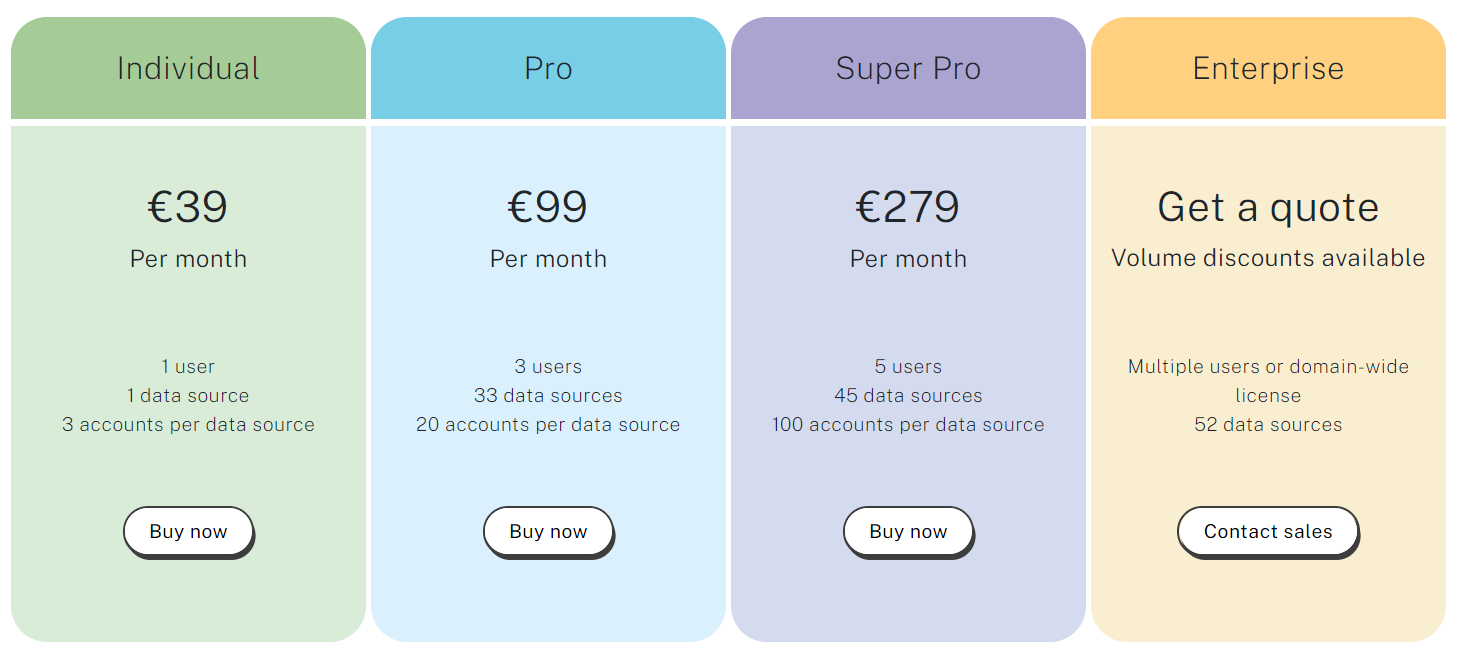 Integrations
Supermetrics offers various integrations and source connectors (for example, Google Analytics and Google Ads).
00:03:47
Supermetrics
Views: 31310

12

November

2013
OWOX BI
What is OWOX BI?
OWOX BI is an all-in-one marketing analytics platform, which allows you to collect data from different sources in Google Analytics or Google BigQuery. OWOX BI merges, cleans, and organizes information from your websites, advertising services, CRMs, offline stores, and other sources. You also can import raw data from Google Analytics to Google BigQuery, transfer historical data for the past six months from ad services to Google Analytics or Google BigQuery, and do even more automatically.
Why should you use OWOX BI?
OWOX BI is a perfect solution for ecommerce, retail, telecom, finance, and lead generation companies.
With OWOX BI, you can:
Import data from ad services to Google Analytics:

Transfer historical data for the past six months to GA from ad services
Have historical data automatically updated thanks to the 21-day actualization period
Have the appropriate UTM tags parsed automatically
Have the corresponding changes applied to the product automatically if ad service API changes
Update data in GA retroactively if it is updated in a third-party ad service

Integrate with Google BigQuery. OWOX BI collects and processes all the information you need so you can easily build any reports:

Import raw data on user behavior from Google Analytics in Google Analytics structure to track customer journey.
Import data from advertising services. OWOX BI works smoothly with large advertising accounts, so you can upload all necessary information regardless of the number of campaigns.
OWOX recognizes dynamic parameters in UTM tags, converts costs into one currency, and monitors the relevance of data.
Import information from CRM-system, call-tracking and other services.
Collect and process personal customer data (emails and phone numbers).

Integrate with Google Sheets
Visualize reports

Integrate with Data Studio, Power BI, Tableau, Looker
Create custom reports with a simple built-in report builder

Monitor quality and have mistakes highlighted
Pricing
See our pricing or start with a free trial period.
You also can book a free demo to tailor a plan based on the number of unique users you have.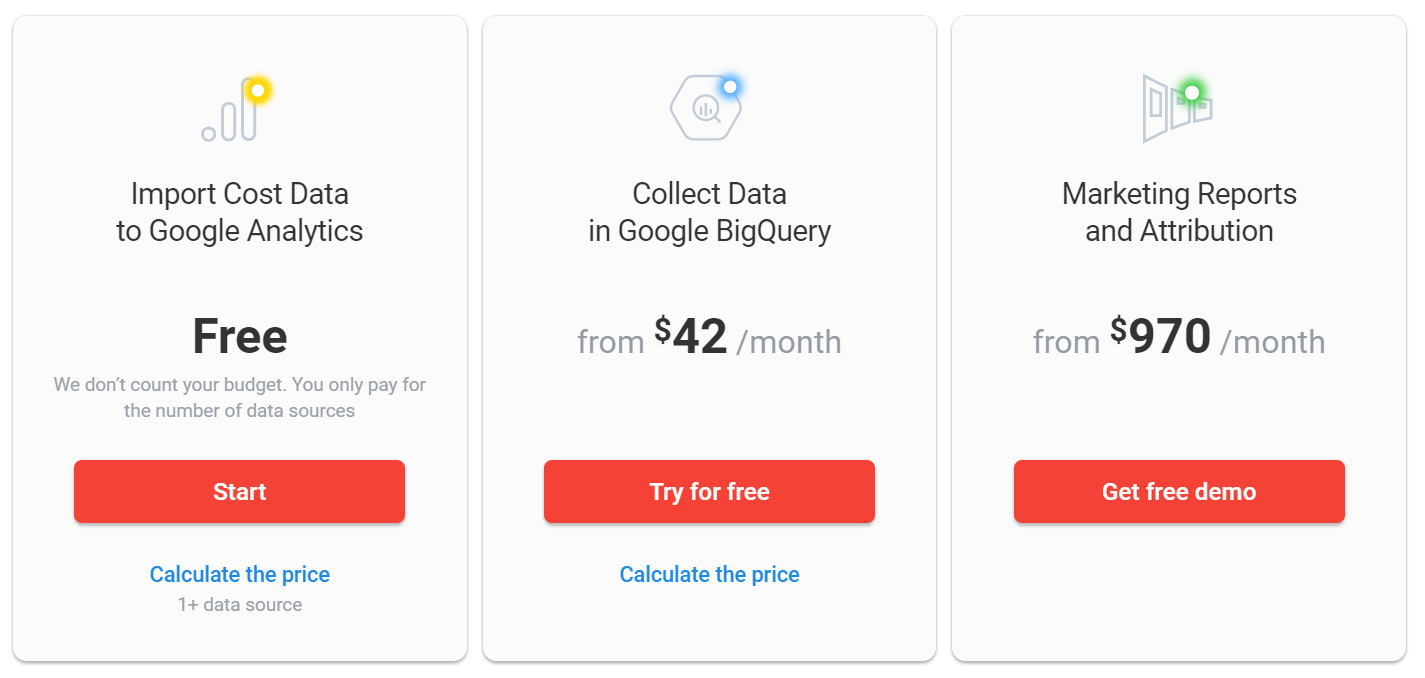 Integrations
OWOX BI offers 100+ integrations with ads, call tracking and processing services:
00:01:05
OWOX BI. All-in-one marketing analytics platform
Views: 323

11

September

2020
Looker
What is Looker?
Looker is a BI and analytics platform that collects and stores information from various sources. To use Looker efficiently, you must first learn how the basic LookML model works, as all data is stored in an automatically generated LookML model. As well, you can create visualizations and interactive dashboards, and set up alerts to keep track of significant changes. Finally, Looker's built-in code editor allows you to apply changes to LookML models if necessary.
Why should I use Looker?
Looker is suitable for companies in the ecommerce, retail, SaaS, media, and gaming industries.
With Looker, you can:
Embed insights with such tools as Salesforce, SharePoint, Confluence, or PowerPoint
Accelerate web analytics using prebuilt code in Looker Blocks
Integrate with Google Sheets
Visualize data

Build interactive dashboards
Access a dashboard template library
Pricing
Looker's pricing is custom and depends on the number of your users and the deployment scale.
Integrations
Looker offers various connections, ETL platforms, and databases (for example, Google BigQuery and Snowflake).
00:01:39
Looker Overview
Views: 31188

24

June

2020
Domo
What is Domo?
Domo is a business intelligence and analytics platform that allows you to connect to a source to collect data, transform it by combining and comparing different datasets, and store it in Domo or send it to another warehouse of your choice. As well, you can automate your workflows and manage pipelines between Domo and other services to enhance automation.
Why should you use Domo?
Domo is suitable for companies in retail, media, finance, and other industries.
With Domo, you can:
Collaborate on dashboards with your teammates
Create custom apps
Integrate with Google Sheets, Salesforce, Excel, Facebook Ads, and other services
Automate data colection
Visualize data

Adjust chart types and filters
Create interactive visualizations
Set alerts to track changes to your KPIs
Pricing
Domo has custom pricing plan: it's calculated based on your usage of storage, refresh rates, volume of queries, and the number of users.
Integrations
Domo offers 1,000+ pre-built and custom connectors.
00:03:42
What is Domo?
Views: 18540

12

August

2019