Behavioral segmentation: how to optimize advertising campaigns and increase conversions
Vlada Malysheva, Creative Writer at OWOX BI
Nov 6, 2019
Showing the same ad to all your users is just like spinning your wheels. It takes a lot of energy, but it doesn't get you anywhere. Visitors to your site have different interests, requests, and needs. Accordingly, they react differently to advertising campaigns and behave differently on the site. 
Therefore, it's essential to study your target audience and segment it to form a marketing strategy. This will help you personalize communication with users and make advertising more relevant. Your materials will leave the spam folder for the inbox. As a result, you can increase customer conversions and loyalty. 
In this article, we describe how to use OWOX BI to form segments on any actions of visitors to your site without restrictions and sampling to create an audience based on them for advertising campaigns in Google Ads
Sign up for a demo, and we will show you how OWOX BI works

What is user segmentation?
Segmentation is the breakdown of a target audience into separate groups by various parameters: region, demographic data, hobbies and lifestyle, behavior on the site, etc. Segmentation helps to optimize marketing and find an approach to each group of users and cause each person in the group to feel that your advertising is tailored to him personally.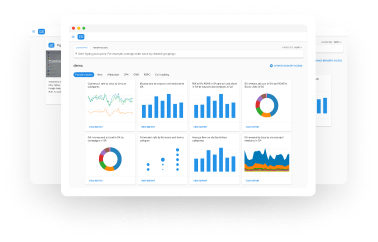 Our clients
grow 22% faster
Grow faster by measuring what works best in your marketing
Analyze your marketing efficiency, find the growth areas, increase ROI
Get demo
Why segment an audience?
In general, audience segmentation enables you to:

Study your clients in more detail, understand what they expect from your company, and refine the product and advertising offers so that they meet the needs of the audience.
Personalize communications and increase user loyalty. Relevant advertisements, shown in the right place and at the right time, help you keep your customers and increase their engagement.
Make targeting narrower and clearer, and increase conversion rate. Test a large number of hypotheses and audience segments to find the most effective options for user-ads.
Optimize marketing strategy. Find the most promising ones in terms of ROI spent on attracting users to properly redistribute your advertising budget and other resources.
Reduce advertising costs. You can determine the level of user involvement and filter audiences, filter out disinterested visitors to the site. Or, for example, it's possible to exclude significant segments from a target audience of digital channels that the work is carried out with in the direct-marketing channels.
Examples of segment applications
Segments can be used as filters in Google Analytics reports. You can also create audiences based on any of them for advertising campaigns in Google Ads or A/B tests in Google Optimize.

Segmentation by geography and population
For example, you can create segments for men and women of different age groups and apply them in Google Analytics reports on campaigns. This will show which users respond best to your ads. Then apply the same ones to the Geography - Location report, and you'll see in which other promising regions you can launch your current campaign.

Segmentation by user behavior
You can divide visitors of your site into segments by just about any action, for example:

Add an item to your cart.
Remove item from the cart.
Pending order form completion.
Payment for the item.
Use of promo code.
View the item page or item group.
View the contact page.
View the flypage.
Click on any link.
You can create a segment using multiple actions as a filter. For example, users who put an item in a shopping cart but didn't fill out a form; made an order but didn't pay; viewed several item cards, but nothing was added to the shopping cart, etc. 
Example 1. Users who have added an item to the cart but haven't bought it are ideal for remarketing. To motivate them to finish their purchase, show ads with discounts on this item, free shipping, etc.
Example 2. Segment customers by the source from which they came to your site: email, blog, social network, contextual advertising, etc. And communicate with them differently: say, people who have followed the link from the letter no longer need to see a pop-up window with a subscription invitation.
Example 3. Segment the target audience by engagement level. For example, using results of RFM analysis, you can highlight the most valuable users for you: those who have recently visited the site and made purchases, regular visitors and buyers, as well as visitors with high conversion value. And then you can send them mailings with different stock offers.

Where to take data for segmentation
To form segments, you need data about the actions of users on the site, which are collected in Google Analytics. However, segmentation capabilities in the interface of this system have limitations. In addition, GA can use sampling for a large amount of traffic after you add a filter or segment. This means that it may include even fewer sessions than the total sample. That is, you will have incomplete data for analysis. 
To avoid sampling and build segments on any user action without restrictions, you can use OWOX BI Pipeline. This service automatically downloads unselected data from your site to Google BigQuery in real-time. In cloud storage, you form any segment you need, use OWOX BI to upload it to Google Analytics, and then use it there for reporting or creating advertising audiences.

Try data collection at Google BigQuery with OWOX BI for free

How to create segments
First of all, formulate the hypothesis you want to test. Which ones are best tested depends on the niche of your business, goals and objectives for the next quarter/half, availability of necessary data, etc
Examples of possible hypotheses:
The user has visited the site more than N times in the last 30 days. Interested in buying. If you increase the bet on him in the advertising service, you will increase the probability of purchase by this user.
The user added the item to the cart but never bought it within N days. Interested in buying. You can raise rates for these users.
The user performed a certain sequence of actions on the site but didn't buy. Interested in buying. You can raise rates for these users.
The user has made N clicks on advertising in X days but he didn't perform any conversion action. The probability of buying is very low. We need to turn off the ad.
Since the personalization of advertising by segment is based on hypotheses, it's important to properly analyze the effectiveness of their use. To do this, you need to pre-develop metrics by which you will assess the effectiveness of the segment. You can then proceed with the settings.

Step 1. Set up the import of raw data from Google Analytics to Google BigQuery
If you don't have Google Analytics streaming on Google BigQuery yet, set up streaming. Everything is simple here: log in to OWOX BI using your Google account, select which systems and where you want to import, and issue access.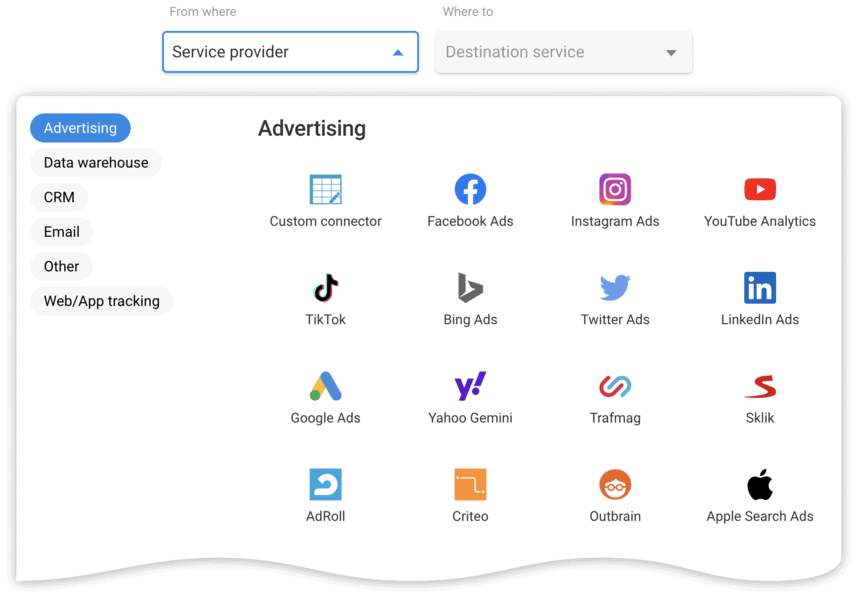 Step 2. Add user settings to Google Analytics
To pass the actions of the users you want to create segments on to GA, you must create custom dimensions for them. 
If you already have them, skip this step. If not, go to the Admin panel, select Custom Definitions from the property settings, and click Custom Dimensions.
Come up with a name for the option and select Hit for the scope: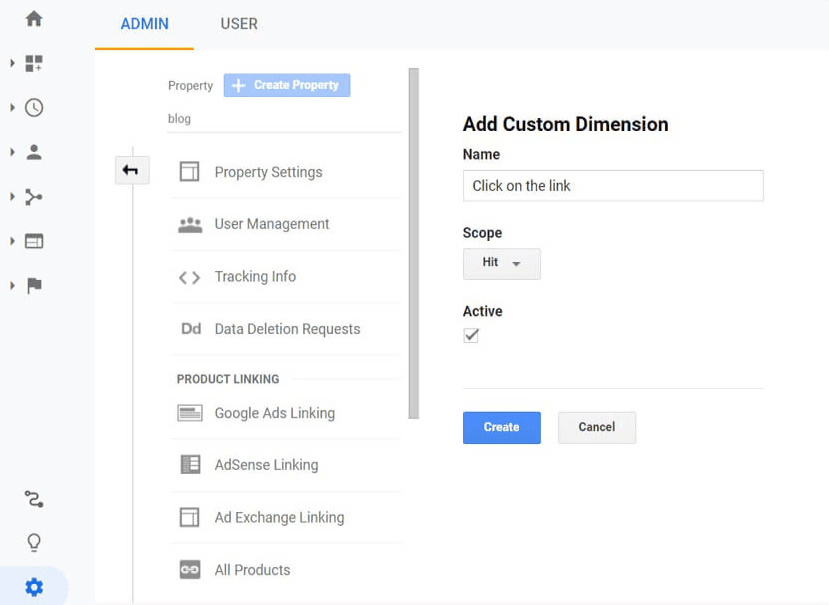 Then copy the code snippet and ask your developers to add it to the Google Analytics tracking code on your site.

Step 3. Create a dataset in Google Analytics
Now you need to create a new set of data in Google Analytics where your segment information will be downloaded, and specify the necessary user settings that will participate in the query for the segment.
To do this, go to the Admin panel, select Data Import from the property settings, and click Create. Then select the User Data set type, come up with a name for the set, and select the GA view to load your segments. 
Then define the schema of the data to be loaded: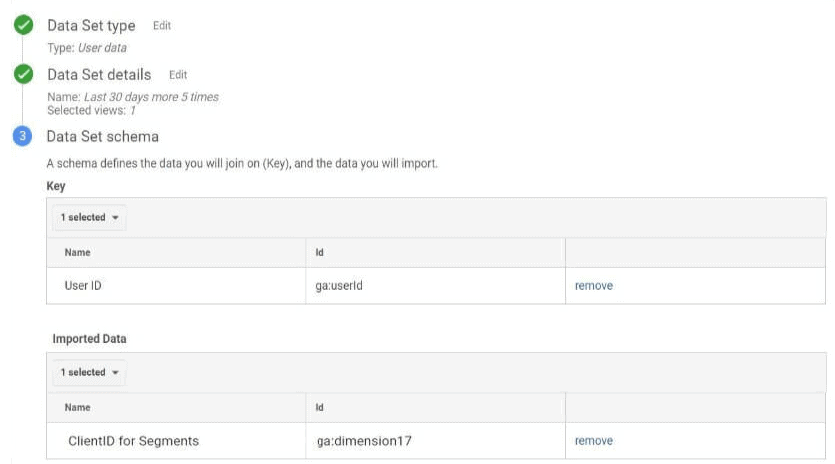 In our example, on the screenshot above, you can see a dataset setting where the key for the bundle is User ID and the segment determiner is Custom Dimension 17.
Custom Dimension 17 will shield the value of the parameter inside the SQL query. By selecting it in the dataset schema, we determine which user type from this segment to use in Google Analytics.

Step 4. Create a SQL query in Google BigQuery that forms a segment
We do segmentation at the user level, so either Google Client ID or Google User ID is needed as the identifier for segmentation. 
When you design a SQL query, consider Google Analytics's requirements for the dataset into which the segments will be loaded. If you want multiple subsegments in a single SQL query (segment), you can implement this by adding Custom Dimension. You must first create user settings in Google Analytics and then add them to the SQL query.
Keep SQL inquiry in the BigQuery view - it needs to be chosen at a setting of Google BigQuery → Google Analytics streaming.

Step 5. Adjust Google BigQuery → Google Analytics stream
How to work with uploaded data
After you upload your data to Google Analytics, you can use it to create segments and special reports. For more information on how to work with downloaded data, see GA Help. 
You can also use segment data that you collect in Google BigQuery and then import it into Google Analytics when setting up audiences for advertising campaigns and remarketing in Google Ads. 
Additionally, with the Google BigQuery → Google Analytics stream you can: 
Complement data from the site with information from your CRM system (gender, age, customer interests, order statuses, returns, etc.), using Client ID or User ID as the key for the bundle, and then create segments at the user level.
Import the results of RFM analysis into Google Analytics and use them to segment users depending on the time of the last purchase, the frequency of purchases, and the amount each customer has spent.
Significantly increase the size of audiences for re-marketing, including any interesting visitors to the site no matter how long they have been active.
P. S. If you need help forming segments and creating a custom metrics system for your business, email us contact@owox.com or fill out a form on the website to get a demo.