Why Google BigQuery is the perfect data lake for marketing
Vlada Malysheva, Creative Writer @ OWOX
Nov 18, 2020
To run advanced analytics, you need data to work with. However, once you've decided to collect data, you need to decide how to store it. Should you choose a standard data warehouse or a data lake? In this article, we discuss why Google BigQuery as a data lake is the best choice.

What is a data lake?
A data lake is the next level in the evolution of data storage. According to TechTarget, "a data lake is a storage repository that holds a vast amount of raw data in its native format until it is needed." Data lakes appeared because new technologies and business requirements necessitated new approaches to storing and processing information.
But what exactly can you do with a data lake?
With a data lake, you can collect and store any raw, unstructured data from any source. You don't need to first define the structure and schema of the data; you can process the data as required and build your business intelligence solutions on it.
Today's customer journeys are more fragmented than ever. And all data on these journeys needs to be stored somewhere without the risk of data loss. You never know what kind of data you'll need in a year. A data lake copes with this task.
To better understand how a data lake works, let's compare a traditional data warehouse to a data lake.
Data warehouse and data lake differences
Imagine you want to build a castle with towers. For this task, you can choose between two sets of tools: cubes identical in size but in various colors or a 250-piece LEGO set with bricks of all shapes, sizes, and colors.
As you've likely guessed, the basic cubes of the same size represent standard data storage. To store data in a data warehouse, you must first bring it into the same format and structure. In other words, you need to:
spend time preprocessing the data
build your castle exclusively from uniform cubes
If your business is just taking its first steps, then cubes (ordinary data storage) are useful.
But if you want to build a Disney castle with turrets, windows, weather vanes, and trebuchets, you need a LEGO set (i. e. a data lake). The undeniable advantage of a data lake lies in its ability to take in raw, unstructured data from everywhere. You can put all the information you have in your data lake: data from advertising services, mobile applications, call tracking and CRM systems, websites, vending machines. Then you can take the data you need and build reports in the way your business needs. Tempting, isn't it?
Additionally, with a data lake, you don't need to spend time preprocessing data. You just need to set up connectors between data sources and the data lake once. Then you can create any reports. The most exciting thing is that a data lake allows you to create dashboards with real-time updates — precisely what you need to instantly respond to critical changes in your metrics and KPIs!
Useful tips
If you're looking for a convenient connector for transferring data to Google BigQuery, we recommend OWOX BI Pipeline. It combines data from Google Analytics, advertising services, websites, offline stores, call tracking systems, and CRM systems into Google BigQuery.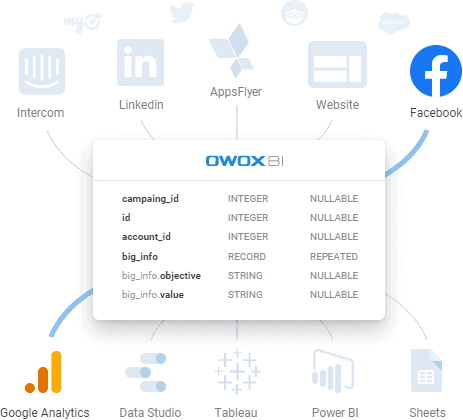 If you want to build reports based on Google BigQuery data in your favorite Google Sheets or you want to transfer data from Google Sheets to Google BigQuery, we recommend using the free and convenient OWOX BI BigQuery Reports add-on.
The BigQuery Reports add-on is popular for many reasons:
It's free, safe, and secure
It doesn't require you to upload data as CSV files or use paid third-party services
It uses only Google's official APIs
You can find more details about this OWOX BI add-on here.
Why is Google BigQuery the perfect data lake for marketing?
Now that we've figured out the difference between data storage and a data lake, we need to choose the best variant. There are many data lake solutions on the market, but for marketing, there's only one best option — Google BigQuery. Let's briefly describe what Google BigQuery is and why it's the best solution for storing marketing data.
It's difficult to imagine a marketer who doesn't work with Google Ads, Google Analytics, YouTube, and other Google services. Google is a real monster of marketing and advertising. And Google BigQuery is part of Google's infrastructure. In simple words, this means native integrations.
Google is continuously developing its cloud services platform, including BigQuery. So you don't need to worry that this service will be abandoned and cease to be supported and updated. Among its other advantages, Google BigQuery is simple and fast, and a vast number of specialists can work with it. It also comes with ready-made sets of SQL queries so you can get useful insights from your collected data.
And let's not forget about the current problems of marketers: how to quickly respond to changes in the market and how to manage bids and segment automation in real time. Also, let's not forget that your success significantly depends on how you can automate and personalize your marketing. Google BigQuery works with machine learning (ML) and artificial intelligence (AI), which help you analyze and automate your marketing by segmenting audiences, searching for useful insights, and doing many more things to make your life easier.
The bottom line is that Google BigQuery is a fully managed serverless data warehouse that enables safe and scalable analysis of petabytes of data. For more than a decade, Google BigQuery has been developing, improving, and providing marketers and analysts with a convenient interface and extensive capabilities.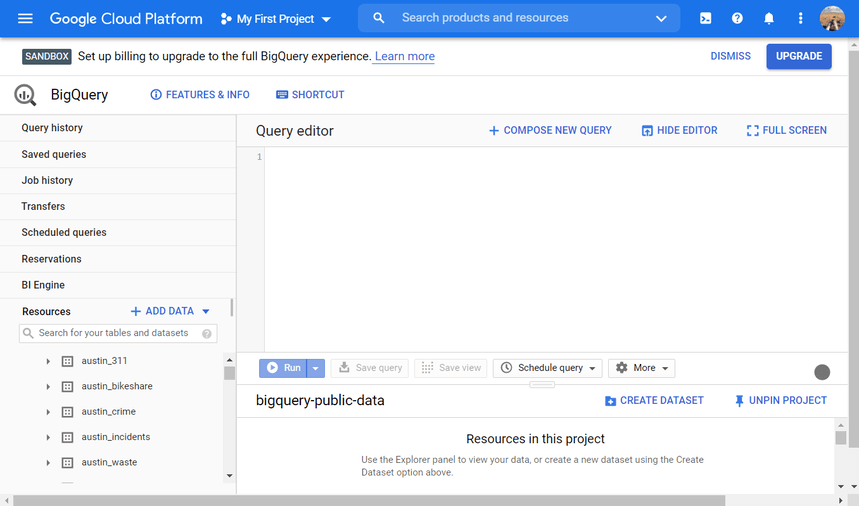 If you're already sold on BigQuery, you can immediately jump to the conclusions of this article or go read other articles about setting up and working with BigQuery. If you're still on the fence, here are some reasons why you should give BigQuery a try.
Video help section
Features of Google BigQuery
Let's take a closer look at why Google BigQuery is the best choice for today's marketers.
Integrations. BigQuery is part of the Google Cloud Platform (the leader in Data Management for Analytics according to Forrester Research), which means native integrations with other Google products including Google Analytics 4 and Google Ads.
Data processing speed. BigQuery was designed to enable real-time analysis of any type of data. You can use SQL queries with ease and at any scale.
No servers. Using the BigQuery cloud service doesn't require any attachments from you. In addition, no matter where your employees work, they'll always have secure access to data.
Data security. All data in BigQuery is protected according to Google's standards.
Cost. All users receive 10 GB for storage and up to 1 TB of requests per month for free. In addition, new users receive $300 for 90 days to pay for services on the Google platform. For more information, see Google's guide to BigQuery pricing and cost controls.
BigQuery ML. With this service, experts can build prediction models on both structured and semi-structured data directly inside a data lake.
To summarize, Google BigQuery is part of a large ecosystem that's continuously growing and developing. You can use it to apply machine learning and discover emerging data patterns and test new hypotheses. You can restore a deleted table if it hasn't been more than seven days since it was deleted and if you know its name and the name of the dataset from which it was deleted.This will lead to timely insights into how your business is performing, which will enable you to modify your processes for better results.

Conclusions
Marketing analytics, with its data-based conclusions and forecasting, is a necessity for any modern business. It's no longer a toy for the rich but a necessary and useful tool for business development and progress. However, to fully use and benefit from advanced analytics, it's essential to create a basis for it.
To implement new tools, machine learning, and various methods for optimizing advertising campaigns, a business needs to make decisions based on the data it's collected. For marketing departments, the best solution for storing data is a data lake — specifically, the popular and convenient Google BigQuery.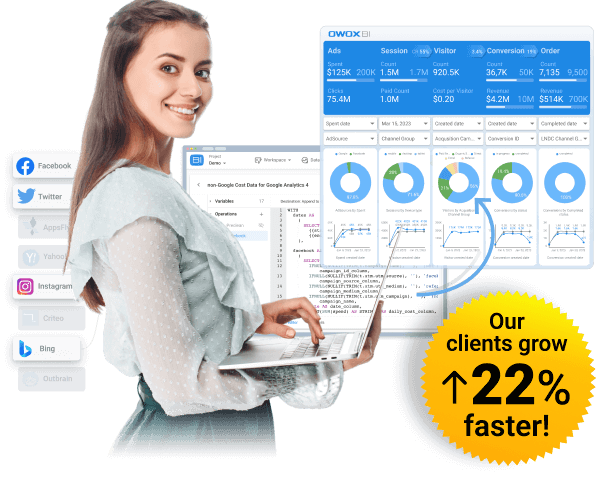 Unlock Analytics Power!
Unleash the Power of Analytics! Dive into data lakes for smarter insights.
Book a demo
FAQ
How does GBQ compare to traditional data warehouses?

GBQ offers several advantages over traditional data warehouses, including: pay-per-use pricing, high-speed querying, no need for upfront hardware or software investments, and easy integrations with other Google Cloud Platform services.

What are the benefits of using GBQ for data lake analytics?

Some of the benefits include: fast query performance, scalability, ease of use, cost savings, versatility, and advanced machine learning capabilities.

How does Google BigQuery (GBQ) fit into a data lake solution?

GBQ is a cloud-based data warehouse that can integrate with a data lake to provide a powerful analytics platform. It allows businesses to store and query massive datasets, while seamlessly integrating with other Google Cloud Platform services for processing and analysis.