How to Add Google Analytics to a Facebook Page and Get Brilliant Reports
Olha Diachuk, Creative Writer at OWOX BI
Dec 28, 2018
You can't add Google Analytics directly to a Facebook page like you can to a website because Facebook doesn't allow this. But you can use some other tricks to analyze your Facebook data with and without Google Analytics. Let's see how we can help you.
Starting with goals and activities
What does your Facebook page look like now? How active is it? How do people comment and react to your posts? Can you feel the connection between the audience and your brand? These simple questions are more important than all the technical bells and whistles that we'll tell you about later.
What's the main aim of your Facebook activity? Why are you promoting your brand there? And what do you want to observe with Google Analytics?
You might say:
I know for sure that my target audience is using Facebook all the time and I want them to buy my goods.
I want to find more partners within the Facebook community, and I want people to know my brand well because popularity means money.
Facebook Insights can't give me enough data on customer activities and I can't shake the feeling that something is wrong in my campaigns.
These are only examples to get you thinking about your goal on Facebook. Without this insight, part of your marketing budget will leak through your pockets. If you haven't tracked even in Facebook Insights, spending money for ads is like throwing confetti. It's a horror situation for a marketer or SMM manager. You also need to know how to be smart in getting more traffic and sales using Google Analytics. So here's a broader list of goals that you might choose for tracking with Google Analytics: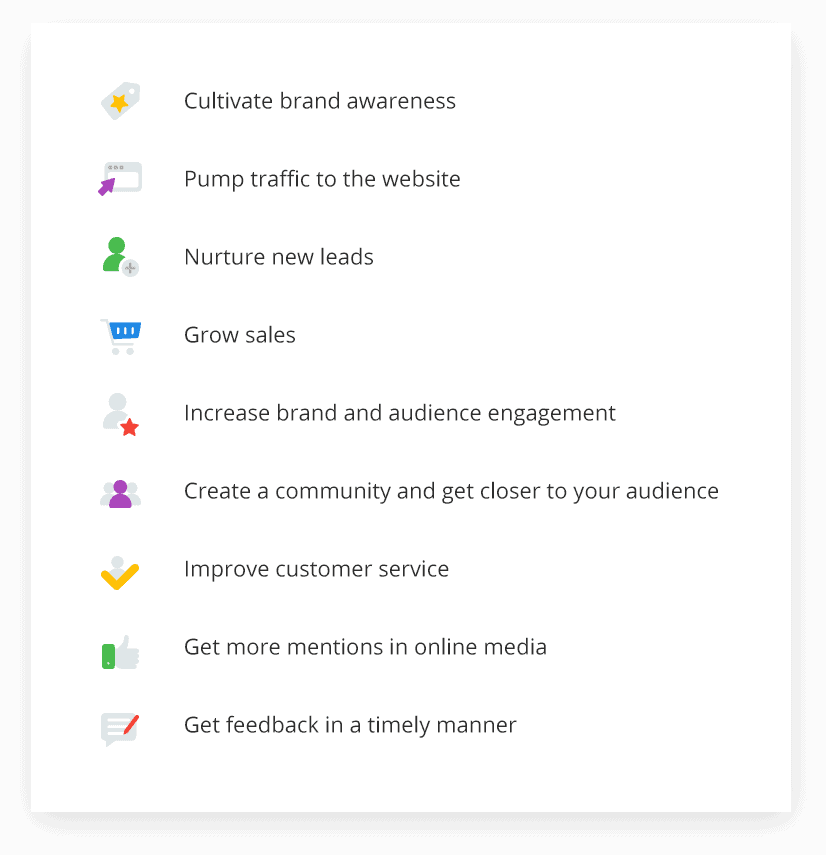 Choose two or three of these goals. Once you've set your goals, let's see how you can define whether they've been accomplished.
Facebook advertising is useless without competent analytics. Analyze all campaigns from Facebook, Google Ads, Instagram, Twitter and other advertising channels in one dashboard. Compare the effectiveness of ad campaigns and effectively allocate your marketing budget. With OWOX BI, you can automatically import cost data from Facebook Ads to Google Analytics and Google BigQuery.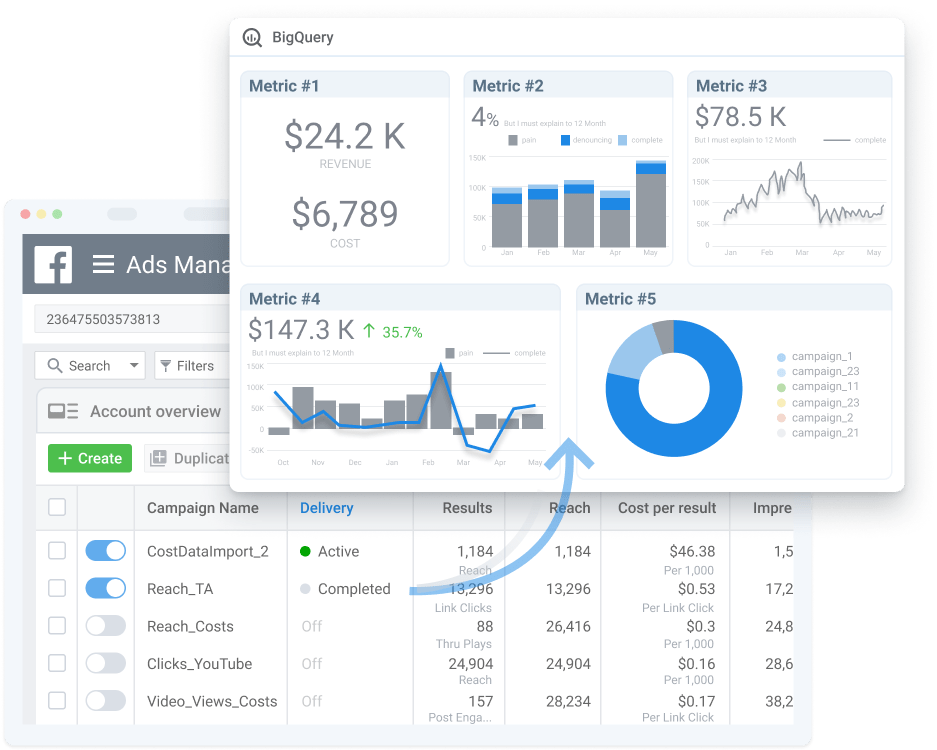 SMART goals: Specific, Measurable, Achievable, Relevant, Time-bound
Have you warmed up? We're getting closer to the most interesting part! Those goals you saved for yourself are totally measurable. Which means that you don't need that old lady with a crystal ball to tell you if your Facebook campaign is successful. The numbers will tell you for sure.
Goal
What to measure
Meaning
Recommended Facebook or Google Analytics instruments for beginners
Cultivate brand awareness
# Followers

Posts Reach

Activities: mentions, shares, comments
How many people are interested in or like us right now?

How many people can we reach?

Do people talk about us?
Facebook Insights page,
Facebook Analytics
Pump traffic to the website
Social media traffic

Bounce rate

Link clicks

Average session duration
What's the percentage of social media channels in the overall traffic?

Do people coming from your Facebook page get what they expect when they land on your website?

How do people interact with your message? Are you interesting enough?
Google Analytics,
Facebook Analytics
Nurture new leads
Data on leads collected through Facebook lead generation forms

Interest in your gated content

Participation in events and contests

Clicks on lead-generation posts

Real lead conversions
How many people have entrusted you with their personal data for communication?

How many people from Facebook have downloaded your content in exchange for their personal information?

How many people have participated in your giveaways, contests, etc?

Do people engage with your lead-generating posts?

How many people on Facebook have converted on your website?
Google Analytics,
Facebook Insights,
Ads Manager,
Events Manager
Facebook Analytics
Grow sales
Revenue

Ad impact
Do people buy my goods thanks to social media?

Does advertising really increase my sales?
Google Analytics conversions,
Ads Manager,
Facebook Analytics
Increase brand and audience engagement
#Comments, likes, shares, reposts
Is audience highly engaged with your theme and content?
Facebook Insights
Create a community and get closer to your audience
# Theme groups and other communities connected with your business interest
How many people are interested in your services or goods? Do they interact with your content frequently?
Facebook Pages, Facebook Events, Facebook Groups
Improve customer service
Scope of support questions

Response time

Customer satisfaction score
What customer issues can we solve via Facebook?

How fast can we reply?

Do we help people or pretend to help?
Messenger,your inner customer support, audience investigations
Get more mentions
Reach

Influencers

Potential outreach

Shares and mentions
How many people can we possibly reach with mentions on social media?

Are there any journalists/bloggers interested in our theme?

Is there any kind of mass interest in our business sphere?

Would people share our materials? Or materials about us?
Facebook Insights,
hashtags,
other specialized services
Get customer feedback
# Customer requests
# Customer suggestions
Reviews
Are people asking us for help or recommendations if they need?

Do people have a habit of writing us suggestions about our services or products?

How can we implement these suggestions in real life?

How good are we at dealing with negative feedback?
Facebook Insights,
Messenger,
specialized CRM services with ticket tracking
As we told you, it won't be easy. So get ready to study hard! Facebook tools for advertisers are a complex system containing advertising and analytical instruments for companies to grow on this social network. Nothing can stop Facebook from counting, mentioning, and analyzing events inside the system, but on your website it can do nothing at all without developers' help. But for any kind of business, Google Analytics is still the most popular website analytics system.
So that's why we suggest you get acquainted very closely with Facebook tools for advertisers and Google Analytics. Let's get ready for this acquaintance.
Adding Google Analytics to your Facebook page
To add Google Analytics to your Facebook page and your ad campaigns, you should use UTM marks. Here's the basic order of how to add Google Analytics to your Facebook Page:
Set up a Facebook Pixel on your website
Set up Google Analytics on your website
Set the goals that you're going to track on Facebook with Google Analytics
Create a checklist of all links on your Facebook page and Facebook ad campaigns that lead to your website.
Check out detailed data in your reports.
The most you can achieve with these reports without the help of third-party services is cost data accounting. We'll show you how to do it both manually and automatically.
Steps 1–2. Setting up Google Analytics
Here's a to-do list for you to start working with Google Analytics on your website.
Technical issues: if you're not a technical specialist, show these instructions to whoever's in charge of adding the GA tracking code to your website.
GA settings: open GA, log in with your Gmail account, add your website, confirm your rights, add the property and tracking code(s), and create your first view with all the raw data included.
You can find more details and complete instructions on goal setting in our Google Analytics Settings Guide.
Step 3. Marking with UTM tags
Download our UTM step-by-step guide and use it every time you plan a Facebook campaign: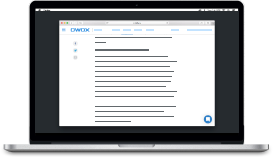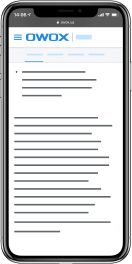 Step 4. Check the results in your reports
After all preparations are done, check out these most important GA reports on your campaigns. Remember that Google Analytics needs time to collect and display the results of data gathered. Also, don't forget about the cost data. You have two ways to choose for cost data import: upload this data manually or set up our Facebook → Google Analytics pipeline.
Audience report
The audience report is a favorite of new marketers. It's broad and deep, and there are multiple choices to make more interesting comparisons and combine data from second dimensions, filters, and so on.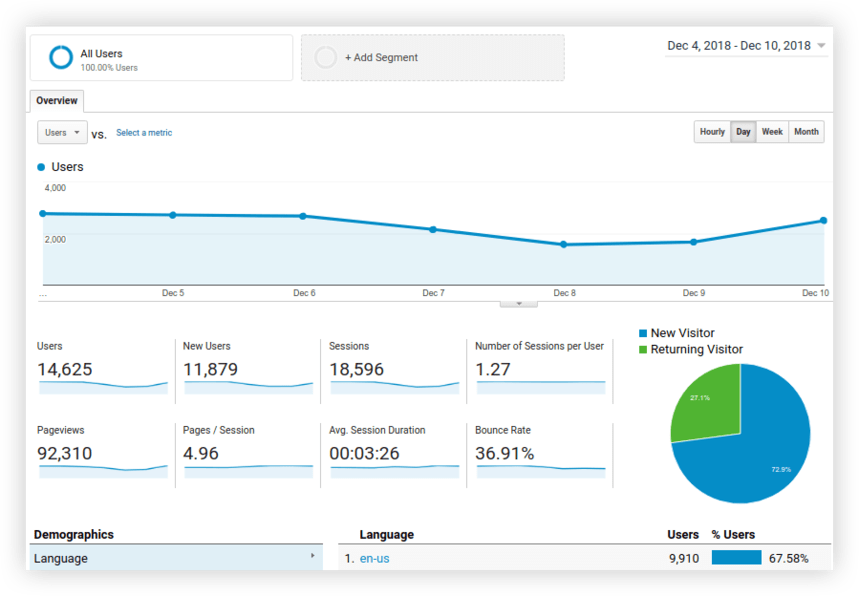 This is where you can create a new segment of users coming from Facebook or another social media platform. This will help you to distinguish features of Facebook users from others. Don't miss the possibility to review Audience → Demographics → Geo and other reports of this block with the chosen social media segment.
Acquisition → Social → Overview Report
This is the most popular report for those who care about their social media ad campaigns.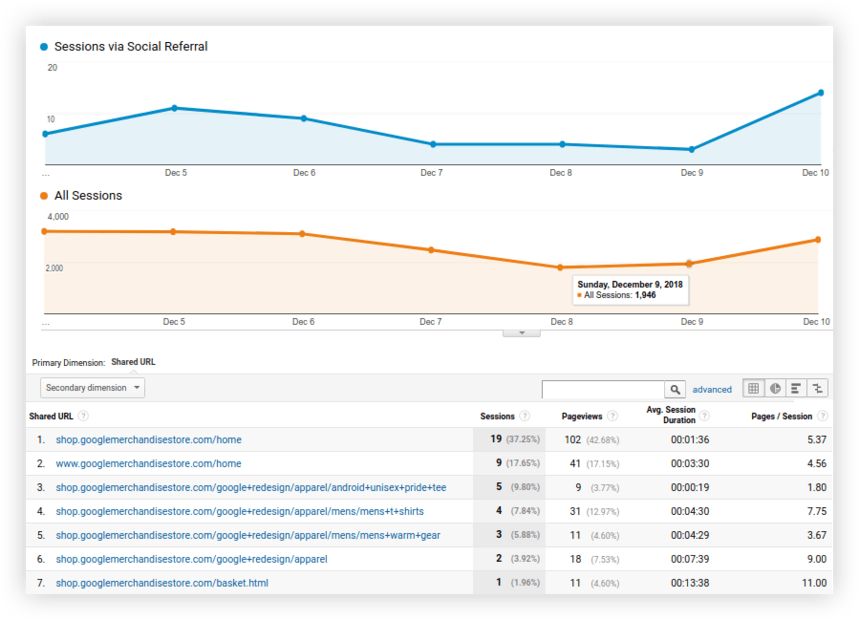 Use filters and second dimensions to filter your campaigns and see the results in one place.
Acquisition → Campaigns → Cost Analysis
If you want something deeper, take a look at this ROAS report. It's available after importing cost data, as we mentioned previously.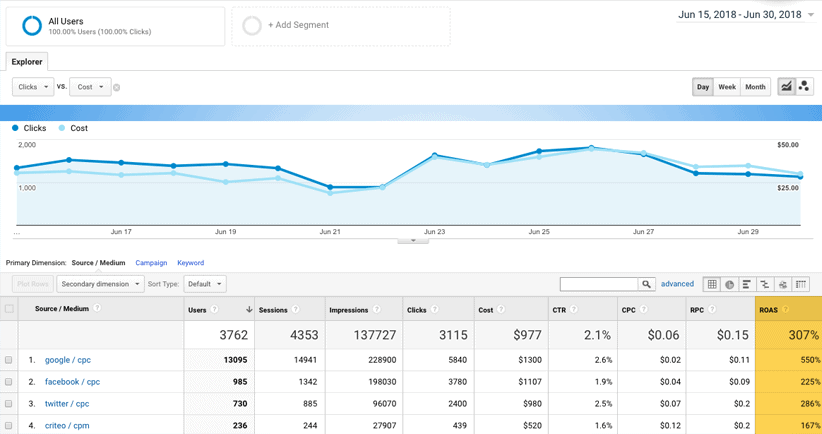 These reports are just examples to show you the potential of Facebook and Google Analytics.
How can I improve my marketing by analyzing Facebook ad campaigns?
The best result of tracking Facebook campaigns in Google Analytics is that you can investigate the moods and behaviors of customers coming from Facebook.
Create a segment for Facebook part of your audience for quick access. This will be the first step to increasing ROI.
Check what content on your website people don't like and improve it. Use the Facebook campaign to invite people to the website and create seamless experience of interactions.
Use GA statistics to see what kind of content people like the most, then make it even more interesting and engaging.
And remember to track Facebook data all the time to get rid of doubts in your marketing decisions. And if you want to set up a full-fledged funnel and enrich your data with CRM or call center data, try out OWOX BI and get started with the Facebook → Google BigQuery pipeline.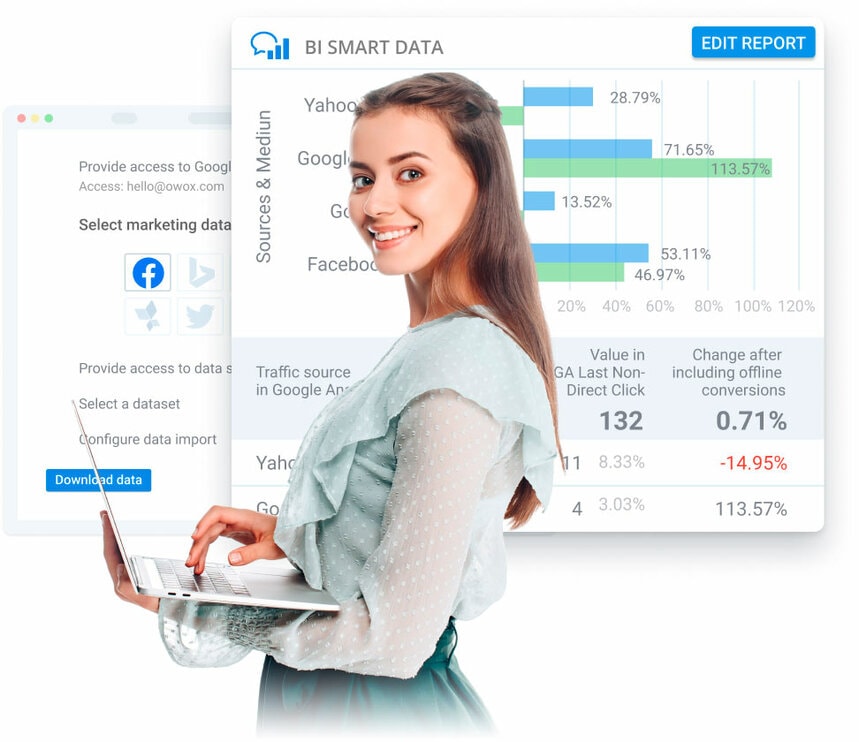 Never give up in your efforts to make analytics better. This is the right way to deliver the best service to your customers and to evolve your business.
FAQ
What kind of metrics can I track with Google Analytics for Facebook Page?

With Google Analytics for Facebook Page, you can track a variety of metrics such as page views, sessions, time on page, bounce rate, referral sources, and more.

How do I set up Google Analytics for my Facebook page?

To set up Google Analytics for your Facebook page, you will need to create a Google Analytics account, link your Facebook page to your Google Analytics account, and add the Google Analytics tracking code to your Facebook page.

Can I use Google Analytics for Facebook Page to track multiple Facebook pages?

Yes, you can use Google Analytics for your Facebook Page to track multiple Facebook pages by creating separate tracking codes for each page and linking them to your Google Analytics account.