How ArtPix 3D Revolutionized Data Analytics with OWOX BI
Ievgen Krasovytskyi, Head of Marketing at OWOX BI
Sep 14, 2023
Discover how ArtPix 3D implemented OWOX BI to revolutionize their data analytics processes. In this case study, we delve into the challenges ArtPix 3D faced, their goals, and the strategic solutions that empowered them to make data-driven decisions, optimize marketing efforts, and achieve remarkable business results.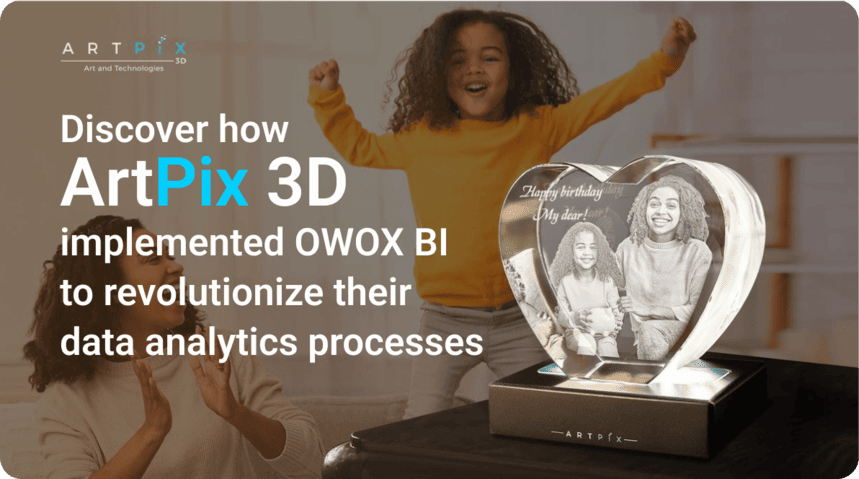 Explore the transformative journey that elevated ArtPix 3D's understanding of user behavior, marketing channels, and overall performance.
The Company
ArtPix 3D is a leading provider of personalized 3D photo crystals, combining state-of-the-art digital technology with high-caliber craftsmanship to create laser engravings inside durable crystal keepsakes.
With an outstanding customer rating score and an impressive number of reviews on Trustpilot (49,000+ reviews with an average score of 4.8) and Amazon (12,000+ reviews), ArtPix 3D has gained recognition for its quality.
One key aspect that sets ArtPix 3D apart is its sophisticated data structure and process automation, having implemented AI image recognition, thus enabling them to speed up their operations.
The Challenge
ArtPix 3D faces several technical challenges in their industry that impact their data analytics efforts:
1. Insufficient free analytics tools
One challenge for ArtPix 3D was its reliance on data and the limitations of standard free tools (such as Google Analytics) for making business decisions. The team recognized that using only these basic analytics tools was insufficient. They required a solution that could integrate web analytics data with information from various systems and calculate the business metrics accurately and as close to real-time as possible.
2. Marketing attribution
To quote ArtPix 3D's approach to data usage, they have adopted the "Collect, Combine, and Rule" motto, emphasizing their commitment to utilizing data in their operations.
ArtPix 3D grappled with marketing attribution for almost a year, specifically focusing on measuring the value generated for the business. It was necessary to accurately attribute conversions to different marketing channels, as it was vital for optimizing advertising campaigns and keeping ROI under control.
These challenges highlight the complexities ArtPix 3D faces in managing data analytics processes, optimizing marketing efforts, and making data-driven business decisions.
The Goals
Their first objective was to collect real-time user behavior and cost data from multiple data sources into DWH (Google BigQuery).
The primary purpose - build custom reports for marketing, development, logistics, and finance teams. They wanted to combine on-site user behavior data with information from other systems and automatically calculate KPIs for up-to-date insights and decision-making.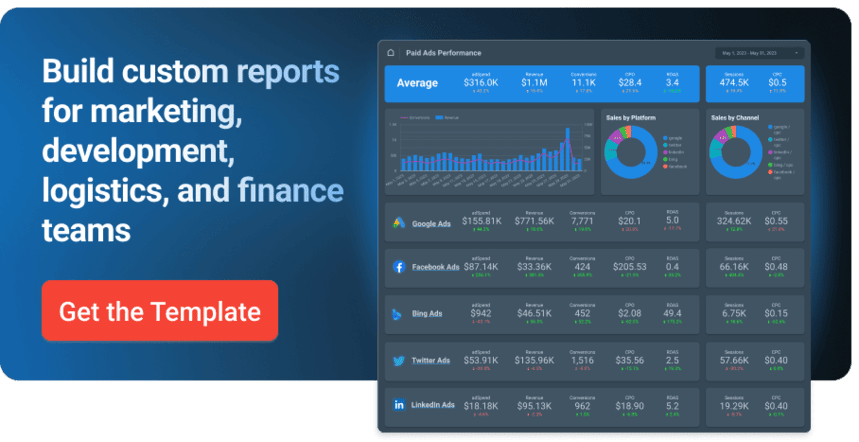 Another important goal was to attribute marketing expenses and revenue to channels and measure the incremental impact of different channels on business performance. ArtPix 3D aimed to accurately track conversions and optimize the online marketing mix of channels accordingly.
To achieve these goals, ArtPix 3D selected OWOX BI as the tool (and the analytics framework) most aligned with their aim of utilizing end-to-end data analytics to make informed decisions and grow performance.

The OWOX BI Solution Overview
OWOX BI is a comprehensive analytics platform that covers everything from data collection and streaming to attribution modeling and reporting. With OWOX BI, companies get a complete view of their marketing activities across various channels, empowering advertising specialists to optimize their ad spending and achieve better ROI.
​​OWOX BI offers three powerful solutions for data management and analysis: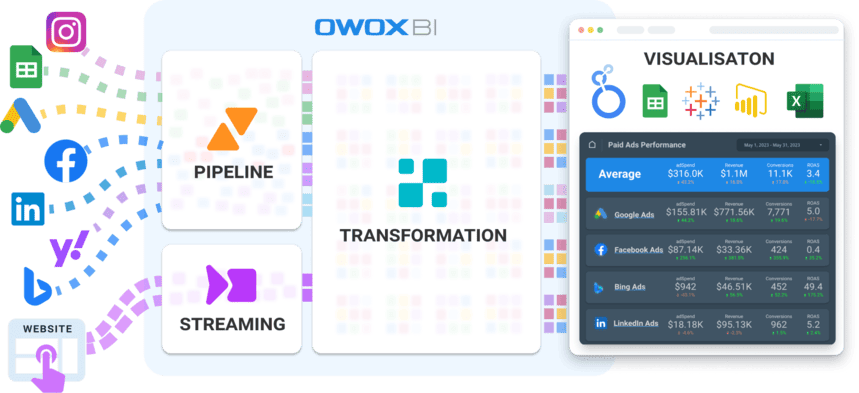 OWOX BI Pipelines facilitates seamless data collection from various advertising platforms, CRMs, and website builders, enabling organizations to consolidate all their data in one place in order to have a data source of truth and gain better insights.

OWOX BI Streaming is a cookieless real-time user behavior tracking system, ensuring privacy compliance with regulation and extending the lifespan of cookies. Marketers can accurately track the entire conversion journey, find the true sources of conversions, and gain a deeper understanding of customer behavior.
OWOX BI Transformation saves time on data preparation (avg. of 70 hours per month). With pre-built low- or no-code transformation templates (based on 100's delivered projects across multiple industries), businesses can quickly produce trusted datasets for reporting, modeling, and operational workflows:
Sessionization: Group on-site events into sessions to find conversion sources
Cost data blending: Merge ad cost data across channels to compare campaign KPIs in a single report
Attribute ad costs to sessions to measure cohorts and pages' ROI;
Create cross-device user profiles across different devices
Identify new and returning user types for accurate analysis
Apply a set of attribution models: Choose from standard attribution models like First-Click, LNDC, Linear, U-shape, and Time Decay, or create a custom Machine Learning Funnel-based attribution model
Use modeled conversion for cookieless measurements and conversion predictions
Prepare data for marketing reports in minutes
Lastly, OWOX BI integrates with visualization tools like Looker Studio, Tableau, or Power BI, enhancing data-driven decision-making by building customizable reports & keeping the data always up-to-date.
The Implementation Process
The implementation process involved several steps:
1. Cookieless Web Analytics Setup
ArtPix 3D first implemented cookieless, on-site analytics tracking by creating a web stream using a sub-domain. This allowed us to collect user behavior data in real time through OWOX BI Streaming, stored in Google BigQuery.
2. Data Preparation
To prepare the data for business analysis, ArtPix 3D used OWOX BI Sessionization to organize the raw event streaming data into groups, creating lightweight tables with aggregated user activity data by sessions. This step enabled them to transform hit- and session-level data into insights.
3. Reporting and dashboards
ArtPix 3D set up reporting based on trusted data collected with OWOX BI. They then used Google Sheets (with the OWOX BI BigQuery Reports add-on) and Looker Studio (formerly Google Data Studio) to create informative reports. These reports are updated every day, providing the team with actionable insights.
In addition to the standard implementation process, ArtPix 3D used data pipelines to export data from advertising platforms, blending and loading it with other data in Google BigQuery (GBQ).
They also incorporated the Measurement Protocol to send transactions and refund data to Google Analytics and BigQuery from their ERP system, shipping (delivery costs, INTL taxes, and duties), InFlow (product stock data), and Quickbooks (COGS and OPEX) to unified storage in Google BigQuery. They set up auto-notifications via Slack and emails to be alerted about data collection and processing issues.
Benefits and Advantages with ArtPix 3D
ArtPix 3D has experienced significant benefits since implementing the OWOX BI solution. While it's challenging to quantify these benefits due to the complex nature of the analytics changes across different levels, such as traffic acquisition channels, campaign, audiences, and ad creative performances, as well as factors like seasonality, pricing dynamics, and product availability, the positive impact is undeniable. The main advantages they have gained include:
Flexible data structure on both hit- and user-levels: Now, ArtPix 3D can generate reports with any level of complexity, updating them within minutes.
Data integration capabilities: As an open system, OWOX BI helps ArtPix 3D blend and prepare the data collected using OWOX BI with data from other sources all in one place for reporting.
Transparency in calculations: ArtPix 3D now understands the foundations of each business key performance indicator (KPI) and how the values are calculated, providing clarity and confidence in their data analysis.
"The ability to integrate data from internal and external systems in Google BigQuery with OWOX BI allows us to get insights on what needs to be optimized and make data-driven decisions. We appreciate the transparency in calculations, allowing us to comprehend the foundations of each business KPI and how their values were derived." 
Andrey Sukhovoy, Director of Marketing & Business Development
These benefits have empowered ArtPix 3D to make informed decisions, optimize operations, and improve marketing performance.
Business Results for ArtPix
After adopting OWOX BI for their data analytics needs, ArtPix 3D achieved the following business results:
Enhanced understanding of user behavior on their website, from YoY performance KPIs to specific metrics in any desired timeframe
Clear insights into the value of marketing channels at various levels of detail
Improved sales and profitability analysis, considering advertising expenses for each product group and individual items
Automated reporting, saving time on manually reporting tasks
Increased visibility into marketing performance and the effectiveness of campaigns
With OWOX BI, ArtPix 3D can confidently leverage data to drive informed decision-making, implement targeted marketing strategies, and stay at the top of their industry.
Next Steps
ArtPix 3D plans to use OWOX BI products in the future, post-transition to GA4-Like event tracking and reporting. This would help them analyze data consistently and compare it with past records, so they can understand seasonal trends and, therefore, optimize with that information taken into consideration.