Today's marketers are made of steel. They have to cope with challenges that are constantly coming from all sides: changing markets, decreasing budgets, declining audiences, a lack of tools. While all these problems might be on the horizon, marketers are typically so busy with their current struggles that they can't even see an avalanche coming.
In this article, we talk about how analytics can help marketing specialists get their heads out of the routine and gain complete control over their marketing.
Table of contents
The scariest problems for marketers
Disclaimer:
You may not experience all of these problems yourself. All the same, you can use this article as a checklist. Maybe you'll find a new way to apply analytics in your marketing.
Problem #1: Data
Marketers waste 21% of their marketing budgets because of bad data. Whether you're a marketing Swiss Army Knife in a small firm or the third email marketer in the marketing department of an international company, you have the same pain point every day — data. Whatever task you're doing, you need raw, pure input and output data. You have to know where information comes from and how it should be attributed.
All troubles related to data can be divided into three categories:
Knowing where data flows

Where does data flow in our business and how can marketing use it to maximize revenue and decrease costs?

Controlling data flows

What do we have to do to take control of these internal and external data flows?

Applying data

How can we utilize our data practically and what's our budget for this?
You have to set up data collection and always fight sampling problems — because you can't be confident in reports built on sampled data. You have to merge your data while somehow avoiding conflicts, duplications, data loss, and expensive bills for tools you choose for these tasks. Additionally, you have to store your collected data and process it carefully. Every marketer must understand how expensive any kind of data error is and avoid data errors by whatever means necessary.
Carefully setting up analytics can save your company from headaches related to the issues mentioned above. Moreover, answering the questions listed above will help you determine what data you should pay the most attention to. You have to remember that you have your own limited budget with which to build up your data culture, but it's definitely possible to set up basic analytics even if you start with 100% free tools.
The responsibility to build a strong data culture creates tons of stress. And you can't just hide behind your analysts, as in most cases it's your fault as the marketer if your analyst builds the wrong report. You have to pay attention to data — even if you don't like to — because the alternative is losing your job. Even if you're not a genius in data science, it would be nice if you spent some time on basic statistics, as Christopher Penn suggests.
Thus, problem #0 shows up — the need to constantly learn and grow. But seeing as it's a better topic for Instagram coaching, we won't dwell on it but will continue with the next problem that any marketer faces.
Сollect, merge, enjoy all marketing data in a single storage with OWOX BI:

Problem #2: Key performance indicators
Why does every marketing department need key performance indicators (KPIs)? The main reason is that any marketer is a "luxury" and an investment in the company's prosperity. Every company wants to stay profitable and keep their expenses far below their revenue. KPIs are a way to prove the profitability of the marketing department as an investment in the business and control your growth and efficiency. They also show how the sales engine works.
Have you ever encountered a situation when KPIs were just the fruit of somebody's imagination and couldn't be considered real? All marketers run into this at some point. The mission of your KPIs is to reflect the situation in the real world, not a data snapshot or mathematical exercises. It's a simple truth that's rarely mentioned around the marketing water cooler. If you can't explain why you have certain KPIs and not others, go back to problem #1 and review your marketing data from the ground up.
To deal with the problem of key performance indicators, you have to know the answers to these questions:
What are our overall marketing goals and how are they connected with our business goals? This is the most advanced stage of setting up KPIs. It's when you find out how marketing is connected with your business's financial KPIs and discover all the dependencies between sales and marketing activities.
How are we going to meet our overall marketing goal considering each sphere of marketing? This is the level at which you determine the KPIs of each marketing domain such as PPC, SEO, email marketing, and SMM. You should establish a link between your global marketing goal and the personal KPIs of your marketing colleagues. It's best to make your KPIs logically connected, testable, and realistic.
Are your calculations and formulas for KPIs correct for your business and are they truly based on the data you possess? Two companies in the same industry can have different formulas for KPIs because they possess different amounts and kinds of data. You can't just take any popular KPIs and start measuring without adapting them.
These are the main questions you should answer to create a perfect KPI system for your marketing. Analytics is your right and left hand in this situation. Because after you understand the goals of your marketing department and marketers, you should track the success of your routine activities with a system of metrics and understand how they're connected with KPIs.
Your main metrics might be the ROI (return on investment), traffic metrics, click-through rate of your emails, checkout page conversions on your website, or calls initiated from Instagram. Such a simple system of metrics provides a strong basis for measuring success or failure of everyday tasks, and these metrics can easily be understood and acted on by marketers. Meanwhile, the CMO and heads of marketing domains can deal with high-level KPIs by controlling budgets and creating the marketing performance plan. That's an order and structure that can't be shaken by any changes.
Marketing analytics with OWOX BI
Subscribe
Problem #3: Reporting
After you deal with KPIs and marketing metrics, the last step to marketing glory is reporting. To control your KPIs and metrics, you have to use analytics and set up reports to get insights in time to make decisions, save money, and adjust your plans. Marketers should set up reporting as a regular and long-term activity, as all marketers need their own reports to control success and deal with problems on time — once a week, once a month, after the advertising campaign starts and after it ends.
All the reports you might need in your marketing are from one of these categories depending on the KPIs/metrics they include:
Fast-access reports for reviewing changes to metrics
Regularly updated reports for tracking KPIs
Also, all marketing reports can be divided into these two categories depending on their main functions:
Reports for controlling results
Reports for increasing marketing efficiency
Let's review some reports and see how they connect with marketing metrics and KPIs.
General marketing report — Overview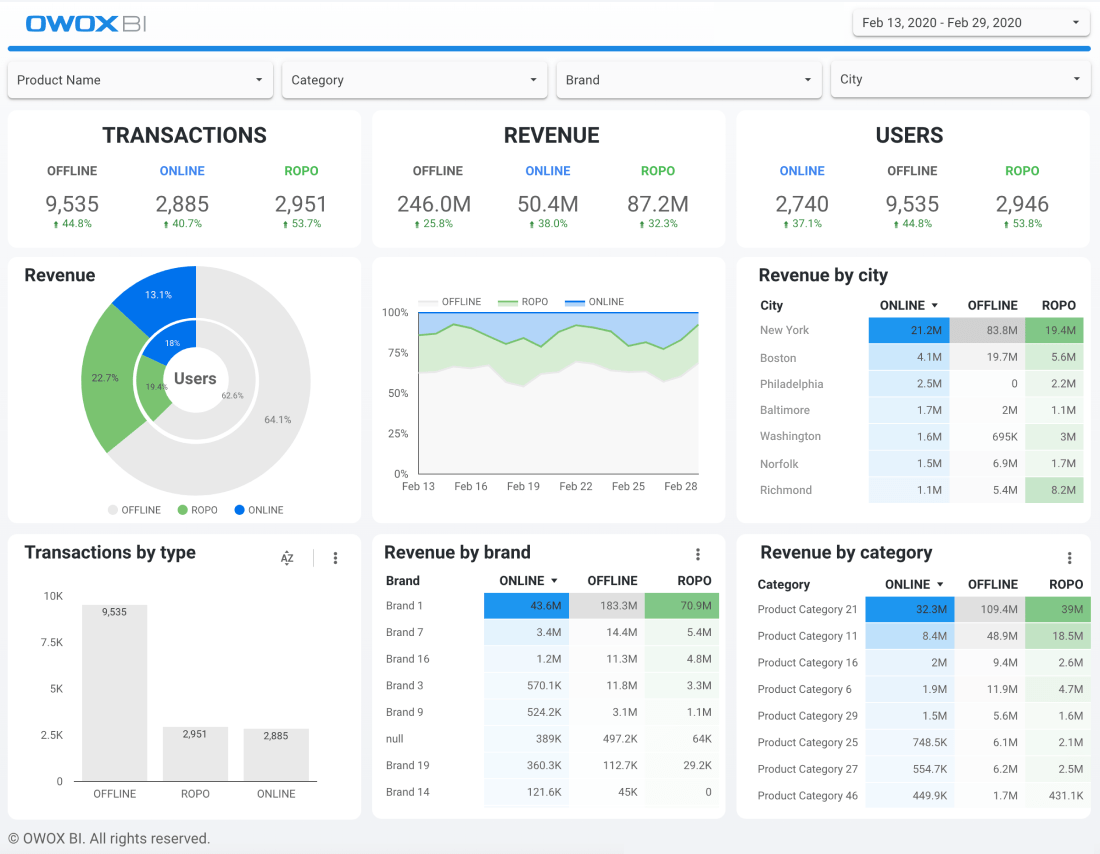 This report should give you complete information on the marketing situation right now, and typically it's in the form of a dashboard. It has to include your KPIs depending on your business, like MQLs (marketing qualified leads) or sales from an organic channel. It also must be real-time, simple, and clear. A general marketing report is not only for the CMO but for every marketer who cares if marketing is reaching the department's goals.
This is a report that you should constantly be updating.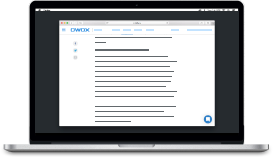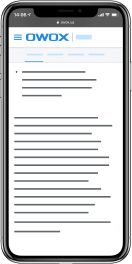 bonus for readers
30 handpicked Google Data Studio dashboards for marketers
Download
now
Marketing efficiency report based on attribution models
Attribution modeling helps marketing specialists to understand how their advertising budget should be redistributed to maximize the revenue. Different models have different approaches to calculations, so it's not easy to find the perfect fit for your business. You should understand why modeling results differ a lot and how to apply it in your everyday practice.

This kind of report requires knowledge of attribution modeling and the ability to compare models. The main headache of budget distribution is mainly solved by attribution modeling, which might be based on custom models or ready-to-use models from Google Analytics. In any case, you have to build reports that will help you compare the results of attribution modeling with your main KPIs and revenue.
AIDA report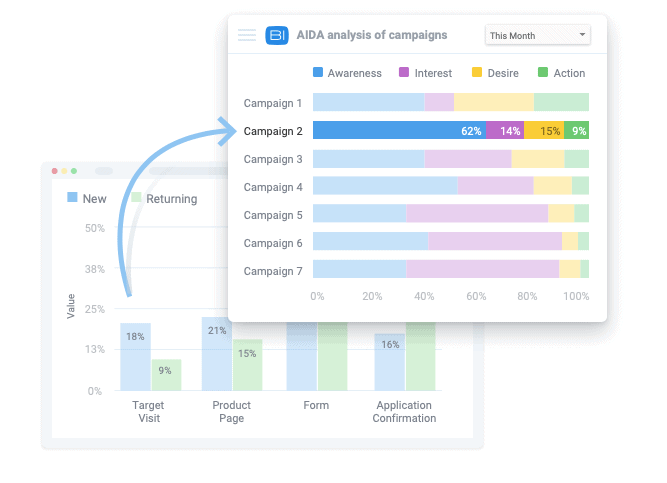 The AIDA report is a marketing classic that hasn't lost popularity. Walking through the decision-making steps — from Awareness to Action — with your customer will give you lots of understanding of what's going on in your marketing and sales funnel. Your conversion steps are really worth your attention, as the devil is always hiding in the details. You can find the bottlenecks of your customer journey with ease after building this report. But first, you have to choose the steps for your AIDA funnel.
Cohort, LTV, and RFM analysis reports
These reports will give you a deeper understanding of who your customers are and what revenue you can expect to get during their lifetime with your company. Ever dreamt of finding out your customers' buying habits? They're all in these reports. Use it to build your personalized strategies for your cohorts, depending on their LTV and activities.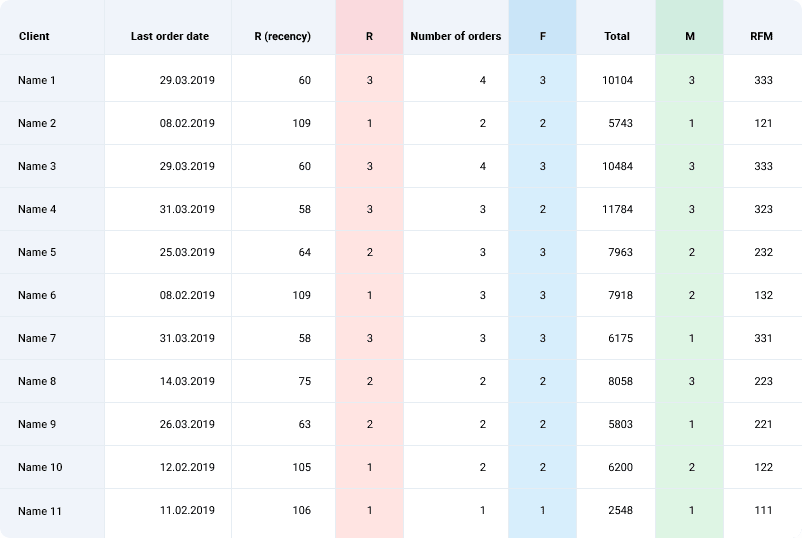 Read more about these useful reports here:
Cohort Analysis in Google Analytics and Google Sheets
ROPO report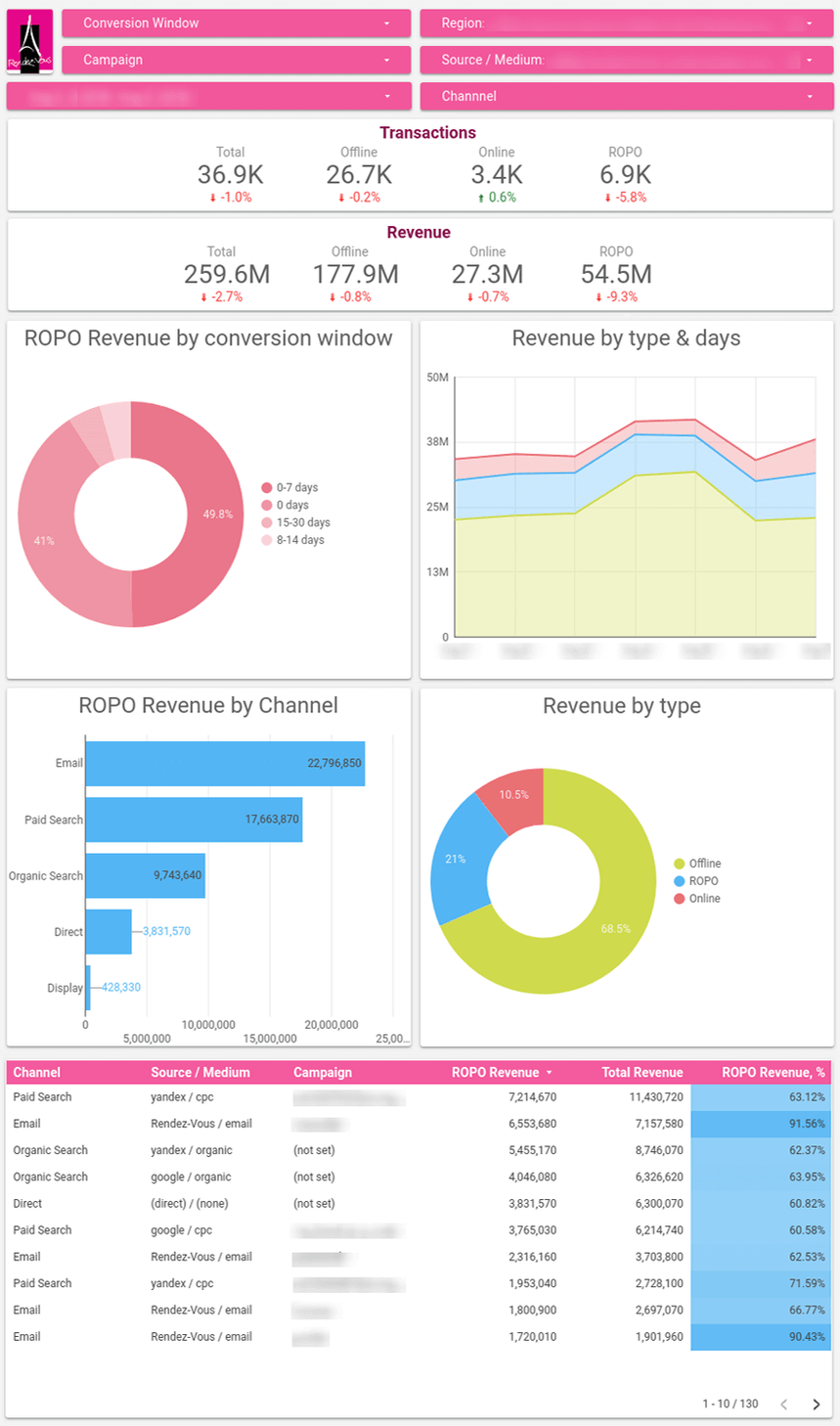 With a ROPO report, you'll find out how your online activities result in offline purchases. This is definitely one of the most useful reports for companies with online and offline points of sale (retail/ecommerce).
All of the abovementioned reports help marketing specialists understand the problems they have, solve them, and make immediate improvements.
Other reports for controlling results:
Website errors report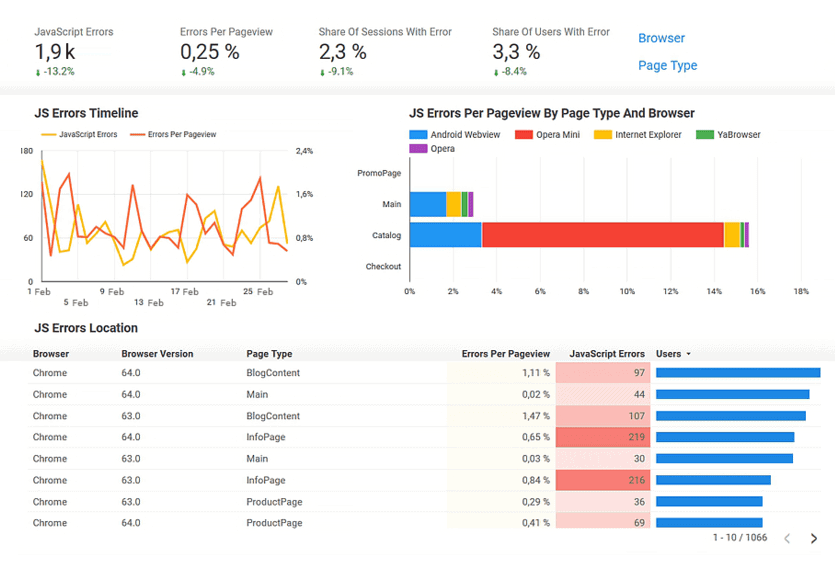 This report will help you see all technical problems and errors appearing on your website. With a website errors report, you can better control your developers and help them localize problems with code faster and more efficiently.
Out of stock goods report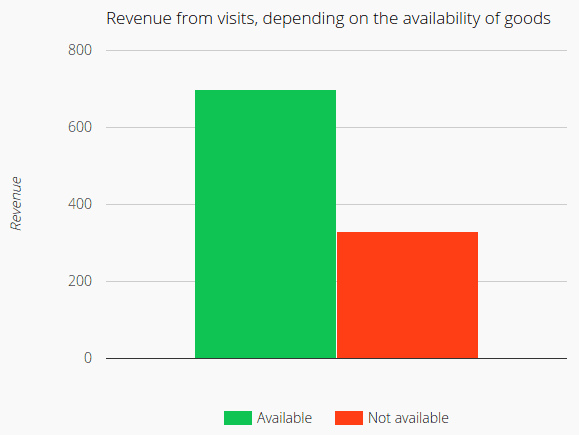 This report will help you estimate the revenue you've lost because goods weren't available and the revenue you might get if goods become available. You can also use it to trigger a halt to advertising for any goods that are no longer available and save your budget from being wasted.
Non-efficient keywords and goods report
This report will show you which products aren't selling well, indicating that it's time to stimulate their popularity by pairing them with other goods or to stop offering them. It will also help you save money on promoting inefficient keywords.
Reports on regions, landing pages, goods categories, new and returned visitors, efficiency of different types of content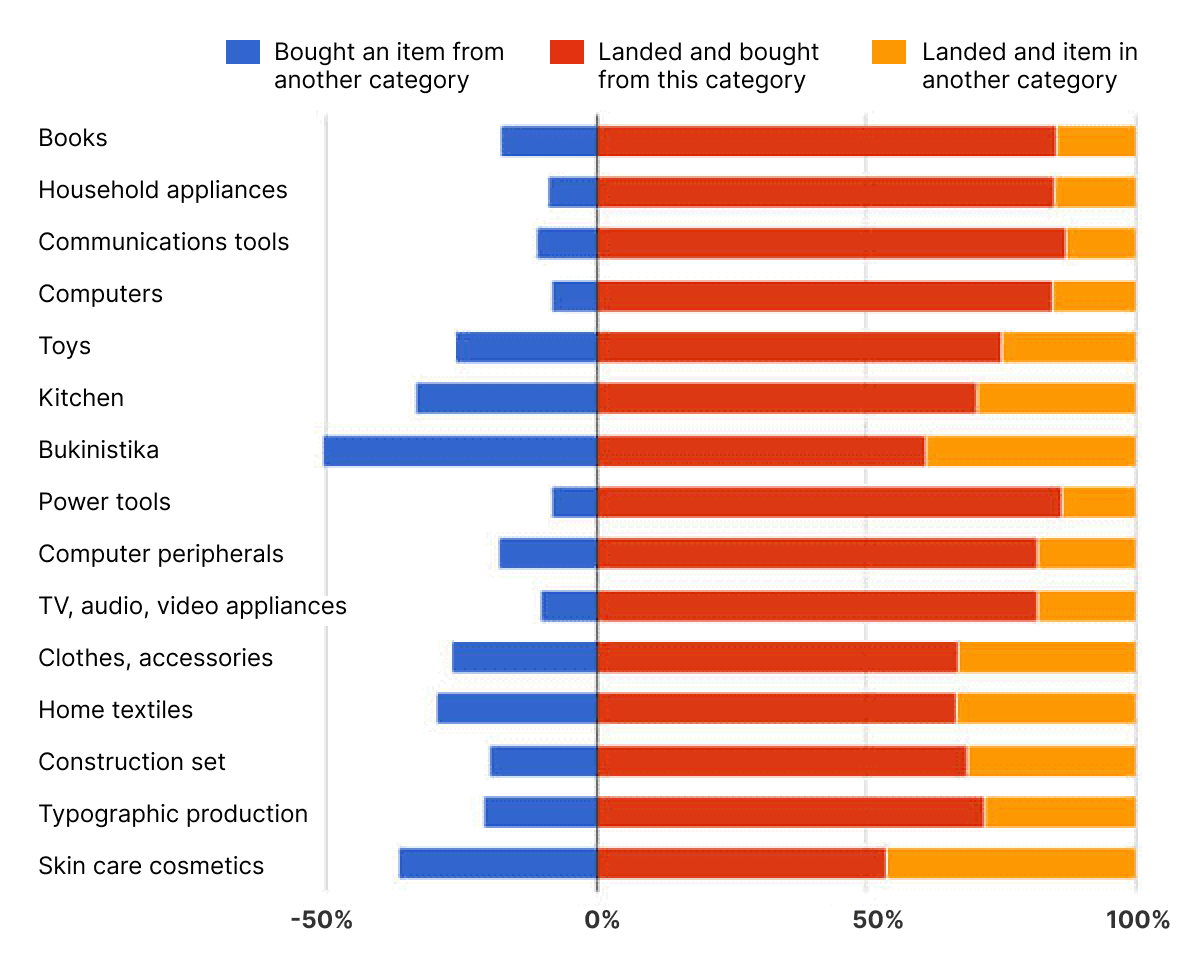 These basic reports are necessary for the everyday work of marketing specialists. They show you how to estimate regions, landing pages, goods categories, new and returned visitors, and types of content from the position of efficiency. Only with these reports can you get control over your current marketing situation.
To sum up
We hope your analytics help you each day you work in marketing. Make analytics your main advantage compared to your competitors. And if you have any questions considering your marketing problems and really want to solve them, let us know. All the reports you've seen in this article you can generate with OWOX BI.
FAQ
Why is digital marketing analytics important?

Digital marketing analytics considers data not only from websites but from other online sources such as ad platforms, mobile apps, CRM systems, and social media platforms to provide the full marketing picture.

What data are provided by digital marketing analytics?

Digital marketing analytics provides you an overview of various processes in your marketing strategy, how your users behave on your website, when they leave, when they return, and when they switch to the mobile version.

How do I learn digital marketing analytics?

Digital marketing analytics implementation is different for businesses of various sizes and spheres. To learn how to implement digital marketing analytics to your business, first set your business goal and questions you'd like to answer. Learn more about digital marketing analytics, read

How to Blend Web Analytics and Digital Marketing Analytics

and other articles in

OWOX BI blog

.