Key benefits of Google Analytics 4, or why you should switch now
Vlada Malysheva, Creative Writer @ OWOX
Apr 30, 2022
On March 16, 2022, Google announced it would shut down Universal Analytics next year. The standard version will stop working on July 1, 2023, and Universal Analytics 360 will stop processing hits from October 1, 2023. Everyone who hasn't yet switched to the new Google Analytics 4 will soon have to do so, as staying on the old version won't work.

In this article, we analyze the key advantages of Google Analytics 4 and why you should not delay your transition to the new version.
What prompted the changes in Google Analytics?
Over the past decade, people began to live on the internet and regularly access it from multiple devices. If earlier we analyzed cookies, devices, browsers, visits from contextual advertising, search, and targeted networks, now it's extremely important to analyze a specific user's flow across devices, platforms, and products.
Today, businesses that know their clients win. The latest Google Analytics update reflects the fact that we now understand a user not as a set of cookies but as a specific person. We understand that they can act on different platforms and that an individual's profiles across platforms need to be connected.
A new era has begun
According to estimates of Western analytical giants, the following situation exists in the US and Western European markets:
85% of companies cite customer experience management as their priority. This means they invest in tracking and customer experience analytics. They understand that it's necessary to build a business and analytics around the user and not around the flow of traffic and sessions that the analytics system shows.
40% of companies build their marketing using the account-based marketing (ABM) model. This is a strategy for highlighting and building personal communication with a specific client.
Cookies are slowly becoming a thing of the past. Their lifetime is limited, and the ability to work with third-party cookies is limited. They are no longer a reliable source of data about people or reliable support for building an analytical platform. Consequently, Google Analytics 4 is moving away from cookies.
Key benefits of Google Analytics 4
In 2021, Google Analytics experienced a big update that changed many things:
Architecture
Data pipelines
Mechanics of data acquisition and user identification
Automatic events
Analytical capabilities;
Integrations
Interface
1. New architecture
Google Analytics and many other analytics systems have a session-based/cookie-based architecture with a root identifier for each set of cookies. In Google Analytics, this identifier is called Client ID. There are also sessions — user visits — on the basis of which all reports are built. At one time, this was a prerequisite for switching to an e-commerce model of system operation. But over the time, many errors and problems have surfaced related to the session model. For example, building normal cohort analysis, counting conversions, and evaluating advertising campaigns in terms of their effectiveness and impact on business was an adventure.
Google Analytics 4 is an event-based and user-based system. Everything in Google Analytics 4 is built around the user (not the session), and any interaction with the website is considered an event. Events are logged, and the user's path through the website is built from them. In fact, working with these events, as with micro conversions, we can build the funnel-based attribution that many companies need to evaluate the effectiveness of investments in internet marketing at its earliest.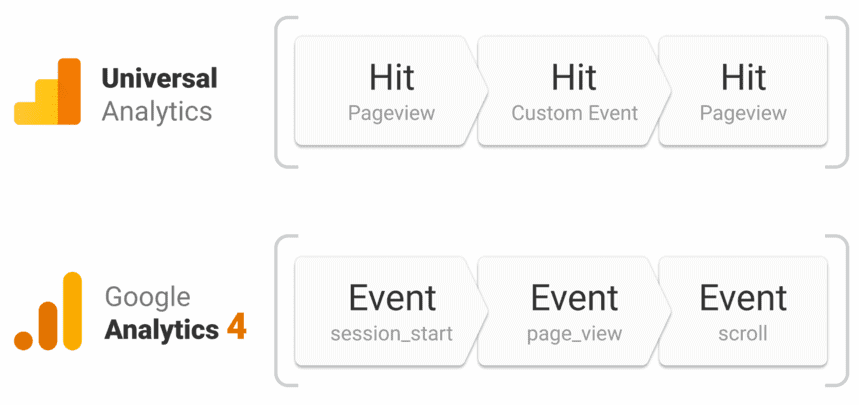 2. Data pipelines (cross-platform analytics)
At first glance, little has changed in terms of data pipelines. In Universal Analytics, you could configure the website and mobile app tracking via Firebase. But what did we really have? There was a data pipeline from the website, and there was an independent data pipeline from mobile applications. To connect them, you had to do a reasonable amount of tinkering with cookies. In addition, there was a separate data pipeline from the CRM system with User ID. If for some reason we couldn't allocate the User ID, we used Google Signals instead.
Now, Google Analytics 4 can use data as a single pipeline: Website + Application + User ID. Previously, we had three independent data pipelines, whereas now we have unified reporting on websites, mobile applications, and User ID. In addition, you no longer need to create a separate view under User ID. Google Analytics 4 has abandoned views altogether: everything is configured at the property level.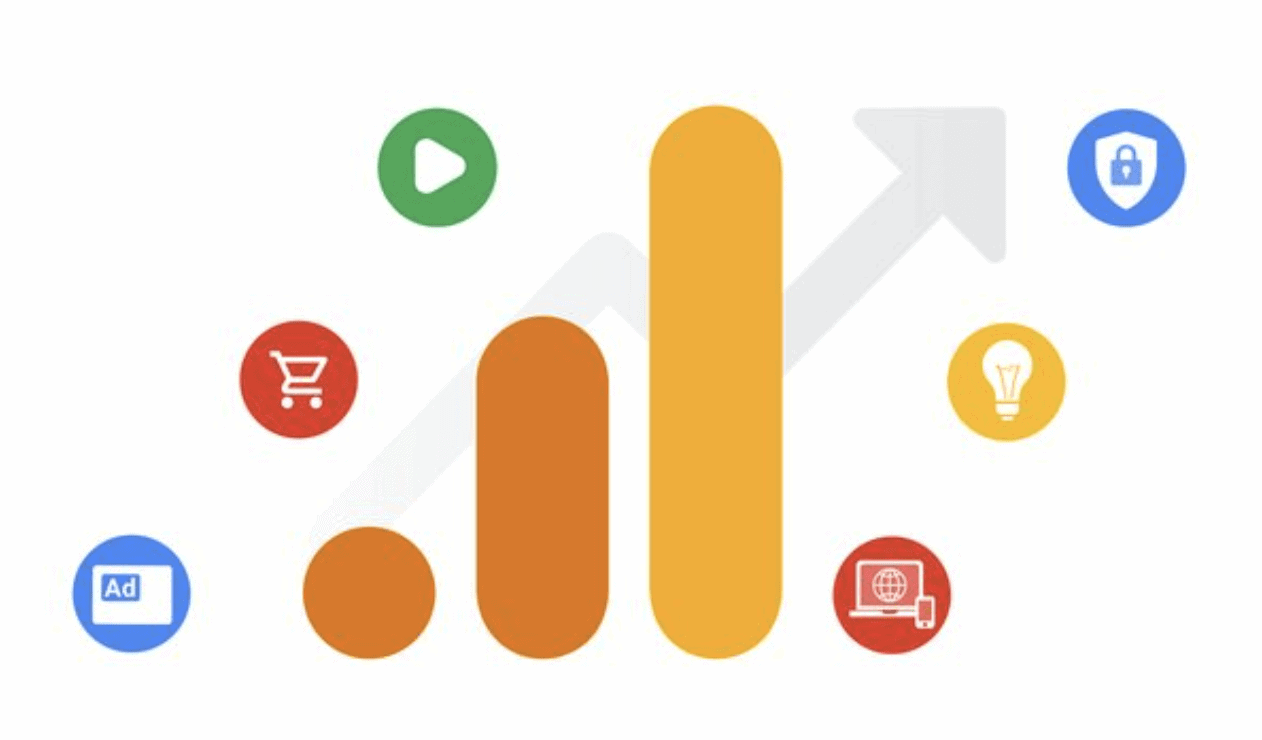 3. Getting complete user flow data
Previously, data was obtained based on cookies or on the information you could independently collect about the user, such as the User ID from your CRM, ERP, CMS, or PPM systems.
Now every user can simultaneously be assigned a User ID, Google Signals, and, most importantly, Device ID. If you cannot use the User ID, you can replace it with the Device ID. All statistics are built around the user or the unified device identifier, not cookies. Previously, a person who visited a website from two different browsers but from the same device had two different Client IDs. This meant it was not possible to link statistics for these IDs if there was no authorization on the website and there was no User ID. According to Google Analytics, these were two different visitors. Now, thanks to Device ID, these visits can be glued into one profile under the hood of Google Analytics 4.
4. Automated events
Previously, after installing Google Analytics on the website, we received an empty fields. We only received traffic that wasn't always collected correctly because the company, for example, had several domains and cross-domain tracking wasn't configured. This problem was especially relevant for small and medium-sized businesses. Companies received useless statistics, according to which little could be understood or predicted about the effectiveness of advertising investments.
Now, upon installation, Google Analytics 4 configures automatic events by default: page views, scrolling, outgoing clicks, file downloads, and more. This allows people who aren't well versed in Google Analytics and don't want to waste their time to get the event preset out of the box. This will allow marketers who work with these analytics further to obtain input to evaluate and predict their performance.
5. Advanced analytical capabilities
Universal Analytics is famous for complex reports and conflicting data. It presents users with a million tables, numbers, and formats. Moreover, when setting up reports, you can stumble upon incompatible parameters and find out about them only when you save the report. Reports aren't user-friendly, and the system's capabilities are limited by the architecture based on cookies and Client ID.
In Google Analytics 4, you can create reports, data slices, and audiences and compare them on the go. It's much faster and more convenient. Now you have a single dataset about users and actions that they take on the website or in the application, and you can structure this data in a way that is convenient for you. In fact, Google Analytics 4 is a set of well-customized dashboards.
6. Simplified integrations, including Google BigQuery
Universal Analytics is hard to integrate. Measurement Protocol lets you transfer data to Google Analytics, but it's not always stable and transparent in tracking and testing. As a result, we have unstable custom integrations and far from transparent rules of the game — for example, with sampling or the amount of data being uploaded. We receive data in large numbers in various poorly connected interfaces. In addition, to upload data to Google BigQuery, you have to either switch to Google Analytics 360 or use third-party services.
Google Analytics 4 is a single data system. Now we see all data on user actions across our websites in a single interface. This data can be easily integrated with Google's advertising services and with BigQuery.
7. User-friendly interface
In Google Analytics 4, the interface has changed quite a lot for the first time. In earlier versions, reports looked familiar for many years. Now we have a fast interface that is very similar to the Google Data Studio interface, which you need to get used to.
If you're finding your way into analytics now, you're lucky. It's better to start with the Google Analytics 4 interface, as this is the future.
8. Data-based attribution
From January 7, 2022, a data-based cross-channel attribution model has become available to all Google Analytics 4 users.
What do we want from an attribution model? For it to be accurate and understandable. But the standard attribution models available in Universal Analytics meet only one of these requirements.
For example, the most popular last-click attribution model (Last-Click, Last Non-Direct Click) is quite understandable — all value is given to the last campaign. But it has an obvious drawback — it ignores the contribution of all campaigns except the last.

Many people use associated conversions, especially to evaluate display campaigns. This model gives value to the conversions of every campaign the user interacted with. But such an assessment is extremely inaccurate since it takes into account only the fact that a campaign exists in the chain and ignores its degree of influence.
Probabilistic attribution models such as Data-Driven produce more accurate results. They assess how much a certain campaign has increased the likelihood of conversion, and in accordance with this determine its value.
Previously, only Google Analytics 360 users had access to data-based attribution. And to use it, they needed to fulfill additional requirements. For example, they needed to have an account in Google Ads that had accumulated at least 15,000 ad clicks and for one conversion action received at least 600 conversions within 30 days.
Unlike previous versions, Google Analytics 4 can change the predefined attribution model for all reports. Now you can apply not only rule-based cross-channel models for free but also an alternative data-based model.
Let's summarize:
Google Analytics has become smarter. It automates many operations that used to be done manually.
There are more opportunities. Google Analytics has become a more professional analytics platform than it was in previous editions.
How the transition to Google Analytics 4 will affect external services and automation tools
Analytics automation services will not lose their relevance for several reasons:
There are still a lot of data sources for analytics: Google Analytics, ClickHouse, Amplitude, Google BigQuery, etc. There is a lot of data, it is heterogeneous, and those services that can combine this data into a single decision-making tool, such as OWOX BI, will be in demand.
There are more and more advertising tools. TikTok is gaining momentum and advertising is developing through blogging. People are starting to come to your business from more and more sources.
It's still necessary to merge data. Even in the fourth edition, Google Analytics doesn't bring together all the necessary data. More and more businesses will discover Google BigQuery because data integration with storage has become easier.
The value of BI solutions is only growing. Companies need their own analytical environment to make decisions. Businesses need management to be built through lifetime analytics, so services that deliver BI solutions are becoming more in demand.
Detailed user analytics becomes more important than ever
To be effective in the current reality, businesses need to:
Know their customers as people, not as a set of cookies. Otherwise, over the next few years, there will be nothing to focus on.
Understand the entire customer journey, not fragments. Without customer journey analytics, it's impossible to invest correctly (with minimal CRR and maximum ROMI).
Build personalized communication with each client. Now there is a new cycle of data-driven development for digital marketing and analytics. Businesses have a real opportunity to track one person across several devices and merge this data into a single analytical environment (in the same Google Analytics 4), then transfer it to an analytical database and merge it with data from their own systems. The result should be personalized communication with each audience segment in your database. Or with each company individually, if you build your marketing according to the ABM model.
This means it's extremely important to collect all information about your users and use it in marketing and automation analysis.
What needs to be done now
Try to identify your audience as precisely as possible and accumulate user data. Think about how you'll ensure you receive a User ID on the side of your website and other platforms.
When identifying visitors, don't forget about protecting personal data. Warn your users that you're collecting data about them.
Install Google Analytics 4 in parallel with Universal Analytics. Why work in parallel? For now, these versions offer different possibilities. For example, Google Analytics 4 allows you to connect profiles in an event-based architecture. This makes it possible to log events and build a user's path from within your website or between your platforms. It's difficult to do this in Universal Analytics.
If you have a mobile application, compile the data in Google Analytics 4.
Set up tracking of all significant events: micro conversions and conversions required to evaluate the funnel. Funnel-based attribution in most cases is an important decision-making tool regarding the effectiveness of investments and changes to the website. Events that Google Analytics 4 configures by default are not enough in 99% of cases.
Stay abreast of API updates and adjust your data collection systems.
Set up basic reports and audiences. For example, Google Analytics 4 can be used as an analytical dashboard for company management. In order to avoid drowning in a million reports and avoid configuring reports in Data Studio, you can set up an analytical dashboard inside Google Analytics 4 and use it as a reporting tool for customers or management.
Merge all available audience data into a single database. Try to save as much data as possible about your audience (whether identified or not) in your databases. This will allow you not to depend on updates and changes in analytical systems and save data about the people you interact with.
Update corporate training materials on Google Analytics.
Ensure that current reports won't break after switching to Google Analytics 4. There are two options: either redo the reports and rewrite all SQL queries for the Google Analytics 4 data structure or simulate the data (OWOX BI can do this). OWOX BI automatically transforms data into a simulated structure and connects it to reports. Simply change the data source, make a change to the object at the model level, and all edits will be applied to all reports.
Find out the real value of ad campaigns
Automatically import cost data to Google Analytics 4 from all your advertising services. Compare campaign costs, CPC, and ROAS in a single report and make fully-informed decisions.
How OWOX BI can assist with Google Analytics 4 implementation
OWOX BI is an authorized Google Cloud Platform Partner, and we guarantee our customers the same high standards that Google provides. OWOX has experience transferring business data to Google Analytics 4 by providing clients with a smooth migration process, from creating a unique metrics system to holding workshops for business users on Google Analytics functionality, as the new version varies a lot from the previous. Let's see what our migration path to Google Analytics 4 looks like.
Step 1. OWOX BI analysts identify, develop, and deploy a metrics system, as well as configure parallel tracking. This step may include the following:
Create and configure a property in Google Analytics 4.
Install the Google Analytics 4 tracking code with Google Tag Manager.
Activate enhanced measurement events collection and check how events are transmitted to Google Analytics 4.
Create instructions for installing the Firebase SDK.
Verify implementation of Firebase SDK installation instructions.
Activate Google Signals in the Google Analytics 4 property.
Set up the integration of the Google Analytics 4 resource with Google Ads.
Link the Google Analytics 4 property to the Google BigQuery project.
Provide a workshop on basic Google Analytics 4 functionality.
Test implemented metrics on the website/in the application.
Set up Google Tag Manager to send data on custom events to Google Analytics 4.
Set up Conversion Events, etc.
After Google Analytics 4 is configured and you start collecting historical data, you need to solve the problem with updating old reports and connecting data from Google Analytics 4 to them. Learning a new data structure and rewriting all SQL queries is a nightmare for any analyst. But you can avoid these torments, free your analytics department from this work, and allow analysts to create special reports in minutes without knowing SQL using OWOX BI Smart Data.
Step 2. Transfer reporting to be based on the data from Google Analytics 4 by applying OWOX BI. Our analysts can transform this data into a simulated structure and use it to create reports in OWOX BI Smart Data. These reports are valuable because they are:
abstracted from the source, as they're built on a data slice obtained using Smart Data
created without writing SQL queries manually
Such reports won't break if you make any changes (for example, change the data source for a visitor object from Universal to Google Analytics 4) since all changes are made at the data model level.
Obviously, for different businesses, the migration path to Google Analytics 4 can differ. For details, book a demo meeting with our experts to learn about upgrading to Google Analytics 4 with OWOX BI.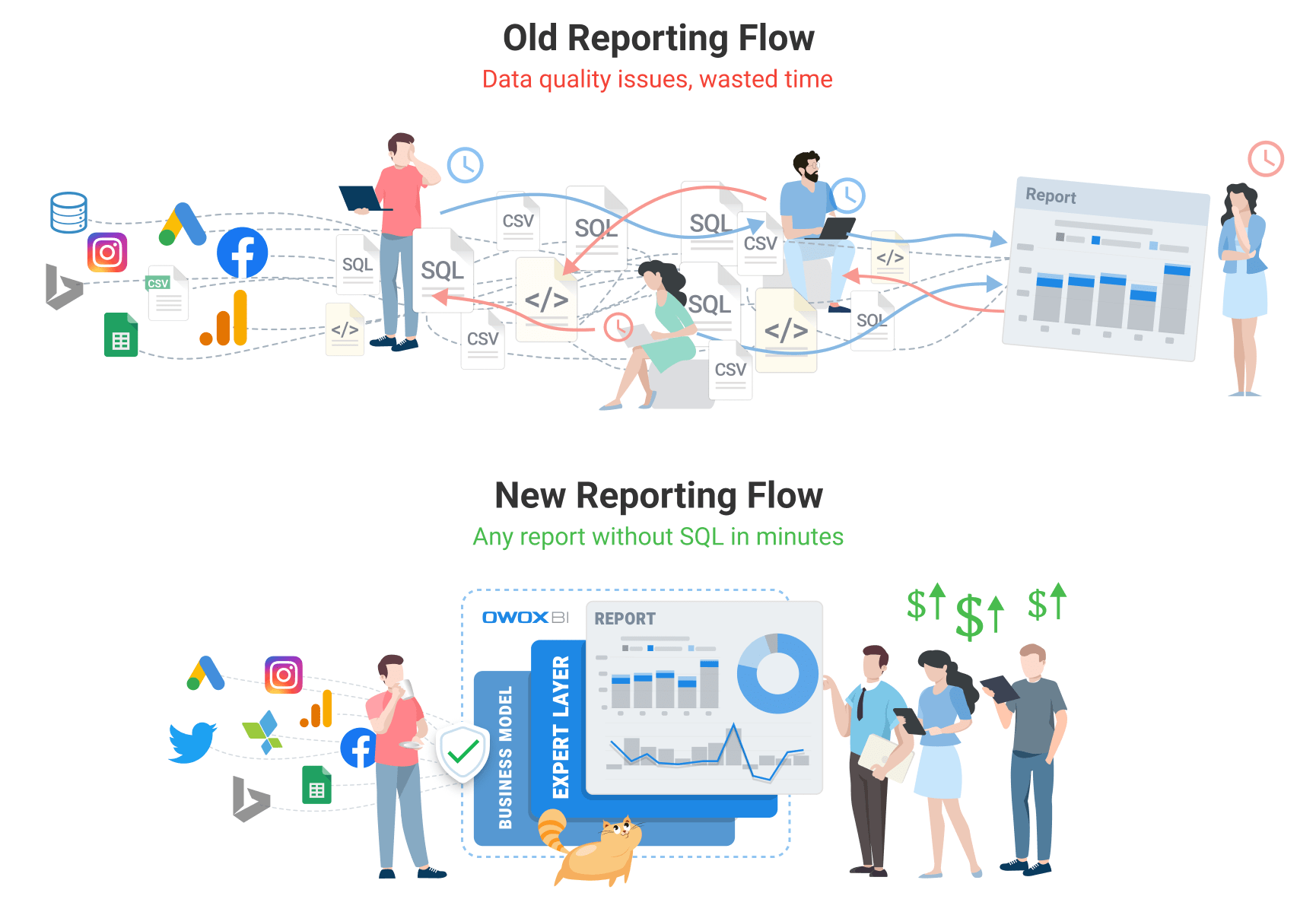 Automatically import Non-Google ad cost data into Google Analytics 4 with OWOX BI
Key takeaways
Even though Google has long announced the planned transition to a new version of its Google Analytics service, many analysts still haven't begun to prepare for the change. However, we strongly believe that it's time to migrate and put Google Analytics 4 at the core of your measurements.
The main benefits of Google Analytics 4 for businesses are access to new functionality, the possibility to take into account the exponential growth of mobile technologies, and the ability to cover all customer touchpoints, making it easier to zoom in on customer behavior. Not to mention that the new version is made to cover the needs of marketers and provide them with insights on where to focus their attention or change their strategies.
We strongly recommend you don't miss the right moment to transition, as you stand to lose historical data if you wait. For marketers, historical data is of great importance because it forms the basis for decision-making. Therefore, it's crucial to start parallel tracking in both Universal Analytics and Google Analytics 4 as early as possible.