The best website analytics tools in 2019
Olha Diachuk, Creative Writer at OWOX BI
Oct 15, 2019
Choosing the right tool for marketing analysis doesn't get you halfway to success, but it does shape the vision of your marketing and help you monitor your business situation. The more insights you can get from the results of your marketing analysis, the better decisions you'll make. Let's see how you can improve your marketing in 2020 by looking at the most popular and interesting website analytics tools of 2019.
Efficient analytics is based on comprehensive data. Each metric should be connected with a business need and the responsibilities of your employees. There are three steps to effective web analytics:
Analyze historical data to know what happened in the past and why.

Perform real-time analysis to monitor what's happening now and how you can change the situation.

Perform predictive analysis to project what will happen in the future.

Want to know how a fully developed web analytics system works? Then save some time for an OWOX BI demo, during which we'll show you how well-built analytics can increase your profits and simplify your work routine:
This article will be useful for those who are planning to perform marketing automation and are looking for the best tools.

4 basic web analytics tools in 2019
Google Analytics
Price: Free for the basic version, $150,000/year and up for Premium


Each year, grandfather Google puts gifts in the stockings of marketers, developers, and analysts. Google Analytics remains one of the most popular website traffic analytics tools that specializes in analyzing customer behavior.

This comes as no surprise given its ease of use, the simplicity of connecting it with other Google tools, and the availability of a free plan. But alas, even the sun has a spot: everyone who has run into the sampling problem in Google Analytics reporting thanks to the traffic limit are not so happy with this tool. When your traffic begins to rise significantly, Google Analytics aggregates your data, restraining you from conducting deeper analysis and displaying less than 100% of your data.

Also, Google Analytics offers you a data-driven attribution model that's not quite transparent. Making decisions based on this model is like wandering in the dark. A new product named App+Web (available in beta) with new logic for hits collection based on events may be an even better tool for analysts than Google Analytics.
Open Web Analytics
Price: Free forever

If you like open-source software, Open Web Analytics might be interesting for you. It's provided under the GPLv2 license by a global community of analysts and developers.

The primary benefit of this software is its ability to be locally deployed. You can deploy Open Web Analytics on your own server and ensure the security of your own data. Admittedly, the installation takes some time and effort and must be done by a specialist. But for people who care about the freedom from analytics industry giants and the security of their data, it's totally worth it.

Functionality includes behavioral data collection, a report and dashboard builder, website heatmaps, ratings of website customers based on loyalty metrics, and SEO tools.

But a lot of important functionality still needs to be developed or improved. When it comes to importing cost data, for instance, Open Web Analytics has APIs and modules to do that but no ready solutions.

One more weak point is the design. This solution is not for admirers of a modern UI/UX. But fans of Richard Stallman wouldn't even mention it.

StatCounter
Price: Free plan with advertising, 30-day trial, $9/month and up for paid plans

StatCounter offers the whole ball of wax for the web analyst: collection and investigation of online data, tracking of customer behavior, parameters and metrics for each page of the website. As a bonus, it even shows stats on browser usage, operating systems, devices, and more, gathered from global users and presented for benchmarking.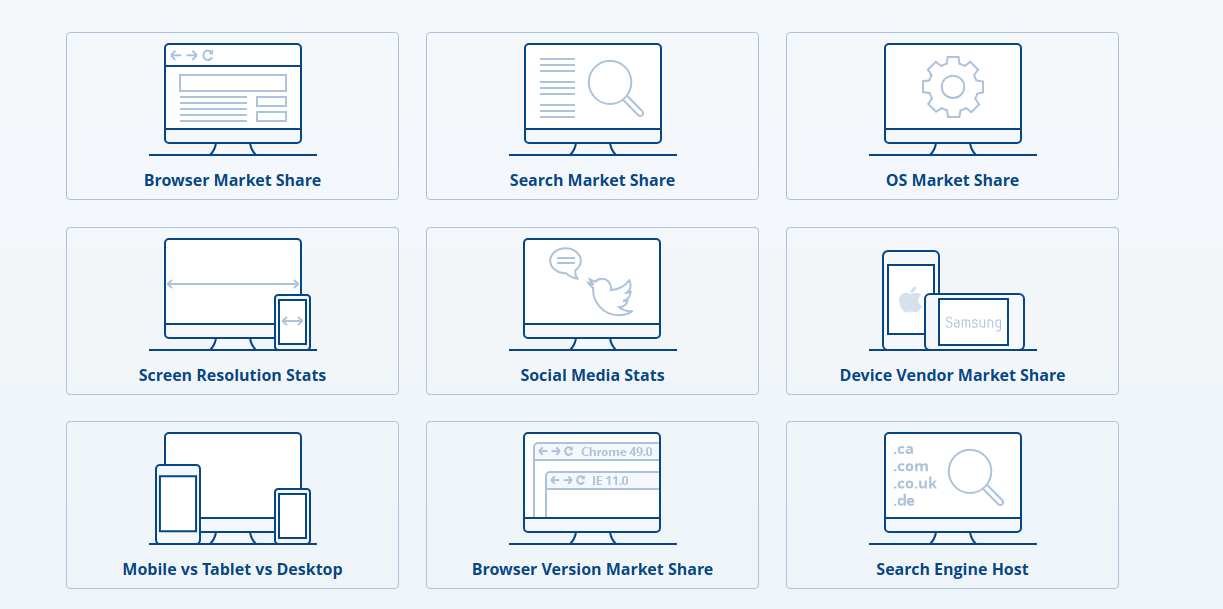 This tool tracks the click fraud of advertising campaigns in AdWords and Bing Ads, saving you up to 25% of your advertising budget. Also, you can track your metrics on your phone in the useful app.

The weaknesses of StatCounter are in the features themselves: there's no enhanced segmentation, no real-time mode, and sometimes when the traffic begins to rise, the metrics become approximate.
ReactFlow
Price: Free personal account, $20/month and up for a corporate account with a 30-day guarantee

With ReactFlow, you can track the entire customer journey starting from entering the website and ending with a conversion. You can monitor the customer journey in the form of a video, heatmap, funnel analysis, error and event tracking, etc. But ReactFlow won't tell you what happens when users leave the website.

With all the GDPR requirements, ReactFlow is limited in the questions it can answer about why something happens on your website. And you shouldn't fully rely on video tracking of conversions to tell you everything about your customers. ReactFlow might be a great additional tool for website analysis, but it shouldn't be your main one.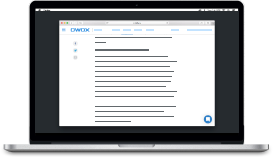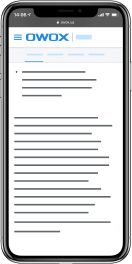 bonus for readers
Top 30 handpicked Google Looker Studio dashboards for marketers
Download
now
5 tools for enhanced web analytics in 2019
OWOX BI
Price: free trial, starting at $55/month for the Marketing Data plan
OWOX BI is one of the most popular services for enterprise companies looking for a comprehensive website analytics tools. More than 20,000 specialists around the globe are using OWOX BI each day.
This service has ready solutions for collecting raw data, automating cost import, modeling transparent ML funnel-based attribution — as well as everything you may need for reporting and customizing the dashboard to analyze the results.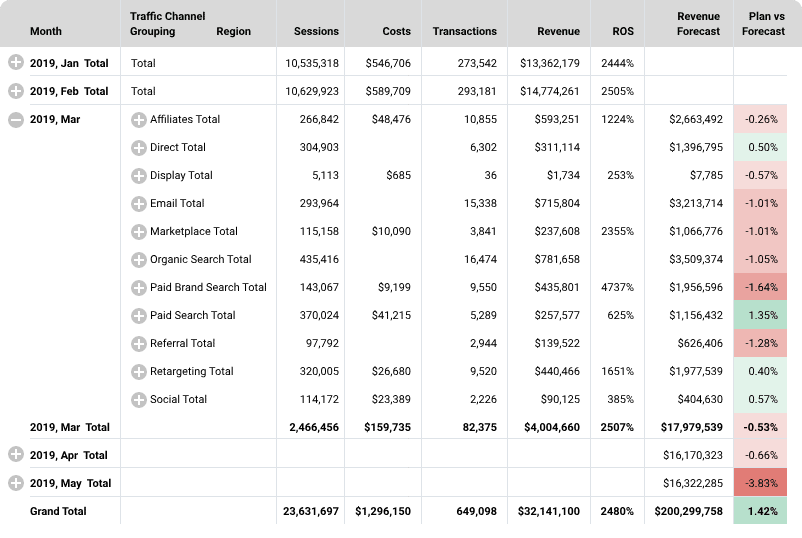 The latest solution created by OWOX BI is for forecasting sales plan performance.

You can read more about OWOX BI in our help center or watch videos about web analytics on our YouTube channel. Or you can ask any questions directly to our team. We'll answer you as soon as we can.

OWOX BI is not only an analytics system, it's a business solution that helps companies grow 22% faster than the market average. You can learn more about OWOX on G2 Crowd.
Sisense
Price: Free trial, price calculated upon request

Sisense is a modern BI-based system that's well known all over the world. Sisense was developing their service for six years before they got their first investment. And this slow and steady approach made a difference, as the Sisense way of doing analytics can't be described as anything other than scientific.
For analytics builders, this service offers a whole development environment with tools for customizing the analytics system. It lets you work with a few data sources and even use special tools for big data processing. But such a powerful tool for building and programming BI systems may not fit your web analytics needs. You may find it like buying a Ferrari to get to the supermarket — the trunk is too small, even if the car is brilliant.
So if you're looking for a service that provides you a dashboard with all the website metrics you need to analyze the performance of your ad campaigns and orders, you should look for other options. By the way, the price is such a secret that potential customers start to think it's too high.

Canecto
Price: Starting from $14/month, 30-day money-back guarantee, free emails on conversion issues
Maybe you want to get the results of web analytics without any tracking or analytics system at all. And perhaps you want these results grouped into reports with extended advice on what to do to sell even better than your competitors. 
If so, Canecto was created for you. Canecto provides you with one PDF report each month, precisely describing all your web analytics parameters and metrics. This is a very interesting and accessible tool for marketers and online store owners.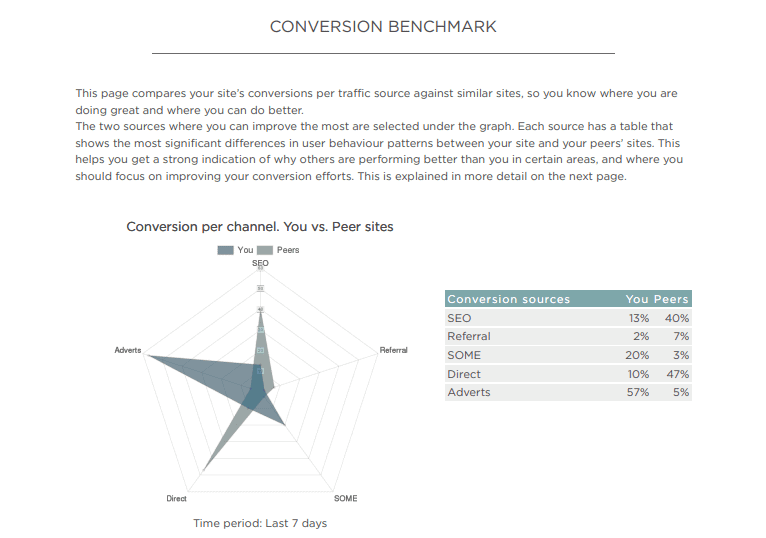 Shopify store owners love Canecto, and it's not a surprise!
But for some companies, one report per month is not enough. They need real-time reports, data gathered from a few sources, and the possibility to enrich the data set with historical data. None of these things can be provided by Сanecto.
Matomo
Price: Free version for local deployment, paid plans starting from €19/month with 50,000 visitors/month
This is a pumped open-source platform: no sampling, GDPR compliance, you have 100% control of all your data, there are a few integrations available, and you have the flexibility to run data processing and reporting in real time. Matomo is quite popular in Europe thanks to its attention to data security. 
Also, you can redesign the GUI in your company's colors.
The weaknesses of Matomo include the complexity of local deployment, the fact that filter customization and segmentation is still in development, longer than expected loading times, and a sometimes confusing interface. No one's perfect.

GoodData
Price: Starting from $200 per GoodData customer
The dark knight of web analytics promises to save us with high-quality service that everyone can use, even without a PhD. GoodData processes any kind of data in any volume. It also offers a machine learning feature for customization and learning based on your own data.
If your company considers analysts and developers to be the same, this tool is for you. It has wide possibilities for programming, math modeling, etc.
This benefit also shows its weakness — the many options provided by GoodData sometimes make people dizzy, leading them to return to a simpler and more understandable service.

Conclusion
The website analytics tools comparison is always up to you. You should choose the tools for your toolbox based on your company's character, and each year you should try at least one new analytics tool to open a new world of unrevealed data about your business. In this case, you won't assume that your business no longer contains any mysteries.

You shouldn't try to use all of these website analytics tools or find the trendiest or the coolest, as every trend will pass while your business will have the same need for regular analysis and supervision. Choose a web analytics system for how it can solve your problems and business tasks from any platform whether its Facebook or Instagram.

Subscribe to our blog to get the hottest advice on how to solve your everyday analytics and marketing tasks and overcome your business challenges.