How to upload data from TikTok to Google BigQuery
Vlada Malysheva, Creative Writer at OWOX BI
May 27, 2022
In digital advertising, Facebook, Instagram, and Twitter are well-known market giants. But despite appearing on the market only a few years ago, TikTok is already equal to these established companies. The TikTok social network is rapidly developing, and, of course, its large audience attracts advertisers. For marketers, exporting data from TikTok makes it possible to compare the effectiveness of TikTok advertising with other channels to easily find out which campaigns bring more revenue and how to allocate the advertising budget.
This article describes how to upload data from TikTok to data storage, which option is best, and what method our specialists recommend.
TikTok today isn't just an entertainment platform but a full-fledged advertising channel for promoting businesses. It's the sixth most popular social network globally, with an audience of about 1 billion monthly active users. Companies (mostly B2C) use TikTok to attract customers, make their brands recognizable, boost sales, and build audience loyalty.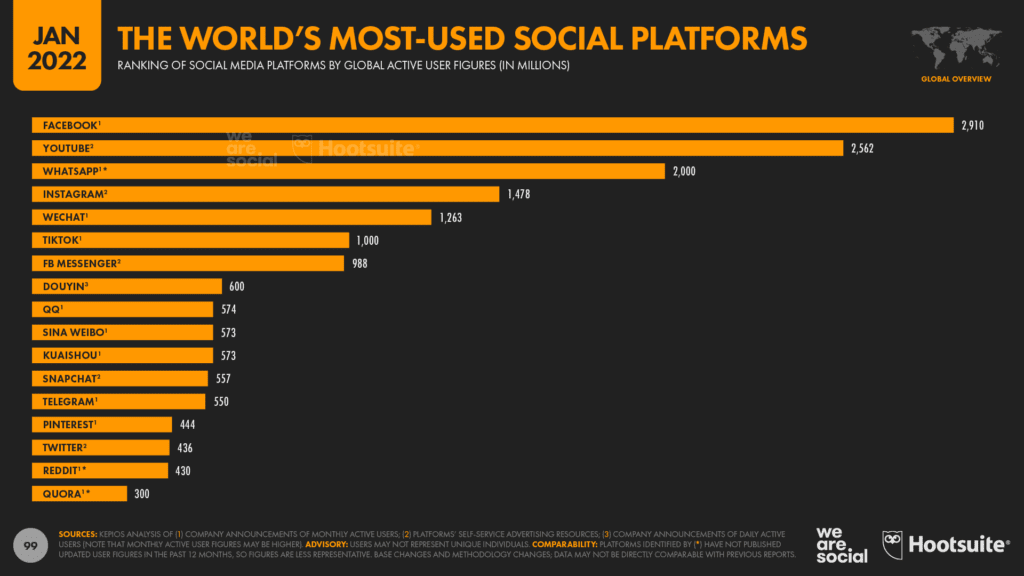 The platform also continues to show significant growth in ad coverage. TikTok's ad reach increased by 60 million users (+7.3%) in just 90 days and reached roughly 885 million users worldwide by early 2022 according to data published by ByteDance. Moreover, this number doesn't include users under 18, who make up a significant share of the total base of active TikTok users. Marketers can target ads at TikTok users aged 13 and older.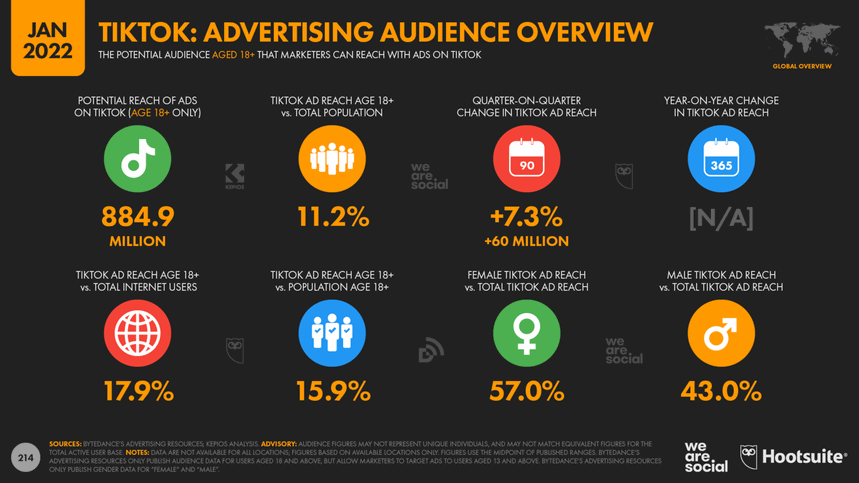 Among the main reasons for TikTok's popularity are:
relatively low competition (this social network is much younger than competitors)
wide opportunities for promotion (PR through bloggers, cheap promotion services, traffic from social networks, etc.)
rapidly growing popularity among users
the primary age range of TikTok users is about 65% are 18–36 years old, meaning TikTok has a solvent adult audience.
Where to see TikTok ad statistics
You can view statistics on TikTok advertising both in the TikTok application itself and in your TikTok Ads Manager account. If your goal is to boost sales rather than user activity, it's best to run and analyze ads in Ads Manager. There are more technical capabilities and metrics in the advertising account for both setting up campaigns and working with data.
TikTok Ads Manager, by default, provides data about coverage, views, clicks, ad spending, and more. And if you install a TikTok pixel on your website and configure event tracking, you can find out how users who have gone to the website behave after clicking on the ad in the application.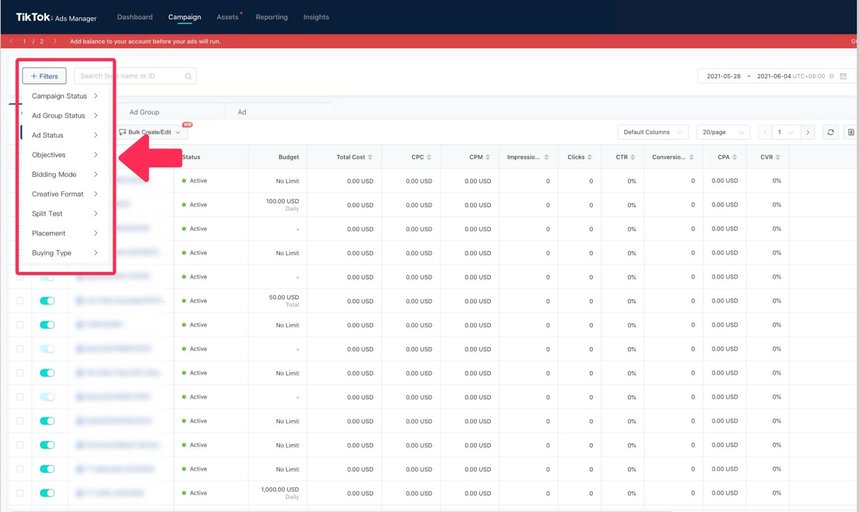 Information stored in Ads Manager only tells you about the effectiveness of the TikTok source. But what if the user came to you from organic traffic, returned to your website, clicked on a link in TikTok, and made a purchase after receiving an email? How can you assess the effectiveness of the TikTok channel in this case? You won't know how it interacts with other marketing sources and how they mutually impact your business until you merge the marketing data.
Marketing isn't limited to TikTok alone in many companies, and sales can be online and offline. Therefore, it's necessary to merge data from TikTok Ads Manager with data from the website, other advertising services, and CRM systems. For marketers to have the whole picture, see how much money is spent on advertising, and determine which advertising channels are most efficient, they need to apply an ETL tool like OWOX BI.
OWOX BI is an ETL platform that exports data from TikTok Ads, monitors data quality, transforms and cleans data, and uploads it to Google BigQuery. As a result, you have an automated data flow with ready-made datasets from all marketing ad sources transformed into a holistic structure.
With OWOX BI, you can speed up decision-making without wasting your time and resources:
Export data from TikTok in a few clicks.
Automatically merge data from marketing sources you work with (OWOX BI provides 135+ data connectors).
Get data from TikTok directly into your Google BigQuery project.
Visualize data in any visualization service and obtain powerful insights.
According to G2 Crowd, the OWOX support team is always there for you and can find solutions for anything. Book a free demo to see how OWOX BI can assist you with preparing business data from TikTok — and more!
Why collect raw data from TikTok in a data warehouse?
By uploading cost data from advertising services to a single data warehouse, you can associate it with user actions on your website, clicks on links in emails, and purchased orders from the CRM system. This helps you set up advanced analytics and assess the impact of all marketing efforts on business metrics, both online and offline.
Data from marketing services that is uploaded to the repository can be used to perform calculations according to the attribution model, and the results can be used for automatic bid management. You can also create user audiences based on merged data and the results of attribution calculations, then automatically send those audiences to advertising services. Finally, you can build any reports you need without any restrictions based on data collected in the data warehouse.
Why Google BigQuery and not another data storage?
The most popular cloud platforms are Amazon Redshift, Google BigQuery, and Microsoft Azure. They share common advantages over conventional data storage:
There's no need to have servers and connect new ones when the load increases. Cloud storage scales automatically.
Cloud platforms run faster than traditional storage and automatically redistribute the load.
To get into cloud storage, you don't need to install a server on your computer. It's enough to open the browser and enter the cloud.
We choose Google BigQuery and recommend it to our customers for the following reasons:
Google is the leader in the number of data sources for marketers: Ads, Analytics, Search Console, and YouTube. And all of these services seamlessly integrate with BigQuery.
BigQuery processes large data arrays at high speed.
It's easy to get started with BigQuery without the help of database administrators. It's enough to create an account in Google Cloud.
You only pay for the services you use.
There are ready-made services and solutions for uploading data to Google BigQuery without the help of developers.
Ways to import data from TikTok to Google BigQuery
Google BigQuery doesn't have a built-in tool for importing data from TikTok Ads Manager. You can solve this problem by uploading data manually, writing your own scripts, or using specialized services such as OWOX BI. Let's take a look at each of these methods.
1. Manually import data or create your own solution
You can download cost data from a TikTok ad account to separate files and manually upload them via the BigQuery interface. The disadvantages of this method are obvious: a lot of extra work and no automation.
You can also write your own scripts to upload the data you need from TikTok. The downside is that the work of these scripts must be constantly monitored and supported. You'll need to spend developer resources to merge data from various accounts and for different dates, check its quality, and quickly respond to possible changes in the ad service APIs. In addition, data must be retrospectively updated if it has changed in TikTok Ads, expenses must be converted from all advertising sources into a single currency, etc. If this isn't done, poor quality data can lead to erroneous decisions that will cost the business dearly.
2. Import cost data from ad accounts directly into Google BigQuery
OWOX BI has a direct data pipeline from TikTok. You can upload raw data on all your TikTok campaigns to BigQuery, providing high data granularity for your reports.
What are the advantages of directly integrating TikTok with Google BigQuery? OWOX BI offers a ready-made solution, so you don't have to do anything by hand. Data is uploaded as it is, i.e. as raw as possible, which allows you to transform it into any convenient look further.
If data in TikTok Ads has changed over the past period, OWOX BI updates the data uploaded to BigQuery. In addition, if necessary, you can upload historical data for any period available in the API. This will help you evaluate campaigns over time.
How to set up cost data import from TikTok to Google BigQuery using OWOX BI
1. Make sure your ad links have UTM tags.
2. Open OWOX BI and in the Pipeline section, click New Pipeline:

3. Choose TikTok as your data source: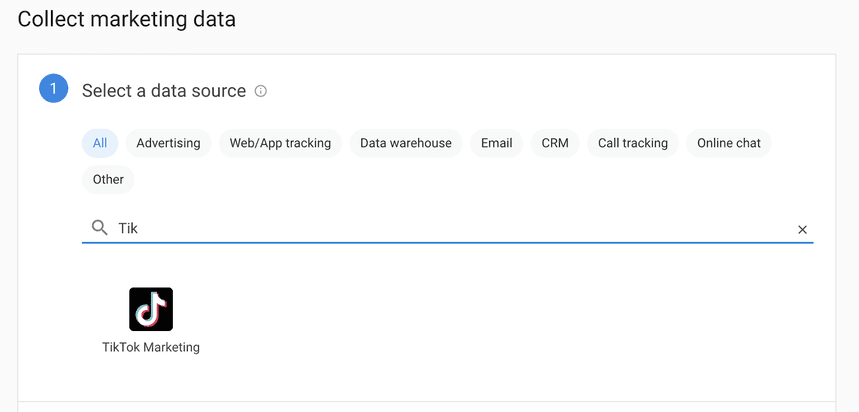 4. Choose Google BigQuery as the destination service for data import: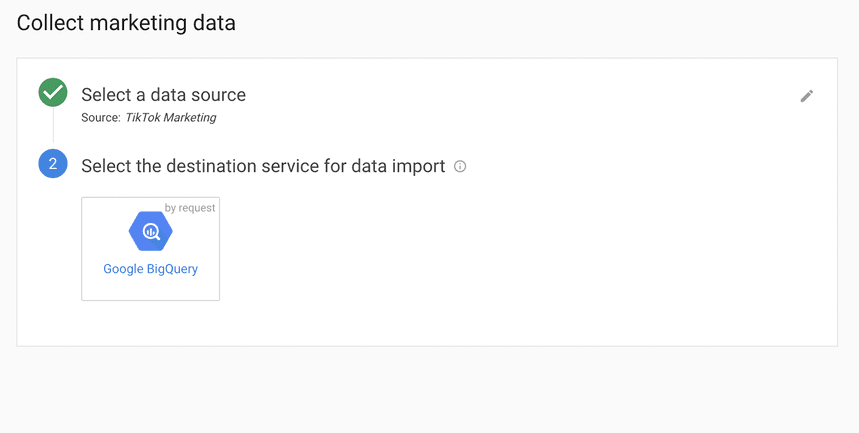 If you don't have a project in Google BigQuery, learn how to get started with cloud storage and create a dataset in this article.
5. Submit a request to configure data import, and the OWOX team will contact you. If you have any questions, write them in the comments section of the request form.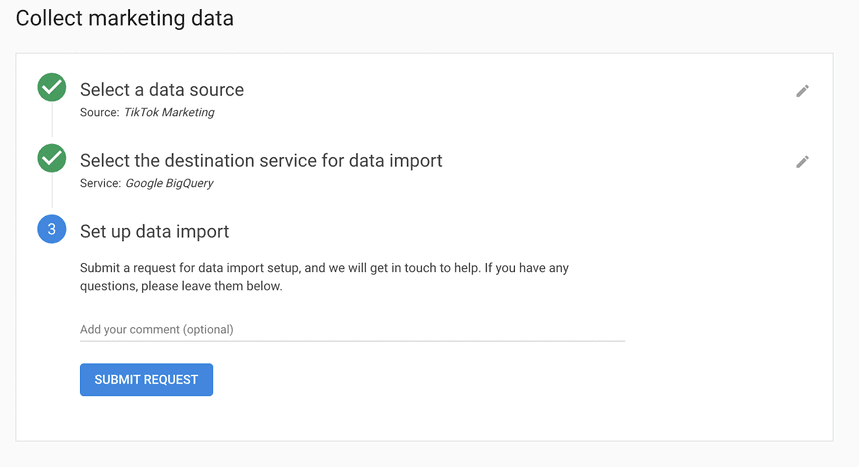 After OWOX specialists set up the pipeline, data for the previous day will begin to appear daily at 00:00 (UTC) in the table you specified. Depending on the amount of data and the peculiarities of the ad service API, importing data can take up to 24 hours.
If data in the advertising account changes retrospectively, OWOX BI will update all data uploaded to BigQuery within the established update window.
The output will be a list of tables in Google BigQuery with data from the TikTok API: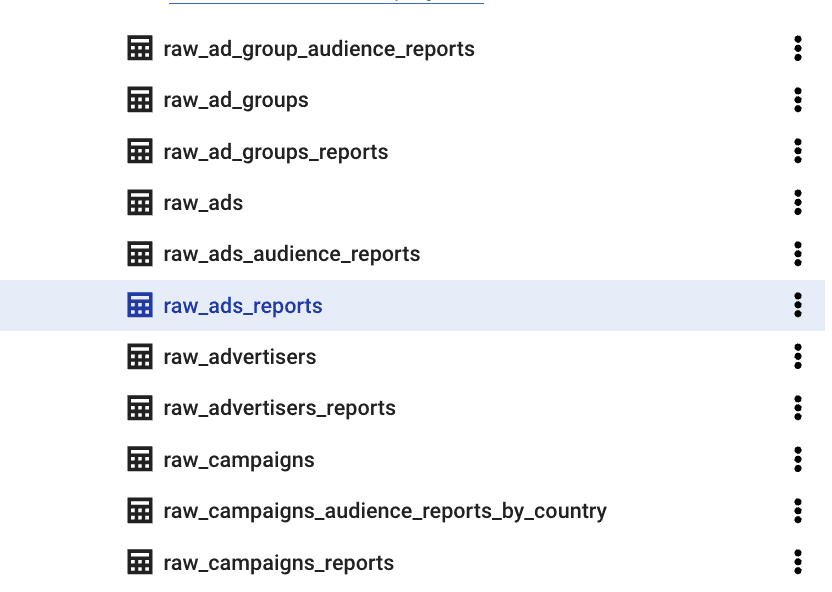 Example of a table with raw data from TikTok:
Using SQL queries, you can build any table from raw data with the parameters and metrics you need: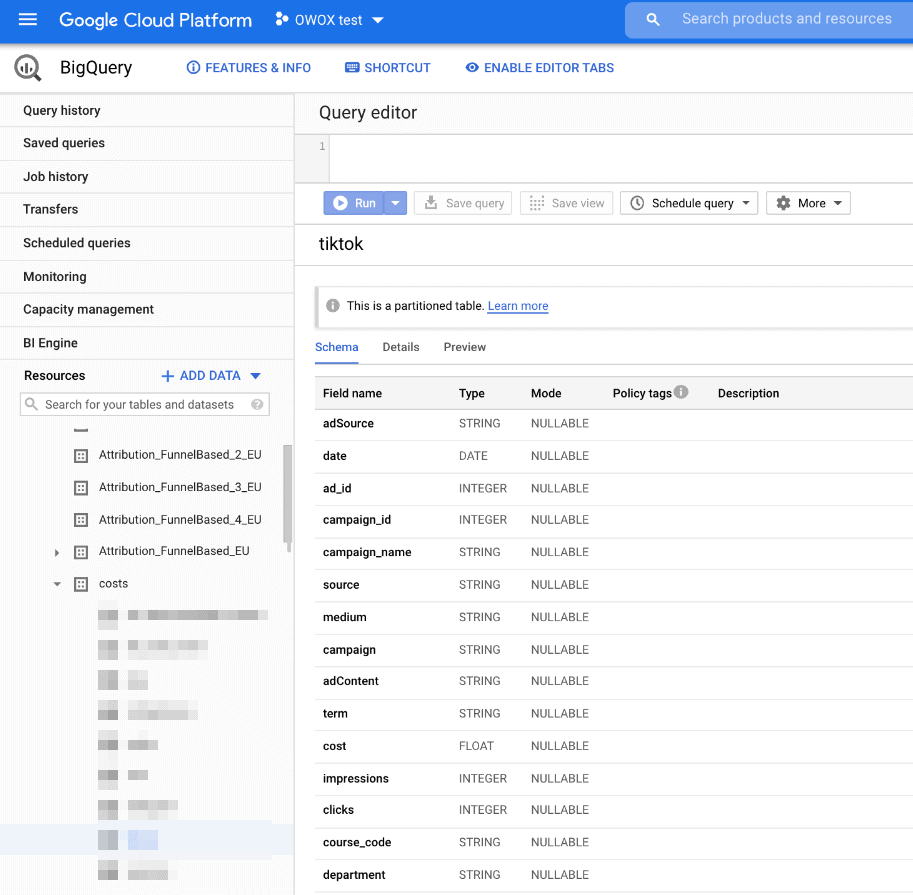 Key takeaways
TikTok Ads Manager and web analytics systems can analyze the primary performance metrics of TikTok advertising: CTR, CPC, CPA, CR, sessions, viewing depth, bounce rate, RPC, ROAS. For small businesses with few advertising channels, this is enough.
If you have many customer touchpoints or have offline stores and you want to see the entire customer purchase path, it's worth thinking about setting up advanced analytics and creating an automatically updated dashboard with all the metrics you're interested in. It will allow you to always have up-to-date data at hand, conduct a comprehensive assessment of your advertising effectiveness, and make critical decisions quickly.