Top 3 Looker Alternatives and Competitors
Solomiia Bodnar, Creative Writer at OWOX BI
Feb 25, 2021
To understand your marketing performance, you need to evaluate data from all your sources, which means gathering all your data in one place and merging it. Specialized tools can do you a big favor and help you easily analyze your marketing performance, but only if you make the right choice. In this post, we review Looker, consider its main features and nuances, and compare it to three popular alternatives: OWOX BI, Power BI, and Tableau.
Find out the real value of campaigns
Automatically import cost data to Google Analytics from all your advertising services. Compare campaign costs, CPC, and ROAS in a single report.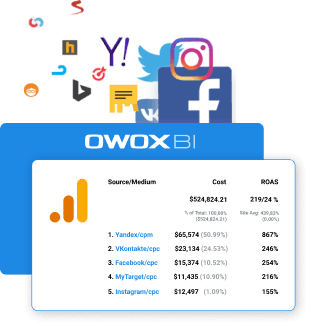 Looker
What is Looker?
Looker is a business intelligence and analytics platform that allows you to collect and store data from different sources in an automatically generated LookML model. To use Looker efficiently, you must first learn how the basic LookML model works. With Looker, you can configure alerts, visualizations, and dashboards. On top of that, with Looker's built-in code editor, you can adjust automatically generated models if needed.
Why should I use Looker?
Looker is suitable for companies in the ecommerce, retail, SaaS, media, and gaming industries.
With Looker, you can:
Embed insights with Salesforce, SharePoint, Confluence, PowerPoint, and other tools
Accelerate analytics using prebuilt code in Looker Blocks
Integrate Looker with Google Sheets
Visualize reports

Create interactive dashboards
Access a dashboard template library
Pricing
Looker has custom pricing that depends on your specific case, number of users, and scale of the deployment.
Integrations
Looker offers multiple connectors, including with ETL platforms such as Google BigQuery, Snowflake, and Amazon Redshift.
00:01:39
Looker Overview
Views: 86406

24

June

2020
OWOX BI
What is OWOX BI?
OWOX BI is an all-in-one marketing analytics platform that collects your marketing data from various sources in one warehouse. OWOX BI merges, cleans, and organizes complete information from your websites, advertising and call tracking services, and CRM and monitors data quality. As a result, you get business-ready data and the ability to create reports based on it without knowing SQL, and you can import these reports to the visualization service of your choice.
Why should I use OWOX BI?
OWOX BI is the perfect solution for ecommerce, retail, telecom, finance, and lead generation companies.
With OWOX BI, you can:
Import data from ad services to Google Analytics:

Transfer historical data for the past 6 months
Automatically update historical data within the 21-day data actualization period
Automatically parse the appropriate UTM tags
Automatically apply corresponding changes to the product if an ad service API changes
Update data retroactively if it's updated in a third-party ad service

Integrate with Google Sheets
Integrate with Google BigQuery:

Import raw data on user behavior in a convenient Google Analytics structure
Import data from ad services (OWOX BI works smoothly with large ad accounts and uploads all data regardless of the number of campaigns.)
Recognize dynamic parameters in UTM tags, convert costs into one currency, and monitor the relevance of information
Import data from your CRM system, call tracking system, and other services
Collect personal user information (emails and phone numbers)

Visualize data

Integrate with other visualization tools (Data Studio, Microsoft Power BI, Tableau, Looker, etc.)
Create reports with a simple built-in report builder

Easily monitor data quality and highlight mistakes
Pricing
Check out OWOX BI pricing or start using OWOX BI with a free trial period.
Alternatively, you can book a free demo and we'll discuss your use case and calculate a custom price.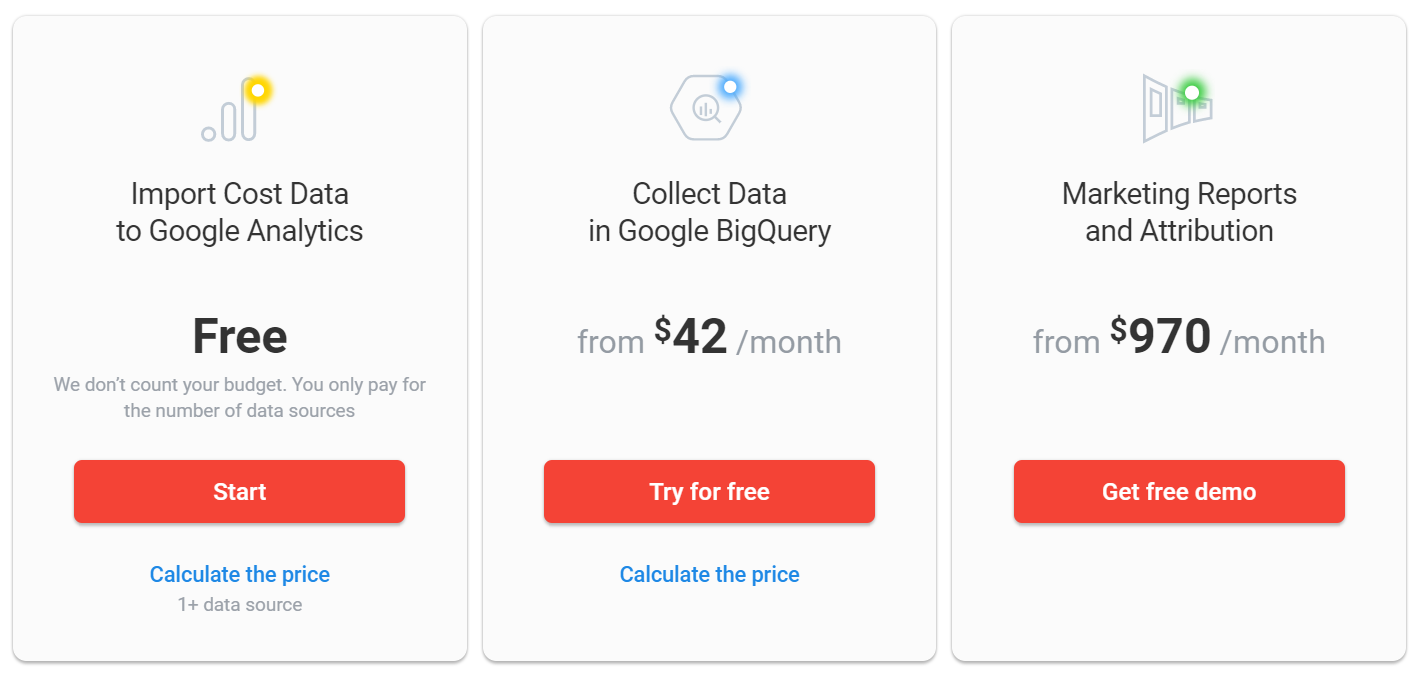 You can get a tailored plan based on the number of unique users.
Integrations
OWOX BI offers 100+ integrations with various services:

00:01:05
OWOX BI. All-in-one marketing analytics platform
Views: 994

11

September

2020
Tableau
What is Tableau?
Tableau is an analytics platform that uses machine learning to collect and visualize your data. With the help of drag-and-drop functionality, you can build interactive visualizations. Tableau is partially based on the VizQL query language, which translates dashboard and visualization components into queries so you don't have to optimize the work of the service manually.
Why should I use Tableau?
Tableau is suitable for companies in the enterprise, retail, media, finance, and other industries.
With Tableau, you can:
Integrate your own security protocols
Visualize data

Create interactive visualizations
Share visualizations with your colleagues

Use the Tableau mobile app
Take advantage of role-based licensing to provide access for all your teammates
Pricing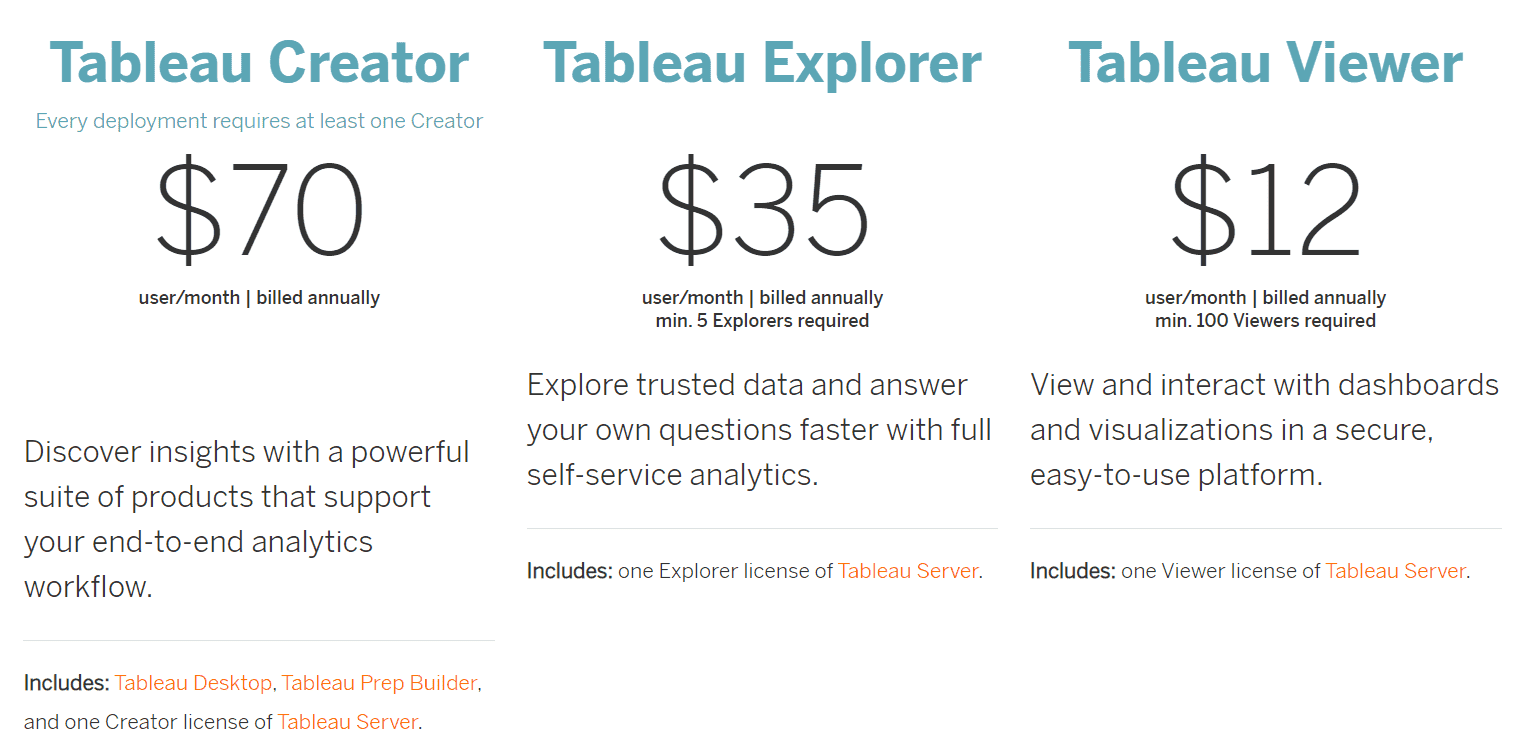 Integrations
Tableau offers 80+ native connectors with platforms such as Google BigQuery, Salesforce, and Amazon Redshift.
00:02:16
What is Tableau? | A Tableau Overview
Views: 487931

13

February

2019
Power BI
What is Power BI?
Microsoft Power BI is visualization and reporting software that allows you to collect and visualize data, create custom reports, and share them with your teammates. Since Power BI tool works with Microsoft technology, you can take advantage of its familiar interface to start building business analytics visualizations easily.
Why should I use Power BI?
Power BI is suitable for companies in the enterprise, retail, healthcare, and other industries.
With Power BI, you can:
Visualize reports

Create interactive visualizations
Use a library of ready-made visualizations

Use desktop and mobile apps for Android, iOS, and Windows Mobile and collaborate with your colleagues
Embed analytics and interactive reports into your applications
Use an Azure data lake for high volumes of information to accelerate processing
Pricing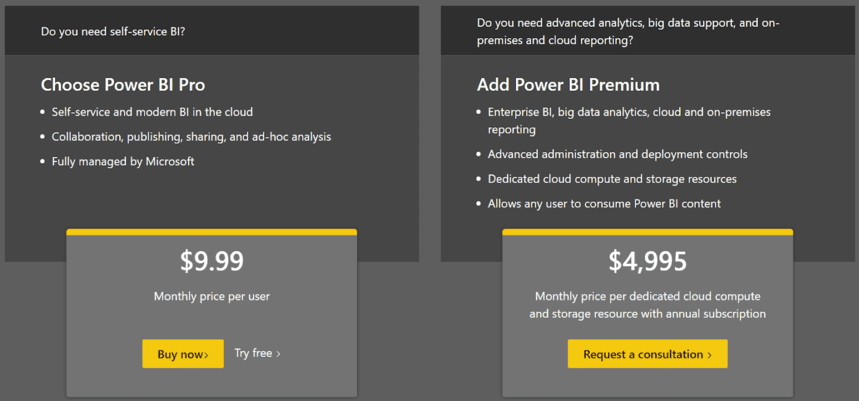 Integrations
Power BI offers 120+ connectors and cloud sources, including Salesforce, Excel, and Azure SQL Database.
00:01:31
This is Power BI
Views: 430575

22

September

2015
FAQ
What are the benefits of using Looker?

Advantages of using Looker include faster query processing and data access, more flexibility and control over data modeling and visualization, and improved collaboration and data sharing across teams.

How does Looker differ from other BI tools?

Looker distinguishes itself from other business intelligence tools by emphasizing an SQL-first approach, a focus on collaboration and data sharing, and a highly customizable data modeling layer.

What are some alternatives to Looker for data visualization and analysis?

Some popular alternatives to Looker include Tableau, Power BI, QlikView, Domo, and Sisense.