What do vegetables and data have in common? They both bring more benefits in their raw form. While standard Google Analytics reports can quickly satisfy your hunger, raw data lets you cook something unique and get fresh insights.

You probably have access to gigabytes of user data every day, but this amount doesn't bring value until you make it work for you. In this article, we look at what raw data is, why it's needed, and how to get it and use it.
Table of contents
What is raw and aggregated data?
The words "data" and "information" are often used as synonyms. However, these things are fundamentally different.
Data is fixed information about events and phenomena that is stored on some storage medium. Information is the result of processing data to solve specific tasks.
For example, you can collect data in a Google BigQuery repository, and when you run a SQL query on it, BigQuery provides information in response.

In informatics, analytics, marketing, and some other fields, this "data" and "information" have special names: raw (unprocessed) and aggregated (processed) data.
For example, Google Analytics collects raw data about all user interactions with your website: page views, user events, transactions. It then processes it to generate reports by applying sampling, aggregation, and filters (if you've configured them).
How does aggregation work in Google Analytics reports? When the number of rows with values for one parameter exceeds the specified limit (50,000 per day and 1 million per period), the system aggregates the remaining values into an (other) line: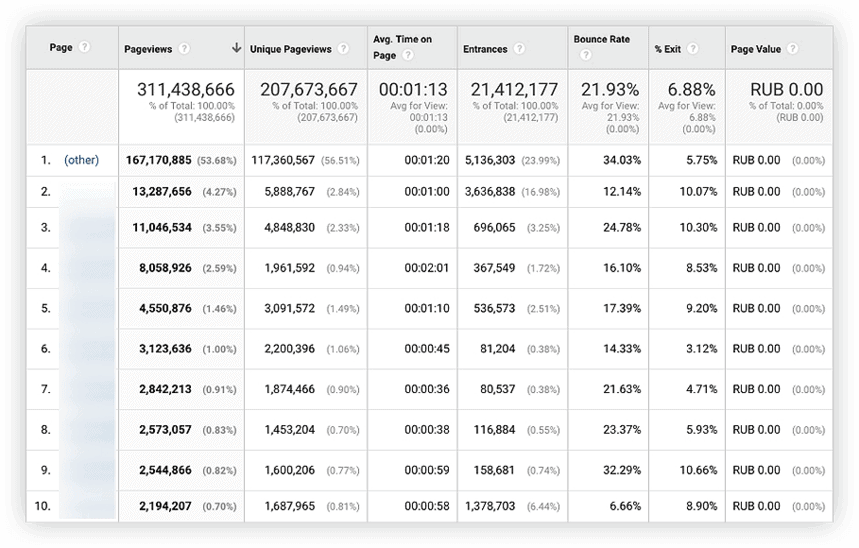 Why raw data is needed
The less data you use for analysis, the less accurate your results. Sampling can distort reporting and lead to inefficient decisions. As a result of sampling, you risk not noticing ads that make a profit, or vice versa — spending money on inefficient campaigns.
It's convenient to work with aggregated information to track your website's main KPIs, but it's not enough to solve more complex problems. Only with raw data can you:
Perform a deep analysis of metrics and their dependencies
Track the user's entire journey from first touch to purchase
Build any reports without the limits and restrictions of Google Analytics and reveal valuable insights
Merge information from different sources and set up advanced analytics
Create complex sales funnels that match your business structure
Evaluate the mutual impact of channels on sales using funnel-based attribution models
Segment your audience and set up more targeted targeting
Predict conversions using machine learning
Benefits of raw data
1. Make better decisions
By collecting statistics from your website to Google BigQuery or another tool, you can bypass sampling and other restrictions of Google Analytics. This will allow you to analyze your complete figures and make better decisions based on it.
See also: How to collect complete user behavior data on your website and cost data from advertising services with minimal resource expenses.
2. Get any reports without restrictions
Google Analytics and all other analytics systems limit your ability to generate reports. For example, these systems place limits on the number of parameters and dimensions as well as their compatibility with each other. With access to raw data, you can build reports with any number and combination of metrics you need. For example, you can conduct cohort analysis in terms of dimensions that are relevant to your business.
3. Run advanced analytics based on your rules
You can combine website statistics with information from advertising services, call tracking systems, emails, and your CRM to set up advanced analytics.
With this statistics, you can consider all user touchpoints with your company, analyze the paths to conversion, evaluate the impact of all marketing efforts (both online and offline) on business indicators, find the most effective marketing channels, and quickly optimize those that lose money.
See also: How to use analytics not only to create reports but to avoid depleting your budget.
4. Accurately target users
Using raw data, you can segment users based on their actions on your website (browsing pages, clicking links, adding items to the shopping cart, etc.), then send them trigger mailings. In addition, you can automatically upload audiences to advertising services to launch remarketing campaigns as well as set up a bid management strategy for each audience segment.
Audience segmentation helps you make ads more relevant, increase customer conversions and loyalty, optimize your marketing strategy, and reduce costs.
5. Protect against bots and fraud in CPA networks
Only with raw data can you detect suspicious activity on your website — for example, too many registrations per day. In addition, with it you can identify unscrupulous CPA partners who may replace the source of traffic on the application page.
6. Avoid risks of vendor lock-in
By collecting figures in Google BigQuery, you're independent of ETL services and other tools that you use. This means you can benefit from your statistics even if you decide to disconnect from a service and use your own solution.
Where to store raw data
To collect, store, and process raw data, we recommend using Google BigQuery cloud storage because it:
Allows you to upload large amounts of information and quickly process it with SQL
Scales flexibly and provides more opportunities as your business grows
Guarantees security and gives you full control over access to your project with your Google account and two-factor authorization
Seamlessly integrates with other Google products and popular visualization and reporting systems
See also: What problems might you encounter when building reports in Google Analytics and how can you solve them using Google BigQuery?
How to collect raw data with OWOX BI
OWOX BI collects raw data to Google BigQuery directly from your website. This service isn't constrained by the limitations of Google Analytics, allowing you to build reports without sampling and according to any parameters.
At the same time, OWOX BI uses a data structure compatible with Google Analytics, meaning you can run any SQL queries written for Google Analytics. This saves time for your team when preparing reports.
OWOX BI sends complete non-aggregated statistics from your website to Google BigQuery. It also supports a higher hit size of 16 KB — twice the size supported by Google Analytics. As a result, you'll get a full picture of user activity on your website.
In addition, with OWOX BI, you can collect an unlimited number of user parameters and dimensions in Google BigQuery. You can use them to segment users by any feature and build deep reports for detailed analysis.
Read more about all the benefits of OWOX BI in this article:
To collect raw data from your website to Google BigQuery:

Sign in to OWOX BI using your Google account.
Provide the necessary account access and create a data pipeline.
Copy the tracking code and add it to your website in a way that's convenient for you.
Building reports on raw data with OWOX BI
OWOX BI not only collects raw data from your website but automatically combines it with statistics from advertising services, call tracking systems, email systems, and CRMs so you can receive reports without the help of analysts or knowledge of SQL.
With the simple report builder in the OWOX BI Smart Data service, you can select the necessary metrics and build any reports on advertising campaigns, ROPO, RFM, LTV, and cohort analysis.
Benefits of OWOX BI Smart Data
Build reports without technical training
Do you regularly need ad campaign reports but have no time to study SQL or wait for a response from an analyst? With OWOX BI, you don't need to understand the data structure. Simply select the parameters and key metrics you want to see in your report and the Smart Data Report Builder will instantly provide you with an understandable graph and table.
Focus on your business, not your data sources and structure
OWOX BI provides figures for reports when you need them and doesn't limit you to ready-made dashboards. Connect your information to the model once and spend the rest of your time on analysis and conclusions.
Each report is based on your business model
Our specialists will set up a data model that takes into account the peculiarities of your business. You'll be able to assess the impact of all marketing efforts — both online and offline — on your business performance.
In addition, you can use data collected by OWOX BI to create reports in Google Sheets, Google Data Studio, Power BI, Tableau, and other visualization systems that integrate with BigQuery.
If you need reports tailored to your business, OWOX BI analysts are ready to help you set them up. Sign up for a demo to discuss details.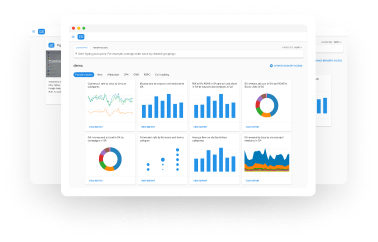 Our clients
grow 22% faster
Grow faster by measuring what works best in your marketing
Analyze your marketing efficiency, find the growth areas, increase ROI
Get demo
FAQ
What is raw and aggregated data?

Data is fixed information about events and phenomena that is stored on some storage medium. Information is the result of processing data to solve specific tasks.
For example, you can collect data in a Google BigQuery repository, and when you run a SQL query on it, BigQuery provides information in response.
In informatics, analytics, marketing, and some other fields, this «data» and «information» have special names: raw (unprocessed) and aggregated (processed) data.

Why raw data is needed

Only with raw data can you:
- Perform a deep analysis of metrics and their dependencies
- Track the user's entire journey from first touch to purchase
- Build any reports without the limits and restrictions of Google Analytics and reveal valuable insights
- Merge information from different sources and set up advanced analytics
- Create complex sales funnels that match your business structure

Where to store raw data

To collect, store, and process raw data, we recommend using Google BigQuery cloud storage because it:
- Allows you to upload large amounts of information and quickly process it with SQL
- Scales flexibly and provides more opportunities as your business grows
- Guarantees security and gives you full control over access to your project with your Google account and two-factor authorization
- Allows you to pay only for the volume of statistics collected and processed
- Seamlessly integrates with other Google products and popular visualization and reporting systems