Top 3 Funnel.io Alternatives and Competitors
Solomiia Bodnar, Creative Writer @ OWOX
Feb 25, 2021
Collecting and merging data from multiple sources gives you an overview of your marketing performance. Specialized tools can significantly speed up this process and give you a market advantage. However, the variety of marketing analytics software is rather impressive, so selecting the right one can be a challenge. In this post, we review the key characteristics and limitations of Funnel. io and compare it to four other tools so you can rest assured that the tool you choose is the best fit for your business.
Let's get to our detailed comparison of Funnel. io and its popular alternatives: OWOX BI, Supermetrics, and Stitch.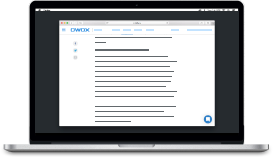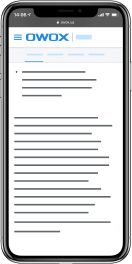 bonus for readers
20 steps to successful marketing analytics
Download
now
Funnel
What is Funnel?
Funnel.io pulls in cost data across all your marketing channels and combines it with data on marketing goals and transactions. Then it puts all of that data to Google Analytics, Google Sheets, or Google Looker Studio (ex. Data Studio), depending on your choice. Funnel keeps your data organized, generates insightful reports, gathers metrics, and comes up with KPIs. It gathers information in its own warehouse, from which you can transfer it wherever you need to store it.

Why use Funnel?
Funnel is suitable for retailers, e-commerce companies, and agencies.

With Funnel, you can:
Import information from advertising services to Google Analytics
Integrate with Google Sheets
Integrate with Google BigQuery
Visualize data
Combine data
Still, take into account that Funnel doesn't provide website tracking, quality monitoring and attribution reporting.
Pricing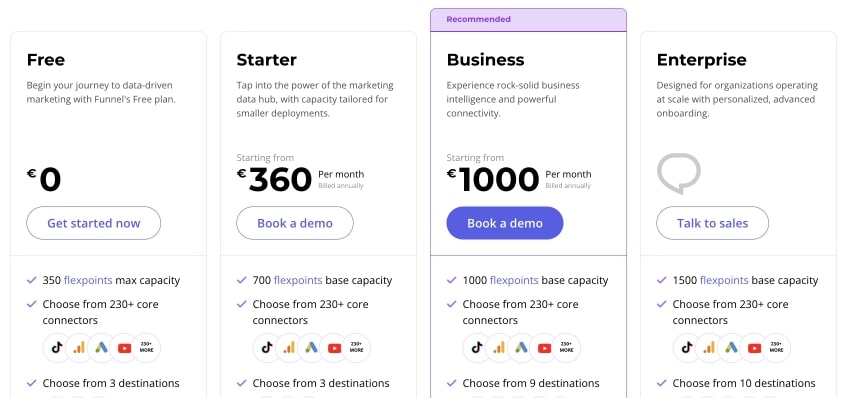 Integrations
Funnel integrates with more than 200 sources such as Google Analytics 4, TikTok, YouTube, Moz, and Weborama.
OWOX BI
OWOX BI is a comprehensive analytics platform that covers everything from data collection and streaming to attribution modeling and reporting. With OWOX BI, companies get a complete view of their marketing activities across various channels, empowering advertising specialists to optimize their ad spending and achieve better ROI.
​​OWOX BI offers three powerful solutions for data management and analysis: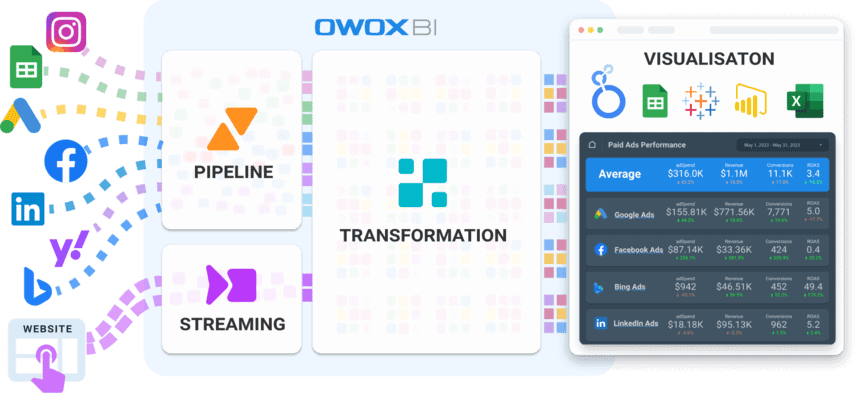 OWOX BI Pipelines facilitates seamless data collection from various advertising platforms, CRMs, and website builders, enabling organizations to consolidate all their data in one place in order to have a data source of truth and gain better insights.
OWOX BI Streaming is a cookieless real-time user behavior tracking system, ensuring privacy compliance with regulation and extending the lifespan of cookies. Marketers can accurately track the entire conversion journey, find the true sources of conversions, and gain a deeper understanding of customer behavior.
OWOX BI Transformation saves time on data preparation (avg. of 70 hours per month). With pre-built low- or no-code transformation templates (based on 100's delivered projects across multiple industries), businesses can quickly produce trusted datasets for reporting, modeling, and operational workflows:
Sessionization: Group on-site events into sessions to find conversion sources
Cost data blending: Merge ad cost data across channels to compare campaign KPIs in a single report
Attribute ad costs to sessions to measure cohorts and pages' ROI;
Create cross-device user profiles across different devices
Identify new and returning user types for accurate analysis
Apply a set of attribution models: Choose from standard attribution models like First-Click, LNDC, Linear, U-shape, and Time Decay, or create a custom Machine Learning Funnel-based attribution model
Use modeled conversion for cookieless measurements and conversion predictions
Prepare data for marketing reports in minutes
Lastly, OWOX BI integrates with visualization tools like Looker Studio, Tableau, or Power BI, enhancing data-driven decision-making by building customizable reports & keeping the data always up-to-date.
Why should you use OWOX BI?
OWOX BI is a perfect solution for e-commerce, retail, telecom, finance, and lead generation companies. You can get a custom plan based on the number of unique users you have.

With OWOX BI, you can:
Import data from advertising services to Google Analytics 4

Transfer historical information for the past 6 months from ad services to Google Analytics 4
Automatically update historical information thanks to the 21-day actualization period
Apply corresponding changes automatically if an ad service API changes

Update information in Google Analytics 4 retroactively if it is updated in a third-party ad service

Integrate with Google BigQuery to collect and process all the information you need:

Collect raw behavioral data from website in a convenient Google Analytics structure
Import information from ad services (OWOX BI works smoothly with large ad accounts and uploads everything regardless of the number of marketing campaigns.)

Recognize dynamic parameters in UTM tags, convert costs into one currency, and monitor the relevance of collected information
Import data from your CRM, ERP, CMS system, call tracking system, and other services
Collect and process personal customer information including emails and phone numbers

Prepare data for reporting in: 

Google Sheets
Power BI
Tableau
Looker Studio
Qlik
Any other BI tool that integrates with Google BigQuery
Pricing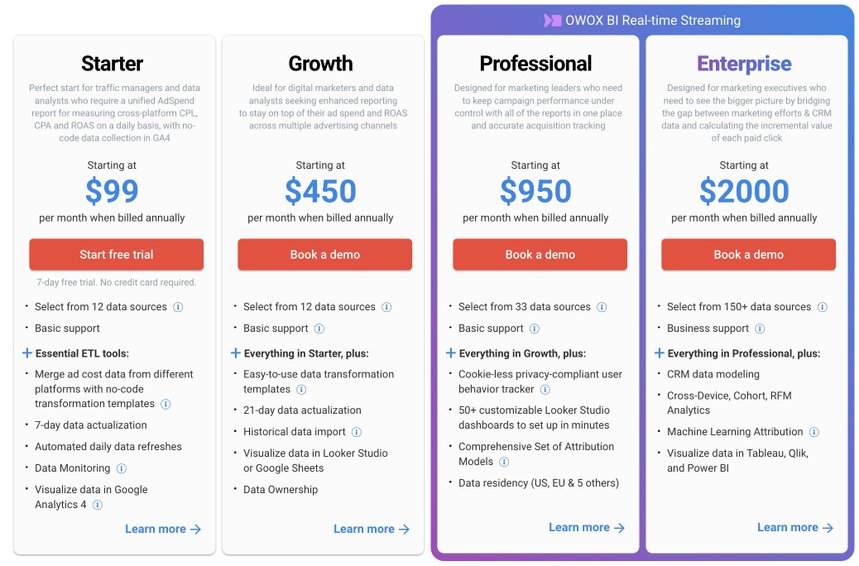 Integrations
OWOX BI offers more than 150 integrations with advertising services, website tools, CRM systems, call tracking, and data processing services: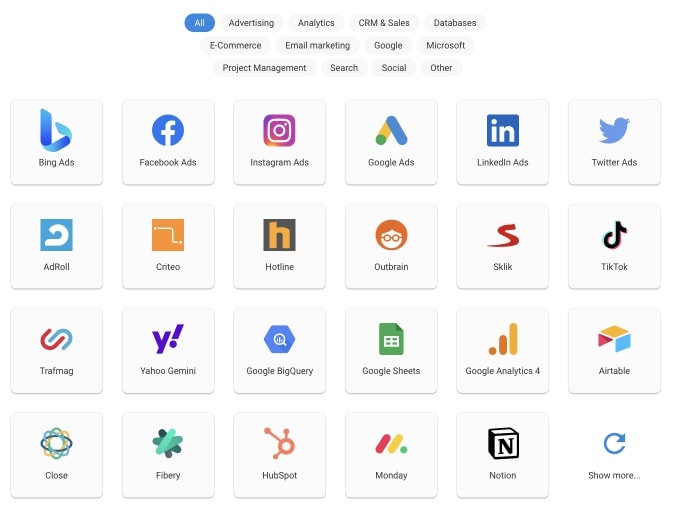 Supermetrics
What is Supermetrics?
Supermetrics is an ETL platform that uses APIs to collect and process your marketing data, automate reporting, and send the collected information to storage or to another visualization, reporting, or BI tool.

Why use Supermetrics?
Supermetrics is suitable for small business, e-commerce companies, and enterprises.

With Supermetrics, you can take the data from multiple data sources and:
Integrate with Google Sheets
Integrate with Looker Studio
Integrate with Excel
Integrate with Supermetrics API
However, you should keep in mind that Supermetrics doesn't offer website tracking, reporting, attribution modeling, or data quality monitoring.
Pricing
Pricing for Supermetrics for Google Sheets starts at $69 a month for 11 data sources, just 1 user, 5 ad accounts per data source, weekly refreshes.
The overall pricing depends on the integrations, destination service and the features you select.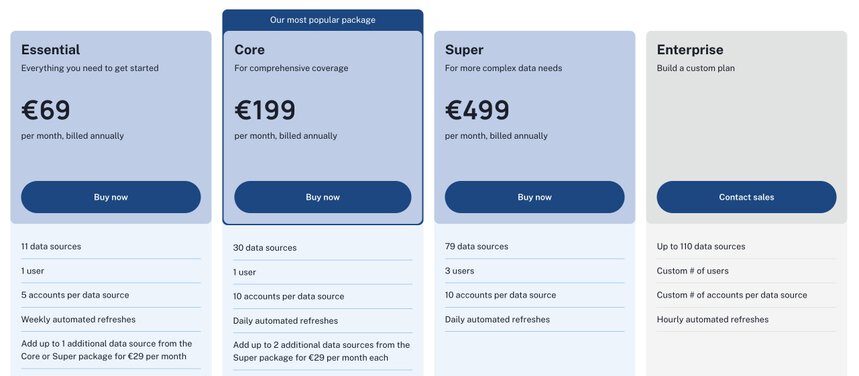 Integrations
Supermetrics offers multiple data source connectors and helps you pull granular marketing and sales data from the sources that matter to you.
When it comes to supermetrics destinations, you can select from Looker Studio, Google Sheets, Microsoft Excel, Google Analytics 4, Power BI, Monday.com, BigQuery, a few other data warehouses and SFTP server. 
Stitch
What is Stitch?
Stitch is an ETL service that replicates the information you need from sources to a warehouse and loads extracted data into your destination as a report, so you can use it for marketing reporting.

Why use Stitch?
Stitch is suitable for mid-sized companies. For enterprises, the advanced Slitch Data Enterprise option with custom pricing can be suitable.

With Stitch, you can:
Collect data
Integrate with such tools as Tableau and Power BI
Build reports
Still, Stitch doesn't offer support for SQL Server and Azure, and it provides a limited number of options for data extraction, warehousing, and loading.
Pricing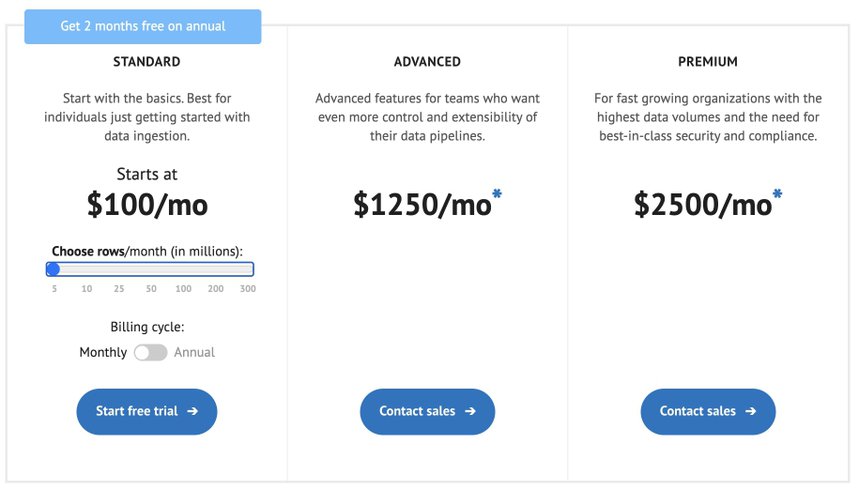 Integrations
You can connect Stitch to more than 130 sources, including databases such as MySQL and MongoDB and SaaS tools such as Salesforce and Zendesk.