How to analyze Criteo campaigns in Google Analytics
Liubov Zhovtonizhko, Creative Writer @ OWOX
Jun 28, 2019
In this article, we explain how to import cost data for Criteo campaigns into Google Analytics in two ways: manually and automatically using OWOX BI. We also explain why you should bother to do it.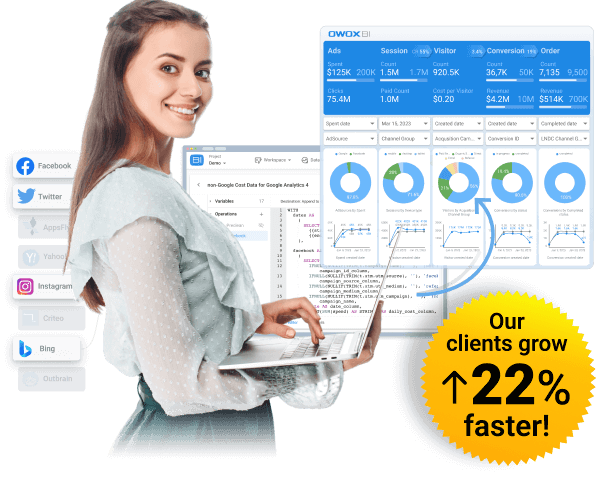 Gain clarity for better decisions without chaos
No switching between platforms. Get the reports you need to focus on campaign optimization
Book a demo
If you use several advertising services and add UTM tags to all the links for your advertising campaigns, you can easily use Google Analytics to track the traffic these campaigns bring. But how can you find out the profitability of advertising channels and campaigns and, most importantly, compare them with each other in order to find the most effective ones? For this, you need data on the costs of advertising.

The cost of Google Ads can automatically be added to Google Analytics reports if you link your accounts for these services. Cost data for Criteo and other advertising services must be imported into Google Analytics independently. This can be done automatically (using OWOX BI) or manually. We will describe both methods in detail. But before discussing how to do this, let's see what data from these services will give you.
Which reports can you use to analyze Criteo campaigns?
After uploading cost data to Google Analytics, the Traffic Sources –> Campaigns –> Expenditure Analysis report will show data on CPC (cost per click), RPC (revenue per click) and ROAS (return on ad spend) for your Criteo campaigns. You'll see not only where your visitors come from but what revenue each campaign brings. You'll also be able to track the effectiveness of your advertising in Criteo and compare it with campaigns in Google Ads, Facebook, Instagram, etc. so you can adjust your marketing budget.

In the Conversion –> Attribution –> Comparison Tool report, you can compare CPA and ROAS campaigns in Criteo and see how their value changes depending on the attribution model used.

And, of course, you can use advertising costs and all the metrics calculated on their basis in custom Google Analytics reports, filtering the data according to the criteria you need.
Link markup with UTM tags
Before setting up cost importing, make sure that all your ad links contain UTM tags. They're needed to track traffic and understand exactly which sources, channels, and campaigns lead users to your site. If you currently don't have any UTM tags, be sure to add at least these three UTM parameters to your links:
utm_source=criteo
utm_medium=cpc
utm_campaign (the value must match the name of the campaign in the Criteo interface.)

To prevent mistakes and make it easier to create tags, you can use the Campaign URL Builder from Google.
Free Webinar
OWOX BI: How to import cost data into Google Analytics
You measure your online revenue in Google Analytics and you know how it is attributed to your traffic sources. By default, your ad costs are only available for your...
Watch the replay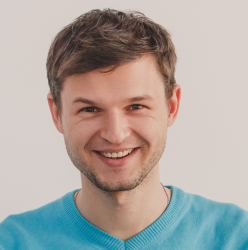 Maksim Ostapenko
Project manager OWOX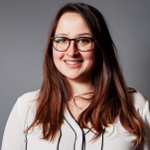 Mariia Bocheva
Business Development Executive in OWOX BI
Watch the replay
Automatically send cost data from Criteo to Google Analytics using OWOX BI
With OWOX BI Pipeline, you don't need to create CSV files and format data in them as you do when manually loading expenses. Just set up a stream once and the cost data will automatically be transferred from the advertising service to Google Analytics and updated daily.

In addition, OWOX BI automatically updates already uploaded Google Analytics data for the previous period (if it has changed) and converts cost data into the currency of your Google Analytics account. In OWOX BI, you can also download spending data for the past six months.

Regardless of which import method you use, the first thing to do is to create a dataset in Google Analytics to which you will load the cost data.
Step 1. Create a dataset in Google Analytics
Log in to your Google Analytics account, go to the Administrator section, select Import data in the resource settings, and click Create:


In the menu that opens, select Cost data and click Continue.
Come up with a name for the dataset – for example, "Criteo Costs" – and select the Google Analytics view into which the data will be loaded. Then click Continue: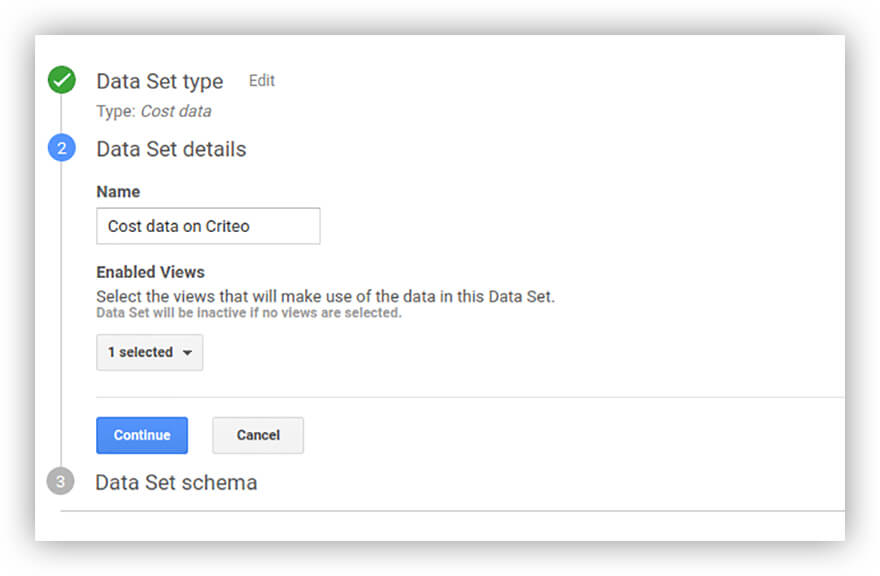 Now you need to determine the scheme for the loaded data. Three parameters (date, channel, and source) are selected by default. Add to them the cost, number of clicks, and campaign and click Save at the bottom of the screen.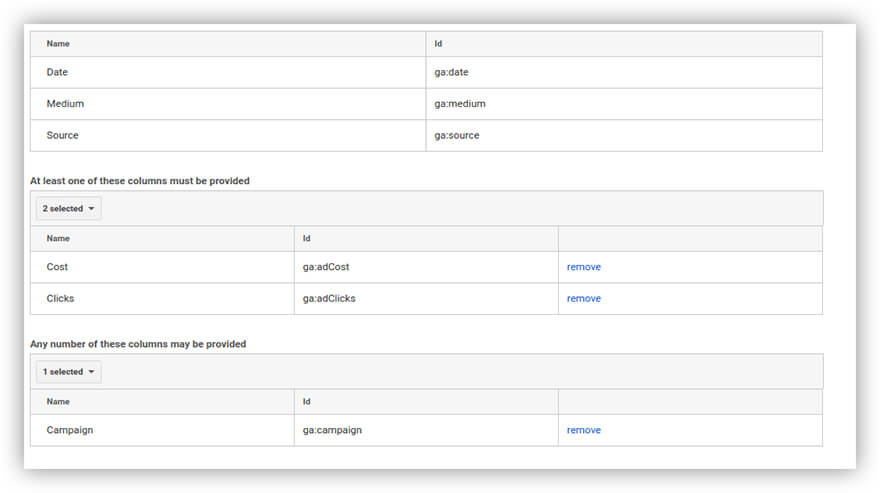 Then click Finish. After that, in the Import Data menu, a new set of cost data for Criteo will appear:

Step 2. Configure automatic importing of cost data into OWOX BI
To set up automatic importing of cost data to OWOX BI, start by signing up for OWOX BI using your Google Account. Then log in to OWOX BI, open the Pipeline tab, and click Create Flow. Click on the Criteo logo: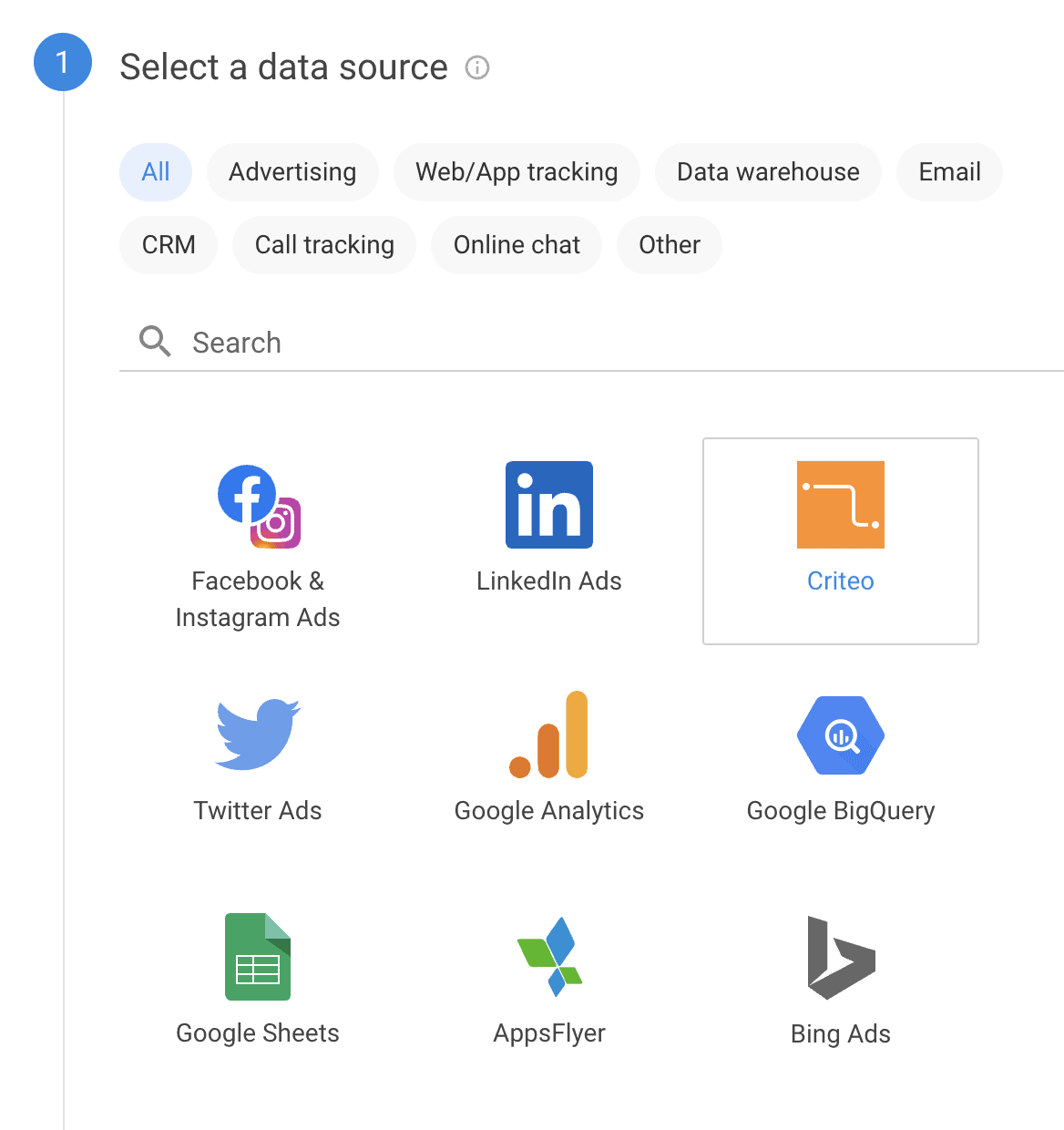 Now grant access to your Criteo account. To do this, click Add: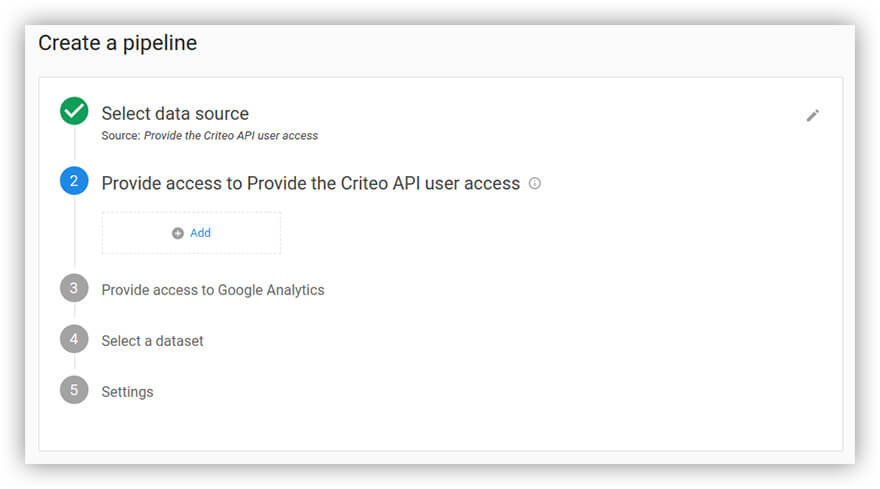 In the window that opens, enter the Client ID and Client Secret ID. To get them, generate a new user access API in the Criteo interface.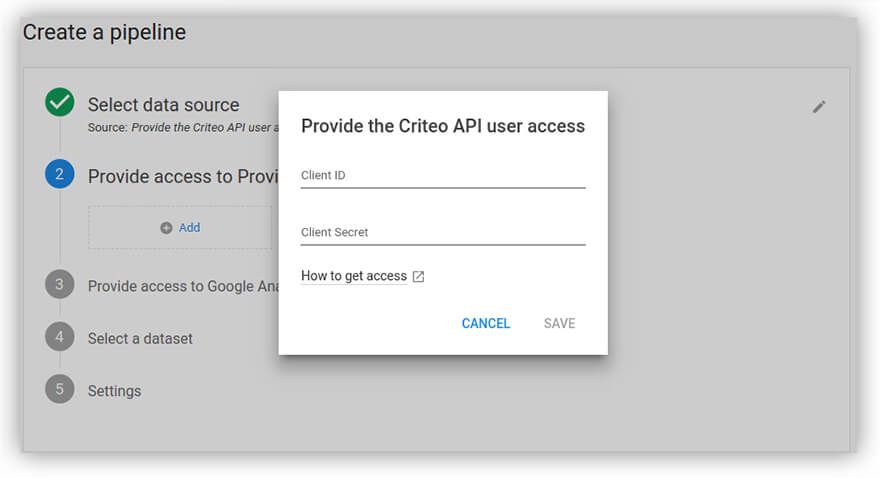 Next, provide access to your Google Analytics account, select a resource and a dataset into which you will upload cost data, and click Next.

Specify the date from which to start importing cost data. Then select the required Google Analytics view and your OWOX BI project and click Create Flow.

Cost data from Criteo will appear in Google Analytics reports within 36 hours (up to 12 hours for data processing on the OWOX BI side + up to 24 hours for processing in Google Analytics). For a free OWOX BI Start plan, data processing on the OWOX side can take up to 36 hours.
If you do not yet have a free stream in OWOX BI, you can create one right now to automatically import data from Criteo to Google Analytics
Manually load cost data from Criteo to Google Analytics
To import expenses through the Google Analytics interface, you need to prepare a CSV file with data, put that data into the required format, and upload it manually. This is a monotonous job that takes a lot of time. In addition, it must be repeated every time you need to update cost data.
Step 1. Create a dataset in Google Analytics
We've described above in detail how to do this.
Step 2. Export data from Criteo
To do this, go to your Criteo account, break down the report you need by day, and use the Export function to download the file. Then open it in Google Sheets. You'll get something like this table:

Step 3. Prepare a CSV file for uploading to Google Analytics
Download a template with a data schema and transfer information from the Criteo report to Google Analytics. To do this, go to Google Analytics, open the dataset that you recently created, and click Download Management:


Finally, click Download schema template: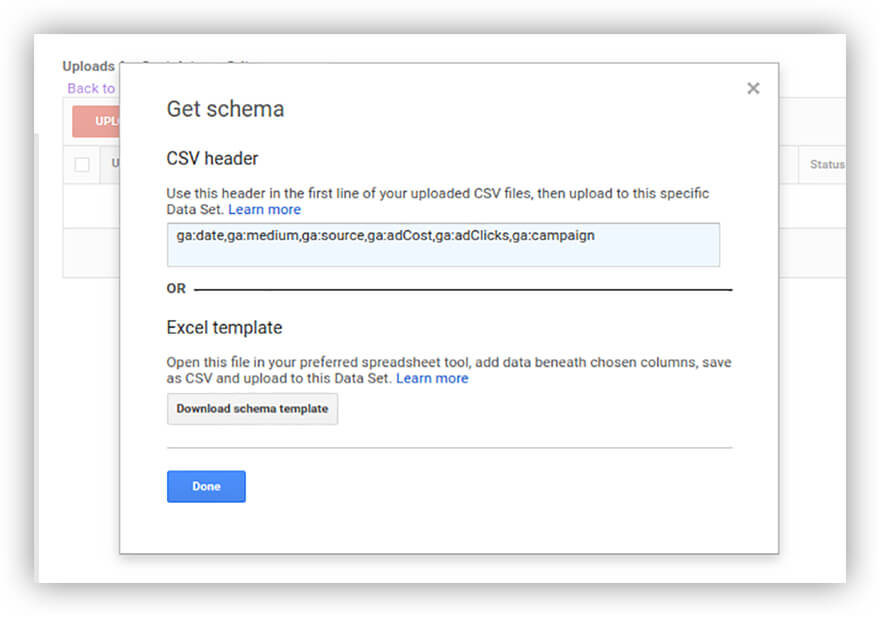 Open the downloaded template in Google Sheets and transfer to it the report data you downloaded from Criteo. Don't forget to change the date format to yyyymmdd, which is used in Google Analytics. As a result, you'll get something like this table: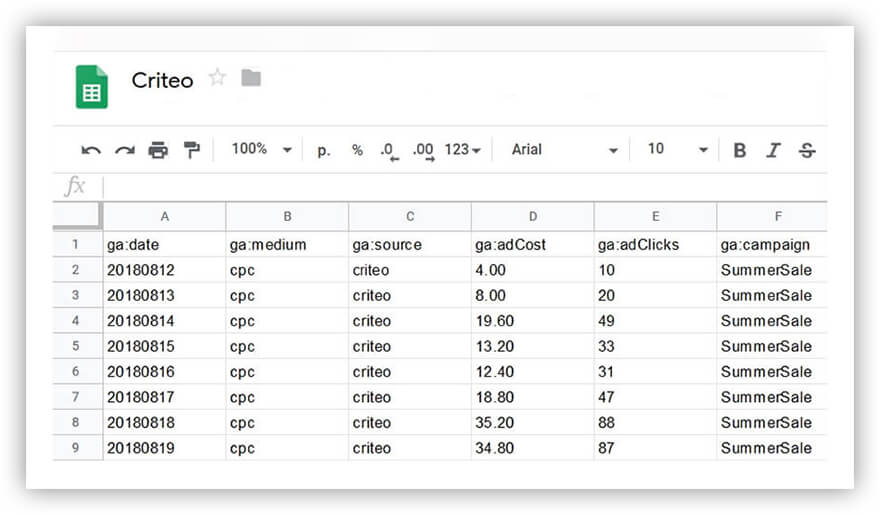 Save the table in CSV format.
Step 4. Uploading the cost data to Google Analytics
To upload cost data to Google Analytics, open the dataset that you called Criteo Costs, click on Download Management, and then click on Download File. If the table is complete and without errors, you will see the completed status:

Criteo cost data will appear in Google Analytics reports within 24 hours.
Wrapping up
Importing cost data from Criteo to Google Analytics is an important step – but not the last step – in evaluating your online advertising. If you want to analyze your entire sales funnel and take into account all points of contact with the customer both online and offline (chats, calls, offline meetings, email, etc.), you need to set up end-to-end analytics. You can combine all your data in Google BigQuery cloud storage using OWOX BI to build reports with any metrics you need.
Check out all the OWOX BI features with a free trial.
FAQ
What is a business dashboard?

A business dashboard is an information management tool that provides an overview of a company's key performance indicators in a graphical or visual format, allowing managers to monitor and analyze data trends and make informed decisions.

What are the benefits of using a business dashboard?

Some of the key benefits of using a business dashboard include improved data visibility, streamlined business processes, more informed decision-making, and increased accountability among team members.

What are some popular business dashboard tools?

Some popular business dashboard tools include Tableau, Power BI, Domo, Google Data Studio, and Klipfolio. Each of these tools offers unique features and capabilities, so it's important to evaluate your specific needs and choose the tool that's right for your organization.