Automating reports in Google Analytics
Liubov Zhovtonizhko, Creative Writer at OWOX BI
Oleg Kharchenko, Senior Digital Analyst at OWOX BI
Aug 18, 2019
In this article, we will tell you what types of reports there are in Google Analytics and why it's important to automate them. We'll also show you how to set up automatic updating of reports in Google Analytics and how to receive timely notifications about critical changes in KPIs that are important for your business.

Contents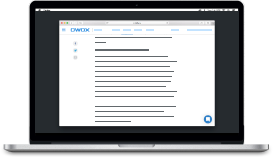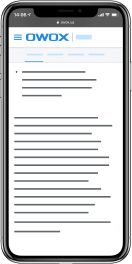 bonus for readers
30 handpicked Google Data Studio dashboards for marketers
Download
now
Why it's important to automate work with reports
The longer you wait to make a decision based on data, the less relevant that data becomes and the less value there is in basing your decision on it. Therefore, the faster you respond to the challenges your business faces, the higher the value of your decision.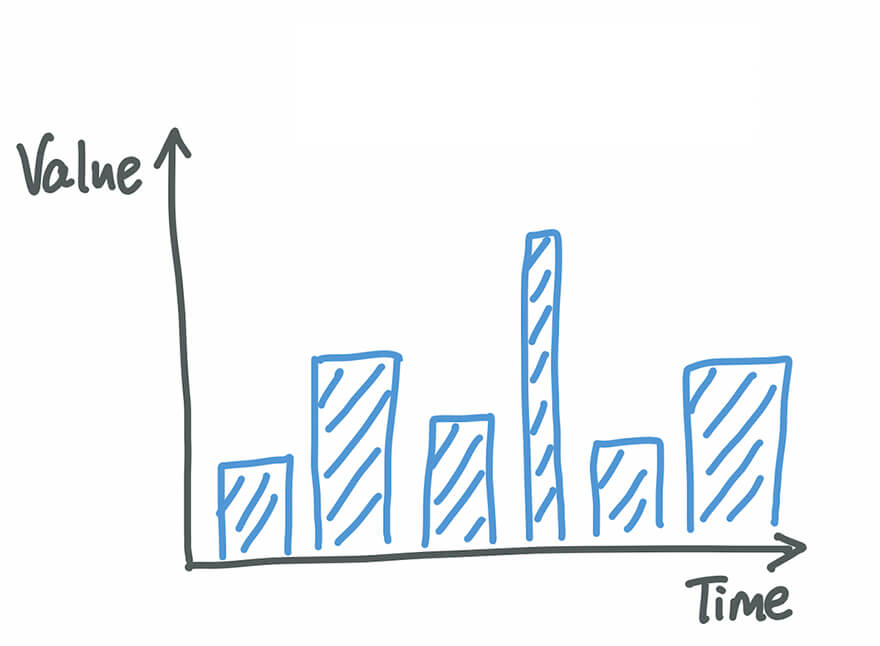 Types of reports: irregular, regular, and dynamic?
All reports can be divided into regular, irregular, and dynamic.

Regular reports
These are reports that you need to monitor daily, weekly, or monthly. They show key indicators of the site, KPI dynamics, etc. As a rule, these reports have a standard structure. It's especially important to automate such reports in order not to waste time on the same work.

Irregular reports
These are reports that must be viewed from time to time to:
Get an answer to a sudden question. For example, you can use this kind of report when a manager asks you to provide data on conversions and traffic of a certain segment or to compare indicators of the current period with the previous.
Find the cause of a problem and thoroughly investigate the issue – for example, to find out why last month the conversion rate on mobile devices slipped, what caused CPA growth from paid sources, etc.
Find unobvious insights based on available data – for example, to find out how changes in the settings of advertising campaigns have influenced the site KPIs.
Dynamic reports
These reports are used when constant monitoring is not needed but when it's important to be aware of critical changes in key indicators in order to respond in time.

How to optimize work with Google Analytics reports
Before going into the settings, let's talk a little about the benefits and capabilities of Google Analytics:
It's the most popular, easy to implement, and easy to use analytics system.
It has plenty of default reports. The very next day after installing the meter on the site, basic reports are available to you in which you can see statistics and dynamics on key indicators.
It allows extensive customization of reports for particular business needs. If you're missing some data, you can add your own metrics and view statistics on them.
It has many related tools for visualization, advanced analysis, and additional data collection. Measurement Protocol allows you to send information to Google Analytics from any point of contact, including offline. The OWOX BI Pipeline service helps you upload advertising expenses to Google Analytics. It also includes Data Import and other functionality.
If you're just starting to use Google Analytics, keep in mind that you can set it up to regularly send standard and custom reports to a specified email.
Regular emails and standard reports
To set up an automatic newsletter, go to any report and click the Open Access button in the upper right corner.

In the opened window, fill in all empty fields:
Specify a list of email addresses to which reports will be sent.
Write the body of the email.
Select the format in which you want to receive the report: PDF, CSV, or Excel.
Set the frequency of the report: one-time, every day, every week (on a particular day), every month (on a particular day), or once a quarter.
In the advanced settings, select the distribution period – that is, the period during which you want to receive emails. By default, mailings are configured for six months.
Don't forget to specify the text of the message. Even if you don't need this field, you need to fill it out. Otherwise, the system will generate an error.
Click Submit.
After that, your newsletters will be saved in the view settings in the Planned distribution tab:
Here you can extend the period of the newsletter, make changes to its settings, or delete it.
You can also send custom reports and dashboards to your mail. To do this, open the desired dashboard, click Email in the upper left corner, and fill in the fields as described above. The only difference is that only PDF format is available for dashboards.

Setting up automatic email alerts
Sometimes, there's no need to regularly monitor the dynamics of indicators, but it is important to know about critical changes in various KPIs. For these cases, Google Analytics has automatic email alerts. To launch them, go to the view settings in the admin panel, select Special alerts, and click + New alert: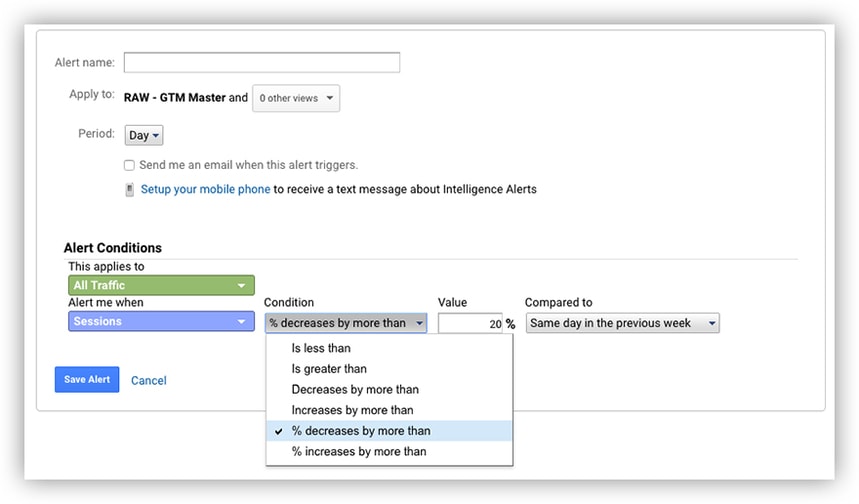 In the window that opens, set the conditions for triggering emails – for example, a sharp increase or decrease in traffic, sessions, conversions, etc. Then choose a period for which to compare indicators. For example, you can compare yesterday's indicators with the same day the previous week. Then click Save Alert.
Done! Now, if the scenario described happens in reality, you'll receive an email about it and will be able to take action in time.
Note:For each user, the number of scheduled reports sent by email cannot exceed 400 within one view.
P.S. Since you've decided to optimize your work with reports, why not set up automatic importing of advertising expenses into Google Analytics using OWOX BI so you don't have to do it manually every time :) Moreover, OWOX BI has a free trial period, after which you can still import data from one advertising service for free.