7 ways to evaluate and improve digital marketing
How can you evaluate the effectiveness and increase the return on investment (ROI) of your online advertising? How can you know how much revenue is generated by SEO traffic, mobile apps, and media ads? These questions are relevant to many online and omnichannel businesses. In this article, we describe solutions from OWOX BI that have helped our clients find answers to these and other questions and solve their business problems.
We succinctly describe how we've helped our clients do these seven real-world cases below. If you're interested in technical details or want to try some of the things we mention in your own project, try OWOX BI for free. 
Table of contents
Improve campaign targeting through user segmentation
Technical task and solution
Solution characteristics
Results
Calculate campaign ROI based on real sales
Technical task and solution
Solution characteristics
Results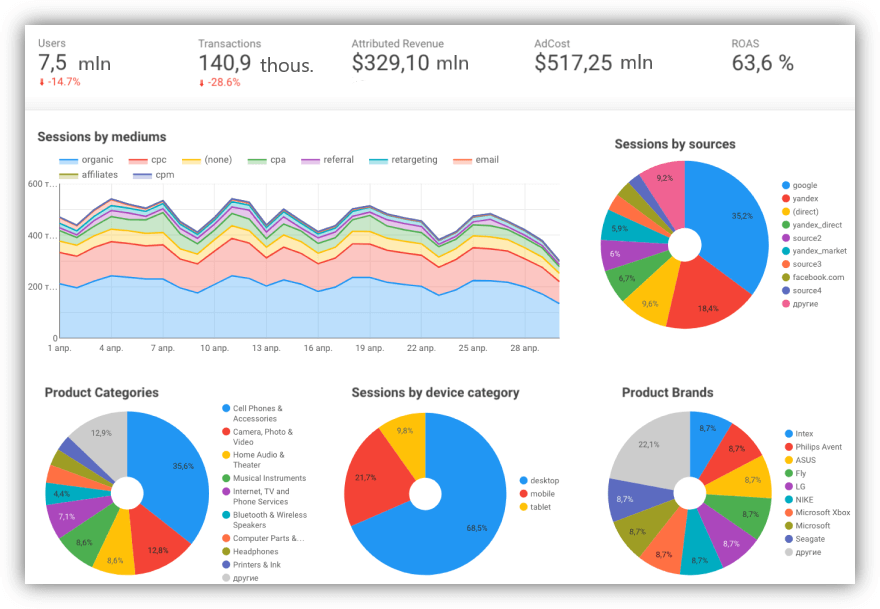 ROPO: Analyze the effectiveness of online marketing taking into account offline sales
Technical task and solution
Solution characteristics
Results
Analyze SEO traffic efficiency
Technical task and solution
Solution characteristics
Results
Assess the effectiveness of mobile applications
Technical task and solution
Solution characteristics
Results

Learn the real effectiveness of marketing channels using ML funnel-based attribution
Technical task and solution
Solution characteristics
Results
Conduct post-view analytics
Technical task and solution
Solution characteristics
Results
Short conclusions