One of the main advantages of the new Google Analytics 4 is the ability to export raw unsampled data to Google BigQuery for free. Recall that in Universal Analytics, this option was available only in the paid version (Google Analytics 360). Let's see what opportunities have opened up for the majority of Google Analytics (GA) users with this change.
Migrating to Google Analytics 4 is an inevitable step that most companies will take in the near future. OWOX helps you make this transition as painlessly as possible. We will help you develop and implement a metrics system as well as correctly set up data tracking. You can save the reports you need and create new ones without having to understand the new data structure and rewrite SQL queries.
Table of contents
Why you need to integrate Google Analytics 4 with Google BigQuery
By integrating Google Analytics 4 with Google BigQuery, you can collect raw, unsampled data from your website in cloud storage, where each user and their events will be displayed on separate lines. Using SQL queries on this data, you can calculate any parameters and indicators you need.
By collecting site statistics in Google BigQuery, you can avoid sampling and other limitations of Google Analytics 4. You will be able to analyze complete data, which means the quality of decisions made based on this data will be much higher than the quality of decisions you might have made based on X.
For example, the default retention period for user and event data in GA 4 is two months. You can increase it to 14 months in the resource settings. However, this may not be enough if you want to analyze the events of users who last logged in more than 14 months ago. That is, you can't generate a report for a range of two years. This is where Google BigQuery can help. After exporting data to BigQuery, you can store it without time limits.
Benefits of working with Google Analytics 4 data in Google BigQuery
1. Reports without restrictions (and with custom adjustments)
The interface of Google Analytics or any other analytics system limits your ability to create reports. For example, there are limits on the number of parameters and indicators as well as on how you can combine them and perform calculations based on them. Also, in GA 4, there is no ability to import cost data, create custom channel groupings, or include metrics from third-party sources such as a CRM in your reports.
By having access to raw data in Google BigQuery, you can build reports with any number and combination of metrics you need. For example, you can perform cohort analysis based on any indicators that are important for your business.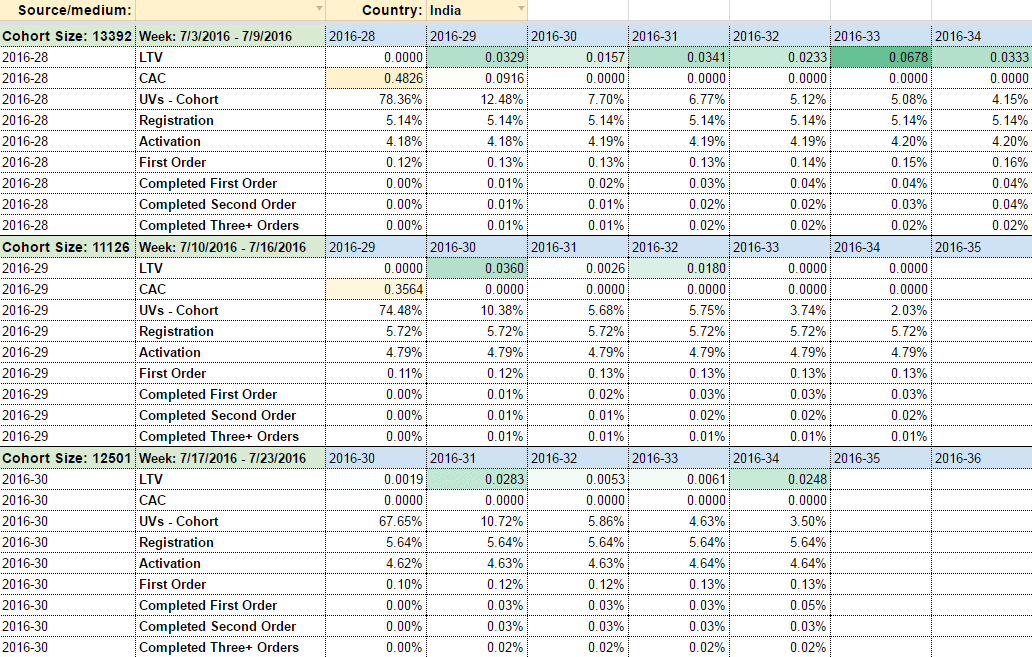 In Google Analytics 4, standard reports are not subject to sampling, but sampling can be used in custom reports: when comparing data, when using additional parameters and filters, when the limit of 10 million events is exceeded. Sampling is also applied when the date range is greater than 60 days.
Sampling can distort data, so you can't trust 100% of the reports built using sampling. This is especially true for reports over a long period of time or for custom reports with a large number of parameters and indicators. By uploading raw data from Google Analytics 4 to Google BigQuery, you can avoid this problem.
2. Reports based on sales & customer data (completed orders)
Raw data from your website can be merged with data on ad spending from advertising services, call tracking data, email newsletter data, and data on redeemed orders from your CRM to set up end-to-end analytics.
This will allow you to take into account all points of contact with your company, analyze users' paths to conversion, evaluate the impact of all marketing efforts (both online and offline) on business performance, find the most effective marketing channels, and quickly optimize channels that bring losses.
3. Custom attribution models based on your rules
Once you have collected and merged all your marketing data, you can create complex sales funnels that fit your business structure and build your own attribution models to evaluate the contribution of each advertising channel to sales.
For example, you can evaluate the contribution of channels to the marketing funnel with OWOX Funnel-Based Attribution. The Funnel-Based Attribution model calculates the value of each channel and campaign in the funnel according to its contribution to the user's progress through the steps of the funnel. To make this calculation, aggregated data is not suitable — we need data about each user action, linked by User ID.
The better the channel moves the buyer through the most difficult steps, the more value it receives.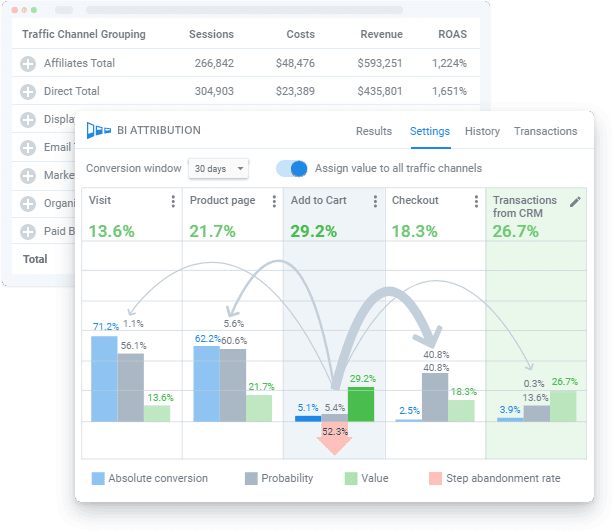 With the Funnel-Based Attribution model, you can identify the most effective campaigns and focus on developing them to fulfill your marketing plan. For example, you can find managed campaigns you can develop to increase the elasticity of dependent channels with limited capacity (organic, brand context, CPA, retargeting) and thereby increase your overall sales.
4. Predicting conversions with a custom feature set
Google Analytics 4 provides predictive metrics (purchase probability, churn probability, and revenue forecast) that are calculated using machine learning. However, the model is a black box and operates solely on GA 4 data.
Let's say a data analyst was tasked with creating a model that would predict the probability of a purchase. It'ss expected that this model will be as transparent as possible (it will be clear which features it's trained on) and formed based on all available data, including custom data. In this case, the Google Analytics 4 interface is no longer enough for the analyst, as they don't know what's inside the predicted metric that GA calculates. If you need to understand and manage the model — set your own features for training it, for example — it's best to upload your data to BigQuery.
OWOX BI has developed an ML-based solution that calculates the purchase probability considering purchased orders for each website user. Based on this calculation, you can create audiences, use them to target advertising campaigns, and double your ROI, as one of our clients did.
5. Grouping individual channels
In Google Analytics 4, a standard predefined channel grouping is available (Paid, Search, Organic, etc.). This means you won't be able to build a report with your own channel grouping in the GA 4 interface — at least not yet (perhaps this option will be added in the future).
For example, your facebook/cpc campaigns go to the Paid channel group by default, but you may need to separate them into a Paid Social group. In this case, uploading data to BigQuery and grouping channels using SQL will help.
To be fair, channel grouping can be configured in a simpler way:
Connect Google Analytics data to Data Studio with a built-in connector.
Set up grouping conditions in Data Studio.
It won't be as reliable as grouping channels in Google BigQuery, but if you need a quick solution, you can use this implementation.
6. Filtering statistics
Say you need to show statistics to a partner based only on a UTM tag and not disclose any other information. In the Google Analytics 4 interface, you cannot create a separate view for this. There is only a single view of the resource — that is, all partners will see all data.
Google BigQuery allows you to load large amounts of data and quickly process it using SQL. You can automate and schedule reports so your team can focus on getting insights instead of preparing reports.
Note: Importing data to BigQuery from Google Analytics 4 is free, but there are limits beyond which you need to pay. You can find details here.
Conclusion
The transition to Google Analytics 4 is an inevitable step that most companies will take by July 1, 2023. OWOX helps make this transition as painless as possible, allowing you to keep the reports you need and get new ones without having to understand the new data structure and rewrite all your SQL queries.
OWOX will merge all your data and bring it into the right structure for your business model. Thanks to this, you can instantly create new reports or edit old ones. You can change the data source in your reports to Google Analytics 4, for example, without rewriting hundreds of SQL queries.
We recommend that all our clients start collecting data in Google Analytics 4 right now in parallel with Universal Analytics. With the help of parallel tracking, you can compare both versions of Google Analytics, explore new features and the new interface in GA 4, and accumulate historical data. The earlier you install Google Analytics 4, the more historical data you will collect.
The OWOX team can help you develop and implement a metrics system, correctly set up parallel tracking, and integrate Google Analytics 4 with Google BigQuery.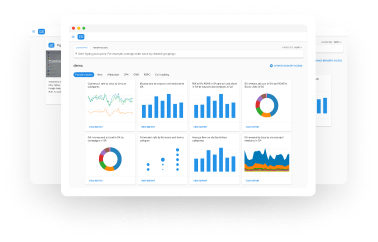 Our clients
grow 22% faster
Grow faster by measuring what works best in your marketing
Analyze your marketing efficiency, find the growth areas, increase ROI
Get demo