What Are UTM Parameters?
Why are UTM Parameters Important?
6 Components of UTM Parameters
Source (utm_source)
Medium (utm_medium)
Campaign name (utm_campaign)
Campaign id (utm_id)
Term (utm_term)
Content (utm_content)
Best Practices for using UTM parameters
Developing a Standard Naming Convention for UTM Parameters
Monitoring UTM Links in a Spreadsheet
Integrating Tracking Data with Your UTM System
Exercise Caution When Copying and Pasting Links Containing UTM Codes
Avoid Utilizing UTM Parameters for Internal Links
Maintain a Log of Link Creation and Attribution Information
Using UTM Parameters: 6 Examples
UTM Parameters in Digital Marketing
Online Advertising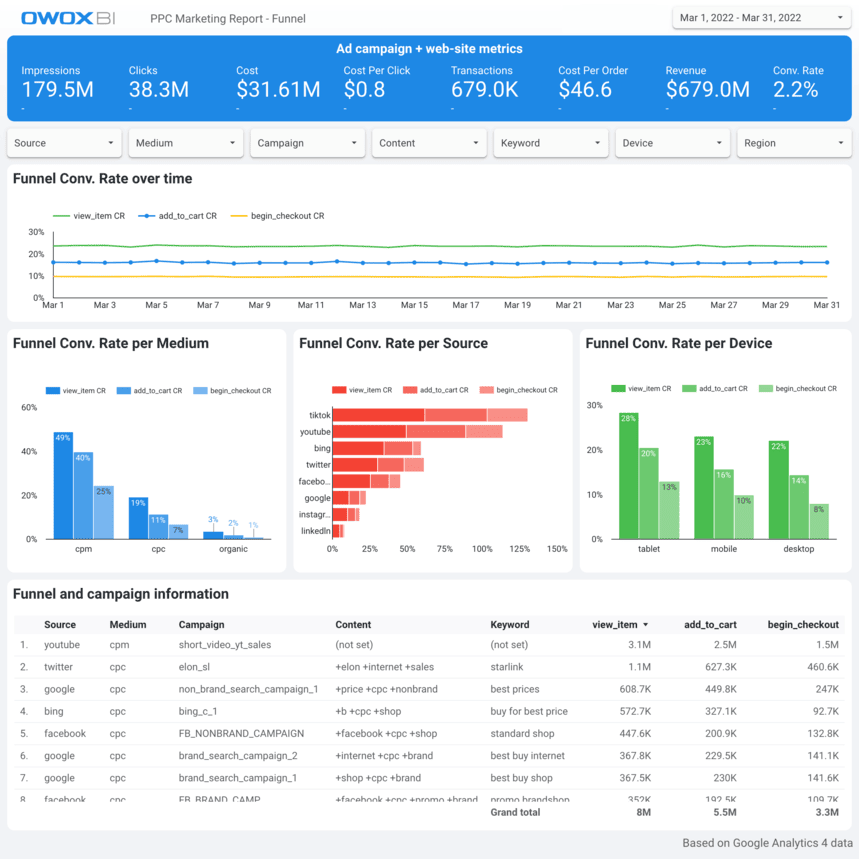 Online Advertising
Social Media Marketing
Email Marketing
Affiliate Marketing
UTM Parameters in Website Analytics
Google Analytics 4
OWOX BI Streaming
Other Analytics Platforms
UTM Parameters in Campaign Tracking
Marketing Campaigns
A/B Testing
UTM Parameters in Cross-Channel Marketing
Cross-Channel Attribution
Integrated Marketing Campaigns
UTM Parameters in E-commerce
Product Promotion
Shopping Cart Analysis
UTM Parameters in Offline Marketing
Print Advertising
Direct Mail Campaigns
Research Online, Purchase Offline (ROPO)
Key Takeaways
FAQ
What are UTMs?

UTMs, or Urchin Tracking Module parameters, are specific text strings appended to URLs to track key data about website traffic and marketing campaigns.

What does UTM stand for?

UTM stands for Urchin Tracking Module. It's a format used in URLs to track the effectiveness of marketing campaigns across various channels.

How do UTMs work?

UTMs work by tagging URLs with specific parameters that track the source, medium, and campaign name. When a user clicks on a URL with UTM parameters, those tags are sent back to your analytics tool for tracking.

How can UTM parameters help me track marketing campaigns?

UTM parameters help track marketing campaigns by providing detailed insights into the traffic source, the medium used, and the specific campaign that drove the traffic. This data can be used to optimize your marketing strategies.