To get the best return on your advertising spend, it's important that you see which of your advertising campaigns actually lead to conversions, and to correctly assign value to each advertising channel. If you're not familiar with the so-called attribution problem yet, you can start by comparing common attribution models and reading more about how the ML Funnel Based attribution model works.
We know how important it is for your business to accurately evaluate the performance of your advertising channels. For this reason, we continuously work towards improving our own attribution model. In this article, we'll cover all the improvements and changes that were introduced in the latter half of 2016. The article will be especially interesting to those who are already using, or planning to use OWOX BI Attribution.
Funnel stages can be customized for any business objective
Previously, the attribution model required data in the Enhanced Ecommerce format for calculations. This format is very well-suited for online stores, yet projects with other business objectives were only able to track transactions.
Now you can define any funnel steps you need. The criteria for passing through the step can be defined as a particular event, or viewing a certain page. In doing so, you can still use your existing metrics and the data you've previously collected.
Moreover, off-site events, such as participating in a webinar, getting a call from a sales-manager, or payment confirmation, can also be used as funnel steps. Do do this, you need to send information about such events to Google Analytics using the Measurement Protocol.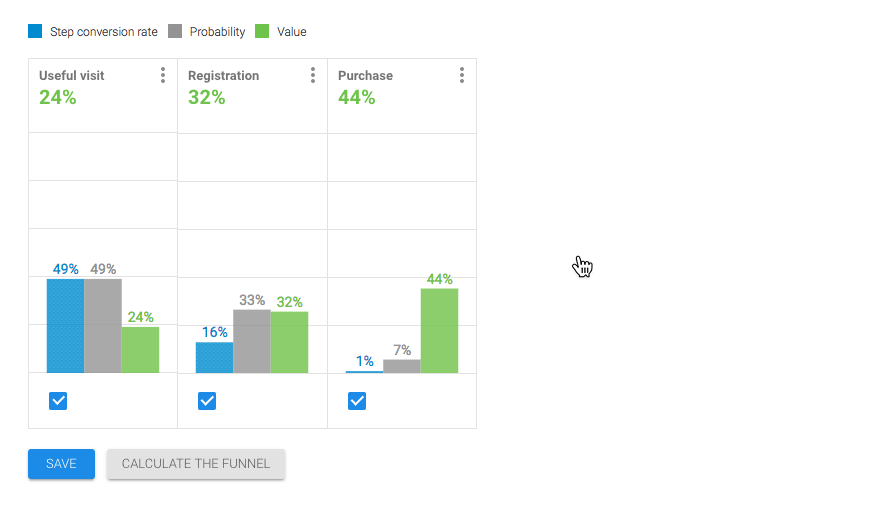 The model now provides more accurate results than ever before in projects with low traffic
We've run hundreds of tests to check the performance of the ML Funnel Based attribution model. The model had excellent results with large projects. It immediately displayed which campaigns were under or overvalued, as compared to the Last Non-Direct Click, the default attribution model in Google Analytics. With that said, the results were less accurate in projects with relatively low traffic, Less than 20,000 visits per day since there wasn't enough data for the calculations. This same problem occurred in large projects while calculating the probability of progression through the funnel for narrow user segments.
Scoring. As in, assigning scores to the progression through each stage of the funnel, is now used in calculations. The portion of the conversion value each step will be allocated is then calculated based on these scores. This approach allows for obtaining high quality results in projects with any traffic, regardless of the data volume. You can read more about the calculation logic in a separate article.
Scoring gives one more valuable advantage: there's no need anymore to set up priority of funnel stages manually. This leaves no room for human error, or any doubt, regarding which of the steps in the funnel should get a higher priority. You only need to define the funnel stages for the calculations.
The model now allows for a more accurate evaluation of the first useful visit
Most online stores don't send information about the product category from listing pages to Google Analytics. As a result, if a user did not view the product page during the first session, the session remained undervalued when the product was eventually bought. This scenario most often occurred in omni-channel retail: a user only visited a promo page, or a category listing page, and then chose a certain product and made a purchase in a brick-and-mortar store.
To better process such scenarios for customer behavior, we've added a "useful visit" step. It's a visit in which a user viewed more than one page or conducted any interaction. The probability of a useful visit is calculated as "1 − Bounce Rate".
This allows for an accurate estimate of the contribution of the first channel to engage a user into the funnel. This estimate will be based on the probability of the first step, not on residual grounds. The session will receive value even in the event that a user hasn't viewed the product page of the purchased product.
This update makes complete sense. Since the Bounce Rate for new users is higher than for returning ones, the first useful visits of new visitors will be valued more than the ones of returning visitors. The ML Funnel Based attribution model has another important advantage over position-based ones: standard models assign a conversion value without taking into account whether the order was made by a new, or returning visitor.
The updated model is even more transparent
We've often heard questions relating to just how the probabilities of progression through funnel steps are calculated. That's why we've expanded the tables with interim results. Now the baselines for calculations are stored for each user segment. It allows you to verify the statistical reliability for each probability used: number of sessions in a segment, confidence interval, and accuracy rate.