4 methods to evaluate the effectiveness of media advertising
Vlad Flaks, CEO OWOX
Vlada Malysheva, Creative Writer at OWOX BI
Jul 14, 2020
Media advertising has great potential, but proving its effectiveness in monetary terms is much more difficult compared to proving the effectiveness of performance advertising. However, our experience has shown that without comprehensive display campaigns, it isn't possible to achieve comprehensive marketing goals.

In this article, we tell you about the methods of evaluating advertising effectiveness and discuss the impact of your findings on your business as a whole. You'll learn how OWOX BI links ad views to online and offline activities to track a user's entire journey from the first interaction to purchase.
Evaluation of advertising effectiveness
It's relatively easy to track user behavior on your website and measure your website's main KPIs. For this, we have Google Analytics, Facebook Analytics, and other analytics systems. All of them are focused on collecting information on the advertiser's website (so-called first-party data).

Difficulties arise when we want to analyze how users interact with content that exists outside our website — for example, when someone watches an ad on TV, drives past a billboard, or sees a banner on a publisher's website. This is the main problem of evaluating media advertising campaigns.
To solve this problem, you first need to decide what it means to measure the effectiveness of media advertising. What metrics do you want to calculate and what questions do you want to answer? Your future actions will depend on your answers. Let's start with the simplest methods.
If you need reports tailored to your business and accounting system, the OWOX BI team is ready to help. We have experience solving such problems for large advertisers. We'll choose the appropriate engineering solution for you too.
How to evaluate post-click conversions
Learn how to automate work with UTM tags and dynamic parameters in your advertising campaigns.
But what about those users who didn't click on the banner? The average announcement click-through rate (CTR) is 0.5% to 1%. Is this all that display advertising gives us? Of course not!

Some people who have seen your ad won't follow the link. But after some time, they may remember your offer, find your website with a search engine, and make a purchase. How can you measure the effectiveness of media advertising and understand which video or banner led to the sale? For this purpose, you can monitor view-through or post-view conversion indicators.
How to evaluate view-through conversions
Large advertising services have their own tools for tracking conversions by impression (without clicking on the link). For example, if you buy display ads in DoubleClick Bid Manager (now called Google Display & Video 360), you can use Google Analytics 360 for tracking view-through conversions.
If you post your ads in Google Ads or Facebook Ads, then you can see a report on view-through conversions in the interfaces of these services.
To show ads on other websites, marketers usually use special advertising management systems: Google Campaign Manager (formerly DCM), Sizmek, Weborama, AdRiver, Admixer, Epom, and others. These tools allow you to collect information about impressions on the publisher's website and find out which users placed orders after viewing your ads.
This way you can understand which of your ads were in the chain leading to an order. However, is this information enough to make a balanced decision on allocating your advertising budget? Let's say a user saw three creatives and made an order. In the report, each creative will be assigned an associated conversion value, although in fact there was only one purchase.
Most importantly, view-through conversions don't answer the question of how much the CTR has grown in context advertising thanks to media advertising. That is, you can't measure the impact of display advertising on your marketing as a whole. Though there's an influence, of course, because search campaigns work with the demand that's formed by media advertising. For consumers to start googling your product, they need to find out about it from somewhere.
Media advertising campaigns increase demand in performance channels as well as the click-through rate. For example, say five advertisers compete for a "car loan" request. One of them launches a display advertising campaign using an ad that reads "We offer the best car loans." This advertiser begins to grow their CTR because users see their brand in the search results and click on their link more often than competitors' links. And ads that are clicked on are more likely to receive a high quality score. Which in turn leads to a decrease in cost per click (CPC) and cost per action (CPA).
When you want to calculate all these indicators, it turns out that knowing the number of associated conversions is not enough. You need to know the characteristics of your audience. How many of these users were on the website, which regions are they from, what types of devices do they use, how much of their audience intersects, etc.
In addition, if some of your applications are made through a call center or are being scored by a system and waiting for confirmation, you cannot focus only on online conversions. You need to consider sales from your CRM. In which case you need to combine data.
How to evaluate the impact of media advertising on marketing in general
To find out how media campaigns affect your sales funnel, you need to combine impression data with data on website visits and sales from your CRM.
The problem is that most advertising management systems don't correctly download raw data about impressions from the website or offer only hackneyed solutions for this. You need to understand that this is a difficult engineering task. We're talking about huge amounts of data because there are many more impressions than website visits.
What can you do? If you use Google's advertising tools, Google Ads Data Hub helps resolve the issue of data consolidation. Data Hub is a tool for working with data in Google BigQuery. You can use it to combine in one SQL query data on display ads from Campaign Manager (DCM), sessions, online orders from Google Analytics, and purchased orders from your CRM.
However, Google Ads Data Hub has its own limitations. To comply with GDPR rules, the results of requests are aggregated at the level of 50 users. That is, each row in the table contains data on 50 or more users. It isn't possible to trace data to one specific user.
For websites that cannot be marked with DCM, you can obtain display data by adding an OWOX BI Tracking Tag.
Read about how 1+1 Digital associated video ad views with online and offline sales.
How to track post-view conversions with OWOX BI
The OWOX BI Tracking Tag collects data about views of videos and banners on advertising platforms and saves this data in your Google BigQuery project. In this case, information is collected at the user level.
This means you can associate ad views with a user's other activities on your website and offline, tracking the user's entire path from first interaction to purchase.
To learn more about post-view analytics for your business, sign up for a demo of OWOX BI↴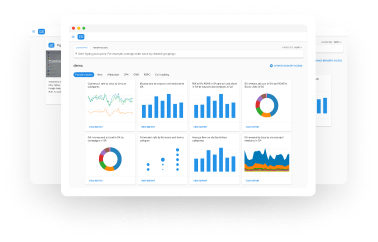 Our clients
grow 22% faster
Grow faster by measuring what works best in your marketing
Analyze your marketing efficiency, find the growth areas, increase ROI
Get demo
To track post-view conversions with OWOX BI, you need to:

set up the collection of raw user behavior data from your website into Google BigQuery using OWOX BI or Google Analytics 360.
agree with your publishers to place the OWOX BI tracking tag on their websites and clarify the details of the rotation of your creatives.
write to our support team at bi@owox. com and request tracking tags for each of your ads. Your publishers can then implement these tags through their ad management platforms.
upload data from your CRM system to Google BigQuery if you want to count not only online conversions but offline sales.
As a result, you can build media ad reports with any metrics that are important to you based on data collected by BigQuery. Here's an example of a report dashboard:
On the first page, you can see:
the number of unique users who saw the ad, the total number of ad impressions, and the total ad cost.
how users interact with the website after viewing advertising: how many sessions and online orders there are and how much revenue they generate.
how video advertising influences offline purchases: how many offline orders there are and what revenue was brought by users who saw video ads.
statistics on advertising across the websites on which your ad was broadcast and across each creative.
The second page of the dashboard contains KPIs of media advertising in general and across websites:
CPA, taking into account the costs of media and contextual advertising that participated in the sales funnel
Return on ad spend (ROAS), considering online and offline sales
The number of unique users who already visited your website before seeing the ad video
If your team doesn't have an analyst who works with raw data, you can use the Report Builder in the OWOX BI Smart Data service. Select out-of-the-box templates or create your own dashboards in several clicks without any SQL knowledge.
In addition, in OWOX BI, you can create an attribution funnel that corresponds to the structure of your business — even if the steps are inconsistent and the funnel is complicated. This will help you assess the contribution of media campaigns to the various steps of your funnel and understand at what stage marketing doesn't work well and where more effort is needed.
FAQ
How to evaluate post-click conversions?

How to evaluate view-through conversions?

Large advertising services have their own tools for tracking conversions by impression (without clicking on the link). For example, if you buy display ads in DoubleClick Bid Manager (now called Google Display & Video 360), you can use Google Analytics 360 for tracking view-through conversions.

How to evaluate the impact of media advertising on marketing in general?

To find out how media campaigns affect your sales funnel, you need to combine impression data with data on website visits and sales from your CRM. You can do this with the help of

OWOX BI

or

Google Ads Data Hub