How to win the marketing competition with data analysis
Vlada Malysheva, Creative Writer at OWOX BI
Aug 30, 2021
As companies embrace new technologies and digital business transformation accelerates globally, the classic analytical approach starts failing to tick all the boxes.

Before the pandemic hit worldwide, static dashboards were enough to cope with marketers' needs to reach data insights without coding knowledge. However, after nearly two years, it has become perfectly clear that dashboards cannot keep up with the ways in which (and the speed at which) marketing teams are working. Marketers need answers to many different questions quickly. However, this becomes quite a problem, as analysts are constantly busy, and marketers usually don't know SQL and therefore can't create reports on their own.
Let's see what can be done to effectively leverage data for making decisions and reaching marketing objectives.
Why classic analytical tools fail to deliver expected business value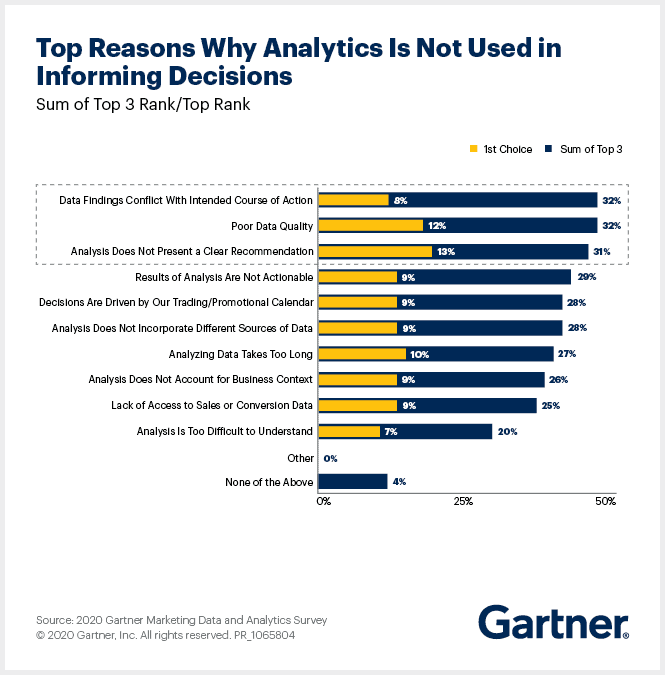 The top three reasons why senior marketing managers say that analytics is not used in decision-making relate to poor data quality (errors in data collection and the human factor in processing), incomprehensible conclusions, and discrepancies between data in reports and reality.
In the case of poor data quality, why it's happening is clear — you need to monitor that your data is updated, with the same structure and format, etc., and automate processes to avoid human errors (messed up SQL queries, incorrect data context).
But the remaining reasons brightly demonstrate that the usual way to work with analytics (using static dashboards), while being effective, is not enough. Dashboards deliver a one-size-fits-all approach, and it's definitely not the case that one ring can rule them all. Companies already have a lot of data, and the main challenge is to get powerful insights from collected datasets. To do so, you have to twist and spin data in all ways possible, and dashboards don't have this ability (they are static!). As a result, companies miss opportunities to improve their performance.
Business users struggle to get data findings they can trust to make informed decisions, wasting time and resources waiting for analysts to analyze data and visualize reports. Just imagine how much profit and how many clients you lose if it takes you weeks to make a decision.
How has this situation come about? In fact, the explanation is simple — traditional reporting systems were never designed for business users like PPC managers and CMOs. A dashboard can answer one question perfectly, but the problem is that the answer will give rise to deeper questions that the marketer needs answers to in order to assess the situation. Thus, marketers and management fall into a circle of continual emerging questions and answers.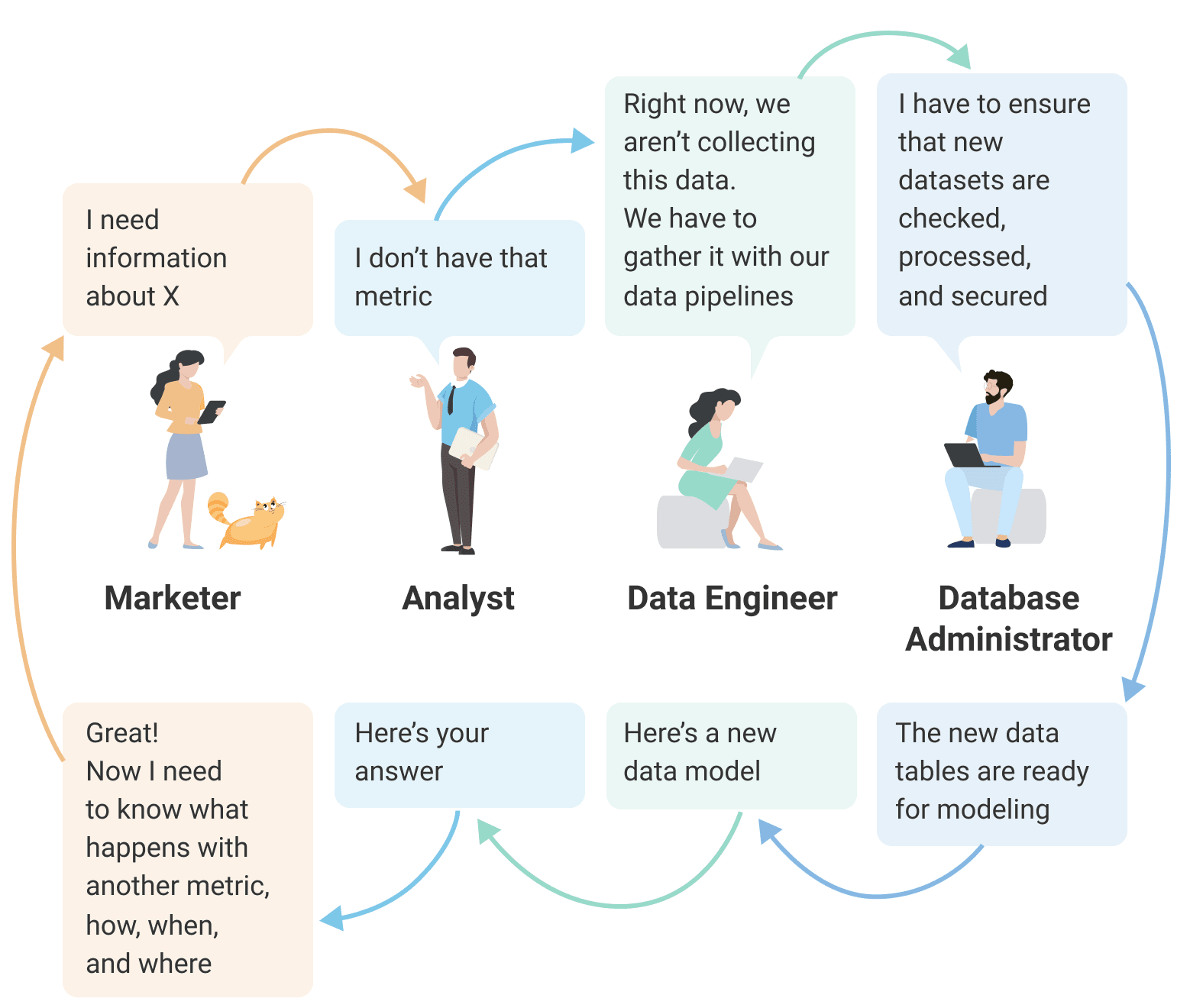 What marketers really need is an opportunity to find answers to all kinds of what, why, when, and where questions. And most importantly, they need to find these answers on their own.
Today, the system works inefficiently: marketers cannot build and update reports independently without asking analysts for help every now and then. According to studies, creating a single dashboard takes an average of 4.5 days, a minimum of three iterations, and most importantly, about $18,000.
Not surprisingly, all this slows down marketing processes and leads to an increase in the number of missed growth opportunities. The company simply doesn't know that it could grow, could make more profit, or could attract better leads.
There's a vast amount of marketing data from various sources that you can use to get many valuable insights. Let's see why it's so crucial for marketers to be able to create various reports using a large number of data sources — and to do it on their own.
Ad hoc reports: reimagining opportunities for analysts
In a world where advertising is becoming more and more expensive and competition is getting intense, those who use analytics are more likely to win. Businesses can benefit the most from analytics when making management decisions. According to a Gartner survey, 85% of CMOs would like to rely more on data and make data-informed decisions more often, and consequently they plan to increase investment in analytics.
Let's see what marketers' common workflows look like when applying data analysis and what problems exist:
Marketers often build their reports manually in Google Sheets, spending hours on non-core unloved work instead of improving advertising campaigns.
Another option is when marketers customize standard reports (out-of-the-box solutions), which allow them to monitor advertising spending but not to use analytics to improve marketing.
Marketers in midsize and large companies order reports from a team of analysts. At the same time, they often spend a lot of time compiling each task, since the analyst only makes a report based on it. Then marketers wait a long time for reports and often don't get what they wanted. As a result, marketers don't receive answers to their questions or receive answers late and don't meet their KPIs. And the cherry on top — the company loses money.
How do specialists try to get out of these situations? By setting up a number of necessary reports (up to 10) and contacting analysts on rare occasions. Honestly, there's nothing great about working this way when there are solutions that make advanced analytics available to every marketer.
Data can be much more helpful if marketers build reports on their own and make decisions quickly without waiting for analysts to respond. Ad hoc reporting is the ultimate tool for bringing data insights to business users.
Let's explain what ad hoc reporting is and why marketers need it. Unlike traditional static dashboards marketing departments are used to working with, ad hoc reports are based on dynamic, real-time data and are created on an as-needed basis.
Of course, traditional static dashboards are the company's first steps into the world of data analysis. However, such reports are designed to be used by a large number of people and, as a result, provide information on very general questions based on the main KPIs. At the same time, the questions users want to ask are constantly changing. In addition, dashboards don't have answers to questions such as Why did this happen? and What can be done?
Moreover, if you think that this is the end (enough with the problems!) — it's not. Unfortunately, the troubles don't end with the marketer making their way through to analysts and finally getting a report.
The new version of Google Analytics and a departure from using third-party data are among the main marketing challenges right now. Everyone will move to Google Analytics 4 sooner or later. And here comes the new data structure that breaks existing reporting systems. The scariest prospect for analysts ever!
Influential companies such as Google and Apple are changing the way they use personal data. In response, the whole digital marketing landscape has started changing. In this article, we discuss how a marketer can survive in an age of change and not lose the trust of customers and management.
Summing up, the perfect ad hoc reports are an opportunity to ask a particular, unanticipated question and get an answer within a few minutes. This approach became a reality thanks to the unique patented technology in OWOX BI. This service allows non-technical users to get any report in minutes without using SQL, which allows them to answer any questions using data. For example, users can assess the current situation from different sides and find what's good in the workflow and what growth zones and potential sources of profit exist for the company.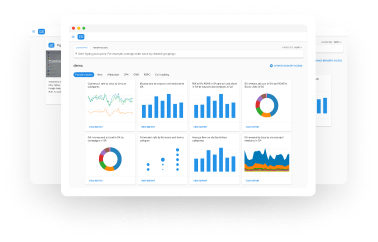 Our clients
grow 22% faster
Grow faster by measuring what works best in your marketing
Analyze your marketing efficiency, find the growth areas, increase ROI
Get demo
The most crucial matter for companies today is their ability to quickly adapt to new conditions and assess what's working and what's not, what needs to be changed, and what to stop doing altogether. Let's look at what marketing challenges businesses, regardless of their size, most often encounter.
Unpacking a new analytics paradigm: OWOX BI Smart Data
OWOX BI Smart Data is a tool for marketing and management specialists that helps you fully use your collected marketing data. The service allows you to effortlessly build an unlimited number of ad hoc reports (including cohort reports) to analyze your audience in different slices and get valuable insights.
The undeniable advantage of ad hoc reporting with OWOX BI Smart Data is the ability for a marketer to ask any questions they want without falling into the never-ending circle of going to a data analyst and wasting days waiting for a response that's not even a final answer!
Finally, it's time to say goodbye to manual data collection, preparation, and processing in an attempt to get valuable insights. Other advantages of using ad hoc reports include:
Less time spent delivering crucial information. Do we really need to explain why it's important to get quick answers that allow for fast business decisions? In a digital world where you can lose a great deal of revenue due to an incorrect landing page, real-time analytics is a treasure.
Less money spent on data analysis. Analytics hasn't been an expensive toy for giant corporations for a long time, but maintaining servers and paying analysts who spend more than 50% of their time on routine tasks instead of analyzing data still remains a significant expense. In contrast, modern cloud solutions make life much easier for businesses.
Flexibility and efficiency. There are lots of hidden insights in data that can empower business users with a wealth of opportunities to improve a company's profitability and growth when they're delivered on time. Using ad hoc reports to get answers to ever-shifting business questions boosts a company's ability to work smoothly and efficiently without waiting for traditional dashboards to be ready.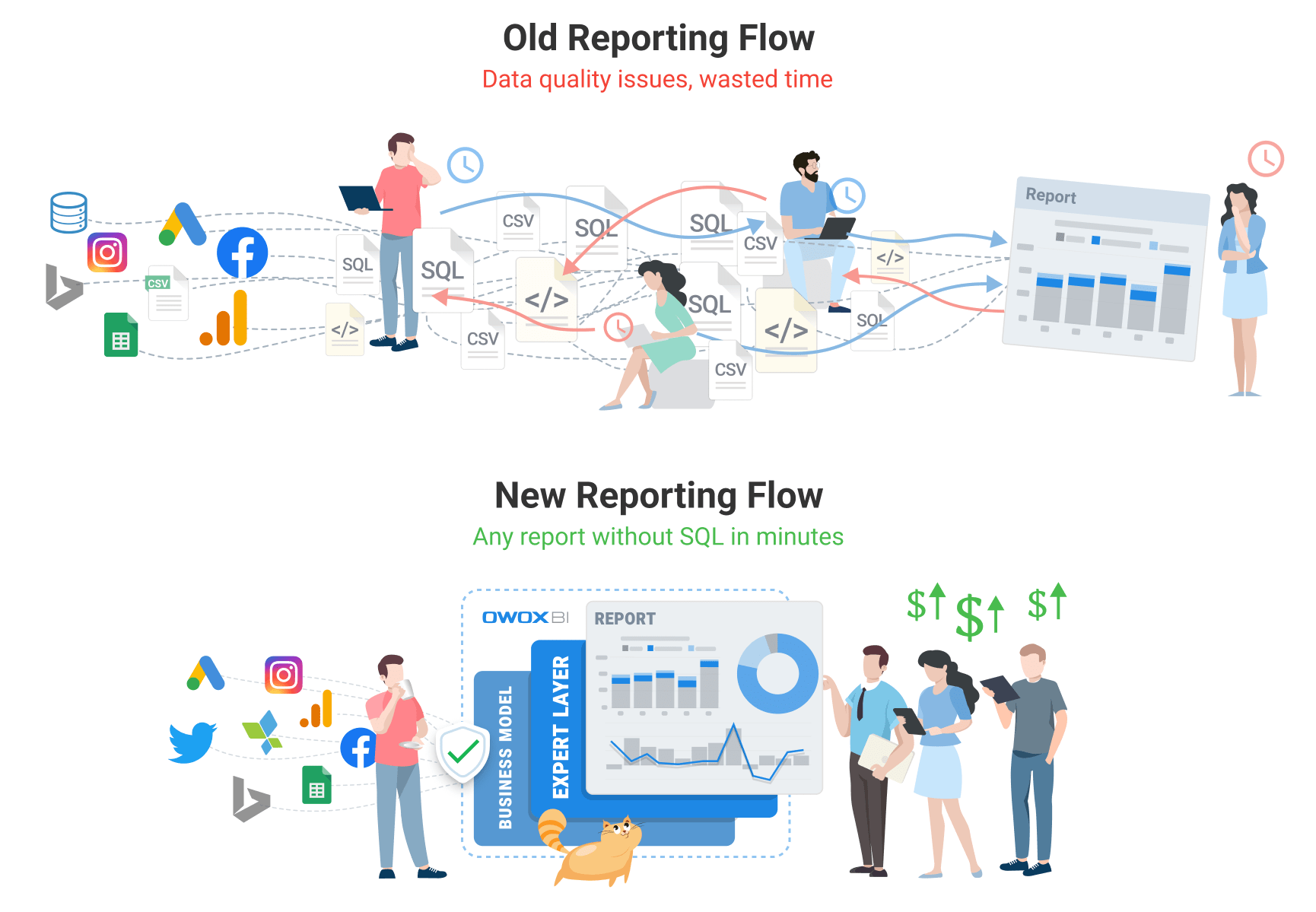 What steps should you take to make this magic work for you?
Step 1. Collect all marketing data in Google BigQuery. Useful tip: Use OWOX BI Pipeline to quickly and efficiently collect your data and ensure the quality of data and the transparency of calculations.
Step 2. With the help of OWOX analysts or your own, build your company's data model. (You only have to do this once!)
Step 3. Select the parameters and metrics you want to see in your OWOX BI Smart Data report and get ready one in a couple of minutes.
Step 4. For your convenience, you can easily export reports to the data visualization service or your all-time favorites Google Sheets and Google Data Studio.
Important! The new Google Analytics 4 and its new data structure aren't scary anymore! Your reports in Smart Data are safe: If you make any changes to data, they are reflected in all reports at once at the data model level, and nothing breaks.
Moreover, OWOX BI Smart Data doesn't limit your business to one attribution model. You can choose any standard model or our algorithmic multi-channel model and see how calculations change in reports to select the most suitable model for your business.
Smart Data reduces the time between needing and getting a report from days and weeks to minutes. It also frees analysts from the routine so they can perform more interesting and complex tasks. Sounds amazing? Book a demo to find out how Smart Data can help you today!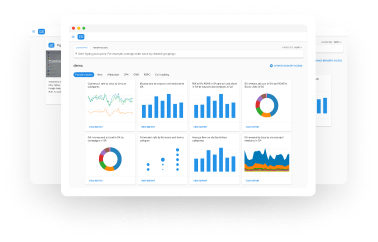 Our clients
grow 22% faster
Grow faster by measuring what works best in your marketing
Analyze your marketing efficiency, find the growth areas, increase ROI
Get demo
Key takeaways
In recent years, data analysis technologies have changed along with the needs of business users. Traditional static dashboards no longer meet the demands of a constantly changing digital world. Dashboards are dead; long live ad hoc reporting!
By using modern services such as OWOX BI Smart Data, non-technical business users can bring their marketing analytics to a higher level and get better outcomes from data.