Complete implementation of Google Analytics 4
Vlada Malysheva, Creative Writer at OWOX BI
Mar 17, 2022
The transition to Google Analytics 4 is an inevitable reality that most companies will face shortly. OWOX helps to make this transition as painless as possible, save the necessary reports, and receive new ones without the need to understand the new data structure and rewrite SQL queries.

Due to the extensive experience with Google products and high expertise, the OWOX team has already helped successfully implement Google Analytics 4 to many large companies.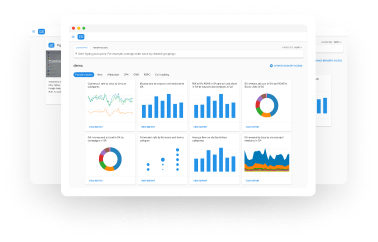 Our clients
grow 22% faster
Grow faster by measuring what works best in your marketing
Analyze your marketing efficiency, find the growth areas, increase ROI
Get demo
How OWOX helped to implement Google Analytics 4
Google Analytics 4 is significantly different from Universal Analytics. Tracking points and metrics, data schema, report configurations, and even the user interface have changed. Therefore, Google Analytics 4 must be correctly configured to receive high-quality data in reports. What steps are made by OWOX analysts:
Create and configure a property in Google Analytics 4.
Install the Google Analytics 4 tracking code with Google Tag Manager. Check the quality and completeness of data transferring for page views in Google Analytics 4.
Activate the enhanced measurement events collection and check how they are transmitted to Google Analytics 4.
Activate the Google Signals in the Google Analytics 4 property.
Consult the customer's marketing department on how to set up the integration of the Google Analytics 4 resource with Google Ads.
Link the Google Analytics 4 property to the Google BigQuery project.
The team provides the workshop on the basic functionality of Google Analytics 4 and answers questions from the customer.
Set up Google Tag Manager to send data on custom events to Google Analytics 4. Ensure that the custom events prescribed in the brief are correctly collected in Google Analytics 4.
Set up Conversion Events.
Automatically import Non-Google ad cost data into Google Analytics 4 with OWOX BI
Find out the real value of ad campaigns
Automatically import cost data to Google Analytics 4 from all your advertising services. Compare campaign costs, CPC, and ROAS in a single report and make fully-informed decisions.
Configure Google Analytics 4 right now
We recommend that all our customers start collecting data in Google Analytics 4 parallel with Universal Analytics. There's no time to wait until the Google Analytics 4 is settled on the market, and its features will be studied in detail by more visionary companies and competitors.
Note! Universal Analytics will be shut down on July 1, 2023.
Using parallel tracking, you can compare both versions, explore new features and the interface, and accumulate historical data. The sooner you install Google Analytics 4, the more historical data you collect.
The OWOX team will help you design and implement metrics and set up parallel tracking correctly.