In this article, we talk about the role of analytics in marketing and why it continues to become more relevant. We consider the stages of development, common misconceptions, and best marketing analytics practices. Separately, we focus on the goals that, in our opinion, should be set before marketing analysts for business growth.

We hope that this text will help you understand the stage of marketing analytics in your company and what you need to do to move on to the next stage. You will learn about the technologies and competencies necessary for the implementation and development of marketing analytics, you will be able to make a plan in advance, budget the necessary resources, and take into account any nuances.
Marketing analytics from OWOX BI helped hundreds of projects of various sizes solve their challenges: increase ROI, reduce advertising costs, and boost sales. Sign up for a demo — and we'll discuss how OWOX BI can be useful to your business.
Table of contents
The role of analytics in marketing
For starters, let's take a look at some interesting numbers from research related to marketing analytics:
For the second year in a row, businesses around the world are reducing spending on marketing. At the same time, the share of spending on analytics is growing. Now it's about 9% of the advertising budget.
In businesses that fail to cope with growth plans, according to 37% of CEOs, the most important thing is to change the CMO. Therefore, marketing directors are vital to meeting plans and achieving growth goals.
78% of CMOs boost marketing ROI by using marketing analytics to shape strategy.
Stages of development of marketing analytics
Let's look at the five main groups of companies that use marketing predictive analytics and assess what their growth zones are, what the main misconceptions are, and what can enhance marketing analytics in their business.
1. A start-up online project
Features:
The advertising budget is up to $100,000 a year.
There is no dedicated marketing analytics team on staff yet. These functions are performed by a marketer or agency.
The goal is to find and scale cost-effective campaigns.
Restrictions:

There is no allocated budget for analytics. Most likely, the budget for advertising is allocated with a horizon of one month.
The annual marketing budget is constantly reviewed because it depends on the operational results of the business.
There is no data needed to make decisions. Most decisions are made intuitively.
According to our observations, the following misconceptions are common in start-up online projects:

"Analytics is justified in the unobservable future when there will be surplus profit or excess budget."
"It's impossible to measure some metric — everything needs to be done intuitively." Or another extreme: "Now we will measure everything, and everything will suddenly improve."
In contrast to these misconceptions, it's worth highlighting best practices that allow companies to get through this stage faster and grow:

Explore market best practices: what tools are used, what KPIs are calculated, and what reports are built first.
Watch the benchmarks. Most of the top ones are known: they are conversions, traffic, and the cost of attracting a customer. Focus your marketing team on surpassing these benchmarks.
Finally, some classics: set up Enhanced Ecommerce in Google Analytics and automate reports in Google Sheets.
These three points are enough to develop a start-up or even some mid-level businesses.
Self-test questions for a start-up business:

Does your marketing have goals in terms of Google Analytics? Can they be promptly measured and tracked?
Do you know how Google Analytics indicators relate to your business metrics? Clearly, income and profit in CRM are different from online data. Therefore, it's important to understand, for example, how many online transactions need to be attracted to get a certain profit or number of confirmed orders in CRM.
2. Average online store
Now let's see what characterizes the average online store:
Advertising budget from $100,000 to $1 million per year.
There is an analyst who does not only marketing but also product analytics, business reports, etc.
Marketing reports are collected manually in Google Sheets or Excel. This is done once a week or on-demand.
The goal is to grow sales. That's what helps the store survive. When the profitability threshold is already defined, it's necessary to maintain the growth rate with the specified CPA or ROAS.
In our experience, 5% of such businesses have Google Analytics 360. Admittedly, many of these projects have GA 360 as a maternal business license, meaning it was not independently acquired. Yet they already take advantage of it.
Restrictions:

Analytics requirements are built, but there are no resources to implement them. For example, you can allocate time to developers or individual specialists who will work with reports.
There is an understandable budget for marketing, but no one separately budgets martech and experiments.
Let's see what misconceptions are found in average online stores:

"We will hire a cool agency that will build dashboards and everything will be fantastic. It will be clear where to and where not to invest."
"You just need to attract more traffic."
"All you need is to set up Google Analytics."
These statements rarely lead to success. It must be understood that marketing is not an independent function in business. Any metrics have value and meaning when combined with primary business data. If marketing indicators exist in isolation from business data, for example in a specialized service (like GA), their value will be low.

It's not enough to simply transfer orders through Measurement Protocol from CRM to Google Analytics. To solve the problem, you need to use best practices:
Define and measure the digital marketing metrics that will be at the intersection of online and business. This will allow marketing to be clear at the business level, to focus its goals and advertising budgets on the growth of the company as a whole.
Collect raw data into the DWH (database) you control and combine marketing and business metrics.
Start regular meetings with one main dashboard. And then the answers to the questions "Well, what are we doing with the advertising campaigns?" or "How are we executing the plan?" will be available to all team members at any time. The dashboard may not answer all your questions, and insights may be generated based on some in-depth data, but at least at the top level, a dashboard is desirable.
Questions for self-testing CMOs of a mid-range online store:

Does everyone in the marketing team really understand how businesses assess their effectiveness and know where to look for the result? A frequent mistake which we met: the marketing team thinks that the goal, for example, of paid channels is the number of conversions. In the meantime, the marketing director is required to attract new customers or ROAS, measured in profit. And these indicators themselves are not available or are even unknown to staff and managers who work with advertising channels.
Do you know where the data you want is stored? Often ignorance in this area causes data to be lost, unused, or misused.
3. Omnichannel retailer
What characterizes omnichannel retailers:
The advertising budget of $1 million to $10 million per year. The amounts are so high because online advertising brings results not only on the Internet but also in physical stores.
Often work simultaneously with several advertising agencies. One, for example, manages social networks, the other — Google, the third one — Yahoo.
Such businesses already have a marketing analyst. Google Analytics 360 is used by 30% of companies.
The goal is no longer just growth but the market share that the retailer occupies. It is measured by external indicators, for example, by GFK. The goals also include attracting new clients. This metric is difficult to measure with GA because there is no sign of whether this user has made a previous order. In GA terms, a new visit is just a cookie that hasn't appeared on the site before, so it's difficult to set up a goal like orders from new customers.
Therefore, it is difficult to evaluate advertising channels separately in terms of attracting new clients and returning existing ones. This leads to a contradiction between the goals of the advertising service and the business. The advertising service analyzes the overall contribution to the business and measures conversions in general (in any GA report you will see cuts by campaigns in association with the total attracted revenue). And for business, another thing is important: whether the order is made by a new customer or not. It is often not possible to understand this using the data in CRM.

Restrictions:

There is not enough internal expertise to introduce new technologies. Therefore omnichannel retailers actively cooperate with specialized agencies.
Poor planning quality. Big business is a big responsibility, so plans and forecasts must have justification, be monitored and executed. The small volume of proprietary data and the lack of market availability severely limit the quality of such planning.
Analytics is most often built in retrospect, and plans are built simply in Excel. What do we mean "in retrospect"? We see numbers at a moment when we can no longer influence them. They relate to the past. The plans themselves are built on some expert opinion and at best on logistics regression. And beneath the plans, there is no machine learning or more advanced technology that could exploit market trends.
Popular beliefs:

"Our brand will save us." Indeed, brand traffic is better converted, but it doesn't scale.
"Performance channels are not very important." Online businesses are successful and often compete with omnichannel retailing precisely because they work more effectively in the field of performance channels.
"Online targets cannot account for ROPO revenue and business goals." For example, goals that are passed to Google Ads through automatic conversion tracking don't account for revenue generated by customers offline. This means that the placement of weights and bets takes place only on the basis of online conversions. At the same time, the mood and health of the business are not only generated in an online store but the are also income in general. It turns out to be a paradox: the better the company engenders purchases offline, the more undervalued it looks from the point of view of online. Less attention is given to the allocation of budget and rates online, which is contrary to the interests of business to profit in general.
"Our internal ERP has all the data we need to make decisions." Indeed, most omnichannel retailers have already implemented ERP, built a system of collecting data on customers and sales. But that's not enough for growth. Unfortunately, such systems lack information about the so-called "lead indicators" that precede business growth. For example, sessions, transitions from advertising services, access to the main page, breakdown by region — this all allows marketing to attract the target audience. As you know, sales are a lag indicator with which nothing can be done for past performance.
Best practices:

Define metrics and data segments in each of the online marketing areas of responsibility. For example, you have a top-level task for a year — to attract the maximum number of orders with specified ROAS and CRR. This task should be separated into different channels: paid search, social networks, email, etc. Then, in each of these areas of responsibility, formulate metrics and targets that are easy to track and measure. With this approach, there can be very effective teamwork.
Make a forecast for each metric and track its deviation from the plan. The key here is that it's necessary to compare not the fact with the plan, but the forecast with the plan. If your forecast is automatically updated based on market trends, you will learn about risks and growth zones before the plan turns into a fact, that is, time will pass and you will no longer be able to influence it.
Discuss the deviation of the plan from facts and forecasts from the plans at regular meetings. For example, at a meeting, you see that the sales plan is 2% from being complete. The question is: "What is the reason?" Hypotheses begin. The following meetings are assigned where you view the data in different sections and try to understand in which segment the plan is more deficient.
In businesses of this scale, this work should be done before the meeting. If we see that the plan is not being implemented, we can build a summary table of the segments and metrics we can influence in advance.

Questions for self-examination:

Do you know how online advertising affects the results of the business as a whole? Does your CEO believe this dashboard? This allows marketing and business to be focused on common goals.
What part of the decisions do you make on the basis of forecasts, not accomplished facts? If this share is 30% or higher, then you have a well-developed culture of predictive analytics that allows you to influence the future rather than analyze the past.
4. Marketplace
Features:
High internal expertise in analytics and online marketing.
The advertising budget is most often situational, many experiments are carried out.
The goal is the growth rate and market share.
Restrictions:

More ideas than a developer resource.
Technological limitations of advertising services (which are rarely encountered by other businesses). Let's say some mechanics have been invented to manage the customer journey and marketing mix channels. A great idea that can only be implemented on a small proportion of traffic due to technological limitations in audit procurement tools from advertising services.
It is unclear how to measure non-online channels. Marketplace most often already has a good data-driven culture. Restrictions in the field of measuring outdoor advertising most often constrain channels that are designed to increase brand recognition and audience loyalty.
Common misconceptions for marketplaces:

"We will do everything by ourselves. Someday."
"We have all the data inside, it's all right." But new data is constantly generated, so most often data that have already been collected are not enough.
The bet is not technology that depends on a particular person. When one of the talented analysts or marketers changes the place of work, the business is forced to roll back, as the expertise was possessed by the person, not the products and tools he used. Therefore, individual solutions stop working or work less efficiently.
Best practices:

Integrate open solutions into your internal business infrastructure, such as open-source or services that provide full access to data.
For self-testing, we offer a key question:

How often do you hear phrases like "Our database is failing, it takes a couple of months to switch" or "Alex doesn't work here anymore, it is going to take time to figure out how he set it up"? The absence of such phrases is a sign that you have an effective marketing analytics system.

5. Banks, financial companies, telecom
Separately we will focus on leading businesses: banks, financial companies, telecom companies etc. They also include restaurants to some extent if their job is to create a stream of customers who fill in application forms on the site.
Key features:

A large number of calls and leads are received from the site. It is not net income.
For online in such businesses, less than 20% of the total advertising budget is allocated to analytics. Most of it goes to TV, outdoor advertising, and online — works as support.
The goal is the number of applications from the site and their cost. Google Analytics 360, according to our observations, is used by 22% of companies that spend more than $100,000 a year on advertising.
Restrictions:

Requirements of security service. Since the work is with finance and personal data, any changes in tracking systems and data services should be confirmed with a security service.
You can only change something on the site in Q5. The resources of the team that implements changes on the site is very limited. Marketing needs to make many prompt changes to the site. And for telecom companies and banks, this most often involves approvals and large-scale plans.
Popular beliefs:

"Everything will solve itself somehow, the main thing is to sit still."
"We are special, we don't need online, it doesn't make a significant contribution to the business."
Both, in our view, are far from the truth.
Best practices:

Save Client ID to internal requisition database.
Upload the result and value of online applications to Google BigQuery. You must use an anonymous requisition ID to upload. Personal data is certainly not needed here, even a financial result is optional. But some criterion is needed that will compare the value of applications with each other, for example, on a scale of one to five.
Question for self-examination:

Do you know how much money online advertising has brought to businesses in general and can you prove it? The key is that it isn't necessary to use only online analytics data to answer this question with a yes. There are very good market studies that operate in a whole about the role of online advertising in your business.

How and where to develop marketing analytics
To be responsible for the use of the advertising budget and its efficiency, we consider it justified to set these goals before colleagues from the analysis department.
In our belief, the best thing a marketing analyst can do is find growth zones and risks to achieve marketing goals. To do this, he performs the following tasks:

Combines data from advertising sources and CRM / ERP.
Sets up attribution models and marketing channel assessments that are consistent with business goals and strategies.
Automates advertising campaign reports. If a one-off report is of understandable value and answers questions from decision-makers, it must be automated and available at any time.
Finds valuable insights into the sales funnel. Retrospective analytics (when an analyst serves simply as an interface to data and is involved in generating on-demand reports) should not be the core task of a talented analyst. He must proactively analyze data, on his own initiative, find insights that allow businesses to achieve goals earlier, and avoid risks.
We want to share with you an example of how to perform these tasks using Google Sheets. We are supporters of using already familiar tools for business, such as Tableau, Data Studio or Google Sheets. And, frankly, we are skeptical of specialized tools that require the user to study an additional interface.

Planned values

The screenshot below highlights the sections and periods in which results are monitored in red. For example, here we see that the planning horizon for business is one month. It's clear that it can also be weekly. And the evaluation of the results, in this case, takes place in two sections: traffic channels and regions. It is clear that the paid advertising manager or email marketer of these sections may have more, it may deepen to the level of campaigns or device types, but for the marketing director most often these two levels are enough.

Metrics here should be precisely those that determine the effectiveness of marketing as a whole. That is, what goals we set for ourselves. A good practice is to reflect the following in a report: the resource metric (most often it's expenditure), the metric of the result (in our example it is the number of transactions and income) and some lead indicator, for example, sessions, or traffic that we attracted.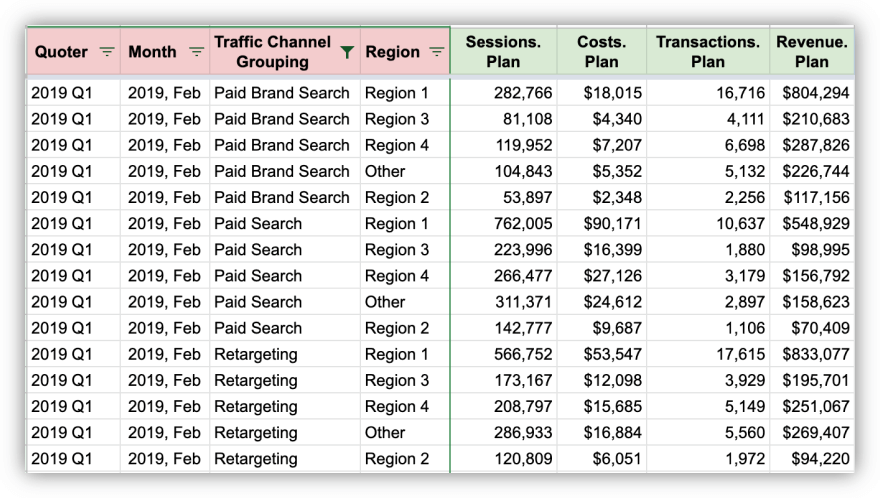 To make such a report effective, two more groups of metrics need to be added: actual and forecast values.

It's easy to add actual values if your data is already merged: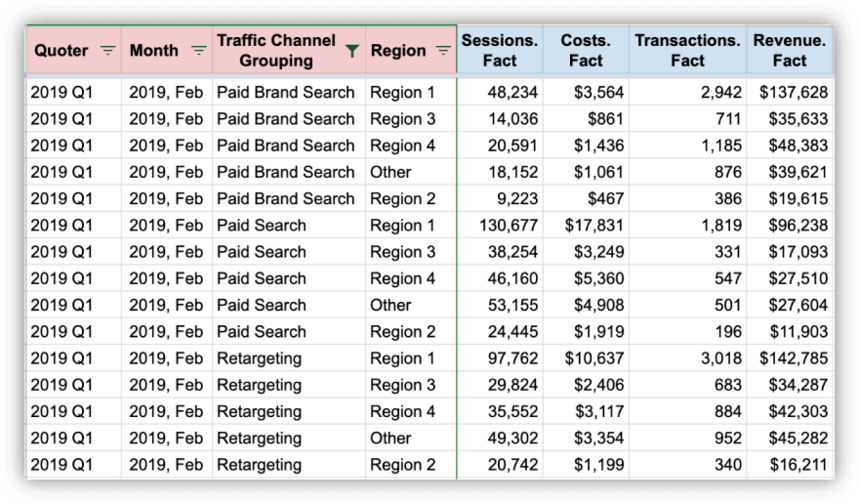 But forecast values are the most interesting metric that makes a report like this the most valuable for business: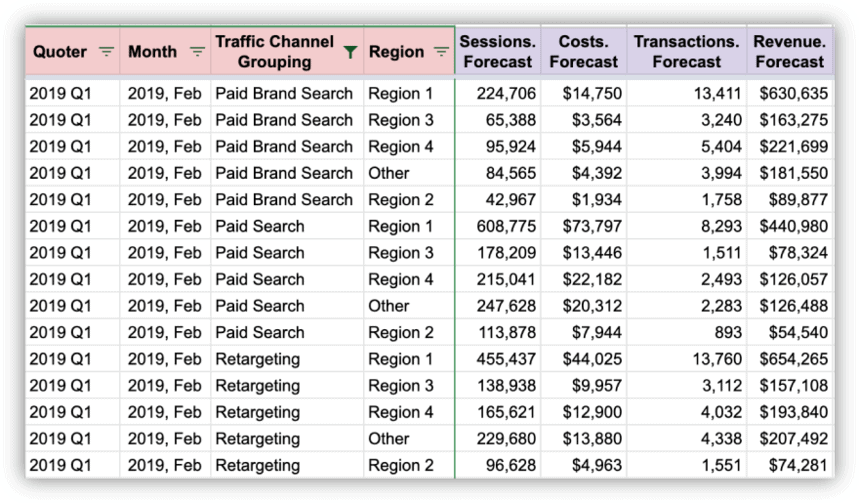 Combining fact, plan, and forecast, we build a simple summary table at the top level, which shows us the plan broken down by month (in this case we analyze income). Please note that for the current month (the screenshot was made in February) we have part of the income that we will receive according to the forecast.

On the simple chart on the right, you can see the following: the yellow line is the planned income that is defined by the business. Light blue columns are the projected income that counts based on the collected data and market trends (if you have access to them) and blue columns are the actual income earned.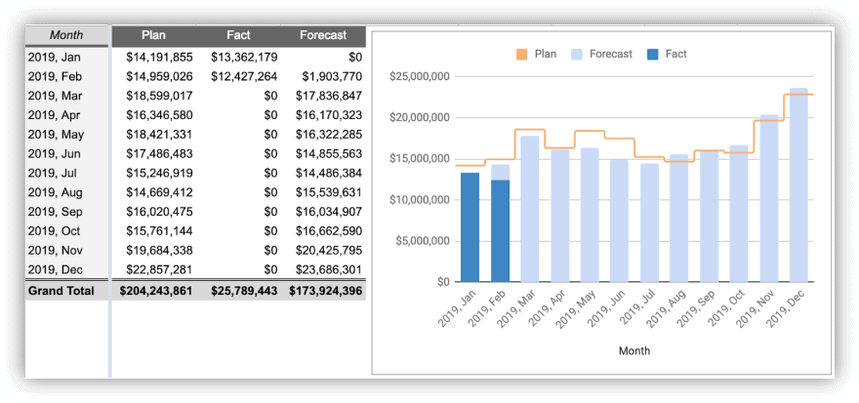 The forecast can always be built. The only question is with what accuracy. It is the quality of forecasting and the ability to find insights in forecasts that determines the level of marketing analytics in the business. Forecasting is a separate interesting topic about which you can read more in the article "How to predict growth areas and risks in a marketing plan based on data."
By breaking down the planned, predicted, and actual figures in the desired sections, you can build a table in the format you want. In the example below, you see metrics such as sessions, expenses, transactions, and revenue. ROAS or CRR may also be added. You then group the data in the table by the sections you need for analysis. In our example, these are months, channel groups, and regions: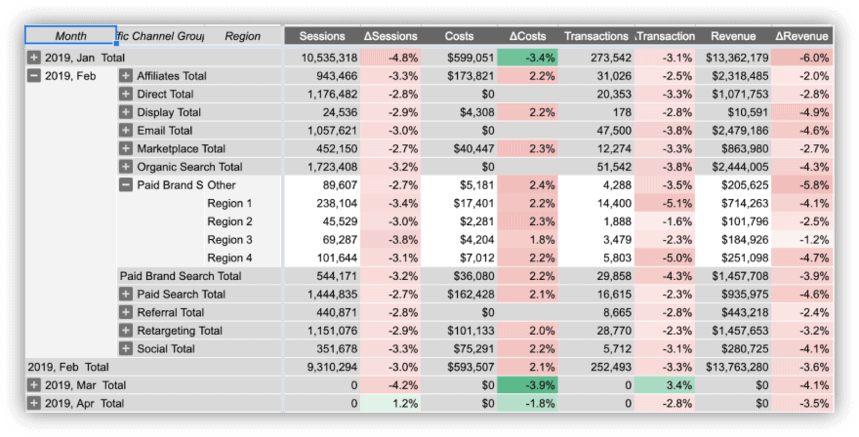 The value of this report is in pink columns, which show the deviation of fact from the plan in the past period and, most valuably, the deviation of the forecast from the plan in the future period. This makes it possible to take into account the trends that exist in advertising channels (an increase of CPA, an increase of traffic, fall of sales, etc.) before they become the past and we will not be able to make use of them.

If you want to get a template for a similar report, learn how it is built, and how to apply it to your business, sign up for a demo.