Data-driven marketing: the ultimate guide
Vlada Malysheva, Creative Writer @ OWOX
Mar 25, 2021
In 2022, when the whole world has been operating online for more than a year, it's difficult to imagine marketing in the old way without using Big Data. Modern marketing experts are well aware of the importance and necessity of data-driven strategies. High demands, expectations, and, of course, instant results for customers require informed decisions and actions based on specific data.

It's this approach that helps businesses succeed and reach the target audience. Let's look at exactly what data-driven marketing is and how a data-driven marketing strategy can help your brand to achieve its business goals.
Build data-driven marketing with OWOX BI. Service automatically collects all marketing data in a single convenient structure from your website, advertising services, and call tracking and CRM systems. Get up-to-date and unified data ready for further segmentation and reporting. No more spending time on data discrepancies and complex transformations.
What is a data-driven marketing
As the name implies, data-driven marketing uses large amounts of data to obtain actionable insights about user behavior. With this information, experts can predict customer behavior, create marketing strategies, and promote new products in the market, considering user behavior and taking into account other parameters.
With a changing digital landscape, the advent of new technologies, and the growing amount of available information about customers, it's tough to imagine marketing without data analytics anymore. The data-driven approach allows marketers to create an effective, personalized consumer experience.
The main goal of data-driven marketing is to increase the marketing department's productivity and customer experience with your brand. In other words, we're trying to achieve the most cherished highest ROI value.
In fact, the data-driven approach in marketing is like preparing for the birthday of a best friend. In our case, our client is our best friend. To avoid any mistakes with a gift, you need to know not only his gender and age but also where he lives, what his preferences and hobbies are. This data is used to create the most efficient selling solution.
And, of course, let's not forget about the sharp changes in user behavior connected with the pandemic. Restrictions and quarantine have accelerated the transition of most processes (especially in e-commerce) to online. Those changes that could take decades occurred in a year, and now marketers must live and work in a new normal, where you can't do without data-based solutions.
As you can see from the GlobalWebIndex research, this new spending mindset is already here.

Benefits of data-driven marketing
We've already figured out that the data is fuel for all marketing activities. With this important ingredient, you move from simple, general advertising to a personalized approach to each customer. Let's figure out the main benefits you get from using data-based marketing solutions.
Knowing who your customers are. Today, people use several devices at the same time, which inevitably complicates the work of marketers. In order to accurately reach the clients, the marketer needs to take into account that the client's behavior is different on different devices at different times. And, of course, for effective performance, the marketer must know the company's target audience.
Knowing what a client's journey looks like. With each interaction of the client with the brand, marketers receive valuable information. With it, specialists can analyze and understand the user behavior, and most importantly, understand how to improve the customer experience. It's worth noting that it's impossible to do this on your own — the amount of data is too large for manual processing. However, many martech tools come in hand to solve this problem.
The use of data-driven marketing allows not only to be ahead of the competitors but also to increase clients' loyalty to a brand. And the happy client will surely share the experience with friends and colleagues that, as a result, will increase brand awareness, user engagement, and trust in a brand.
In sum, decisions based on qualitative data are good decisions that help your company develop faster and raise income. Pure magic and a lifelong dream of any business!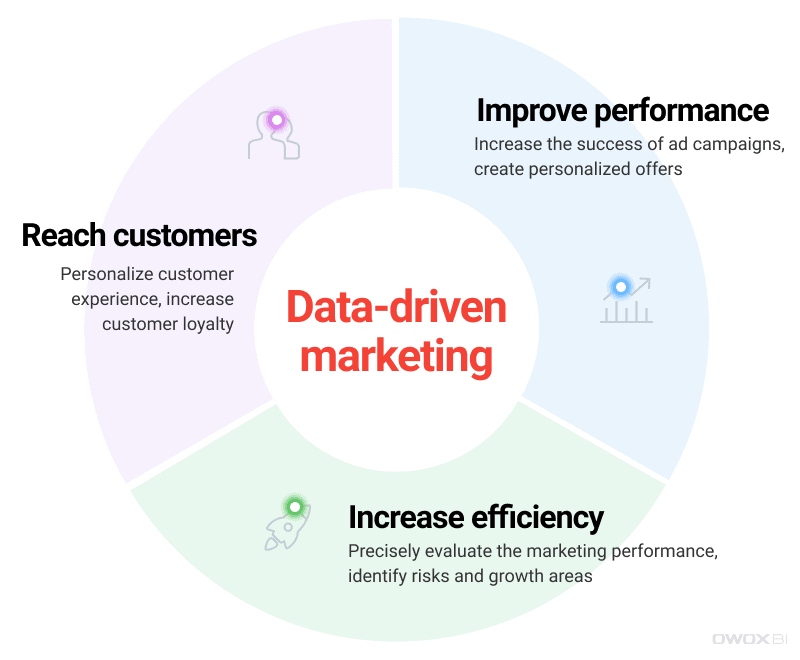 How to implement a data-driven strategy
The marketing department is always a cost item for any company. And the main task is to understand which part of the budget goes into the abyss and which part of the budget is correctly invested and helps the company increase profits. Specifically, the data-driven approach helps evaluate which solutions work, test various hypotheses, and suggest useful product promotion insights.
To configure the data-driven approach, you have to go through 4 steps
Data collection.
Data processing and analysis.
Data usage (hypothesis testing).
Performance assessment.

Data collection
New touchpoints constantly appear between brands and buyers, both offline and online (mobile applications, social networks, etc.). New detailed information appears at each stage of the customer journey and allows marketers to create selling content for various audiences.
Collecting data can be compared with gathering grapes or apples — the more hands at the same time are engaged in collecting, the better. But the ideal option is to set up automatic data collection. To begin this process, you have to consider the following:
Define data sources
Set up data collection
Don't forget that the best approach is to collect data and check it for errors automatically. Thus, you receive the data you need in almost real-time and clearly high-quality. If you want to get all these in one service, you should try OWOX BI Pipeline for collecting, cleaning, and merging raw unsampled data.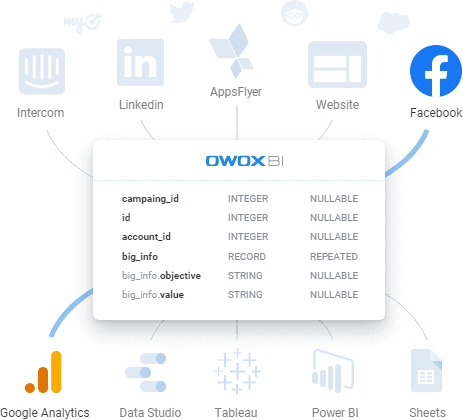 Data processing and analysis
Gathering information is just the beginning. Now that you have your data from all the necessary sources (advertising services, CRM, website, and mobile applications), it must be processed and turned into something extraordinary. Grapes are taken to storage and processed into wine, and raw, unsampled data is collected in one data storage and analyzed.
We recommend the use of cloud data storage, in particular Google BigQuery. Why? All marketers use Google products, so it's logical to use one that is part of the infrastructure and has native integrations with services. Also, BigQuery has plenty of other advantages — no additional burden on the company's servers, data protection according to Google standards, control over access to data, and much more.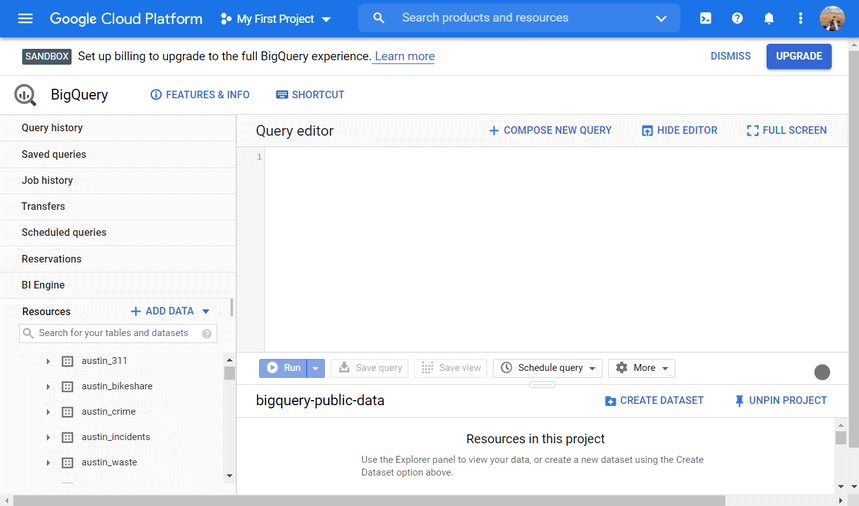 Two things are extremely important for the marketing department:

Obtain analyzed qualitative data to get valuable insights
Avoid complicated technical solutions
The first point is understandable — the data should work for you, and with the help of high-quality data, you can build reports to improve work efficiency.
As for the second one — the more data, the more complex the system becomes, the more difficult it is to see and correct the error. To service various systems and services may require significant resources and different specialists. An ideal scenario is a platform or service that provides everything you need: processes data, builds reports, etc.
Data usage (hypothesis testing)
After processing and analyzing the data, the next step is using the information received to change and/or improve the marketing strategy. With the help of data, the marketer becomes aware of where most of the traffic comes from, which channels and campaigns work best, and where the funnel's narrowest part is located. And, most importantly, through data tracking and analysis, a marketer can test various hypotheses to improve conversion and increase income.
Examples of hypothesis testing include:
Improving segments: by the probability of conversion, by profitability, by behavior, etc., and bid adjustments

Promoting products that may interest a particular customer
Sending automatic emails according to triggers, as a result of certain actions of customers on the website or in the mobile application
Performance assessment
The goal of any business is to generate income and its constant growth. Of course, evaluating the company's performance requires constant monitoring. And without quality data and regular reports, it cannot be done properly.
It's important to note that performance assessment depends on the company's goals and which parameters are key factors. The most convenient way to track changes in these metrics is by using automated dashboards. In this case, you can clearly see how successfully the sales plan is being implemented and quickly adapt your marketing strategy if necessary.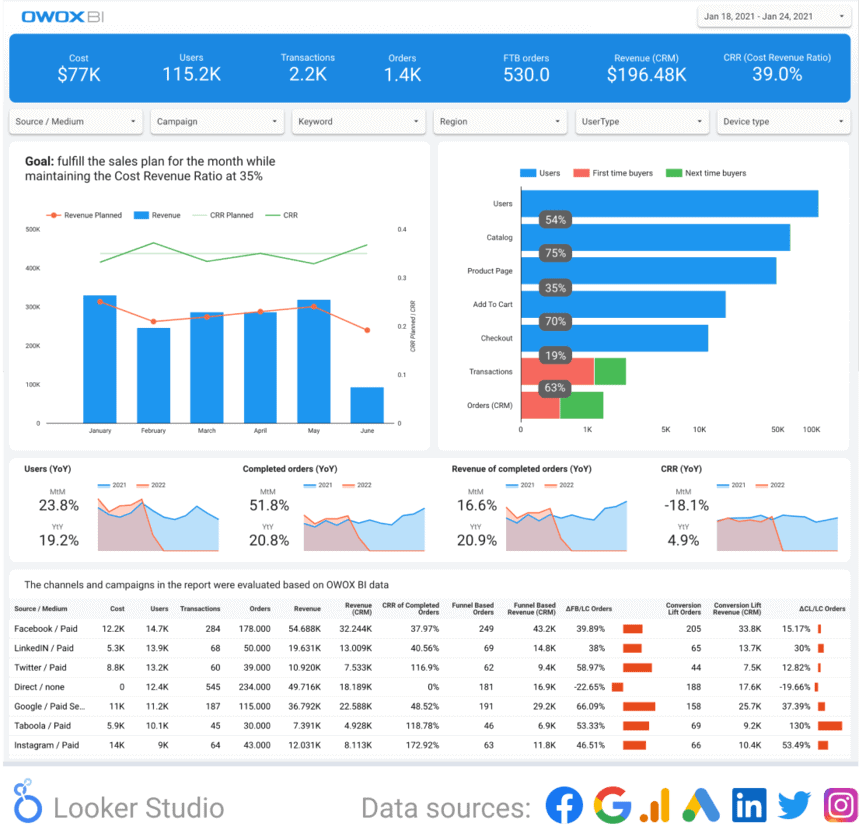 Among the most important KPIs for tracking in marketing are:
Profitability (ROI, conversion rate, etc.)
Website performance (traffic, sessions, etc.)
Traffic quality (trial and demo registrations, sign-ups and downloads, etc.)
Customer satisfaction and loyalty (CTR, bounce rate, etc.)
Brand awareness (impressions, mentions on social media, etc.)
If you want to boost your data-driven marketing and devote more time and effort to optimizing advertising campaigns, finding growth zones, and testing hypotheses, then you should use services that can help you save time and money resources. For example, you can use the OWOX service to analyze the effectiveness of campaigns from Google Ads, Facebook, and other advertising services on the same dashboard.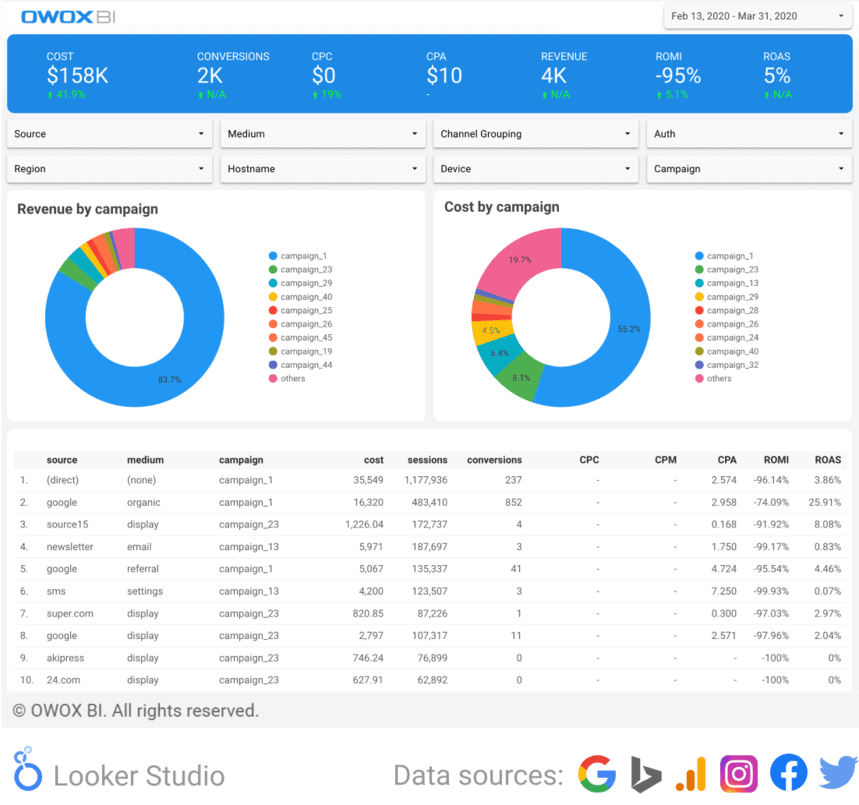 What are the main data-driven marketing tools
Choosing the right tool for work is extremely important since it's with their help that marketers can successfully fulfill their duties. Today, the market offers a growing variety of services that can be used for different tasks, such as data collection, merging, processing, and analysis, not to forget data visualization as well.
The first thing you should not forget about when choosing marketing tools is how appropriate and suitable they are for business. You should consider both the stages of development of your business (startup, medium-sized business, or large corporation) and the niche in which your business operates.
Criteria by which you can rate how appropriate a particular service is for business include:
Integrations. To build a functioning ecosystem, you must first ensure that all your tools can work in the same infrastructure. In other words, the more connectors, the better.
Data collection and processing. The ideal service tracks data quality, reports errors, and automatically merges, transfers, updates data.
Limitations. To avoid unpleasant surprises in the future, don't forget to check the services' documentation for any restrictions.
Cost. Compare the prices and functionality of different services to make sure you choose the best one.
Let's sort the most popular marketing tools according to two main work stages:
Data collection and analysis. Google Analytics, OWOX BI, Funnel.io, Improvado, Stitch, Supermetrics, CRM systems (e.g., Salesforce, HubSpot, Oracle), SEMrush, Kissmetrics, Weborama, Datorama, AppsFlyer, Adobe Analytics, etc.
Data visualization. Google Data Studio, Tableau, Smart Data, Looker, Power BI, Qlik, etc.
Note! Many of the mentioned services are all-in-one platforms and can perform and combine multiple functions at the same time.
Useful links
Key takeaways
The best and most effective way to make all marketing processes efficient and performance-oriented is to use data-driven marketing. With data-driven marketing, you can improve dialogue and interaction with your customers.
Also, don't forget that to achieve this, companies should use high-quality, verified data to improve their decisions. Moreover, for ease of work, collect it in one place, for example, cloud data storage. Thus, the data will be available to all employees, no matter where they are.
If you don't know where to start — sign up for a demo meeting with our specialists!
Gain clarity for better decisions without chaos
No switching between platforms. Get the reports you need to focus on campaign optimization
Book a demo
FAQ
What are the benefits of data-driven marketing?

Businesses can achieve several key benefits by using data to inform marketing efforts. These include improved targeting and messaging, better customer segmentation, increased relevance and personalization, and more efficient campaign optimization and measurement.

How can data be used for marketing?

Data can be used in various ways to inform marketing decisions and campaigns. This can include analyzing audience demographics and behavior to develop targeted messaging and creativity, using customer data to personalize messaging and offers, and tracking campaign performance to optimize future efforts.

What is data-driven marketing?

Data-driven marketing is a strategy that involves using data to determine the best decisions and actions to take in marketing campaigns. By collecting and analyzing relevant data, businesses can better understand their audience and create targeted campaigns that are more likely to be successful.