Decisions are the turning points in business development. To ensure a trustworthy basis for decision-making, you need reports based on high-quality data as soon as possible — the earlier you find an insight, the more valuable it is.

Trustworthy data indeed can reveal valuable insights about your business. But how can you find them? To facilitate and automate the process of finding insights in your data, you can use reporting tools of different types, with different levels of detail, and with varying degrees of complexity. Make sure you select the right tool for your business that satisfies your exact needs to see results as soon as possible.
Table of contents
What is reporting software?
Reporting software organizes your data from different sources and helps you analyze data by structuring it, arranging it in tables or charts, and visualizing it. This is how you can make information easier to parse and clearly understand your business processes. Good data reporting software provides you with the ability to get information in the necessary form as quickly as possible, since the value of an insight decreases with time.
However, this kind of software is oriented at organizing and visualizing information. Hence, to ensure the quality of reports, you need to collect, merge, and clean your data before uploading it to web reporting software. For that, you can use specialized tools such as OWOX BI Pipeline.
What types of reporting tools and software are there?
Reporting tools can be divided into the following types:
Self-service. These tools allow you to build your own reports based on internal information.
Visualization. Data visualization tools represent information graphically by using elements such as maps and charts to make information comprehensible and improve report design.
Business intelligence. Business intelligence tools help you discover actionable insights, frequently by using visual and interactive elements.
Application performance. These tools display data on how an application performs, how many users it has, how much revenue it brings, in which ways it brings that revenue, and other parameters applicable to a specific application.
Enterprise. These tools are aimed at preserving high levels of security and flexibility. They allow for custom structuring of company information into organized tables, charts, and dashboards.
Finance-related. These tools organize and find insights by analyzing financial documents such as cash flow statements, balance sheets, and income statements.
To identify the type of tool you need, figure out your business goals to see which aspects of your marketing strategy you need to cover using reporting tools.
Reporting vs business intelligence tools
Reporting tools are generally limited to compiling reports and structuring information. They're aimed at finding insights fast, even without sophisticated visualization.
Business intelligence tools, in contrast, handle a wider variety of tasks, including analyzing and visualizing information. They collect information from different business sources, transform it, and create charts to help you easily find insights.
What are the benefits of reporting tools?
To keep up with the pace of the modern world, automating as many processes as possible and using specialized tools is a must. Compiling reports manually is a durable and tiresome procedure, and the result frequently isn't worth the titanic effort.
Let's take a look at the main benefits of reporting tools.
Speed up the reporting process. By automating reporting, you significantly reduce the amount of time required to organize your data.
Create reports with the exact parameters you need. Some of the best web reporting tools allow you to customize reports: select the parameters you need to measure and compare them to adjust the reporting process to your business.
Find insights in raw data. Organizing data allows you to quickly discover valuable insights and act on them to achieve your business goals.
Visualize reports or integrate with visualization tools. Visualization software allows you to go one step further than regular table-based reporting: create charts and interactive dashboards.
Improve decision-making. Get reports based on necessary information, share them with your team members, and prove your decisions based on exact figures.
How to select a reporting tool: comparison criteria
To select the best fit for your business, you can compare the following criteria:
How data is processed. A good tool monitors data quality, can directly connect with sources, and automatically imports data.
Integrations. Find out how easily you can integrate a tool with visualization, business intelligence, or other services and how many data integrations a tool has to offer.
Report templates. Check if a tool has a library of ready-to-use templates; otherwise, see how easy it is to build a report from scratch.
Limitations. Investigate how many rows and parameters a tool allows you to include in a report, what the volume limits are, and how much time it takes for a tool to collect, transfer, and process information.
Pricing. Compare prices of different services and make sure the cost is reasonable for the features you get.
Let's perform a short reporting platforms comparison among ten of the best reporting and business intelligence tools based on the criteria above. You can use this list to find a simple reporting tool for project management, project planning, or other business needs you have.
Comparison of the best reporting and business intelligence tools
Reporting tools
1. Google Analytics

Google Analytics is one of the most widely used free reporting tools. It collects data on users' HTTP requests, cookies, browsers, and operating systems with a Google Analytics Tracking Code and transfers it to Google Analytics servers as a list of parameters. The servers process information within 24 to 48 hours, and then you can build the necessary reports in your account. You can integrate your Google Analytics account with other Google services, such as Google Ads or Search Ads 360. However, Google Analytics doesn't include information from non-Google products or your CRM (you can only import it manually).
In terms of limitations, Google Analytics can collect up to 10 million hits per month per property with the free version; to collect more hits, you'll need to use another service or upgrade to Google Analytics 360.
2. Google Data Studio

Google Data Studio is one of the best free report building software. With Data Studio, you can set up a connector to collect and compare your information, configure interactive dashboards, and create visualizations in Explorer — a space to explore the data you've collected.
You can build your reports using Data Studio templates from the Gallery.
Still, you should keep in mind that Data Studio has limits on collected data and has no official Google support.
Data Studio blends all collected results and performs slower if you have more than two data sources (in comparison to its processing speed with one or two sources). One option to overcome this issue is to collect all information in a single dataset in Google BigQuery and integrate it with Data Studio as a single source. For example, you can easily collect your data in Google BigQuery using OWOX BI.
3. OWOX BI

OWOX BI is a marketing analytics platform that collects unlimited amounts of unsampled data from various online and offline sources in one place (Google Analytics or Google BigQuery). OWOX BI merges, cleans, and arranges information from ad services, websites, Google Analytics, CRMs, and other sources in near real time. You can use the collected data to easily build reports with OWOX BI Smart Data or transfer this data to another tool, for example Google Data Studio or Google Sheets. As well, OWOX BI monitors data quality and supports dynamic UTM parameters.
OWOX BI offers multiple integrations, which allow you to automatically import your calculations to another BI tool or visualization service such as Looker, Tableau, or Microsoft Power BI.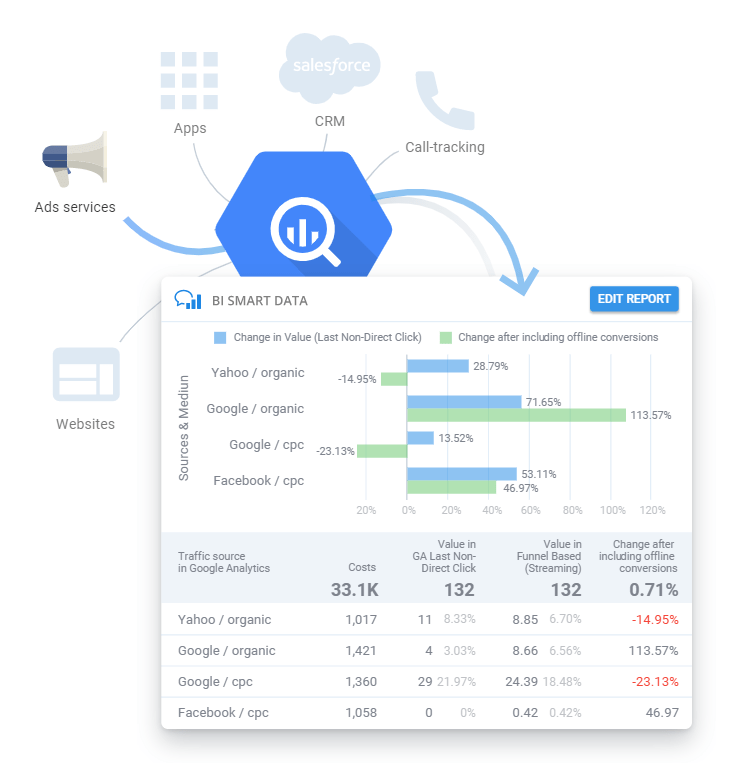 You can start using OWOX BI with a free plan, then upgrade to paid plans (starting from $42 a month) if you need more functionality.
4. Funnel

Funnel is an ETL (extract, transform, load) platform that collects your data and automatically cleans and organizes it so you can use it to create reports and dashboards with the metrics you need. Processed result then goes to the Funnel data warehouse, unless you select to store it with the help of another of the 500 integrations — for example, Google Data Studio.
However, you should take into account that Funnel doesn't stream user data from a website, doesn't monitor data quality, and doesn't support dynamic UTM parameters.
Pricing for Funnel plans starts at €499 per month.
5. Supermetrics

Another ETL platform you can use as automated report writing software is Supermetrics. This tool collects and processes your data with the help of APIs, then sends it to another tool you select from the available Supermetrics integrations (including Google Analytics and Google Ads).
As for Supermetrics' limitations, keep in mind that this tool doesn't monitor data quality and has no option to create attribution-based reports, so you would have to use another tool for these purposes.
Pricing for Supermetrics starts at $39 a month.
6. Improvado

One more cloud-based ETL platform is Improvado. This tool also uses a REST API to extract your data from various sources, clean it, and organize it. Next, it transforms data by merging tables and modifying the data structure. Finally, you can load the transformed data to the internal Improvado database or to some external storage (for example, Google BigQuery or PostgreSQL). You can integrate Improvado with other marketing tools, such as Google Analytics or Salesforce, with 180 available integrations.
Improvado has no free trial period, so you can't test its performance before purchasing it. Additionally, keep in mind that this tool doesn't collect data on user behavior and doesn't perform cohort analysis.
Improvado has custom pricing for data analysis.
7. Datorama

One of the best report-writing software is Datorama — an AI-powered analytics platform that you can use for data analysis and report writing. It collects and unifies your data in one platform, analyzes it, builds reports, and finds insights in them. Other useful functions Datorama has are automated predictions of goal completion and cross-platform management — you can adjust campaigns in Google, Facebook, and other tools connected to Datorama.
You should take into account that Datorama is mainly suitable for enterprises and B2B marketers, and for this reason plans are rather expensive.
Pricing for Datorama starts at $36,000 per year.
Business intelligence tools
8. Looker

One of the best BI reporting solutions is Looker — a cloud-based data analytics platform. It collects and merges data from different sources in an automatically generated LookML model. You can configure visualizations and dynamic dashboards, and a built-in code editor allows you to modify automatically generated models if needed. You can integrate Looker with Salesforce, PowerPoint, Confluence, and other tools.
Still, you should keep in mind that using Looker requires learning how the basic LookML model works, so before you start using this tool, you'll have to dedicate some time to it.
Pricing for Looker is custom and depends on how many users you have and how large the scale of your deployment is.
9. Power BI
Another business intelligence and data analytics tool you can use as automated report generation software is Microsoft Power BI. It collects and visualizes your marketing data and builds reports based on it. Power BI is quite convenient to use thanks to the similarity of its features to those of other Microsoft products (for instance, Microsoft Excel). You can also use Power BI to securely share the results with your coworkers and embed interactive reports into your applications. You can also use Power BI as project management reporting software, create project reports and status reports.
In terms of integrations, Microsoft Power BI offers more than 120 free connectors and cloud data sources such as Excel, Salesforce, and Azure SQL Database.
Pricing for Power BI starts at $9.99 per month per user for a shared environment and $4,995 per month for a dedicated cloud.
10. Tableau

Another solution for reporting is Tableau. It uses machine learning and artificial intelligence to collect and analyze your marketing data, which you can use further to visualize your results using simple drag and drop function. Tableau is partially based on the core query language VizQL. It translates visualization and dashboard elements into queries so you don't have to optimize them manually. As well, Tableau provides you the possibility to ensure extra security for your information with the ability to integrate your own security protocols. In terms of integrations with other tools, Tableau offers a list of native data connectors.
Pricing for Tableau starts at $70 per user per month.
Conclusion
To improve the quality of your decision-making, you should be able to get simple, structured, and visualized answers to your questions as soon as possible. Data reporting tools can be of great help, but they're extremely different in terms of functions and pricing. Make sure the tool you select can satisfy your business needs and serve as reliable grounds for decision-making.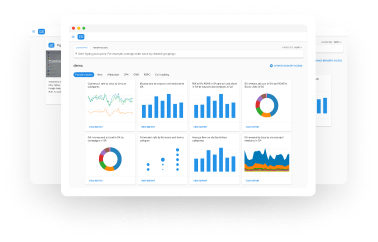 Our clients
grow 22% faster
Grow faster by measuring what works best in your marketing
Analyze your marketing efficiency, find the growth areas, increase ROI
Get demo
FAQ
What are the reporting tools?

Reporting tools are instruments that organize your data from different sources and analyze it by structuring it, arranging it in tables or charts, and visualizing it.

What are the best reporting tools?

What are the six types of reporting tools?

Self-service
Visualization
Business intelligence
Application performance
Enterprise
Finance-related