Can you imagine a modern marketer without a toolbox? The marketing analytics tools you work with define your place in the hierarchy and make your efforts efficient or a monkey job. But here's the thing: there's no perfect toolbox for each and every marketer. You have to choose your mix of tools based on your budget and your particular situation.
One way to choose analytics tools is to scroll through ratings websites. On these sites, you can find tools with many different capabilities and at many different price points, but you won't find all tools available on the market. Tools that aren't connected with big corporations and don't solve a particular problem may be not included. Also, you should remember that universal tools might not fit your needs, especially if they're free. And expensive tools aren't necessarily worth buying, because you may not use all the functionality.
Our best advice is to choose tools that solve your tasks. Let's take a look at the top-rated marketing analytics tools on G2 Crowd and consider what companies can use them efficiently and what they'll cost.
Table of contents
G2 ratings
OWOX BI
OWOX BI is an all-in-one analytics tool that collects data from all kinds of sources for any kind of business, merges marketing data neatly and clearly, and prepares reports based on collected data, including forecasts, data-driven attribution, and predictions.
With OWOX BI, you can tune your marketing mix more efficiently, implement instant reporting, send triggered emails, check the quality of website pages, find the growth zones of ROI, and decrease ad costs.

OWOX products are pain relievers for companies in the retail, ecommerce, financial, and other domains. You can try a free version of OWOX BI with all basic functionality and select a paid plan starting from $55 a month.
Find out the real value of campaigns
Automatically import cost data to Google Analytics from all your advertising services. Compare campaign costs, CPC, and ROAS in a single report.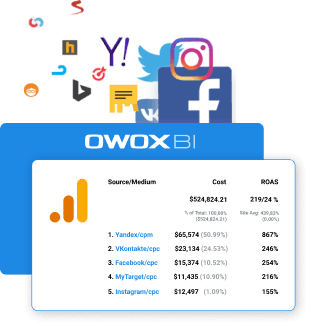 HubSpot Marketing Hub
The master of inbound marketing, HubSpot changed the game in 2006 and has grown significantly since then. Today, HubSpot Marketing Hub is one of the most famous all-in-one marketing, sales, and service tools. It even includes a free CRM. HubSpot integrates with Salesforce, though some popular online ad services (for example, Twitter) are not supported. At the end of the day, HubSpot can't honestly be considered one of the best marketing analytics tools because its analytics features play only a supporting role.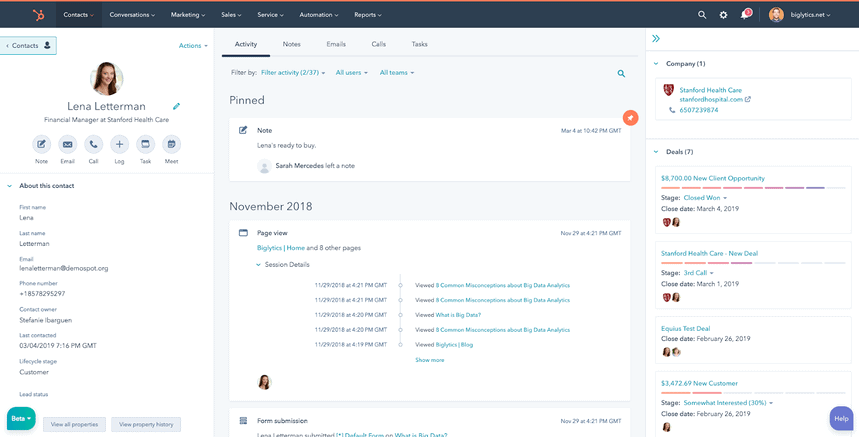 HubSpot is designed mainly for small and medium-sized businesses with the aim of marketing automation. There's a free basic version, and the Starter plan costs $50 a month.
Looker
Looker is positioned as a business intelligence (BI) system containing both sales and marketing data, reporting, and dashboarding functionality. It uses SQL Runner for advanced access to data when configuring reports and has a complicated setup process. Even those who are quite tech-savvy will find it takes some time to get along with this tool. But for true analysts, the limit of 5,000 search results included in reports is not enough.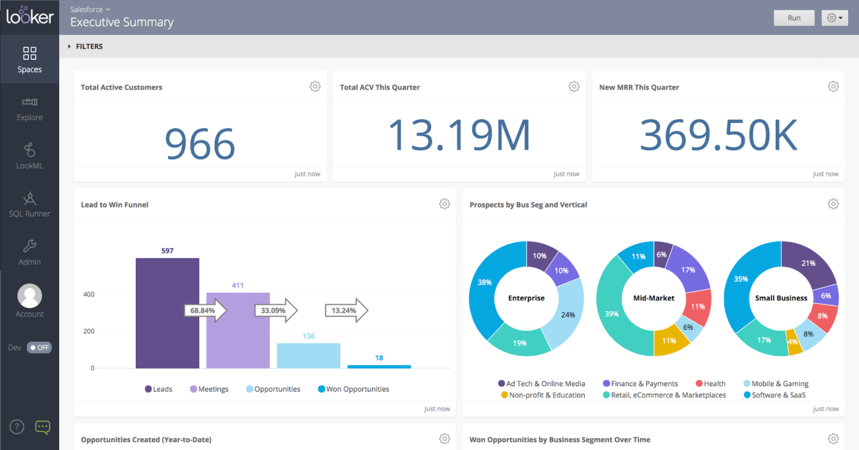 Looker is often used by medium-sized businesses and enterprises that are ready to introduce BI systems. A free version is available, but advanced features come at a high price.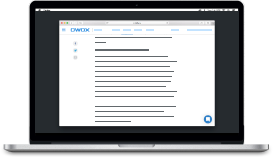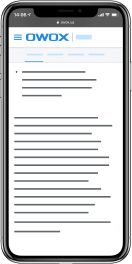 bonus for readers
30 handpicked Google Data Studio dashboards for marketers
Download
now
Mailchimp marketing platform
Mailchimp, founded in 2001, is one of the most famous email service providers. It's no surprise that the company has created a full-fledged marketing platform. This platform is now included in the list of digital analytics tools on G2 Crowd for its unique abilities to analyze your audience from email and other channels, help you enhance your content according to your brand demands, and help you launch improved ad campaigns.

Mailchimp's all-in-one marketing platform is built around email marketing and aims to help small businesses grow. So if your strategy includes a lot of email communication, try out Mailchimp. There's a free version, and paid versions start from $9.99 per month.
Insider
Insider focuses on funnel and conversion optimization, A/B testing, and personalization of the customer experience. It's rather fresh on G2 Crowd and doesn't have tons of reviews. Support is a strong side of this service. Also, Insider has strong analytics capabilities for reviewing results. The killer feature is predictive segmentation, which is key for efficient personalization.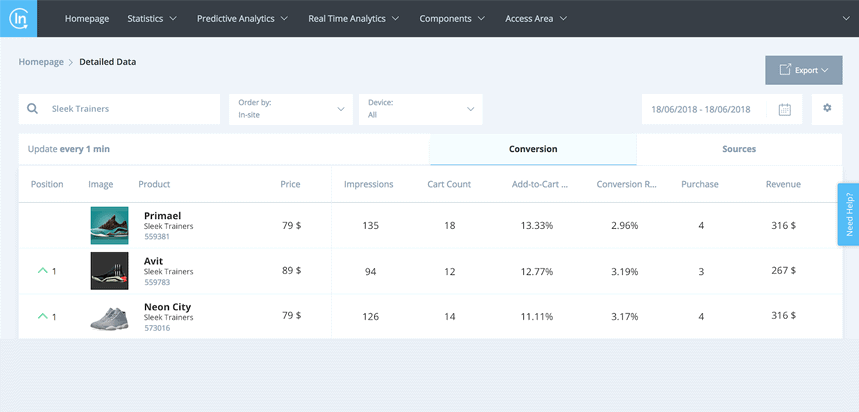 Reviews on G2 Crowd suggest that Insider is created for medium-sized and large businesses. The pricing is unclear, however, as it's not published on G2 Crowd or elsewhere.
You can find the full list of digital analytics tools on G2 Crowd here.
What does the marketer's perfect toolbox look like in 2020 according to a CMO?
We asked Margo Kashuba, the CMO of OWOX, to describe her perfect marketing analytics toolbox for 2020. Here's what she told us:
Google Analytics / Google Analytics 360
OWOX BI
Google BigQuery
Google Sheets
Google Data Studio
Amplitude
AppsFlyer
SEMrush
SimilarWeb
That's basically it. You need tools for ETL processes, including for merging data and checking its quality. You need something to keep afloat your main lead generating channels, automate them, and enhance them. And you need strong analytics and visualization instruments to make data-based decisions.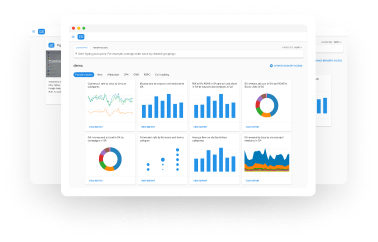 Our clients
grow 22% faster
Grow faster by measuring what works best in your marketing
Analyze your marketing efficiency, find the growth areas, increase ROI
Get demo
Are ratings the best way to choose tools in 2020?
Long story short, ratings are not the best way to choose your perfect toolbox. But reviews are. Find people who are dealing with the same problems and tasks that you're dealing with and learn from their experience using sales and marketing analytics tools.
You'll learn the most from honest feedback from your colleagues. Watch out for reviews that were created at the request of tool owners. To find them, just scroll across a couple of ratings sites or ask people on Reddit. See who answers you and check your info twice before making a decision.
Make your tools complement each other and constantly improve your toolbox so your marketing will be efficient and flourish!
FAQ
How is the price of OWOX BI calculated?

The cost of using OWOX BI consists of:

A fixed monthly fee based on the plan that you choose.
A variable portion that is calculated from the number of active users being processed by OWOX BI services.

Advantages of OWOX BI Attribution

Most of our customers use OWOX BI to objectively evaluate existing advertising campaigns and plan future ones. This is necessary to execute a revenue plan with planned return on ad spend (ROAS).
Here are the key reasons why we believe OWOX BI is the best choice for marketers.
1. Consider full data, ROPO sales, and revenue data from your CRM.
2. Objectively assess your advertising channels.
3. Set up a unique funnel for your business.
4. Learn how each channel works at different stages of the funnel.
5. Evaluate only managed channels.
6. Evaluate acquisition channels for different user cohorts.
7. Transparent algorithm.
8. Machine learning in the OWOX BI attribution model.
9. No limits on the minimum amount of data.
10. Get ready-made reports in OWOX BI Smart Data.
11. Use attribution data to manage bids and audiences.
12. Mature product, guaranteed results.

Why you need to gather raw unsampled data

Google Analytics is an undisputed leader among web analytics services. It's free, easy to work with, and it provides insights about the key KPI of online businesses. However, there are

limitations

in the system that prevent you from getting deeper into the data and exploring it from all sides.

1. The data you see in Google Analytics reports is always aggregated, and this process is beyond control.

2. Sampling, which can seriously distort your data and lead to wrong business decisions.

3. Reports can contain only a limited number and only specific combinations of parameters and key figures.

4. Limit on a number of lines.

5. Data processing time — If you use a free version of Google Analytics, you need to wait up to 24-48 hours for the system to complete data processing.

What is the main role of reporting in marketing?

Reporting is the final stage of measuring and estimating the impact of marketing on a business. Thanks to reporting, marketers can understand if their efforts were efficient, what errors appeared, and how they can avoid problems and improve their performance in the future. Correct reporting requires you to avoid

limitations

of Google Analytics to get true data in your results.

4 ways to gather raw data

1.

OWOX BI Pipeline.

2. Use Google Analytics APIs.

3. BigQuery export for Google Analytics 360.

4. Build your own connector.