Other integrations
Other → Google Analytics
We collect and process all the data you need to easily build any reports
From where
Service provider
Where to
Destination service
We collect and process all the data you need to easily build any reports
Upload Any Advertising Cost Data into Google Analytics
Collect information about non-Google advertising campaigns and measure their ROI in Google Analytics using OWOX BI Pipeline.
Start Free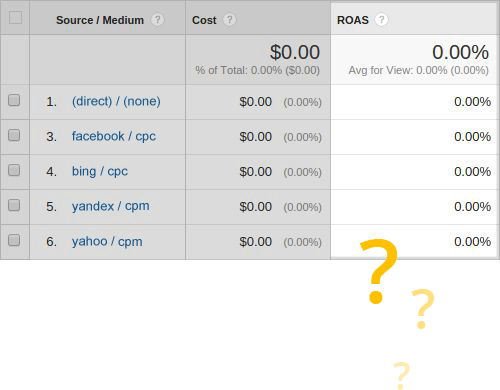 Calculate ROI of any non-Google ads in Google Analytics
If you run a number of different advertising campaigns in various sources it can be quite a consuming task to keep them all in order.
And it's even a bigger problem when it comes to measuring their efficiency, because cost data is stored in different systems.
Partly, the problem is that Google Analytics, the most popular analytics tool, is great for following detailed reports for AdWords campaigns and fails when it comes to automating data import for third-party services. But we've developed a solution, to bring all your advertising data into one surface.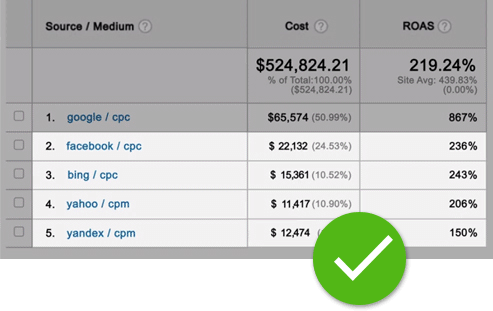 OWOX BI Pipeline
OWOX BI Pipeline automates cost data import from non-Google ad sources and enables you to see the ROAS of any advertising campaigns in the single interface.
Insights on your clicks, impressions, and cost information for any of your marketing activities will be available in Google Analytics reports. So, you can easily compare and analyze your campaigns and improve inefficient areas.
Upload costs from third-party services to Google Analytics today
To get started, you need to provide access to Google Analytics account.
OWOX BI Pipeline will automatically transfer your cost data into Google Analytics.
Sign in to OWOX BI

Sign into OWOX BI and create project, it's Free. Click «New Pipeline»

Provide access to your Google Analytics account

Provide access to your Google Analytics account and choose necessary property and dataset.

Specify VAT rate

Specify VAT rate, which should be subtracted and choose the view without filters, if don't have it, please create one.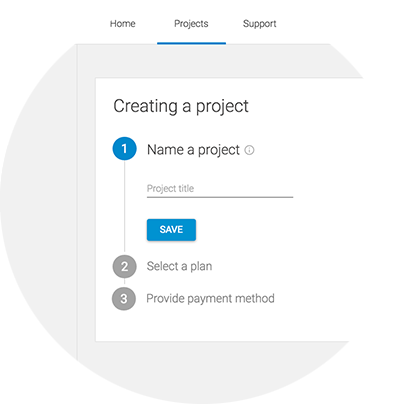 All imported data is stored only in Google Analytics: at any time you can adjust the list of people who can access it.
We use only official API and safe OAuth authorization.

We are not an advertising agency and do not sell ads.

OWOX BI Pipeline has been published in the official Google Analytics app gallery and is trusted by thousands of projects.
Pricing
Historical data import, months

The number of previous months for which you can import historical cost data
Historical data updates, days

We automatically update the data in Google Analytics if the statistics of an advertising
service is updated within the indicated time.
Cost data import time, hours

The maximum time period within which data is sent to Google Analytics after they become available
in the advertising service.
Fixed price (paying month-to-month)