Measuring your ROAS with business intelligence
Kateryna Milokhina, Creative Writer at OWOX BI
Sep 12, 2016
OWOX and
Ringostat
team up to tell you what ROAS (return on ad spend) is, and how to calculate it using Excel, CRM, call tracking and BI solutions — the tools every entrepreneur would be wise to keep close at hand.
Every business has its own lifecycle — the same applies to marketing. At first, a simple spreadsheet is all you need to account for incoming requests and sales. After that, you inch closer to the idea of a new, modern and flexible website that will be the basis of your sales funnel.
Eventually, you become familiar with web analytics systems, such as Google Analytics. You find out that these tools allow doing more than just data collection. They also provide opportunities for deep analysis of user actions — up to placing an order. At this stage, you get into email marketing, display and media advertising. This is the basic set of tools for small businesses.
When to start using CRM
A good problem to have: the growing customer email database now calls for segmentation of mailing lists. This is the first sign that your business is in need for additional data management tools. Since Excel is not enough for maintaining your customer database, you need to bring in the heavy hitters and get a CRM.
Fast-growing companies may face the fact that display advertising fails to bring the expected profit. The market is overheated, your sales team is systematically losing the customers you have, the product range is getting narrower and the prices for the goods and services are rising. This is when you need to optimize your advertising campaigns. For example, you can start using call tracking and understand which advertising campaign is most likely to generate phone calls.
At the same stage it also becomes clear that the company needs strict management that would streamline the work process. Ringostat reports are well suited for this purpose, providing data on the distribution of calls based on the days of week and time of day. Such reports allow you to optimize the work schedule and the lunch breaks of your employees and arrange meetings with customers at the optimal time. This is all based on the call center workloads.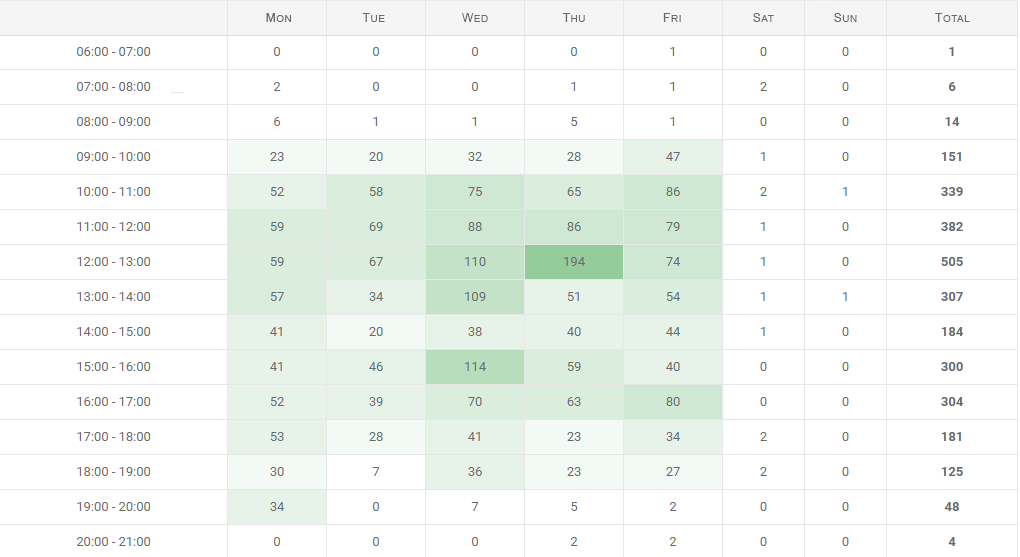 Using the information you glean, it becomes much easier for your business to introduce the right changes to management: appoint team leaders, plan training sessions on sales, introduce KPI (key performance indicators).
What tasks can Business Intelligence solve?
If you're doing everything right, you get a large amount of information you can benefit from. This includes information about user actions on the website, as well as the data on valid phone calls and missed calls. To gain extra profits, you should analyze all the data you get.
Mariia Bocheva recommends collecting data within a single system. This is especially helpful if you use many different tools (Google Analytics, call tracking, CRM etc.). The fact is that, the limitations of standard interfaces would not let you get all the benefits from your data. Thus, you get the incomplete picture of your business. It is especially important in those cases when a large portion of sales is made through offline channels—by phone or in brick-and-mortar stores.
To bring together all the information you have, you need a BI solution, for example, OWOX BI. This is a must-have tool for large businesses that deal with big data and face sampling issues.
OWOX BI will be particularly useful for online retailers who use multiple advertising channels. With its help, you can combine all the services and tools you are using into one analytical system. For instance, importing the data from a call tracking service into Google BigQuery allows you to keep track of each customer, regardless of the communication channel they use.
How to calculate ROAS and visualize data
Now that you've combined all the data into one system, and are confident that the data is accurate, you can start measuring cost efficiency. To do this, you need to collect it in a single interface:
Full information about revenue, including margin and offline orders.
Order completion rate (including the order status).
User data that is not collected in Google Analytics.
Cost data for all advertising campaigns.
You can also use call tracking that allows you to control:
The quality of the sales department performance, based on the number of missed calls, answer speed, and the efficiency of phone call distribution in the course of the day and time.
User steps from a click up to a call, using multi-channel funnel reports.
Conversion rate for calls in each of the advertising campaigns, down to the keyword.
By using all this data, marketing specialists can correctly calculate ROAS (Return On Advertising Spend). This indicator measures the return on ad investments. That is, the ratio of each dollar earned on the advertisement, to each dollar spent on the advertisement.
How to calculate the ROAS:
ROAS = revenue from the AC* / costs of the AC*
*AC—advertising campaign.
How to calculate return on advertising spend
If you are selling on a small scale, standard tools for data analysis will suffice. When it comes to larger businesses, where goods and services are designed for different markets and target groups, business intelligence is a must. How can you implement this?
Collect the data from:

CRM
Website
Call tracking system
Google Analytics
And other services

Bring all the data together in the single system (this is when OWOX BI comes in handy).
Create dashboards to monitor the main KPIs.
Only then move on to the calculation of ROAS and other performance indicators.
There are many tools that help you visualize data. You can use Google Data Studio, Tableau, Qlikview or simply Google Sheets. Choose the means for data visualization that fit your business needs and finances.
Conclusions
Call tracking systems and BI solutions are not always equally useful. Introducing these systems should be based on the current stage of your organization life cycle and the scope of your advertising activity. You also need to know how many customers turn to your company—based on the number, you can understand how great is the need in the use of analytical tools.
The purpose of any business is to get the most of the existing behavioral data. To do this, you need to calculate KPIs, work on improving the business processes, and improve the accuracy of your marketing efforts. To run a business more effectively, your company should start using omni-channel analytics. And OWOX BI can help you with that!