Semrush & OWOX research: The impact of COVID-19 on e-commerce
Vlad Flaks, CEO @ OWOX
Vlada Malysheva, Creative Writer @ OWOX
Feb 2, 2021
The COVID-19 pandemic in 2020 changed the whole world and made everyone accustomed to a new normal. And, despite the crisis in various industries, eCommerce is now very much alive. People will never stop buying: food, clothes, entertainment (and what else to do when you are locked up and cannot leave your house?), children's goods and animal goods, and so on.

Of course, online sales' rapid development has forced marketers to adapt to the new reality and revise their strategies. However, how to find out which businesses managed not only to survive but also to grow in such a challenging year?
OWOX analysts used Semrush service data to analyze the impact of Covid-19 on the online retail industry and find out the new trends on the market. Also, we asked influencers such as Nicole Leinbach Reyhle, Jason Goldberg, and Himani Kankaria to join us and discuss what has changed over the past year and what prospects are there for digital marketing in 2021.
Experts comments on their expectations and goals of 2020
What were your expectations at the beginning of 2020 and how it has changed throughout the year? Have you succeeded to achieve your 2020 goals?
''
2020 began with enthusiasm as it welcomed a new decade and anticipated new opportunities for business. This said, we know that was not the case and 2021 continues to lead with a lot of uncertainty. While not all of my business goals in 2020 were achieved, I did manage to be agile and adjust according to the marketplace which helped to keep my business afloat.
''
For 2020, we had predicted that content-driven campaigns will be one of the biggest eCommerce trends in 2020. And, we planned such campaigns for both B2B and B2C segments with the expectation of increasing the AOV and reducing the CPA for these segments respectively.
The campaigns kicked off really well until mid-February 2020. But, there was a sudden downfall in the conversions due to pandemic in most of our targeted regions such as the USA, UK, Canada, India, and more.

So, then the panic was to retain the existing conversion rates and not look at AOVs or CPAs.

March and April were the worst months because the sales were all-time low. So, we had a tough time explaining to the business owners that the time was not to get panicked but to plan for the next era.

Not just that, we started receiving more inquiries from the retailers and merchants who have been playing well on the fields, but now wanted to adopt digital strategies. And, we onboarded a few.

In May and June 2020, we started seeing some B2C orders falling in for the businesses selling groceries, stationery, home necessities or appliances, regular fashion (such as apparels, eyewear, etc.), and electronics (such as laptops, mobile phones, etc.). 

For B2B ones, we saw movements happening in groceries, stationery, and home essentials.

While the new ones were in the planning and development phase.

Some businesses geared up in terms of sales from mid-September 2020. They were the personal care products, premium or luxury gold and diamond jewelry, and real estate ones. 

A few businesses that struggle even in December 2020 are the ones with personal care products, premium gold or diamond jewelries, and real estate. They receive orders but the average CPA is very very high.

Having a varied size and type of businesses as clients, overall the e-commerce market is up. For most of our clients, we've achieved our goals while for a few ones, we're still struggling. But, if we talk about achieving our goals as a company then we have new clients even during a pandemic which says- it was not bad at all.

Semrush & OWOX research
Input Data
Sample based on Semrush service data: 272 billion visits to 7.064 websites of online retailers in the USA and Europe during the periods:
from March 1, 2019, to October 31, 2019
from March 1, 2020, to October 31, 2020.
Depending on the average number of visits per month during 2019, we've arranged websites into six groups by attendance:
From 1 thousand to 10 thousand
From 10 thousand to 100 thousand
From 100 thousand to 1 million.
From 1 million to 10 million
From 10 million and above
Less than 1 thousand
Websites with an attendance of up to 1 thousand didn't participate in the analysis since it's incorrect to use the panel data to evaluate them due to high measurement errors.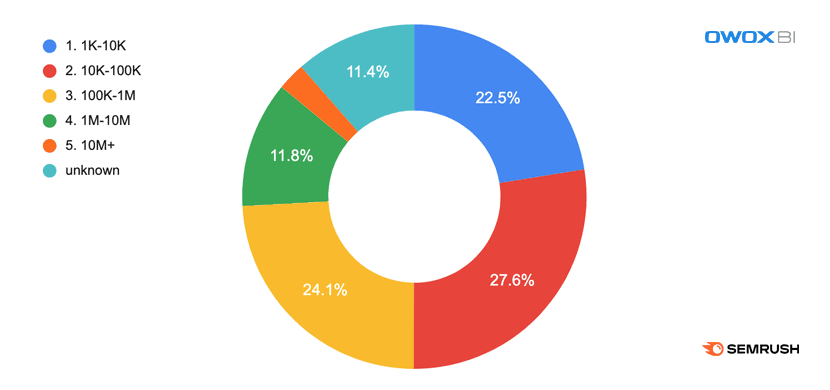 Results of the analysis
How much the website attendance has changed
The number of visits to online retailers' websites as a whole increased by 27%. In the table below, you can see the website growth figures in 2019-2020, according to the number of visits (all information was collected by the Semrush service).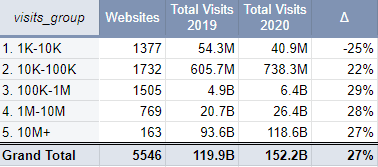 At the same time, there is an increase in each group's traffic except for the first one. We can assume that small businesses' online audience is most dependent on the possibility of physical contact with the audience and hasn't refocused, as a result — they've suffered the most.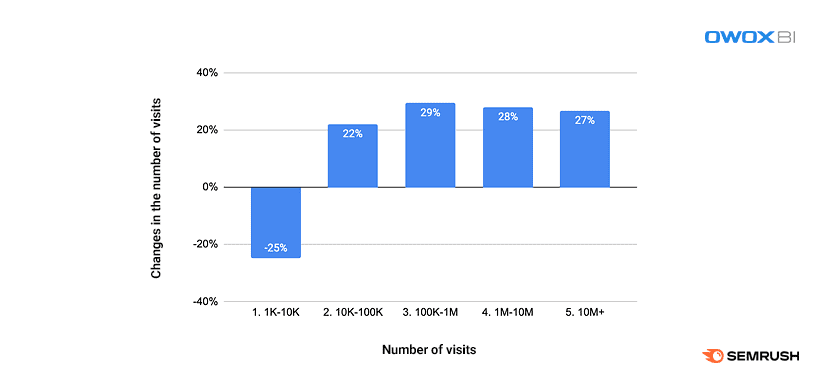 Self-test questions
Has your website's attendance grown larger or smaller than the market?
How to check:
Open the Audience Overview report in Google Analytics.
Select the desired date range.
Compare the change in the "Sessions" metric to the changes of your group.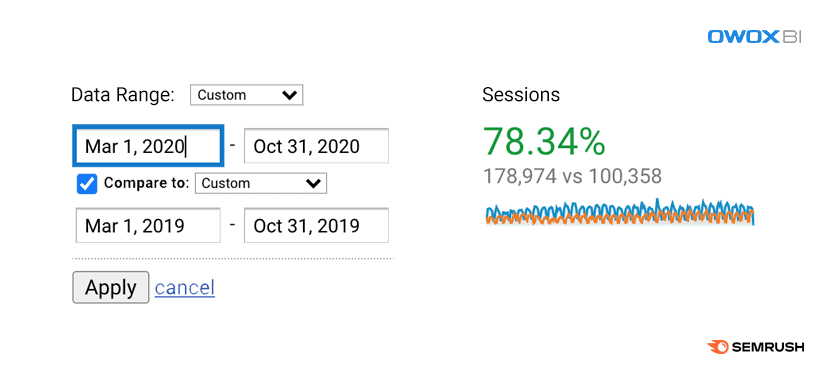 In general, traffic grew by 22-29%. But what part of the business was able to grow, and what not?
Websites that could grow in 2020
Curiously, the more website attendance is, the more likely the business was able to grow in 2020. Among websites with an attendance of 1 to 10 thousand, only 21% increased, and among ones with an attendance of more than 10 million, 87% of them increased.
Simply put, large ones became even larger, small ones — became less.
We must say that the sales volume of small websites didn't change as significantly as attendance. Many companies began to work more actively with marketplaces and receive orders from them.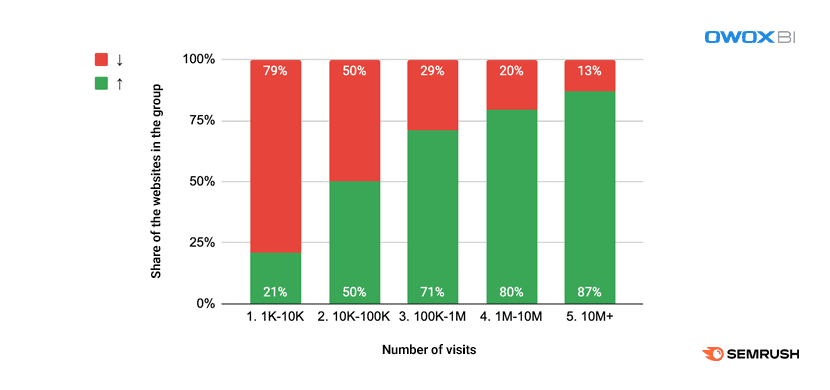 If your website's attendance is up to 10 thousand and in 2020 it reduced, then maybe it will be a consolation for you that 79% of websites also have reduced attendance.
And if your website's attendance is more than 1 million visits per month and last year your business didn't grow, then it's a reason to think seriously. Or fire someone. Or do both. But it's better to think first, nevertheless.
Traffic growth by channels in 2020
According to the Semrush service data, these traffic channels drove the websites to grow: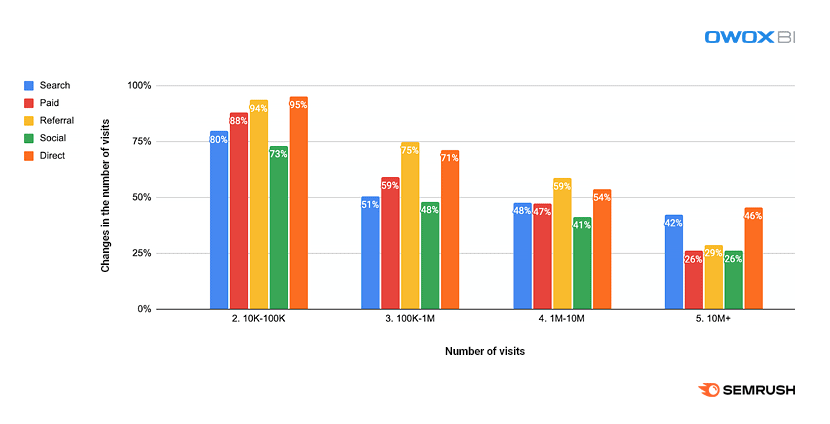 Please note that websites, which also grew in 2020, increased in all channels.
For large websites, the growth of search traffic is ahead of the growth of paid traffic. At the same time, small and medium-sized projects had to invest more in paid channels to grow in 2020:
For 10k-100K: Search +80%, Paid +88%
For 10M+: Search: +42$, Paid: 26%.
Self-test questions
How much did your project traffic grow in each of the channels?
What growth rates do you expect next year?
Experts comments on their 2020's experience
Did you have to adjust your channel distribution strategy during 2020? How were you making a decision on what to change?
''
Reviewing historical data and more importantly, using real-time data allowed me to adjust as needed throughout 2021. Data reveals the fine print details that the human eye can't always reveal on its own. It's absolutely essential to welcome real-time data collectively with historical data to help make more precise, more profitable business decisions.
''
Yes, it was obvious because conversions were the biggest issue. Niche brands get the highest business through social media advertising and influencer marketing while other e-commerce businesses rely heavily on Organic and Paid Advertising.
But, lockdowns impacted sales big time and hence, there was a huge cut in the marketing investments as people were not ready to spend on things except for essentials.

Looking at the change in the consumers' buying behavior, we took all of our marketing efforts towards earning loyalty. We thought-

"People would trust the brands that they've been trusting so far. So, instead of focusing too much on acquiring new customers, let's focus on retaining our own. Let's make our relationship with our customers stronger."

That reminds me, Rand Fishkin's tweet asking about which distribution channel to invest in looking at the decrease in marketing ROI. Here was my answer,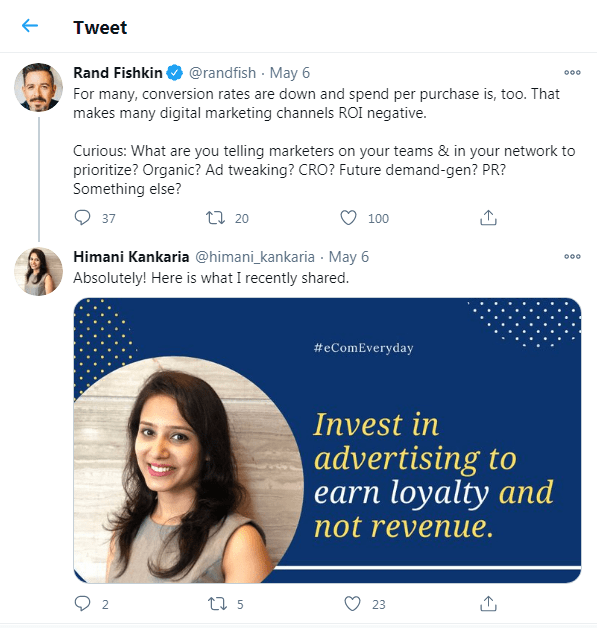 ''
We looked into how our consumers spend time on the sites and took the help of Semrush to understand how much total traffic each of our domains has and how much we are having with the help of its Market Explorer.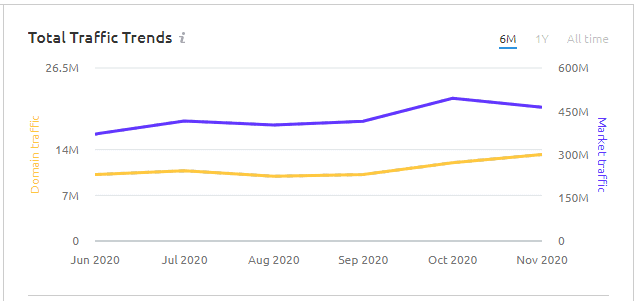 ''
Wherever we saw the market has higher organic traffic for our clients, we diverted our investments in the organic channel though they were quite limited.
In fact, for a jewelry brand, we literally stopped doing paid marketing because the ROIs were negative. Slowly, after August, we roll out our content-driven campaigns.

''
We stuck to content-driven campaigns with minimal budgets for relevant channels, but this time the goal was to earn loyalty. We knew that loyalty wouldn't be seen sometime soon so patience was the key for both- marketing and management teams.
For the clients that required Organic growth, we created a tight content strategy considering both YouTube and Pinterest, and we did some loyalty-based campaigns with micro-influencers, bloggers, and round-up activities for niche brands that triggered the results through Social, Referral, and Email channels.

Have there been any shifts in device usage distribution (Mobile/desktop) due to the pandemic?
''
Yes. We've seen more dwell time on bigger (none-phone) devices as people are more likely at home near a laptop or tablet. Device usage tends to be tied to the product category more than usual (you may be willing to shop for food or clothes on a phone, but you prefer to shop for furniture or other high consideration categories) on a bigger screen. Also, we normally see more personal shopping on the weekends, but the pandemic has totally broken that model.
Experts comment on the marketing channels
The nightmare of a marketer is a marketer who attributes costs to the wrong channels. Read the experts' opinions, so you won't accidentally miss the underrated channel.
What do you think is the most underrated online channel? What is the most overrated? Why?
''
For brands, their own e-commerce site is most underrated, it's the best chance to build a direct relationship with the customer, collect data to improve future products and offers, and increase customer lifetime value. The most overrated are marketplaces like Amazon. They are an important customer acquisition channel, but they are expensive and you are renting rather than owning their customer.
''
Independent marketplaces such as Etsy are highly underrated when in reality, there are many accomplished, profitable sellers on these channels that leverage this audience in combination with other outlets such as Amazon Handmade Marketplace. As for overrated, I believe Amazon - despite its wild success - is overrated because consumers focus on its strengths without recognizing the flaws sellers have on it. There is room to improve here, but the good news is there are constantly new technologies and strategies being introduced to help online sellers.
''
Underrated online channel: Pinterest for Organic
Marketers know that Pinterest helps consumers in taking the buying inspiration so they leverage it as just another social media platform. Indeed it is, but Pinterest offers a brilliant organic presence as well which remains underutilized most of the time.
Overrated: Facebook for Organic Social
I'm sure, I'm not the only one who thinks Facebook has stopped giving us better organic reach across new people even with the use of the relevant hashtags. Facebook has now become an advertising platform where only boosted posts get higher reach, engagement, and conversions. So, until and unless you do paid promotions on Facebook, it has lesser impact to grab new audiences.
Experts comment on the current 2021 year
What advice would you give to the marketing managers in 2021?
''
Be agile and fast. The next 18 months are likely to be volatile with a high degree of uncertainty. Being a first mover in the right direction can yield out-sized returns. Being quick to adjust away from something that's not working can save valuable resources.